Best Albums of 1975: 67 Records Worth Your Time
With classic albums from Aerosmith, Bob Dylan, and Donna Summer, the year was one to remember.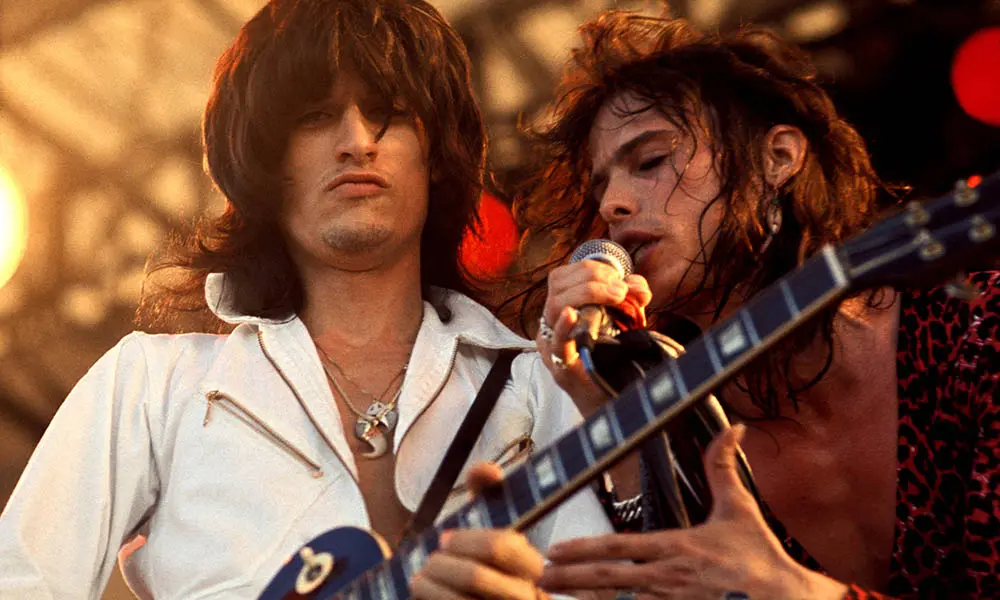 The best albums of 1975 are a wide-ranging mix. Brazilian music continued its incredible run, with highlights from Milton Nascimento, Tim Maia, and Caetano Veloso among others. Jamaican music was in rude health, with gems from Bob Marley and the Wailers, U Roy, and Burning Spear. Various electronic approaches from Donna Summer, Iasos, and Tangerine Dream broadened what seemed sonically possible. And that's not even mentioning celebrated albums from Bob Dylan, Aerosmith, and Elton John. In sum, there is something for just about any music lover in this selection of just a few of the best albums from 1975. Dive in to explore old favorites or try out something new!
Explore the best songs of the 70s.
67: Nils Lofgren – Nils Lofgren
Nils Lofgren's solo debut introduced him to the world as much more than just a formidable guitar player. With its dynamic songwriting, passionate vocals, and relaxed arrangements, it's a perfectly well-rounded record.
66: Richard and Linda Thompson – Pour Down Like Silver
In the absence of vice and in its search for spiritual peace, the British duo's third studio album signaled their shift into religious mysticism, which might have turned off their early fans if the music wasn't so beautiful.
65: Deep Purple – Come Taste The Band
The band's first album without Ritchie Blackmore had high expectations to meet and it more than delivered with stellar tunes like "Dealer" and "You Keep on Moving."
64: Alice Cooper – Welcome to My Nightmare
Alice Cooper's first solo album includes the Top Ten hit ballad, "Only Women Bleed," and a slew of hard rock tunes that confirm his ability to hold his own as a rock star.
63: Yvonne Fair – The Bitch Is Black
Featuring the massive U.K hit, "It Should Have Been Me," Fair's 1975 album may not be as provocative lyrically as the title suggests, but it more than makes up for it with beautiful arrangements and incredible vocal performances.
62: Lou Reed – Metal Machine Music
To call Lou Reed's 1975 album polarizing is an understatement. Full of distorted guitars and noise, it was hated by many upon release but if you give it a chance, you'll hear brilliance and an irresistible spirit of adventure.
61: Frank Zappa – One Size Fits All
Like a lot of Frank Zappa's work, his 1975 album engages with the zeitgeist in a way where it's unclear if he's laughing at you or with you. Ambiguity aside, the music is among his most inviting and is always thrilling.
60: ZZ Top – Fandango
Composed of half live recordings and half new tracks, the rock band's fourth studio album offers a glimpse into their prowess in the studio and their undeniable magic on stage.
59: The Eagles – One of These Nights
With hints of R&B and folk, the famed rock band's fourth studio album features each member playing to their individual strengths without sacrificing the group's cohesion.
58: Tony Bennett and Bill Evans – The Tony Bennett/Bill Evans Album
Nothing can go wrong when you bring together two accomplished artists to record an album; this record is a testament to the enduring power of jazz pop with just voice and piano.
57: Duke Ellington – The Afro-Eurasian Eclipse: A Suite in Eight Parts
The storied bandleader's 1975 album reads as a musical travelogue of sorts as it traverses the soundscapes of Africa and Asia with a distinctly jazzy flair.
56: The Isley Brothers – The Heat Is On
The soul group's 13th studio album does exactly what the title suggests as they solidified their unique hybrid of soul and rock, bringing intensity to the former and sultry fire to the latter.
55: Harold Melvin & The Bluenotes – Wake Up Everybody
The group's last album to feature Teddy Pendergrass is significant for that fact alone, but beyond that, it is a wonderful example of how to blend soulful R&B with socially conscious lyrics.
54: Supertramp – Crisis? What Crisis?
The English band's fourth studio album is an inviting and irresistibly warm listen that may not have charted as well as their later releases, but is full of gems for the attentive listener.
53: The Grateful Dead – Blues For Allah
The Bay Area band's 1975 album was recorded at a time when they were taking a break from touring. The result is a reinvigorated Dead experimenting with time signatures, chord progressions, and their individual playing styles.
52: Bob Dylan / The Band – The Basement Tapes
Dylan's second album with The Band is Americana music at its finest and quirkiest – filled with humor, fun, and a palpable love of everything folksy, it's a record not to be missed.
51: Nazareth – Hair of the Dog
Featuring their classic cover of the Everly Brothers' hit "Love Hurts," the hard rock band's sixth studio album paved the way for a slew of bands that would go on to define hard rock like Guns N' Roses.
50: Neu! – Neu! 75
The krautrock band's 1975 album saw them incorporating synthesizers into their music and is arguably the last time the band had a cohesive sound that was greater than the sum of their individual parts.
49: Paul McCartney & Wings – Venus and Mars
Paul McCartney brought together a tight band for his 1975 album; it's a pop-rock masterclass that showcases some of the best of the ex-Beatle's songwriting.
'Listen To What The Man Said' - PaulMcCartney.com Track of the Week
48: Foghat – Fool For The City
Home to the classic hit "Slow Ride," the rock band's fifth studio album blends R&B and funk grooves with hard-hitting rock and roll, the result is a record that never gets old.
47: Jethro Tull – Minstrel In The Gallery
Bridging English folk and hard rock, the rock band's 1975 album is beautifully aggressive and is by far some of their most spellbinding work.
46: Gavin Bryars – The Sinking of the Titanic
The minimalist artist's composition is inspired by a hymn the band on the fated ship was reported to have played in the final minutes of its demise – it's a stirring and urgent piece that reminds us of the afterlives of disaster.
45: Black Sabbath – Sabotage
Recorded in the midst of a legal battle with their former manager, the heavy rock band's 1975 album is steeped in bitterness and pent-up emotions and includes some of their most innovative arrangements.
44: Raul Seixas – Novo Aeon
Featuring the classic track "Tente Outra Vez," the Brazilian artist's 1975 album is a perfect place to start to understand his unique and quirky approach to pop and rock.
Raul Seixas - Tente Outra Vez (Videoclipe Oficial)
43: Tomita – Pictures At An Exhibition
The Japanese composer's synthesizer interpretation of Mussorgsky's piano suite, takes the classical composition to celestial heights, offering listeners a new way to appreciate the original.
42: Manuel Göttsching – Inventions for Electric Guitar
The German electronic artist's solo debut was made entirely with guitar, but his unique innovations on the instrument would make you think much more was involved.
41: Tavares – In The City
The R&B group's third studio album was their most successful and is home to the hit "It Only Takes A Minute." Beyond that, it's a delightful journey through the sleek pop-R&B that dominated in '75.
40: Joni Mitchell – The Hissing of Summer Lawns
Mitchell's least personal album somehow manages to not sacrifice intimacy and connection, revealing an artist with the rare ability to speak to the human condition as a whole.
39: Neil Young – Tonight's The Night
Recorded in the wake of death, Young's deeply affecting album beautifully captures the teetering nature of grief in both style and lyricism.
38: Roxy Music – Siren
Featuring the hit single "Love Is The Drug," the band's 1975 album trades in their more experimental inclinations for pop, showing the world just how versatile they are.
Roxy Music - Love Is The Drug
37: Wayne Shorter feat. Milton Nascimento – Native Dancer
The celebrated jazz saxophonist and the Brazilian singer-songwriter's collaborative album is highly influential in the jazz world, due in no small part to their version of Nascimento's timeless composition, "Ponta de Areia."
36: Rufus featuring Chaka Khan – Rufus featuring Chaka Khan
The funk band is in top form on this album as evidenced by the unforgettable, "Sweet Thing." It's a remarkable record that more than explains why the band and Chaka Khan are so influential.
35: Ohio Players – Honey
Despite its controversial cover, the funk group's 1975 album produced the endlessly sampled "Love Rollercoaster" and made a strong case for the endurance of the genre.
34: War – Why Can't We Be Friends
Including the classic hit, "Low Rider," the funk band's last album for label United Artists, is a landmark record and their last number one to date. Beyond the title track, it's full of songs you'll want to blast through your car speakers.
33: Frank Zappa and Captain Beefheart – Bongo Fury
Zappa, Captain Beefheart, and the Mothers of Invention join forces on this collaborative album that is partly made up of live recordings. It's an ambitious record full of wild twists and turns that never cease to amaze.
32: Fleetwood Mac – Fleetwood Mac
The British-American band's tenth studio album was their introduction to the mainstream as it catapulted them from obscure band to pop and rock radio mainstays.
31: Tim Maia – Racional
After joining a strict religious cult, the Brazilian samba star recorded his 1975 album, a complete left turn from the care-free party music of his past. It alienated listeners at first but in the years since its release has come to be recognized as some of his best work.
30: Caetano Veloso – Qualquer Coisa / Jóia
Releasing two albums at once is a risk not many artists can afford to take, unless you're Caetano Veloso. The Brazilian legend's double release is a beautifully elegant and intimate take on acoustic music and hinted at the star he would later become.
29: Brian Eno – Another Green World
Brian Eno's third studio album is a precursor to ambient sound that he would pioneer, offering a blueprint for the future of his sound and the genre as a whole.
28: 10cc – The Original Soundtrack
Featuring the smash hit, "I'm Not In Love," the art rock band's third studio album successfully managed the difficult task of creating a popular hit and critically-acclaimed record.
27: David Bowie – Young Americans
David Bowie's ninth studio album marked his departure from glam rock into R&B, taking influence from the Philly Soul of Gamble and Huff and producing one of his greatest records.
26: Led Zeppelin – Physical Graffiti
The band's expansive double album has a little bit of everything. From country to the blues to metal, it's a head-spinning listen that never feels exhausting.
25: Héctor Lavoe – La Voz
The salsa king's solo debut produced hits like "En Todopoderoso" and cemented his legacy, as the album title suggests, as the voice of the genre.
24: Rita Lee and Tutti Frutti – Fruto Proibido
Widely considered to be a classic of Brazilian rock, the ex-Os Mutantes member finds her wings on this ambitious record which expertly brings together the hardest and softest sounds of Brazilian rock.
23: Tangerine Dream – Rubycon
The German electronic band's 1975 album is a formidable follow-up to the critical and commercial success, Phaedra, and picks up where that album left off with transcendental and utterly captivating compositions.
Rubycon (Pt. 1 / Remastered 2018)
22: Gilberto Gil & Jorge Ben – Gil E Jorge
With just two guitars and percussion, this collaborative album between two titans of Brazilian pop is elemental in its approach. Despite its simplicity, the record feels full of possibility as the two artists push the boundaries of performance.
21: Paul Simon – Still Crazy After All These Years
Featuring the hit, "50 Ways to Leave Your Lover," the singer-songwriter's 1975 album saw him joining forces again with Art Garfunkel, resulting in one of his most successful records and earning him two Grammys.
20: Electric Light Orchestra – Face the Music
Continuing their streak of great albums, the prog rock band's fifth studio album includes fan favorites "Strange Magic," "Evil Woman," and "Poker" and saw the group experimenting with new styles.
19: Iasos – Inter-Dimensional Music
The California artist's 1975 album is considered to be the birth of New Age music, marking the beginning of the highly influential movement for spiritual clarity and the attainment of a higher consciousness.
18: Smokey Robinson – Quiet Storm
The R&B institution's third studio album birthed a genre of sultry soul catered for late-night lovers that became an unstoppable force and radio mainstay.
17: Milton Nascimento – Minas
Inspired by ancient musical traditions, the singular Brazilian artist's 1975 album is a perfect bridge between the old customs of Brazil and modern sounds from all over the world.
16: Kiss – Alive!
For some bands, it might not make sense until you see them live. KISS is one of those bands. Their first live album, Alive!, is when their raucous energy finally made sense to the world and brought them mainstream success.
15: Burning Spear – Marcus Garvey
Taking inspiration from the Pan-African hero, this 1975 album is strongly rooted in Rastafari philosophy and is an undeniable classic of the genre.
14: Allen Toussaint – Southern Nights
The quintessentially New Orleans artist's 1975 album perfects his unique blend of R&B, funk, soul, and other uncategorizable sounds, to create a record that's required listening for anyone interested in the music of his city.
13: Queen – A Night at the Opera
The band's widely-lauded masterpiece includes the evergreen hit "Bohemian Rhapsody" and is the album that took them from impressive rock band to genre-defining artists.
Queen – Bohemian Rhapsody (Official Video Remastered)
12: U Roy – Dread in a Babylon
Full of spunk and personality, the Jamaican icon's dub masterpiece shows off his distinct style and immense range as he examines life's problems both big and small.
11: Donna Summer – Love to Love You Baby
The disco diva's second studio album brought new levels of emotional depth to the genre as evidenced by the ecstasy and yearning of the 17-minute title track.
10: Parliament – Mothership Connection
The funk band's first album to be certified platinum is a cultural artifact (it's registered in the Library of Congress) and a funk masterpiece that laid out their otherworldly mythology to us simple earthlings.
09: Patti Smith – Horses
The pioneering artist's debut album is a hybrid of poetry and music that ushered in the age of punk rock and helped shift the course of music forever.
08: Bob Marley and the Wailers – Live!
The Jamaican institution's landmark live album was recorded during a sold-out show in the UK and was critical in taking reggae music from a niche and region-specific genre to a worldwide phenomenon.
No Woman No Cry [Live] (1975) - Bob Marley & The Wailers
07: Pink Floyd – Wish You Were Here
The rock band's ninth studio album is a concept album centered around founding member Syd Barrett and takes an expansive and diverse approach across three brilliant songs.
06: Bruce Springsteen – Born to Run
America's favorite rock star's third studio album is the record that changed his life and rock music forever as it reshaped the sound in the image of the beloved Jersey boy.
05: Earth, Wind & Fire – That's The Way Of The World
Featuring classics such as "Reasons" and "Shining Star," the R&B group's 1975 album is among their bestsellers and transformed them from artists of their time to evergreen pop stars.
04: Keith Jarrett – The Köln Concert
This album is a testament to the magic that can arise out of adversity; Saddled with an out-of-tune piano and in the midst of excruciating back pain, Jarrett's live recording has gone down in jazz history as the best-selling piano recording of all time.
03: Elton John – Captain Fantastic & The Brown Dirt Cowboy
The pop titan's semi-autobiographical concept album offers a musical take on the early days of his music career and is filled with soulful ballads and catchy pop tunes.
Someone Saved My Life Tonight
02: Aerosmith – Toys in the Attic
Including much-loved songs like "Walk This Way" and "Sweet Emotion," the rock superstars' third studio album established them as kings of raunchy and languid hard rock.
01: Bob Dylan – Blood On The Tracks
Widely considered to be his masterpiece, Dylan's 15th studio album is animated by a breakup and finds its greatest strength in subdued tones that are unsparingly vulnerable and remarkably beautiful.