Best Female Drummers: An Essential Top 25 Countdown
Combining groove with a sense of songcraft, drummers are the driving force of any group. Here we present the best female drummers of all time.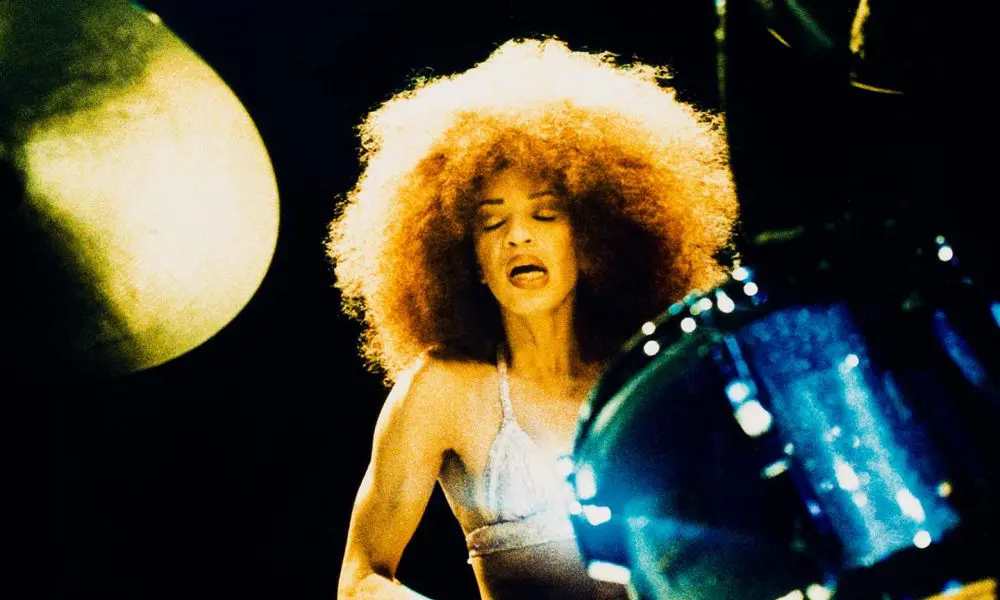 Female drummers have been around since at least the 19th century. Consider the English folk ballad "Female Drummer" (covered by Steeleye Span and others), in which the title character disguises her gender to follow her sweetheart into the army. She gets discovered and sent home, but nobody ever complains about her drumming. She is, in fact, recognized as "the best of them all." So, the best female drummers on this list – a stellar line-up drawn from jazz, punk, rock and pop – continue solidly in that tradition.
Here are our best female drummers of all time.
25: Claudia Gonson (The Magnetic Fields)
Very much the power behind the throne, Gonson is Stephen Merritt's manager as well as his most frequent musical collaborator. Between drums, keyboards and vocals she's responsible for the subtle shadings that Merritt's songs require. It can't be easy to play drums when you're not in a conventional rock band – or really a rock band at all.
24: Dottie Dodgion
Another jazz innovator whose work is largely lost to history, Dottie Dodgion began a 50-year career during the 50s, playing briefly with Benny Goodman's orchestra. She became a fixture at West Coast jazz festivals in later years, playing with the Brecker Brothers and others. Like Viola Smith, Dodgion never recorded much, aside from one vocal album released in 1996. The one available video clip of her comes from 2013, and she must have been one of the best female drummers in her younger years if she can do this kind of elegant brushwork at the age of 84.
23: Tennessee Thomas (The Like, Jenny Lewis)
Power-pop fans need to immediately do themselves a favor and check out Are You Thinking What I'm Thinking? by The Like. It's perhaps the single most overlooked album in that genre for the past 15 years. Drummer Tennessee Thomas and singer/guitarist Z Berg were the nucleus of that band, whose songcraft was stellar and whose playing was highly inventive. Lately, Thomas has been playing with another first-rate writer, Jenny Lewis, in her side band Nice As F__k.
22: Debbi Peterson (The Bangles)
Ever heard a good garage band without a killer drummer? We haven't either. And The Bangles were very much a garage band in their formative days, when they regularly covered The Seeds and The Yardbirds onstage. Debbi Peterson's playing grew as the band branched out, but she always kept their roots in mind. Check the power on "Hazy Shade Of Winter." Extra points for singing backup or lead vocals on virtually every tune, truly cementing her place among the best female drummers.
21: Dee Plakas (L7)
Nobody who's ever played in L7 is anything less than a complete badass on her instrument: the band's mix of musical ferocity and subversive humor demanded nothing less. Seeing Plakas and bassist Jennifer Finch locking back into groove was one of the many pleasures in L7's recent reunion tours.
20: Georgia Hubley (Yo La Tengo)
Together for more than a quarter-century now, the trio line-up of Yo La Tengo has the kind of synchrony most bands would die for, and it allows them to get into the mystic improvisational zone on a regular basis. In their early days, Hubley was pegged as a Moe Tucker-type drummer (simple parts, perfect feel) but she's long since transcended that with a jazz flexibility that her role model never had. Listen to any of YLT's jammier tracks for proof that she is one of the best female drummers, but her subtle brushwork on their ballads is also a thing of beauty.
19: Linda Pitmon
Formerly part of the underrated Minneapolis band Zuzu's Petals, Linda Pitmon is now part of a floating collection of hipsters that includes R.E.M.'s Mike Mills and Peter Buck, The Young Fresh Fellows' Scott McCaughey, and her husband, Steve Wynn. She's also in Filthy Friends, the group built around Buck and Sleater-Kinney's Corin Tucker. But her best work may be the four albums she made with Wynn's Miracle Three, on which she displays both an affinity for songcraft and an ability to loosen up and go with the improvisational flow.
18: Viola Smith
Someday a documentarian will do us all a favor and tell the full story of this musician, which appears to be a remarkable one. Possibly the first professional female drummer, Viola Smith began performing in the 20s, later played in the NBC Symphony Orchestra, and made her Broadway debut in the original run of Cabaret. Her trademark was a massive kit, heavy on the toms, that drew Gene Krupa comparisons. What remains of her work is sadly not much. She made no records and the best surviving video clip is from 1939 with the all-woman band The Coquettes.
17: Patty Schemel (Hole)
As much as any of her bandmates, Patty Schemel fully lived out the glamour and decadence that was Hole. Like many of her peers, she later suffered from addiction, but her drumming style – primal punk matched with a bit of sophistication – never faltered; she only fell out with the band when she and Celebrity Skin producer Michael Beinhorn took a strong mutual dislike. (Courtney Love knew better, using Schemel as the main drummer on her solo debut, America's Sweetheart). Schemel lived to tell the tale and remains one of the best female drummers in grunge and beyond.
Hole - Celebrity Skin (Official Music Video)
16: Samantha Maloney
As a drummer, Samantha Maloney was the kind of rock-solid, all-pro player who specialized in stepping into bands that were having personnel shake-ups or just needed some fresh blood. That meant joining Hole after Patty Schemel left; joining Mötley Crüe during Tommy Lee's hiatus; and touring with Eagles Of Death Metal when Josh Homme had too much on his plate. Because she came in at tense moments, Maloney didn't get to play on any of those bands' classic albums, but her steady touch kept them all rolling. Her music-biz know-how is vital to her current gig as A&R vice president at Warner Bros.
15: Kate Schellenbach (Luscious Jackson)
Like a lot of hip New Yorkers in 1979, Kate Schellenbach found herself in a band that drew from funk and punk and had an ear open to the new sounds happening in the South Bronx. It just happened that her band was called Beastie Boys and they were destined for greater things. She played with the Beasties through their punk era and went on to do groundbreaking, genre-blurring work, but remains best known for her work with 90s alt.girl outfit Luscious Jackson. Schellenbach still plays occasional band gigs between her high-profile day job as producer on The Late, Late Show.
Luscious Jackson - Naked Eye
14: Honey Lantree (The Honeycombs)
The Honeycombs' drummer was, in all likelihood, the first female drummer ever to play on a hit single: "Have I The Right," one of the great British Invasion one-shots. The legendary producer Joe Meek knew he had a star on his hands, since he basically built the record around the drumming, which gets positively thunderous in the bridge. If you've seen the performance vids of this tune, the beehived Honey Lantree also earns points for being the only band member who doesn't look like a complete nerd.
13: Gina Schock (The Go-Go's)
She got the beat. When The Go-Go's first appeared, it was pretty obvious that Gina Schock had the greatest instrumental chops of anybody in the band. The others had a great grasp on hooks and melody, but it was Schock who made their music danceable, and she drove The Go-Go's even harder after Charlotte Caffey and Jane Wiedlin began stepping forward on guitar. Can it be a coincidence that the band's two breakthrough hits have drum intros?
The Go-Go's - We Got The Beat
12: Janet Weiss (Sleater-Kinney)
A great post-punk drummer needs to combine power with invention and a solid groove with a sense of songcraft. Janet Weiss has proven herself to be not just one of the best female drummers of all time but a prime example of all the above. In her slot with Sleater-Kinney, she makes sure that the band's unusual guitar-as-bass line-up has all the charge it needs. In the duo Quasi, she turned a simple piano-and-drums line-up into a rock'n'roll band. And during her three years with Stephen Malkmus And The Jicks, she gave a solid base to the band's improvisational flights.
11: Sandy West (The Runaways)
As one of the first great punk rock drummers, Sandy West co-founded The Runaways at age 15. The band was originally built around her and Joan Jett, and West's powerful drumming was one reason why The Runaways were able to evolve into arena-rock and proto-metal. The band's Live In Japan album is perhaps her best show of strength: note the rousing cowbells on their cover of The Velvet Underground's "Rock & Roll." Sadly, West was one of the only Runaways who never went onto the post-band life she deserved, thanks partly to addiction and partly to Kim Fowley's financial manipulations.
The Runaways - Cherry Bomb
10: Jody Linscott
Jody Linscott played drums in The Who. Enough said. And while their 1989 big-band tour isn't that well remembered, the tag-teaming between Linscott, with her wall of timpani, timbales and orchestral percussion, and kit-drummer Simon Phillips was probably the liveliest thing about it. Much like Moon, Linscott was a flamboyant figure whose sound was imposing and thunderous, so it's no surprise that big names the likes of Elton John and Paul McCartney rate her as one of the best female drummers in history.
9: Karen Carpenter
It's true that Karen Carpenter reached all-time great status more as a singer than a drummer, but the drums were her first love and she had the solid feel that was just right for elegant pop. The credits don't always make it clear who played on what, but there are two Carpenters albums (their debut and Now & Then) on which she plays all or most of the drums. That's her on the hit "Yesterday Once More," along with the latter album's big-fun rock'n'roll medley.
8: Sue Hadjopoulos (Joe Jackson, Cyndi Lauper, Simple Minds)
When Joe Jackson shifted musical gears on 1982's Night And Day, Sue Hadjopoulos' inventive Latin percussion was the whole key to the sound. It's her rhythms that hold the album together, and it's a joyful sound when she steps out on "Steppin' Out" and "Cancer." Jackson didn't even bring a full-kit drummer to join her when he toured behind that album. As one of the best female drummers of the era, Hadjopoulos was a hot property for a time afterward: Laurie Anderson, Simple Minds, The B-52s and Cyndi Lauper all called on her for albums and tours. She's since worked on a variety of film and stage soundtracks.
7: Meg White (The White Stripes)
Meg White suffers from the Ringo Starr dilemma: just because you don't play flashy, people tend to assume that you didn't belong in one of the greatest bands of your era. Suffice to say that anyone who can manage the John Bonham-esque power of "Seven Nation Army" was hardly there by accident, and, in live performances, The White Stripes had a primal connection that rivaled the juke-joint blues duos they loved. For that matter, just consider Jack White's solo career. He plays with more technically adept drummers now but it's not better (or worse), just different.
6: Terri Lyne Carrington
A third-generation jazz musician, Terri Lyne Carrington was playing with greats such as Clark Terry and Jack DeJohnette before entering her teens. She's since proved equally adept at post-bop, smooth jazz and silky soul. Some of her best work is on the 2011 album The Mosaic Project, which interprets a stack of standards with an all-star, all-female cast including Esperanza Spalding and Sheila E.
Terri Lyne Carrington Tribute to Roy Haynes part 1
5: Bobbye Hall
If you heard Latin percussion on a hit record during the 70s, odds are good that this versatile player provided it. Bobbye Hall has a few dozen Top 10 hits to her credit, including most of Bill Withers' early singles, many of Marvin Gaye's records from "Inner City Blues (Make Me Wanna Holler)" onwards and, surprisingly enough, two singles from Pink Floyd's The Wall. One of her finest moments is on Carole King's "Brother, Brother" which opens the Music album with a dramatic conga roll (and close-mic'ed percussion throughout the tune), promising that this will be a little more exotic than Tapestry.
Marvin Gaye - Inner City Blues (Make Me Wanna Holler)
4: Nikki Glaspie (Nth Power)
For about four years starting in 2012, Nikki Glaspie was the drummer in New Orleans' funkiest band, Dumpstaphunk, the quintet led by Ivan Neville and featuring two bass players. The band was already well established before Glaspie joined but she immediately became the star attraction, even taking a few of the vocals while laying down some of the strongest beats in town. Turns out she'd left a far more lucrative gig as Beyoncé's touring drummer to join the band. Currently, she's plying her trade as one of the best female drummers of the modern era in another fine and funky outfit, The Nth Power.
3: Moe Tucker (The Velvet Underground)
Everything about Moe Tucker was ahead of her time, from her minimalist drumming to her androgynous look. She played standing up, kept to the simplest of patterns, and didn't even use a bass drum, yet the other members always insisted that her impeccable timing was the whole key to their sound. The best proof is on Lou Reed's solo album, New York. On the closing track, "Dime Stone Mystery" – a tribute to founding Velvets member Sterling Morrison – Tucker takes over on drums. Suddenly the sound of The Velvet Underground is there, more clearly than on any other Reed solo track.
2: Sheila E (Prince)
It took a little while before people realized what a powerhouse Sheila E was. Blame that on her initially being marketed as one of the many sex symbols in the Prince camp. When she first toured the Glamorous Life album, she was positioned as a frontwoman who snuck a few bars on the timbales during the instrumental breaks. Then Prince had her behind the full kit on the Sign "O" The Times tour and jaws dropped on a nightly basis, especially during the late-night, jam-heavy after shows Prince would perform after the main event. She later did a few Ringo tours and was very much the "lead" drummer, giving new life to everybody else's hits.
1: Cindy Blackman
Forget gender: Blackman's imagination and dazzling technical gifts ensure not only that she heads this list of the best female drummers of all time, but stands as one of the finest drummers working today. She was a large part of the reason Lenny Kravitz's live band was killer, but really blossomed in her jazz work, where she's played alongside a roll-call of master improvisers including Pharoah Sanders and Ron Carter.
Blackman can also do funk (as proven on a recent album with her husband, Carlos Santana) but her greatest work was with the short-lived group Spectrum Road, a band dedicated to honoring jazz-rock pioneer Tony Williams. Joined by one of the great fusion supergroups (John Medeski, Vernon Reid, Jack Bruce) she put a fresh spin on some of the most challenging material any drummer has ever played.
Lenny Kravitz - Are You Gonna Go My Way (Official Music Video)
Want to learn more about influential female musicians that get overlooked? See who made our list of the best female bassists of all time.