'Karma': Pharoah Sanders' Spiritual Jazz Masterpiece
Featuring a terrific ensemble of players at the top of their game, the 1969 album still stands tall.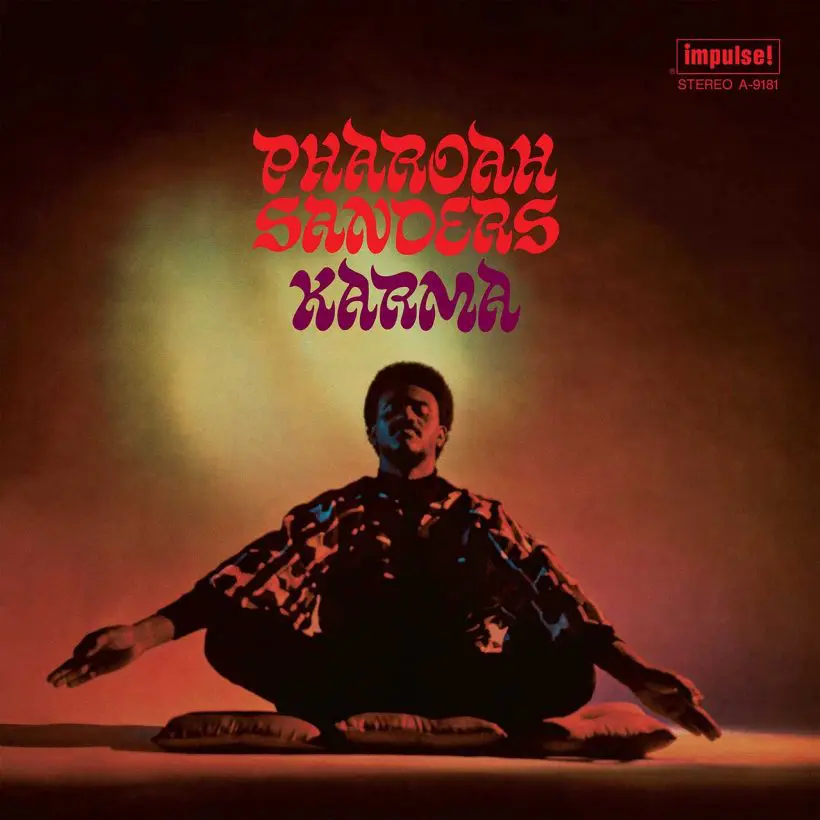 Throughout the 1960s, a young saxophonist by the name of Pharoah Sanders had been developing a reputation within the more exploratory wing of jazz. Through his involvement with other artists playing what was then called "the new thing," Sanders eventually caught the attention of John Coltrane. Having just released A Love Supreme, Coltrane sought to venture even further afield, leading him to find new collaborators. Sanders was one of these new recruits. Sanders was already renowned for his extraordinary use of overtones, his alternately harsh and meditative timbre, and his powerful emphasis on the spiritual dimension of the work. In short, it was a perfect match. And it led to a set of releases that have become beloved, if controversial, highlights of the 60s avant-garde jazz scene (among them 1965's Ascension and 1966's Meditation).
Listen to Pharoah Sanders' Karma now.
But Sanders was not only an accompanist. Beyond his boundary-pushing work with Coltrane, he became a central band leader of the free jazz scene. Sanders released his debut in 1965, signed with Impulse! Records in 1966, and released his sophomore record, Tauhid, the following year. But it was the third album under his own name that would reveal Sanders as both an astonishing artist in his own right and a fitting bearer of Coltrane's legacy. Featuring a terrific ensemble of players and released in 1969, Karma is one of the seminal works of spiritual jazz.
The Creator Has A Master Plan
From the first moments of the 32-minute opener, "The Creator Has A Master Plan," we hear precisely what makes Sanders' playing so compelling. Through a towering wave of clattering instrumentation, the hoarse tones of Sanders' tenor erupt like irrepressible jets of energy. Mirroring the opening of "A Love Supreme," the intro soon gives way to a simple bass groove. From here, the track ascends through passages of melodic beauty, of unforgiving chaos, and of thrilling jazz yodeling (courtesy of vocalist Leon Thomas).
"Colors" serves as a sort of epilogue to the preceding epic. This is not the wild cacophony explored in the opener, but a blissful wash, topped by Thomas' crooning vocals. If "The Creator Has A Master Plan" tracks a kind of spiritual ascension, "Colors" is Sanders reaching a plane of meditative calm.
Despite its current exalted status, not everyone believed in Karma before its release. In his autobiography, Impulse! Records head Bob Thiele bitterly summarizes the initial reactions of higher-ups at ABC: "Until the record came out, it was the same tired tune: 'What kind of crap is this? This isn't going to sell; it doesn't mean anything; it's a lot of junk; you can't dance to it; you can't listen to it;' ad infinitum". Thankfully, once Karma was released, it was a success, topping the Billboard jazz charts for 12 weeks.
Sanders' work remains popular today due to its irrepressible humanity. He wasn't concerned with technical excellence or virtuosity; he sought raw expression. In his own words, "Whatever comes through me, I'm trying to express, and free myself, and let it out, whatever it is."