Best Niall Horan Songs: 15 Lovelorn Classics From A Master Pop Storyteller
From lovelorn ballads to powerful barn burners, the best Niall Horan songs speak to his power as a pop storyteller.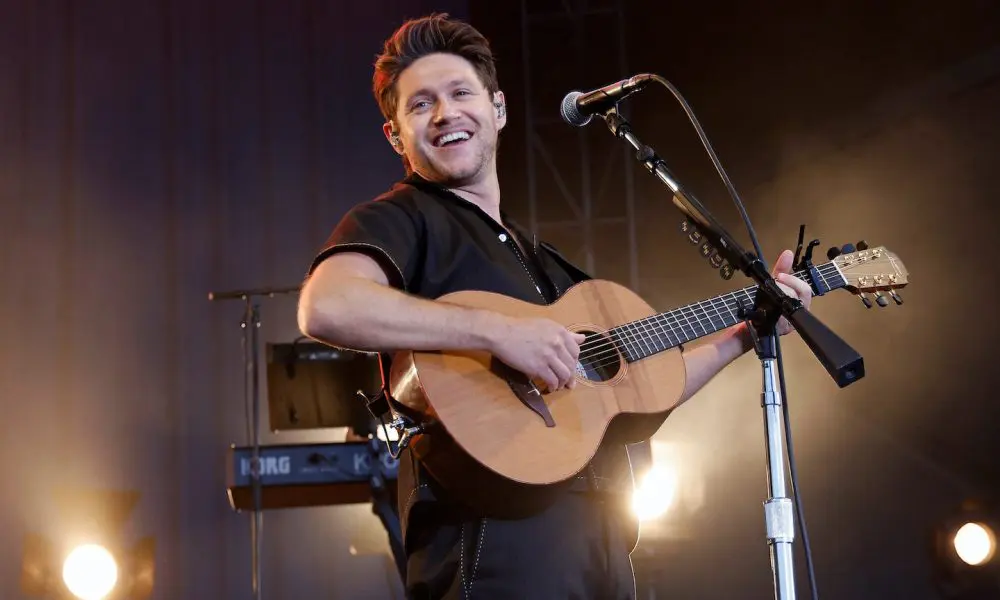 When Niall Horan first auditioned for The X Factor in 2010, his Irish charm quickly won over the audience and, soon enough, the show's guest judge Katy Perry. Intent on overcoming his nerves, the then 16-year-old singer paced around the stage and delivered a few lines of Ne-Yo's 2006 hit "So Sick," going on about how tired he is of love songs. It's almost ironic in hindsight because songs about love – falling in and out of it, finding it and losing it just as quickly, yearning for something that even remotely resembles it – would soon become his signature as a singer-songwriter.
But Horan's journey as a solo artist didn't truly begin until six years after his audition. Instead of proceeding on the show alone, he was selected to continue in a new group called One Direction alongside four other auditionees: Harry Styles, Zayn Malik, Louis Tomlinson, and Liam Payne. What followed can only be described as six years of global pandemonium. All the while, Horan was sharpening his skills as a performer and songwriter in the pop arena – and what better place to do that than in a boy band whose entire discography is one big, complicated love story made up of bangers and ballads?
When One Direction embarked on a now-indefinite hiatus at the beginning of 2016, Horan was ready to stand on his own. That September, he released "This Town" as a preview to all that would come on his debut solo album Flicker, which arrived in October 2017. Under the spotlight on his own for the first time, Horan's artistic versatility shined. Flicker introduced Horan as a hopeless romantic, while 2020's Heartbreak Weather saw him evolve into a smooth charmer and lovelorn bachelor.
With the release of his third studio album, The Show, Horan furthers his popcraft singles like "Heaven" and "Meltdown" and maps out his creative growth over the past seven years.
Ahead of his revamped and recharged return, we're highlighting the best Niall Horan songs that carved out his place in pop, crowned him a top-tier collaborator, and found him expertly crafting those same love songs he once sang about being sick of.
Listen to the best Niall Horan songs on Apple Music or Spotify.
Striking Out On His Own
(This Town; Slow Hands; Too Much to Ask)
Niall Horan was the first member of One Direction to launch his solo career following their hiatus announcement. The pressure was on, and anticipation was high as spectators wondered not only if he could command the spotlight without the company of his bandmates but also what that would sound like. Even under the watch of millions of fans, Horan introduced himself as a solo artist with an intimate single that blocked out the outside noise. "If the whole world was watching, I'd still dance with you," he promised on his debut solo single, "This Town," an acoustic ballad that reads as a tender love letter.
But just as listeners decided they had Horan figured out – painting him as the gentle lover type – he veered off-course with "Slow Hands," the second single from his debut album Flicker. Setting the tone with a thumping bassline, the singer offered up a tongue-in-cheek portrait of lust and desire. "Slow Hands" reached No.11 on the Billboard Hot 100, becoming his highest-charting single to date, with "This Town" trailing closely behind. Despite having cracked something of a recipe for success with "Slow Hands" and "This Town," Horan was adamant about introducing a third perspective to his musical identity.
On "Too Much to Ask," the third and final single from Flicker, Horan wasn't love-struck or deep in late-night infatuation. Instead, he found himself heartbroken and alone. "My shadow's dancing without you for the first time/My heart is hoping you'll walk right in tonight," he sings, wishing he could rewind the clock. Across those first three singles, Horan captured the complicated highs and lows of love with equal expertise while toying with his vocal range across soft, piano-led ballads and funk-inspired radio hits. And it was only the beginning.
Niall Horan - Slow Hands (Official Lyric Video)
Lighting the Flame on 'Flicker'
(Mirrors, Flicker, On the Loose)
Niall Horan buried the biggest chorus on his debut album on the record's deluxe edition. On "Mirrors," the penultimate song on Flicker, he captured the ethos of the entire record. "She looks into her mirror wishing someone could hear her, so loud," he begins, teetering on a whisper: "And I need love/To hold me closer in the night/Just enough." A second later, he belts out, "I need love," with the full force of his voice with a euphoric release. Not ashamed to yearn for something more, he created a space to amplify emotions usually left in the dark.
Across Flicker, Horan constantly stokes this same flame. Finding love and keeping it requires the removal of ego from the equation. On "Flicker," Horan isn't afraid to beg and plead to save what he has. "Then I think of the start/And it echoes a spark/And I remember the magic electricity," he sings as his relationship falls apart, trying to figure out where it all went wrong. The stripped-back ballad features a chilling vocal performance from Horan, who communicates heartbreak with raw sincerity.
While many of the best Niall Horan songs are about keeping love alive, he also knows when to throw in the towel. The cautionary tale "On The Loose" finds him persuading others to do the same. The grooving track opens Flicker, recounts the dangers of a serial heartbreaker. "She'll run with your mind and pull you in tight/Then trade you in for something new," he sings on the bridge, an edge of hysteria in his voice. As the remainder of the record would prove, Horan is a trusted source who knows a thing or two about having his heart crushed under the weight of love, reciprocated or not.
Niall Horan - Flicker (Official Acoustic)
Weathering the Heartbreak
(Still; Put a Little Love on Me; Arms of a Stranger)
Niall Horan's commitment to following every thread of love to the end of the line is admirable. On his sophomore album Heartbreak Weather, the singer leads with his heart even when that means putting himself at risk for another journey through the emotional wringer. "It's killing me that we could go to war like this/But, I'm standing here with you, just trying to be honest," he sings on "Still," a song he wrote in only seven minutes with Mike Needle and producers Jamie Scott and Daniel Bryer. But wearing his heart on his sleeve hasn't always worked out in Horan's favor.
"Put a Little Love on Me" finds the singer trying to find his way forward in the aftermath of a breakup. Throughout the song, he searches for a new home for all the love he still has inside him. The ballad remains one of Horan's strongest, his soaring vocal performance displaying a new side of his range.
Horan took this lyrical theme to new heights on Heartbreak Weather standout "Arms of a Stranger." The record has a theatrical element, but Horan's delivery is piercing as he confronts the person who broke his heart. When Horan enters storytelling mode, it's impossible not to root for him. He's the protagonist in a romantic film who deserves the grand happy ending.
Niall Horan - Arms Of A Stranger (Official Visualizer)
The Hopeless Romantic
(Black and White; Heartbreak Weather; Heaven)
When Niall Horan addresses his fans, it's always with a heartfelt welcome: "Hello, lovers." It's an extension of his identity as a hopeless romantic, willing to do whatever it takes to see the silver lining in every wrong match. Even when it isn't going his way, Horan loves the concept of love and all the joy it can bring. On "Black and White," a wedding-ready single from Heartbreak Weather, the singer takes his lover's hand on the night of their first date and envisions their entire future together. "And there's a vision I've been holdin' in my mind," he sings. "We're sixty-five, and you ask/When did I first know, I always knew."
But unlike the love stories he's told on past records, the one at the center of "Black and White" doesn't end in heartbreak or regret. Instead, it ends with a happily-ever-after, most commonly found in fairytales. On "Heartbreak Weather," Horan captures the moment he first realized that love didn't have to be as complicated as he's known it to be.
The emotional evolution throughout Heartbreak Weather prepared Horan to enter his ultimate lover era on The Show. Across his first two records, Horan always tried to get over the past or envision a perfect future that was just out of his reach. But on his comeback single, "Heaven," he completely releases that sense of control. "Even if our love starts to grow out of control/And you and me go up in flames/Heaven won't be the same," Horan sings, welcoming all of the potential romantic chaos with open arms.
Niall Horan - Heaven (Official Video)
The Ultimate Duet Partner
(Our Song; What a Time; Moral of the Story)
Since his days of sharing the spotlight with four other musicians until One Direction ended, Niall Horan will rarely team up with other artists. Maren Morris, who appeared on "Seeing Blind" on Flicker, is the only person he has collaborated with on one of his own albums. But Horan's romantic expertise has made him the perfect duet partner on records from other artists. During his guest appearances on songs from Anne-Marie, Julia Michaels, and Ashe, the singer has proved that not only can he play the role of the ex-lover, but he can also bring the necessary chemistry to build a convincing emotional connection to the story.
On "Our Song," Horan and Anne-Marie deliver parallel perspectives of their breakups. They both wake up alone on Sunday mornings, comfortable on their own and leaving the relationship in the past where it belongs. He slips into a similar role alongside Michaels on "What a Time," haunted by the memories of a relationship that came to an end.
Ashe ft. Niall Horan - Moral of the Story [LIVE for SiriusXM]
Even in his guest role, singing lyrics written by another artist, the singer makes the story his own. When Horan joined Ashe on a remix of "Moral of the Story," he quickly wrote his way into her pre-existing narrative. "It's not funny how it changes/Ended up like strangers/And we burned down our paper house," he sings, calling to mind the One Direction single "Night Changes," as well as his own records, "Arms of a Stranger" and "Paper Houses" all at once. Horan's ability to seamlessly weave these separate narratives together, as he has throughout all of his own work, speaks to his power as a pop storyteller.