Best Four Tops Songs: 20 Essential Soul Classics
Strong and bold, the best Four Tops songs stand as a pinnacle for soul music: heartfelt, emotional, and pulling on the heartstrings.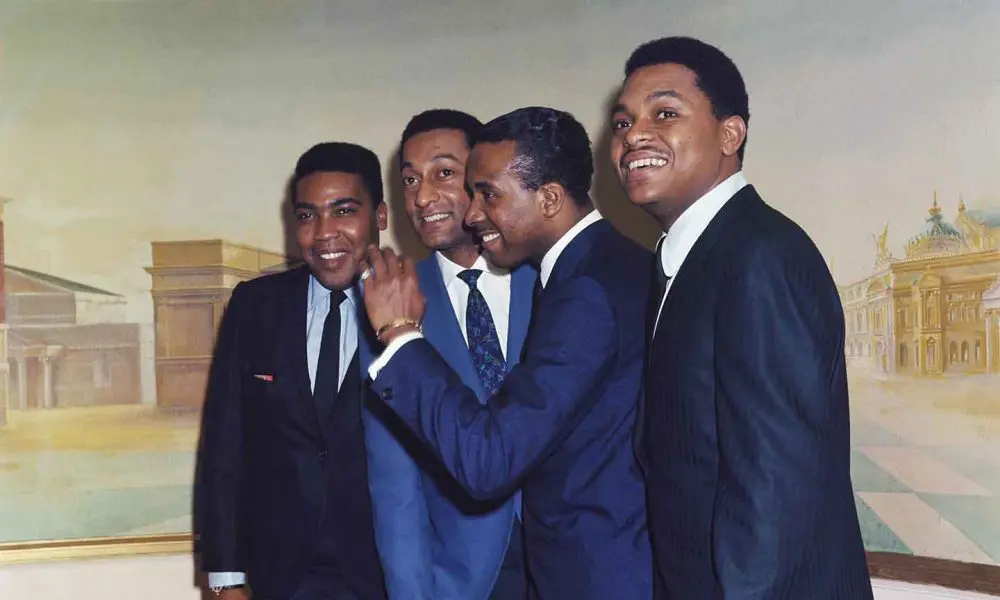 After a period of delivering jazzy stylings, Four Tops broke big in 1964 with strong and bold soul music – and the world barely knew what hit it. The sheer power and emotional range of Levi Stubbs' lead voice, matched to the educated and elegant support singing of Abdul "Duke" Fakir, Renaldo "Obie" Benson, and Lawrence Payton, was unstoppable. Four Tops scored hit after hit through the 60s, and when they quit Motown, in 1973, they proved they still had the goods with a series of delicious records for ABC/Dunhill. Decades on, their records stand as a pinnacle for soul music: heartfelt, emotional, and pulling on the heartstrings. The 20 best Four Tops song reveal why.
Listen to the best Four Tops songs on Apple Music and Spotify.
20: I Can't Help Myself (Sugar Pie Honey Bunch)
What Smokey Robinson calls "a bang bang record," "I Can't Help Myself" had "HIT!" written all over it when it was released in 1965. It's poppy, for sure, but it's soulful – and that crucial Four Tops element is here: vulnerability. Levi Stubbs may have a big, gutsy voice, but he admits he's weaker than a man should be. Magical.
I Can't Help Myself (Sugar Pie, Honey Bunch)
19: Shake Me, Wake Me (When It's Over)
Levi and the Tops are in a living nightmare and cannot deal with it. High drama from 1966 created by Holland-Dozier-Holland, the writer-producers who made Four Tops stars.
Shake Me, Wake Me (When It's Over)
18: If I Were A Carpenter
Lots of artists covered Tim Hardin's dignified classic, which asks: would you love me if I didn't have the status you expect of a man? Levi, Obie, Duke and Lawrence are perfectly poised to chisel out the definitive soul version of this far-from-wooden standard.
17: Are You Man Enough
When Four Tops quit Motown in 1972 to join ABC-Dunhill, their future seemed in doubt: could they thrive without the Motown hit machine? Sure they could, and this beautifully bruising, emotive song perfectly reflected the era of superbad black movie heroes.
16: (It's The Way) Nature Planned It
Our love was part of the universe's inbuilt cycle, insist the Tops on the title track from their final album of their original tenure at Motown, penned by Frank Wilson and Pam Sawyer. It's warm, soulful, and sensitive.
[It's The Way] Nature Planned It
15: A Simple Game
In 1971, Four Tops were approached by Mike Pinder, keyboard player of the Deram-signed prog-rock iconoclasts The Moody Blues, who suggested they might like to record his song "A Simple Game." Perhaps surprisingly, as the label often liked to keep its songwriting in-house, Motown approved the resultant recording, and this magical single, with the Tops ably supported by the Moodies in a London studio, became a No.3 UK hit.
14: 7 Rooms Of Gloom
Who else could conjure up bereft emptiness like Levi Stubbs? She has gone, leaving him rattling around like a ghost in a house with no love. A shockingly lonely sound, yet a big hit in 1967.
13: Still Water (Love)
Four Top Renaldo "Obie" Benson was one of the prime movers behind Marvin Gaye's major statement What's Going On, but while it's recognized that Obie's writing helped shape the direction of Marv's classic, it's less well recognized that the Tops pioneered his album's magically misty atmosphere with this remarkable single in 1970.
12: Loving You Is Sweeter Than Ever
From their classic 1966 album On Top, this single was not a major hit for the foursome, but it was a highly emotional performance that remains a soulful wonder.
Loving You Is Sweeter Than Ever
11: Ain't No Woman (Like The One I've Got)
A No.4 US hit in early 1973, from their opening album for ABC, Keeper Of The Castle, presenting the delicate, awestruck side of Four Tops' range of loving emotions.
Ain't No Woman (Like The One I've Got)
10: Your Love Is Amazing
"Your Love Is Amazing" shows just how much brilliant material the Tops had at their disposal: this was the B-side of "It's The Same Old Song" in 1965, and hundreds of other acts would have given their front teeth to deliver a song and performance like this as an A-side.
9: I Got A Feeling
While we're trawling B-sides and album cuts for beautiful records, here's another, originally heard on On Top and known by Motown fanatics as a "deep cut" when sung by Barbara Randolph. Massively soulful and memorable – and, remarkably, never intended as an A-side.
8: Yesterday's Dreams
The title track of Four Tops' 1968 album was one of the first records they made after their mentors Holland-Dozier Holland quit Motown. No panic: this steady and soulful waltz, produced by Ivy Jo Hunter, presented the softer side of the Tops. The new mellower direction entranced soul fans.
7: It's The Same Old Song
"It's The Same Old Song" represents a particular kind of Motown sound from 1965, when its hit machine was in perfect working order, crashing out amazing records like this one. You will dance.
6: Ask The Lonely
As sad as any Rob Orbison ballad, as heartbroken as a jilted bride, here are Levi Stubbs and co hauling buckets of sadness from a deep well of tears in their third hit single, released in 1965.
5: Something About You
The Tops' fourth hit in 1965 was just a touch more R&B than most of their material, with a ballsy feel in the rhythm section, a twanging guitar riff, and a booting sax solo. You believe every word of the lyric, thanks to Levi's wicked vocal.
4: Standing In The Shadows Of Love
Dark, dark – Four Tops know the rocks are hard and cold when love hits them. Trouble's coming, and it ain't gonna be smooth sailing. From their remarkably bleak, yet deeply touching sequence of seven hits about heartache that wept unbroken through 1966-67.
Standing In The Shadows Of Love
3: Walk Away Renee
A 1966 soft-psych US hit by The Left Banke, Four Tops added their uniquely soulful style to the song the following year, showing the wistful, tender side of the group's talent in yet another smash song. Levi delivers this so easily.
2: Baby I Need Your Loving
Four Tops' first hit – and their Motown debut – "Baby I Need Your Loving" was released in the summer of 1964. The group and producers Holland-Dozier-Holland judged it perfectly. The birth of soul legends.
1: Reach Out I'll Be There
The power and the glory: for many fans, this represents the pinnacle of the Motown sound. A remarkably patient song – you have to wait for the chorus to arrive before it drills into your heart – "Reach Out I'll Be There" is everything Four Tops were in 1967: adoring, fretful, protective, and muscular. A No.1 on both sides of the Atlantic… like it could have been any other way.
Looking for more? Discover the best Motown songs of all time.