Donna Summer
Her most famous collaborator Giorgio Moroder described Donna Summer's legendary hit "I Feel Love" as "the birth of electronic dance music" and there is no doubt that she retains the title of the undisputed queen of disco divadom.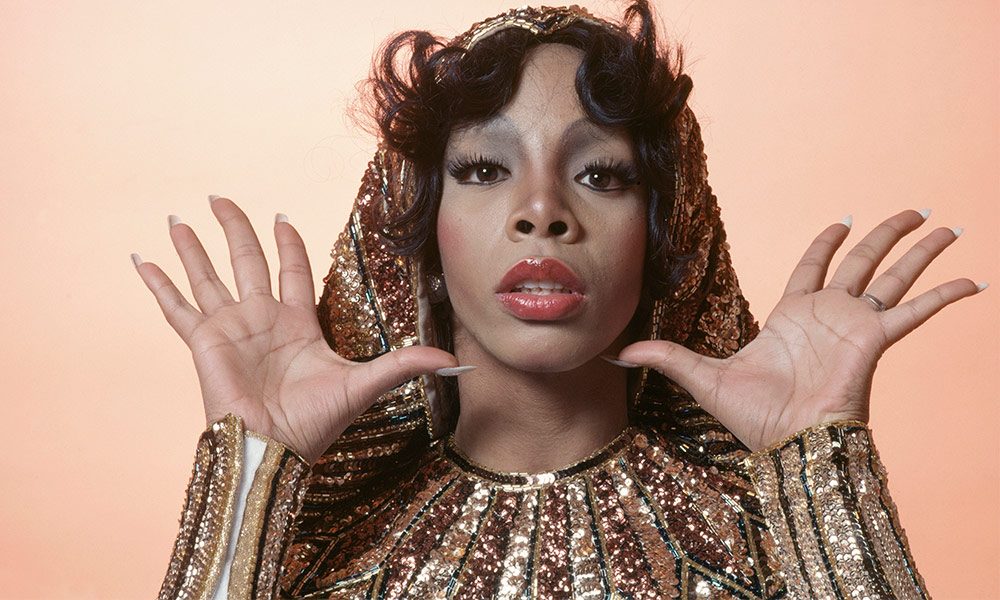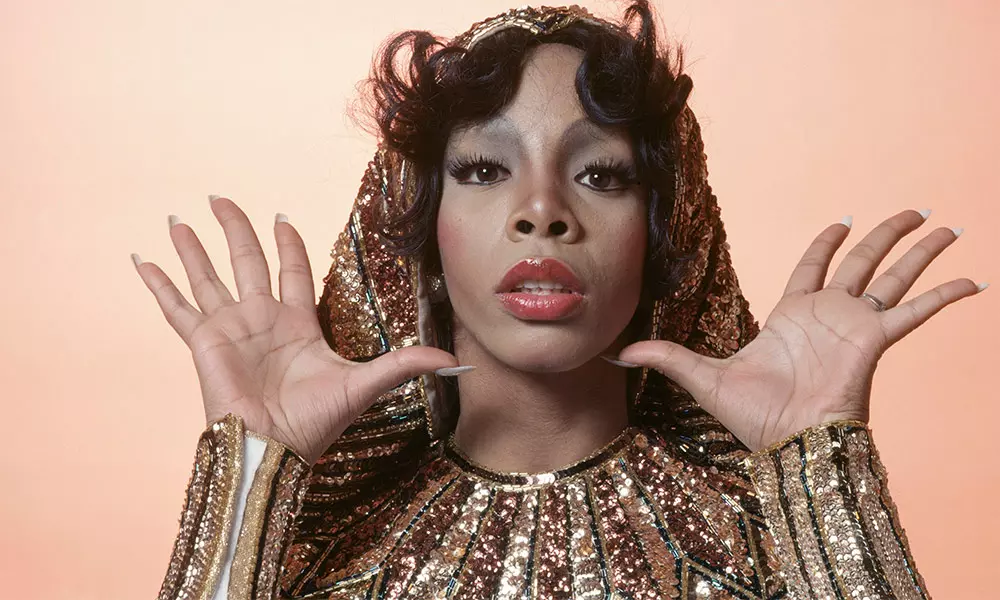 Her most famous collaborator Giorgio Moroder described Donna Summer's legendary hit "I Feel Love" as "the birth of electronic dance music" and there is no doubt that she retains the title of the undisputed queen of disco divadom. Though she died far too young in 2012, Summer's lifetime achievements are emphatic. A five-time Grammy Award winner she also became the first artist to have three consecutive double albums top the Billboard charts and also enjoyed a string of number-one singles. Her actual record sales are staggering. She has sold over 130 million discs, which puts her in the most exalted company of commercially viable artists.
Without Summer the disco boom of the 1970s would have looked like a vastly different country and she managed to appeal to clubbers, suburban dancers and hard-core electronic enthusiasts, casting an influential shadow on the followers of new dance and across the development of modern soul music. In many ways, her sound provides the bridge between psychedelic soul and Motown pop and the move into studio based techno rhythms. In that instance, she is widely sampled and revered for her timing and tone. "I Feel Love" itself has been sampled by Moby. Blondie, Whitney Houston, Madonna, Bette Midler, Kylie Minogue, Diana Ross, Britney Spears, Moloko and Robbie Williams – its ability to induce a Pavlovian murmur of satisfied recognition singles the track and her out for classic status. The breadth of her appeal means that country stars like Dolly Parton and Emmylou Harris have covered her straight and Laura Branigan and Beyoncé Knowles have assumed some of Donna's hooks without ever usurping her. Summer's concert tours were almost as legendary as her recorded output and she smashed box office records between 1977 and her Greatest Hits tour, winning standing ovations in whatever part of the globe she happened to be in. A delightful and gifted woman who also happened to suffer from depression, Donna Summer's absence makes one appreciate her accomplishments all the more.
Born in Boston, LaDonna Adrian Gaines, her birth name, was raised in a church-going family who encouraged a precocious talent. In 1967 she joined the acid rock crowd and, now based in New York, adapted her talents to Broadway musicals. Just beaten to the punch in Hair (Melba Moore won the role), Donna took part in the Munich production and became immersed in German culture. After making ends meet with modelling and backing singing, Summer met Giorgio Moroder and Pete Bellotte at a Three Dog Night session. The trio clicked and she was soon recording her debut album Lady of the Night. A European hit that spawned the single "The Hostage", this was no false start. Her career simply exploded with 1975's Love to Love You Baby. The title track was Donna's idea and Moroder adapted her lyric into a groove-laden disco delight set across a 17-minute mix, a revolutionary move that took up the first side of this important release. Thanks to the risqué connotations of Donna's vocal bliss she soon became known as The First Lady of Love and vied with Barry White, The O'Jays and MFSB for supreme iconic status in the beats and boudoir department.
While the single version of the title track was a worldwide hit it would actually continue to sell even better as the years went by. Summer's next excursion, A Love Trilogy, followed suit with another full side epic –  "Try Me, I Know We Can Make It" – and a souped-up take on "Could It Be Magic". This album is also where the Munich Machine, an ensemble used by Moroder, came into their own with strings, click tracks and super slick R&B breakdowns that sounded a world away from the down-home soul of previous decades.
Four Seasons of Love (1976) is a concept piece that hasn't always been appreciated as it should be and is now ripe for rediscovery thanks to the sweetly nuanced "Spring Affair" and "Winter Melody".
An ability to fuse nostalgic references to old school standards to the molten solder of contemporary disco makes I Remember Yesterday (1977) a vital listen. Here is where you will find the original "I Feel Love", the very track that Brian Eno and David Bowie salivated over while they were in the midst of their Berlin Trilogy. They cited it as the sound of the future and the song that would fundamentally change club dance music for decades. It was and it would.
Summer's next work was even more lavish: the double albums Once Upon a Time, the essential tour document Live and More and Bad Girls maintained an incredible standard. The live set is totally awesome, containing the Jimmy Webb "MacArthur Park" suite and all her hits with an increased level of jazz vocalese to broaden her mass appeal.
Her third multi-platinum seller is On the Radio: Greatest Hits Volumes 1 & 11 (1979) an extraordinary double set that delivers non-stop brilliance and remains one of the most essential anthologies of the era thanks to the cherry-picking of all the hits plus rarer soundtrack excursions and the duet  "No More Tears (Enough is Enough)" with Barbra Streisand, that fully confirmed Donna's crossover appeal. The fact this disc was bookended atop the charts by the Eagles and The Bee Gees gives an indication of Summer's enormous importance to the industry and she enters the 1980s with renewed vigour.
We're proud to point you towards The Wanderer her first disc on the Geffen label, and the latterly rediscovered I'm a Rainbow, which ended her partnership with Moroder and Bellotte but brought her into contact with influential producer/writer/musician Harold Faltermeyer. Quincy Jones helms the Donna Summer album and significantly updated this eclectic artist once again.
The Jon Anderson and Vangelis piece "State of Independence" became a cult classic and "The Woman in Me" and  "Love Is in Control (Finger on the Trigger)" also upped the ante. Jones employed a vast pool of musical talent here, including E-Street Band pianist Roy Bittan, the guitarist's Steve Lukather and a certain Bruce Springsteen – he wrote "Protection" specifically for Donna – and the all-star choir who turned "State of Independence" into a track that still evokes every variation on the adjective sublime you care to throw its way. Rhythmically audacious and programmed to perfection this is a must to discover.
Michael Omartian's production on She Works Hard for the Money is in keeping with the diva template and both the title cut and "Unconditional Love" makes it worth the price of entry.
For those looking to discover Donna via the collection route The Summer Collection: Greatest Hits and the club anthem favourite The Dance Collection: A Compilation of Twelve Inch Singles cover all the relevant remix ground. Invest in these and they won't leave your head or your heart.
All Systems Go includes a superb reading of Brenda Russell's "Dinner with Gershwin" while we pick her up her again with The Donna Summer Anthology (1993) where variant single mixes vie for attention next to the all-time classics. Another five star must-have. Further collections to whet the appetite are The Ultimate Collection, a 3-CD handbook on Donna Disco and The Journey: The Very Best of Donna Summer. Also try Gold, a 2-CD summary of the very good stuff.
So, it is an endless Summer. There is plenty of choice for those who want the radio voice, just as much for the dedicated clubber and everything to satisfy a completist. Taking a journey into this remarkable woman's state of independence has never seemed like a more tantalizing proposition.
Words: Max Bell
Format:
UK English