Yello
The Swiss electronic pop duo comprised of Dieter Meier and Boris Blank have a multi-decade career creating some of the most familiar sounds in pop.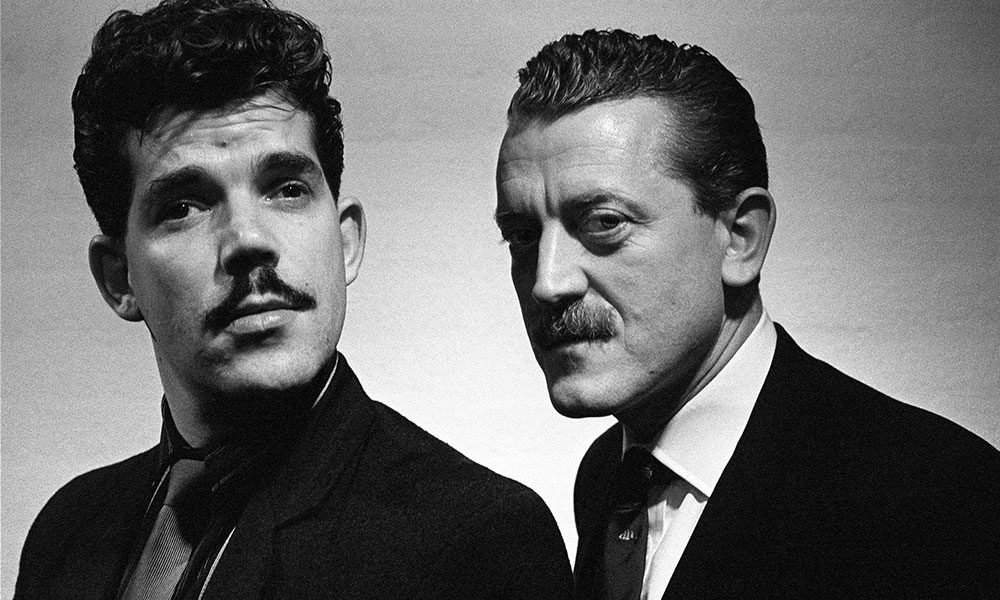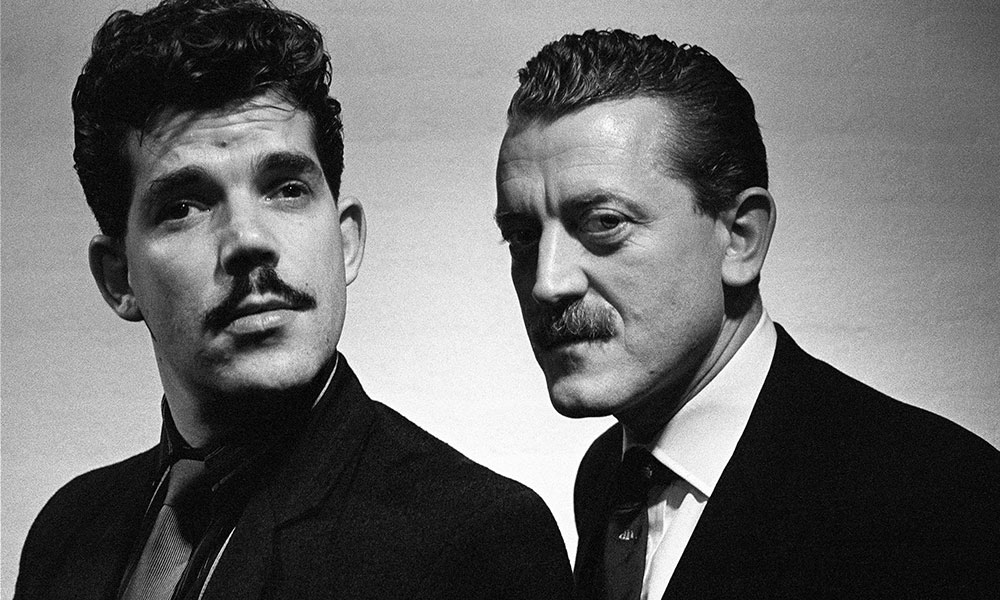 They're forever associated with their evergreen 80s hits, 'Oh Yeah' and UK Top 10 smash 'The Race', yet pioneering Swiss electro-popsters Yello's mind-bogglingly diverse career has also included collaborations with artists as disparate as Dame Shirley Bassey and The Associates' Billy Mackenzie, as well as soundtrack contributions to movies such as Nuns On The Run and The Secret Of My Success.
Yello - Oh Yeah (Official Video)
Though they first rehearsed during the late 70s, the Zurich-based outfit's background bears scant relation to the penurious, squat-level lifestyle or the rudimentary three-chord, guitar-based noises that most of the significant post-punk outfits thrashed through before they hit upon their own distinctive sounds. Instead, the band members – brilliant, Brian Eno-esque composer and synth wizard Boris Blank; singer (and son of a millionaire banker) Dieter Meier; tape manipulator Carlos Peron – completely eschewed guitars from the off.
Yello: The early years
Prior to Yello's formation, Meier had recorded a solo single, 'Cry For Fame', and another 7" ('No Chance') with the short-lived outfit Fresh Color for Zurich label Periphery Perfume. Run by Paul Vasjabel, the owner of the popular local record store Music Marker, this same imprint released Yello's intriguing (and now highly collectable) debut 45, 'IT Splash' in 1979, before the band signed a contract in the US with hip San Francisco-based label Ralph Records – the imprint owned by enigmatic avant-gardists The Residents.
Yello released their first two LPs, Solid Pleasure (1980) and '81's Claro Que Si, through Ralph in the US, while the short-lived Do It imprint (famous for releasing Adam & The Ants' Dirk Wears White Sox) issued them in the UK. Though neither saw significant chart action, 'Bostich', one of several singles from Solid Pleasure, rose to No.23 on the US Billboard Dance chart. Both LPs, meanwhile, enjoyed substantial critical acclaim and were embraced by the then-prevalent Futurist and New Romantic movements.
Yello: Inching closer to crossover success
Signing to Stiff in the UK and (briefly) switching to Elektra in North America, Yello's third LP, You Gotta Say Yes To Another Excess (1983), saw them inching closer to crossover success. Continuing in the classy, synth-driven, Euro-pop vein of Claro Que Si, the record featured several highly infectious singles, such as 'Lost Again' and 'I Love You' (which stalled at No.41 in the UK), as well as the striking, proto-world music-flavoured 'Salut Mayoumba'. The album itself also performed well, cracking the UK Top 75 for the first time (peaking at No.65) and even sneaking into the lower reaches of the US Billboard 200.
Carlos Peron quit after the release of You Gotta Say Yes To Another Excess, leaving the "classic" Yello line-up of Meier and Blank to make their commercial breakthrough with 1985's aptly-titled Stella: released through Mercury in the US and Elektra in the UK, as Stiff went into administration during the latter half of 1984.
Yello: Oh yeah!
Yello retreated to their own studio on the shore of Lake Zurich to record the album. Blank updated his already formidable keyboard armoury, purchasing contemporaneous, state-of-the-art synths such as the Yamaha DX-7 for the sessions which, though protracted, resulted in some of the pair's most sublime – and mainstream-friendly – music to date. Among the many highlights were Blank's evocative instrumental 'Stalakdrama', the seductive, Latin-flavoured single 'Desire' (which was promoted by a memorable video shot in the Cuban capital, Havana) and the steamy 'Koladi-ola' which included a wonderfully leery vocal from Meier. With Meier's heavily treated, sleazoid vocal riding over Blank's squidgy, infectious rhythm track, however, 'Oh Yeah' later became the album's calling card after director (and long-term) fan John Hughes asked for permission to use it in his hit 1986 comedy Ferris Bueller's Day Off. Its inclusion in the soundtrack helped the song to No.51 on the US Billboard singles chart, affording Yello their only significant US mainstream hit.
Though Stella only rose to No.92 in the UK album chart, it was a huge success in mainland Europe, reaching the Top 30 in Austria, Sweden and Germany, and topping the Swiss charts. Blank and Meier kept the pressure up with 1987's One Second: a slick, inventive synth-pop record full of killer tunes which bequeathed two popular UK Top 75 hits courtesy of 'Goldrush' (featuring The Associates' Billy Mackenzie) and 'The Rhythm Divine', which included a show-stopping vocal from the legendary Shirley Bassey. Elsewhere, the exotic 'Santiago' demonstrated that Boris Blank could strategically utilise samples grabbed from the most unlikely of sources – in this case from Lebanese vocalist Dunya Yunis' 'Abu Zeluf'.
Yello: Radio-friendly 'The Race' catches the zeitgeist
Yello saw out the 80s with their most commercially successful release, 1988's Flag, released by Mercury. Still arguably Blank and Meier's most celebrated album, its centrepiece was the brilliant, eight-minute tour de force 'The Race', which – when edited down to a radio-friendly four minutes – stormed up to No.7 in the UK charts. Released at a time when acid house was exploding internationally, 'The Race" – constructed on a bed of Boris Blank's inventive techno-style beats – caught the zeitgeist and enjoyed heavy rotation in London clubs, where it was often spun alongside the latest and most cutting-edge of Chicago house tracks.
With their previous hit 'Oh Yeah' also enjoying further on-screen exposure (it was reprised for the soundtrack of the box office smash The Secret Of My Success, starring Michael J Fox), Flag confidently unfurled on the global stage. It's third single, 'Of Course, I'm Lying', broached the UK Top 30, while the album cruised into the Top 40 in numerous European territories. It later enjoyed further critical success when it was used in full to soundtrack director Jonathan Lynn's comedy film Nuns On The Run, starring Robbie Coltrane and Monty Python stalwart Eric Idle.
European Top 40 chart success
Blank and Meier's seventh studio set, 1991's frothy, pop-oriented Baby, continued from where Flag left off, topping the charts in Austria and scoring in numerous European Top 40 chart rundowns – including the UK, where it peaked at No.37. Though the record didn't proffer anything quite as irresistible as 'The Race', it did feature the arcane but humorous 'Rubberbandman' and two further shoulda-been hits courtesy of 'Jungle Bill' and 'Who's Gone', while an early cut of the album formed the soundtrack to American director Renny Harlin's action-comedy The Adventures Of Ford Farlaine.
In-Depth Electronic Features
Though they didn't yield the same level of commercial success, Yello continued to record impressive, critically acclaimed albums during the 90s. Released by Polygram subsidiary Fourth & Broadway, '94's Zebra again found Meier and Blank stirring contemporary dancefloor-related flavours into their sonic melting pot, with the energetic, techno-flavoured 'Do It' and playful, Latin Jazz groove of 'How How' both featuring in the US Billboard Top 50 Club Chart. Partially helmed by respected British DJ/producer Carl Cox, meanwhile, 1997's consistent, but largely overlooked, Pocket Universe included one of Yello's best singles, the chilled but insistent 'To The Sea', which featured a hauntingly ethereal vocal turn from Swedish singer-songwriter Stina Nordenstam.
Yello: Anthologies and Tours
Just prior to the turn of the new millennium, Yello issued Motion Picture – which, as the title suggests, was long on filmic ambience and atmosphere – before recording 2003's reliably upbeat The Eye for Berlin-based independent imprint Motor Music. Next came 2009's Touch Yello, beautifully balanced moody, ambient pieces with quintessential, dancefloor-friendly cuts such as 'Part Love', while the Jane Birkin-style purity of Swiss chanteuse Heidi Happy's vocal contributions to tracks such as 'You Better Hide' and 'Kiss In Blue' acted as the ideal counterpart to Dieter Meier's craggy, Serge Gainsbourg-esque growl.
Still widely available, Polydor's extensive 3CD+DVD set Yello by Yello – The Anthology is ideal for both newcomers and completists, while 2014's critically lauded Boris Blank anthology, Electrified, presented a jaw-dropping selection of previously unreleased material from the past five decades and paid tribute to a truly singular sonic innovator who has painstakingly built up a sample library reputedly housing over 100,000 different organic sounds.
Since then, Yello have released two studio albums: Toy (2016) and Point (2020), and with no signs of slowing down, they've also completed several tours, including a 2018 tour of South America and 2019 tour of Europe. In addition to their live performances, Yello have collaborated with other musicians and producers, including Vince Clarke, DJ Hell and Wolfgang Flür.
Yello: Studio Albums
Format:
UK English