In Search Of The Forgotten Heroes Of 70s Rock
These overlooked 70s rock heroes moved audiences, made fantastic albums, then faded, but are still fondly thought of by diehards. Remember them with love.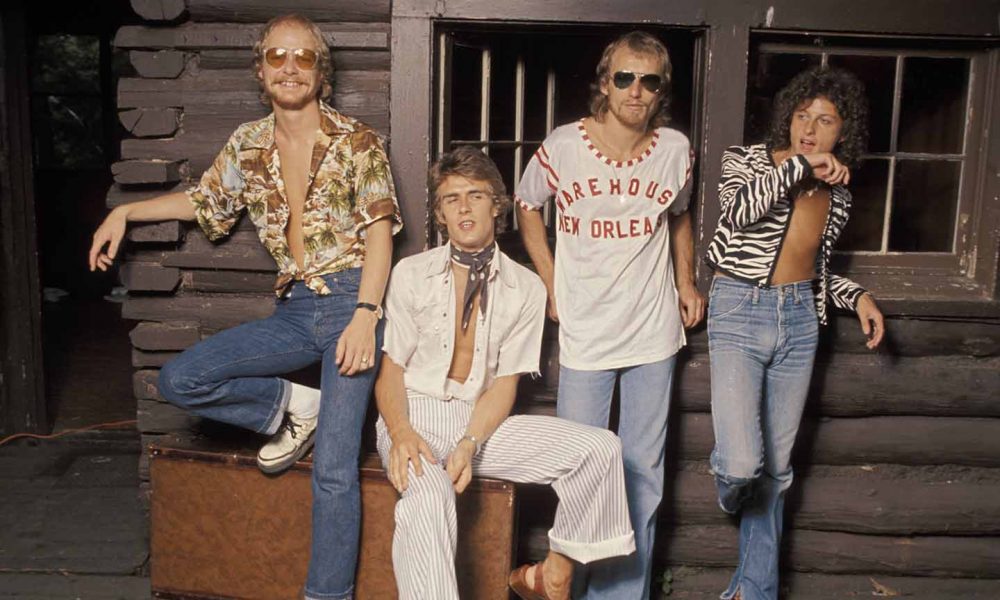 We all know about the 70s. The Beatles quit, glam came along – T.Rex, Bowie, Slade; in the background, Floyd, Zeppelin and Sabbath sold squillions of records as 70s rock icons. Yes, ELP, Mike Oldfield and Genesis did prog for educated chaps. Then disco: ELO, ABBA and Queen competed with it, then joined it. Punk rebelled, then came post-punk and Joy Division, plus 2-Tone. There was other stuff, like Bob Marley and Eagles. And we wore platform-heeled hot pants. Cool. Perhaps.
But are the 2010s only about Adele and Ed Sheeran? Beneath their mass appeal lies hundreds of other acts making great music. It was the same for 70s rock coulda-beens: brilliant bands rocked audiences of thousands, made fantastic albums, then faded. Fondly remembered by a troupe of diehards, these acts are almost ignored by the rock'n'roll historians – though many deserved to be lauded like their celebrated contemporaries. Here are but a few: remember them with love, or discover them afresh.
Focus
It wasn't enough for Focus to boast a brilliant guitarist in Jan Akkerman; they had a wily way with a tune and succeeded with an unfashionable form of rock: instrumentals. Focus were The Netherlands' leading 70s rock band. Formed in 1969, they won attention through early single "House Of The King." The theme for four UK TV series(!), the unwary might have mistaken it for a Jethro Tull ditty thanks to the flute of Thijs Van Leer, though his group were very different. Their second album, 1971's II, was Focus' breakthrough, delivering an international hit in the fierce "Hocus Pocus." Their third album delivered the elegant descending melody of "Sylvia," winning further fans worldwide, with Akkerman drawing admiration. The guitarist left in 1976 but returned several times; Focus are still on the road.
Robin Trower, Wishbone Ash
Akkerman wasn't alone: the 70s adored a guitar hero. Robin Trower, formerly of Procol Harum, was seen by some listeners as the heir to Jimi Hendrix. Trower formed his own power trio in 1973, teasing weeping and wailing from his Stratocaster over a series of fine records, and riding high in the album chart with Bridge Of Sighs in '74 and For Earth Below in '75 – chiefly in the US, rather than his native UK. Another notable guitar band were Wishbone Ash, though they went one further, with the double lead axes and vocals of Andy Powell and Ted Turner mesmerizing fans. Pilgrimage (1971) and Argus (1972) were 70s rock classics, mixing melody, blues, and a mythological element. Their "Blowin' Free" was banned from some guitar shops which grew sick of budding strummers playing its intro. Among them was Steve Harris, heartbeat of Iron Maiden, for whom the Ash was a major influence.
Osibisa, The Strawbs
The second-division 70s rock bands were not remotely generic. Behind the sleeve artwork of famed designer Roger Dean, Osibisa played Afro-rock that mixed Ghanaian highlife, searing rock, and Caribbean grooves; ignore their biggest hit, "Sunshine Day," and check out their eponymous debut LP and its '74 follow-up, Woyaya: both made loon pants rave. The Strawbs blended folk (Sandy Denny was an early member, as was Rick Wakeman) with rock, glam, and social comment, hitting with "Part Of The Union" and "Lay Down" in 1972. The band were too diverse for its own good, though Just A Collection Of Antiques And Curios (1970) and Grave New World ('72) were widely played and respected. And spare a thought for the Illinois singer-songwriter Emitt Rhodes, a multi-tracking one-man-band given the tag of "the new Paul McCartney." Gulp. His second, self-titled, album is so full of beautiful, melodic tunes, tending to the baroque, that it's baffling that it only made No.29 in the US in 1970. Talent? You bet.
Ambrosia
The harmonious progressive rock of California quartet Ambrosia illuminated the second half of the 70s. Their imaginative eponymous debut (1975) adapted a Kurt Vonnegut poem for the single "Nice, Nice, Very Nice," while "Holdin' On To Yesterday," an orchestrated beauty with the sort of beat now regarded as a downtempo groove, was a big US hit. The following year, Somewhere I've Never Travelled sent FM DJs quietly wild; further fame came when the group cut "Magical Mystery Tour" for the Beatles/war documentary oddity All This And World War II. Scoring warm soul-styled hits in the 80s, these alluring soft rockers are still touring.
Atlanta Rhythm Section
The wonderful Atlanta Rhythm Section faced one drawback: their acronym was ARS. But they made it. No prizes for guessing where they're from. They delivered five albums between 1972-76, with little fuss and low sales figures: that changed in 1977 when "So Into You," a cool, steady-chugging chunk of soulful Southern rock, went Top 10 in the US, bringing their A Rock And Roll Alternative with it. The next year they scored again with "Imaginary Lover" and the strolling "I'm Not Going To Let It Bother Me Tonight," both from the platinum-selling Champagne Jam. Further hits came courtesy of "Do It Or Die" and a revival of "Spooky" – two members of the band had been in Classics IV, who'd first hit with the in '67. ARS were a class act.
Ozark Mountain Daredevils
Want something that blends with them? Try "Jackie Blue" (1974), the biggest hit by Missouri's Ozark Mountain Daredevils. Mixing AOR with country-influenced sounds (check out the boogie of "If You Want To Get To Heaven") and a sense of the absurd (their third LP was called The Car Over The Lake Album, and the sleeve showed just that), they were a reliably fine time on vinyl between 1973-80.
Wet Willie
Staying in the south, Wet Willie were named after a schoolyard prank but were no joke. From Alabama, they boasted five or six core members, plus backing singers The Williettes, who included British solo star Elkie Brooks for a while. Their biggest hit was the laconic, steady-rollin' "Keep On Smilin'" in 1974, title track to their fourth album. For the full blast of their grittily funky rock, however, try the previous year's superb live set, Drippin' Wet. And let's also recall Manassas, who cut two fine albums in 1972-73. And they would be fine, since they were the vision of a bona fide superstar, Steven Stills, and featured Chris Hillman of The Byrds and Flying Burrito Brothers amid an array of truly great players. The group's self-titled debut offered four sides of glorious rootsy country-rock – and whatever else took their fancy. Everyone involved thought the band was amazing, so why weren't they bigger? Perhaps because fans wanted Crosby, Stills & Nash, instead.
Brinsley Schwarz, Miller Anderson
At the opposite end of the fame spectrum, British 70s rock band Brinsley Schwarz, named after their guitarist, were famously over-hyped when flown to NYC to open at the Fillmore East in front of a gaggle of music hacks, but settled into a low-key country-rock and roots vibe that was a cornerstone of London pub-rock. Building a loyal, if small, following, they toured constantly, supported the likes of Wings and Dave Edmunds, but disbanded unheralded in 1975, leaving us half a dozen albums such as the country-inclined Nervous On The Road. Most members went on to success, notably bassist and songwriter Nick Lowe, who produced The Damned and Elvis Costello, was part of Dave Edmunds' Rockpile, and wrote Dr. Feelgood's biggest hit, "Milk And Alcohol." Another downbeat hero, Scottish guitarist Miller Anderson, breathed blues-fuelled fire into records by Keef Hartley Band, Savoy Brown, Ian Hunter, Jon Lord, and many more. His sole solo set of the 70s, Bright City, on Decca's progressive Deram imprint, was ambitious, thoughtful, and had a theme concerning 70s urban life, with brilliant orchestral arrangements. It sold… not at all. A dirty rotten shame, as Anderson's under-exposed vocal talent deserved exposure.
Nick Lowe - "So It Goes" (Official Music Video)
Camel
Prog stars Camel, led by guitarist/flautist Andy Latimer and featuring keyboardist Peter Bardens, cut Camel for MCA in '72, featuring the climactic gem "Never Let Go." Swapping to Deram, Mirage found a following in the US, and 1975's instrumental suite, The Snow Goose, became a surprise runaway success, despite a dispute with Paul Gallico, the author of the kids' book of the same name, involving an unseemly mix-up about whether the band were related to the cigarette brand (they weren't). The following year's Moonmadness was another hit amid various line-up changes, and the group kept charting until 1984.
Barclay James Harvest, Gentle Giant
Another act who had to earn it, baby, were prog stalwarts Barclay James Harvest, a quartet who got through five albums without pestering the Top 40, finally scoring with Live, a double set that reflected a fanbase built on hard graft. LPs such as Everyone Is Everyone Else, Octoberon, and Time Honoured Ghosts are classics of their type, with great songs such as "Mocking Bird" and the wry "Poor Man's Moody Blues" undeservedly little heard today. Then there's Gentle Giant, who grew (and grew) from the psychedelic-era act Simon Dupree & The Big Sound (and late-60s curiosity The Moles) into one of the most reliable progressive bands of the 70s. While they barely hit in their native UK, a decade of albums on Vertigo label and Chrysalis won a strong following in the US, with Free Hand going Top 50, and the likes of Octopus and The Power And The Glory proving fascinating those with ears to hear.
Spring, T2
Finally, two more British 70s rock bands who, sadly, barely registered: Spring, a highly melodious five-piece whose charming self-titled 1971 album is mostly recognized for copious use of the Mellotron (without sounding remotely like The Moody Blues). What ought to be more noted, however, are the heartfelt and distinctive vocals of Pat Moran, who went on to produce Iggy Pop, among many others. And should you think T2 is just a movie, you haven't heard It'll All Work Out In Boomland, a legendary progressive album that should have made stars of the trio that recorded it. If you want to know where Neil Young and Bowie meet, hear T2's singer-drummer Peter Dunton, and you'll also enjoy the tough guitar stylings of Keith Cross. Despite BBC sessions and an 80s reunion, fame proved elusive for the group. 70s rock fans didn't know how lucky they were.
Featuring stand-out moments from overlooked heroes Camel and Gentle Giant, along with a host of other prog acts who deserve far wider recognition, follow the Prog Rocks playlist on Spotify.