'Anytime…Anywhere': Rita Coolidge's Breakthrough Album
'I never really imagined it happening to me on that level,' she once said.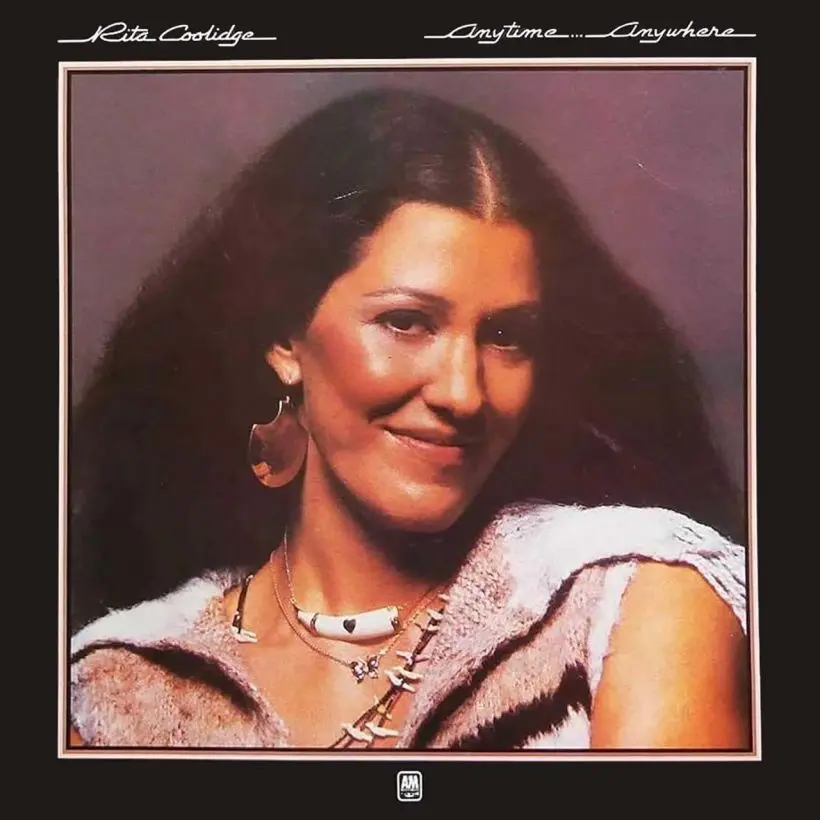 Despite having five solo albums under her belt, Rita Coolidge had not yet achieved the commercial breakthrough that had long been predicted for her. The Nashville-born, Florida State University graduate had moved to Memphis, Tennessee just out of college to, in her words, "give music a chance." When Delaney and Bonnie invited her to Los Angeles to sing background for them in 1969, she made the leap. In Los Angeles, she quickly became a 'first call' session singer, adding her voice to hits like Stephen Stills' "Love The One You're With," and recordings by Judee Sill, Graham Nash, and Eric Clapton. She gained infamy as the "Delta Lady" on Joe Cocker's Mad Dogs and Englishmen tour, signing with A&M Records to begin her solo career at the end of the tour in 1971.
Her early albums explored the intersections of blues and jazz with folk and country, and featured the creme de la creme of session players including Spooner Oldham, Al Kooper, Leon Russell, and her brother-in-law Booker T. Jones. While Coolidge consistently worked as a performer during this time period, her albums didn't capture the public's imagination. Critics, while praising her voice and song choices, were waiting to hear the release of something they felt Coolidge was emotionally invested in, or as Rolling Stone's Stephen Holden wrote of 1974's Fall Into Spring, something that was "more than merely lovely."
Listen to Rita Coolidge's Anytime…Anywhere now.
When she and producer David Anderle turned in an album called Southern Lady in 1976, A&M Records president Jerry Moss suggested that they keep working, rather than release it. She told the New York Times, "Jerry said we could put out the album that we had recorded and it would automatically sell 150,000 copies, but he wanted to try a more 'up' thing for AM radio." They kept half of the unreleased album, and recorded five more songs. The result was Anytime…Anywhere.
One of Coolidge's additions was an arrangement of Jackie Wilson's (Your Love Keeps Lifting Me) Higher & Higher" by her brother-in-law Booker T. Jones that he'd shelved. "It really floored me," she recalled to Rolling Stone's Cameron Crowe. "I went into the studio and cut that with his arrangement. There's a lot of him in there…that's why I did it." When the song went to radio in March of 1977, it began gaining the kind of traction on the charts that had eluded her. "Boy, I wanted a single. Just for the security to keep recording. All I want to do is make records. And it would kill me if I couldn't. It's my very life," she told Rolling Stone a year later. The single peaked at #2 on Billboard's Hot 100, the highest charting single of her career.
[Your Love Has Lifted Me] Higher And Higher
Jerry Moss had suggested that Coolidge cover Boz Skaggs' "We're All Alone," which also turned out to be fortuitous. As "Higher" was still climbing the charts in the United States, A&M issued "We're All Alone" as the first single in England where it went to the #6 position. By September, it went to #7 in the States. The album's third single – another one of the five additions – a cover of Smokey Robinson's "The Way You Do The Things You Do" peaked at #20 on the Hot 100. Critics and music lovers embraced the platinum-selling album that would come to define and redirect her career. "Coolidge has produced a nearly perfect album," one wrote, while a Memphis critic raved that "Rita shows off her many talents as best as she has ever done."
The key to the album's success? "Jerry suggested I change my musical direction to appeal more to the adult rock crowd," she told Billboard. "I tried to do more familiar material. The other albums contained too many new songs." Anytime…Anywhere exceeded any expectations Coolidge had for her career. In a 2015 interview, she reminisced on the experience: "A few months before, I'd lost a child and that album seemed to come at a time when I needed a lift. I don't think I saw it coming. I never really imagined it happening to me on that level. When it happened, I knew what it might be like for somebody else, but it was over the moon for me."