Bringing It All Back 'Home' With Delaney And Bonnie
Delaney And Bonnie had a profound influence on Eric Clapton when they released 'Home.' The album remains a down-home classic, mixing blues with blue-eyed soul.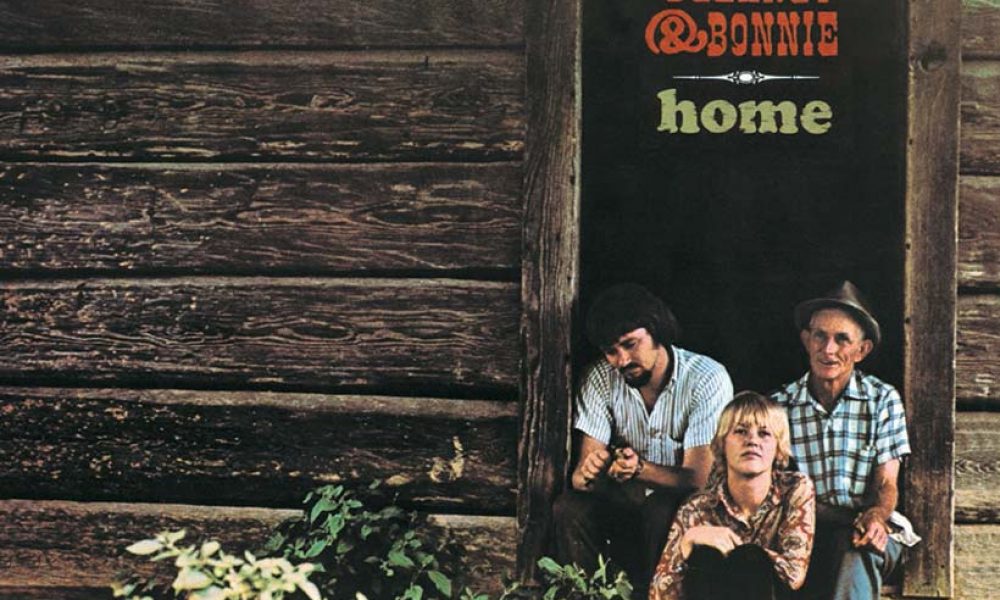 The husband-and-wife team of Delaney and Bonnie Bramlett are probably best known for the period immediately after their 1969 debut album, Home, when, adding the tag "And Friends" to their names, they partnered with George Harrison, Eric Clapton, and Leon Russell.
But Home should not be overlooked. Named after the log cabin in which Delaney grew up, in Pontotoc, Mississippi (the front cover pictures the couple sitting on the doorstep with Delaney's grandfather John), the album saw them adopt a blue-eyed soul approach with authentic backing provided by a stellar cast, including Booker T And The MGs, whose bassist, Donald "Duck" Dunn, co-produced the album along with Memphis ace Don Nix.
While Delaney And Bonnie brought in plenty of excellent original material, they also took the trouble to collaborate with another bassist, Carl Radle – a tall and lean bespectacled figure who held down the rhythm section for the likes of Leon Russell, Gary Lewis And The Playboys, Harrison, Clapton, Derek And The Dominos, JJ Cale, Freddie King, Rita Coolidge, Bob Dylan, John Lee Hooker, Art Garfunkel, Buddy Guy, and a host of others. Familiar and still-fresh songs from Stax-Volt were tapped into, with selections from Steve Cropper (who provides the mesmerizing lead and rhythm guitar), Isaac Hayes and David Porter, as was the Bert Berns and Jerry Ragavoy soon-to-be-classic "Piece Of My Heart," a major hit for Erma Franklin and Big Brother And The Holding Company, whose Janis Joplin gave the definitive version.
Recording took place across 1968 and 1969, with ten tracks culled from the session. (The 2006 Resequenced And Expanded edition uncovered a few other choice items, among them "A Long Road Ahead," "Things Get Better," "All We Really Want To Do," "Look What We Have Found," "I've Just Been Feeling Bad," "Dirty Old Man," and the Bramlett signature piece "Get Ourselves Together.")
Clocking in around the 30-minute mark, Home was released in May 1969 but still sounds charming. Delaney And Bonnie are in great voice and the playing is, as you would expect, impeccable. A key feature is not just the rhythm section, which really cooks, but also the splendid horn parts provided by The Memphis Horns – Wayne Jackson and Andrew Love – and the other trumpet and saxophone specialists.
The emphasis is on gentle, swinging soul – easy listening in places – but there are side trips such as the gorgeous "Things Get Better," which sounds like lovers rock, and the crisp pop arrangement on "Hard To Say Goodbye."
Clapton, who was turned on to the album by Harrison, thought that Delaney And Bonnie were actually better than his own supergroup Blind Faith, and you can hear why he was so smitten on tracks such as "It's Been A Long Time Coming" and "Pour Your Love On Me" (penned by Homer Banks and Delaney). The sound provided him with a template for his own work in the following years.
Thanks to that, the Bramletts achieved a greater level of fame than they might otherwise, but they have seldom given a better account than they did on this lovely, down-home disc.