Children Of The Revolution: How Glam Rock Changed The World
Glam rock sparked a cultural evolution, with its thrilling music, spectacular costumes, and a dash of provocative sexual tension.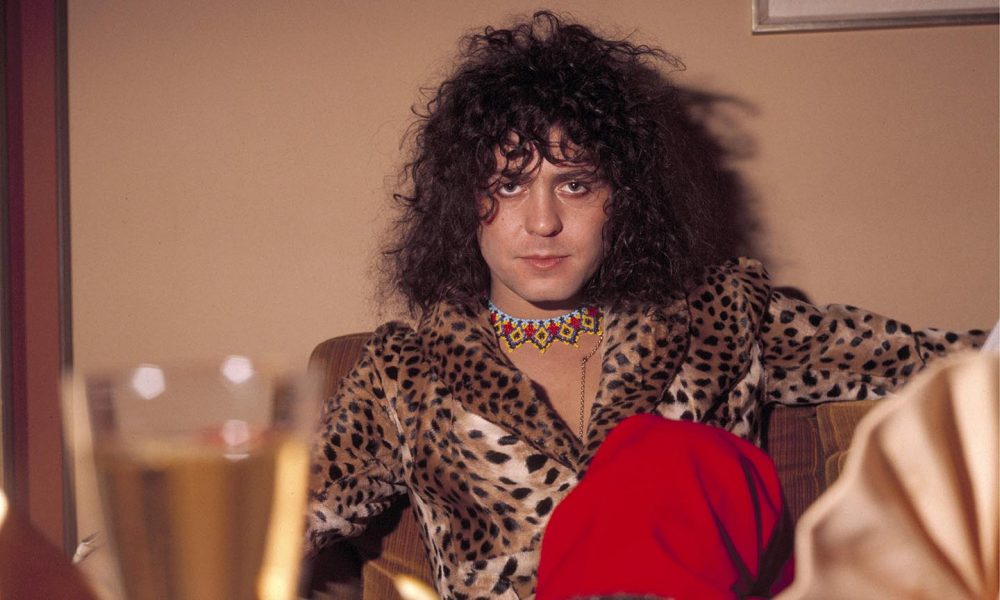 The Great Britain of the 70s could be a drab, monochrome place. The buzz of the Summer Of Love had long faded and in its place, it seemed, came the escalating tensions in Northern Ireland, economic and political crisis, and a sense that the nation's moment had passed. Glam rock (or "glitter rock," as it was better known in the US) added a rare splash of color and sparked a very different kind of cultural evolution. In part a reaction to that turgid zeitgeist of the time, and in part further evidence that the music scene still had some solid boundaries to press against, the more forceful the pushing behind glam rock, the more the teenyboppers seemed to like it. This was about thrilling music, for sure, but also the spectacle of identity, dressed up in spectacular costume, and that crucial ingredient: a frisson of provocative sexual tension.
Listen to the best glam rock songs on Spotify.
Glam's fermenting ground lay in a maturing rock market, where the prevailing mood had grown more statesmanlike and serious. The predominance of earnest young men, posturing in denim and long hair but deadly serious about their musical craft, might have evolved from the Flower Power movement of the late 60s, but they had lost all their sparkle along the way. The glam rockers, by contrast to that breed and even the hippies that predated them, didn't want to change the world; they wanted to escape it, creating a rich, out-there theatricality that strayed thrillingly close to performance art territory.
Marc Bolan and T.Rex, Glam Superstars
The flamboyance of acts such as Chuck Berry and Little Richard were, perhaps, the genesis of the glam movement, but while The Rolling Stones' Mick Jagger appropriated much of those 50s icons' style, it was Marc Bolan who was the real deal and glam rock's first true star. Londoner Mark Field had spent much of the 60s looking for a break in the music business, but by 1970, with a new name and a band built around him, Bolan and T.Rex were starting to get noticed.
The poppy "Ride A White Swan" climbed the UK charts that autumn and would peak at No.2, offering a small foothold on the stateside charts the following year. The next single, "Hot Love" – famously written in 10 minutes – was a six-week British chart-topper and truly sparked the signature glam rock sound. Bolan's electrifying style – part Oscar Wilde dandy, part working-class wide-boy – transfixed viewers of the BBC's Top Of The Pops, and a string of smash hits made him a bonafide superstar. "Get It On" (his biggest international hit), "Jeepster," "Telegram Sam," "Bang A Gong (Get It On)," "Metal Guru" and "Children Of The Revolution" became the UK's soundtrack to 1971 and '72.
While his US success was patchier, Bolan reveled in international adulation and balanced a relentless recording schedule with a ferocious touring program and promotional projects, including the 1972 film Born To Boogie (directed by Ringo Starr). It was perhaps inevitable that this pace would lead to burn out, and, as the hits began to pack less bite in the middle of the decade, Bolan's health started to suffer. His death in a car crash, in 1977, put an end to a remarkable legacy of work completed before he had even turned 30.
David Bowie and Ziggy Stardust
Another chameleon that briefly became central to the glam rock movement was David Bowie. Of course, it was inevitable that such a prodigious talent as his would soon drive him in different directions but, in his Ziggy Stardust persona, he created a caricature that felt entirely of the time.
Greatly influenced by the avant-garde work by New York artist Andy Warhol, Bowie described himself as a "tactile thinker who picked up on things", and this theatrical pseudonym, launching hits such as "Starman" and "The Jean Genie" in 1972, also borrowed much from the glam stars breaking through that year. The look was androgynous, but the riff-heavy pop-rock blend appealed to teenagers and the more conformist, mature music fan.
David Bowie – The Jean Genie (Official Video)
By the summer of 1973, Bowie was ready to move on from glam rock and Ziggy was retired at a legendary Hammersmith Odeon gig. Decades later, Bowie's performance of "Starman" on Top Of The Pops, with his arm slung around his guitarist Mick Ronson in a pseudo-sexual tease, remains a cultural touch-point for the entire era. It was certainly provocative stuff. Bowie, who had been friends with Bolan, claims that 50s rocker Vince Taylor provided much of the inspiration for Ziggy, but it was clear that Bolan's T.Rex had also helped shape the persona. Tellingly, legendary producer, and one of Bowie's most respected collaborators, Tony Visconti, worked with them both during this period.
So while Bowie might have borrowed from others, his own influence on the scene is indisputable. He had long admired British cult band Mott The Hoople and, when he heard that they were planning to split after a show in Switzerland, in March 1972, he offered the group one of his new songs in a bribe to keep them together. It worked (briefly) and, signed to a new record label, the Bowie-produced "All The Young Dudes" became a major success and a glam rock classic, peaking at No.3 in the UK singles chart and spearheading a Bowie- and Ronson-produced album of the same name. Mott had always enjoyed a ferociously strong live reputation, but factions continued in the group and there became an ever-faster revolving door of new members until, after six more hits, the band finally split at the end of 1974.
Slade
Having hits like those was the scorecard for glam rock, and the sound was soon considered a fast-pass to the British charts. By 1972, the weekly listings were awash with acts that had seized on that musical hook and look to get them noticed. Slade had been a skinhead band as late as 1969, but, by the end of 1971, "Coz I Luv You" had topped the UK charts and silk jackets and shoulder-length hair had replaced their braces. Appropriately enough, the four-piece had previously had a small hit with a Little Richard cover, but this was in an entirely different league.
Slade - Cum On Feel The Noize
It's perhaps hard to imagine now, but Slade were a domestic pop phenomenon and became the first act to have three singles enter the UK charts at No.1. Their school teacher-infuriating, deliberately illiterate jams the likes of "Take Me Bak 'Ome," "Mama Weer All Crazee Now," "Cum On Feel The Noize" (later covered in 1983 by US rockers Quiet Riot, and then again in 1995 by Britpop bad boys Oasis, whose guitarist Noel Gallagher took to wearing a "Quoasis" T-shirt in response to a slight from Blur frontman Damon Albarn) and "Skweeze Me Pleeze Me" all managed to top the British charts within just 24 months. The costumes got more colorful as the hits kept coming, but the perennial Christmas classic, "Merry Xmas Everybody," out at the end of 1973, was to prove the band's peak, with their success largely over by the time the punks were getting started a few years later. But a group this much loved wasn't going to go away for long: there was a sturdy chart revival in the early 80s, and Slade have enjoyed a sporadic recording and touring schedule in the years since.
Sweet
Sweet gave Slade a run for their money – in the makeup stakes, even if they weren't quite able to match the latter's chart statistics. The four-piece made their TV debut on ITV's early answer to Top Of The Pops, Lift Off, and hit their stride during 1971 with frothy concoctions the likes of "Co-Co" and "Funny Funny," but peaked with the anthemic "Blockbuster," a five-week British chart-topper at the start of 1973.
Sweet - Blockbuster - Top Of The Pops 25.01.1973 (OFFICIAL)
Largely seen as a singles act, the band were signed with Nicky Chinn and Mike Chapman, who perfected a glam-pop sound that would dominate the British hit parade. "Blockbuster," once again written by Chinn-Chapman, had a slightly harder rock sound than previous hits and marked the first time the whole band had even all played on one of its own records. Three consecutive UK No.2 successes followed, "Hell Raiser," "Ballroom Blitz" and "Teenage Rampage," before the inevitable tension between the rock act and their Svengali writing-and-production team grew sour. With the band craving wider credibility, the partnership split and, despite a good start with 1975's "Fox On The Run" (recently revived in the Guardians Of The Galaxy movie), the hits started to dry up, despite ongoing success in continental Europe and a final flourish with 1978's "Love Is Like Oxygen."
Flirting with glam rock: Elton John
It's perhaps a stretch to imagine now, but Elton John's early career also flirted with the sounds and looks of glam rock. With the predominance of the softer balladry that was to dominate his later career some years away, his hits of the era included stompers such as "Saturday Night's Alright (For Fighting)" and, of course, "Crocodile Rock." Crucially, Elton looked the part and his droll theatricality played into the movement's subversive tease.
The Who's masterpiece rock opera Tommy was filmed for a 1975 feature and featured the Rocket Man as the Pinball Wizard. John's memorable appearance, filmed at a grand playhouse in the south of England, saw him decked out in enormous Doc Marten boots, braces, and the obligatory glitter shirt. The star's trademark glasses – oversize and sparkling in the stage light – helped shape another of his classic images. The same year's Captain Fantastic And The Brown Dirt Cowboy album also included songs and the type of sleeve artwork entirely at ease with acts such as The Sweet and Slade.
Tommy - Pinball Wizard - The Who/Elton John (1975 Film)
The RAK label
While the formula may have looked simple, collectors of the genre will tell you that, for all the successes, there were plenty of failed releases too. Labels the likes of RAK seized on acts such as Iron Virgin, Screemer, and Jimmy Jukebox, who then failed to chart with songs now routinely categorized as "junkshop glam," while Hello, who did score two other hits, were a gang of teenagers who also missed with the lost anthem "Another School Day" on the other great glam record label of the day, Bell.
The Chinn-Chapman juggernaut did make an RAK star of Suzi Quatro when "Can The Can" topped the UK chart in 1973. Suzi's early work had been firmly in the rock genre, including a spell with progressive act Cradle, and it's interesting how easily these rock-oriented acts sprinkled their sound with a glam rock gloss to enormous success. That success was principally across Europe, though Suzi would receive a complimentary nod from Elvis Presley for her cover of "All Shook Up," a minor hit in their shared homeland in 1974.
Suzi Quatro - All Shook Up Music Video
Suzi's second UK chart-topper, "Devil Gate Drive," was to prove her last, but her career soldiered on (with a big US Chinn-Chapman country-tinged hit duet with Smokie's Chris Norman in 1978 with "Stumblin' In") and she maintains a strong profile to this day. Other Chinn-Chapman acts that benefited from their Midas touch that decade included Mud and the aforementioned Smokie, but these were predominantly pop acts. Likewise, Gary Glitter's partnership with Mike Leander struck gold with a string of big hits for him and The Glitter Band, who made No.4 with "Angel Face" in 1974 and were to score five further UK Top 10 hits in the following two years.
The influence of glam rock
The influence of glam can also be seen in other pop acts from the era, including the Scottish boy-band Bay City Rollers and Slik, an early vehicle for future Ultravox front-man Midge Ure. "Forever And Ever" topped the UK singles chart in February 1976. Ure didn't write this brooding ballad; but something of "Vienna"'s orchestrated pomp can certainly be traced back here. Wizzard, Alvin Stardust, and The Rubettes also scored sizeable glam-oriented pop hits with tracks such as "Angel Fingers (A Teen Ballad)," "My Coo Ca Choo" and "Sugar Baby Love."
One act resolutely not pop-oriented was Roxy Music. Led by Fine Arts graduate Bryan Ferry, his partnership with synth wizard Brian Eno began in 1971 and, by the end of the following year, "Virginia Plain" had made UK No.4 on the back of acres of positive music press. While band members rotated at speed during the development years, albums such as their self-titled debut and its follow-up, For Your Pleasure, kept up solid commercial and critical momentum.
Roxy Music - Virginia Plain - Top Of The Pops - 24th August 1972
Ferry juggled a more sedate solo career (with his first LP, These Foolish Things, hitting the shops in 1973) but the band's art-school credibility did much to broaden the appeal of a genre that, over time, appeared to be largely targeting the poppier end of the market. As the band mellowed across the decade, and with later releases such as Avalon (musically, at least) a million miles away from Roxy's scruff-of-the-neck early stompers, the rich theatricality of the band's beginning comfortably carried their fans with them. Roxy Music had created glam for grown-ups, and their audience was to prove resiliently loyal.
Another band steeped in the artistry of performance was Sparks. Brothers Ron and Russell Mael relocated from America's West Coast to the UK in 1973, and the following year's Kimono My House album was an ambitious, eccentric oddity that spawned a sizable hit with "This Town Ain't Big Enough For The Both Of Us." With distinctive styling, the pair proved a natural draw for the TV programmers and, in time, the brothers would also turn their attention to the movies, with appearances in hits such as Rollercoaster. But not before they would score further hits with Amateur Hour and Get In The Swing, while Sparks remain one of the most high-profile cult bands still in business to this day.
Sparks - This Town Ain't Big Enough For Both Of Us (Official Video)
Alice Cooper, Lou Reed, and The New York Dolls
If Sparks and Roxy Music kept their visual presentation just the right side of tasteful, Alice Cooper did just the opposite with a showy, OTT edge that helped his notoriety soar. For those that got beyond the freak show, Cooper was clearly a consummate showman who could also pen a great tune. "School's Out" appeared on his fifth album and gave him a breakthrough in the US and in Britain, where it topped the chart. Subsequent hits such as "Hello Hurray" and "No More Mr. Nice Guy" showed that "School's Out" was no one-off, though in truth that anthem would prove a hard hit to better.
Cooper was a relatively rare American glam success, but London would continue to attract acts like Sparks, drawn to the city's buzzing scene. The late Lou Reed, who had left The Velvet Underground in August 1970 and signed to RCA, came to the UK capital to record his self-titled solo debut. Though that failed to make much headway, its Bowie- and Mick Ronson-produced follow-up, Transformer, was a masterpiece, crowned with the classic hit "Walk On The Wild Side." Across the Atlantic, Jobriath drowned in the huge hype surrounding the launch of his recording career, and his debut was a surprise flop for the glam star and, by 1975, Jobriath had announced his retirement. The two records he recorded in that period, however, came in for a critical re-evaluation in the new century and are now considered "lost" glam classics.
The sexual politics of glam always made it a harder sell stateside, but pockets of greater independent thinking, like the east coast, were to prove more fertile ground. The New York Dolls, formed in early 1972, fused the stomp of glam with more extreme songwriting, and their 1973 self-titled debut, produced by Todd Rundgren, was a huge critical success. In 2010, Morrissey named it his favorite album of all time.
Glam rock's echoes in the mainstream
So if the work of The Stooges and hits such as The Kinks' gender-switching "Lola" can be marked as the songs that offer the opening chapter of glam's heady catalogue, it is harder to mark any sort of tidy conclusion. Certainly, the era's pop-oriented hits (David Essex's "Rock On" and Elton John's "Bennie And The Jets," for example) owed something to the sound, while The Rocky Horror Picture Show, which started life as a cult piece of musical theatre, had its West End debut in 1973, probably marking the moment that glam was firmly established in the mainstream – and in detectable decline. By 1975, the stage show had been adapted for the silver screen.
By that time, pop had clearly moved on and glam rock's influence seeped into the counterculture movement of punk, which was soon to transform the music industry forever. Blondie's early single "Rip Her To Shreds" is certainly a strong example of a punk-glam hybrid. Fellow Americans The Runaways borrowed from glam for their charismatic debut "Cherry Bomb," with Joan Jett recalling that she heard singles from bands such as Slade and T.Rex at The English Disco, an LA club that would prove hugely influential in keeping the legacy of the glam rock sound alive.
You can also hear echoes of glam in the era's other great singles, such as Ramones' "Sheena Is A Punk Rocker." In Britain, Billy Idol's Generation X appropriated the punk-glam hybrid, while metal became its most obvious successor, with the likes of Judas Priest and, later, Def Leppard and Hanoi Rocks, clearly being influenced by its sound. It also doesn't take much imagination to spot something of the theatricality of glam in those classic records by Adam & The Ants or synth-pop pioneers such as The Human League, who covered Mike Leander's Rock'n'Roll on an early single.
Rip Her To Shreds (Remastered)
Glam rock's lingering effects
While tracks such as Sigue Sigue Sputnik's "Love Missile F1-11" threw up the occasional pop hit in the later 80s, glam's first big renaissance came the following decade, with Britpop bands Suede and Pulp borrowing heavily from the earlier era's box of tricks. Suede's "Metal Mickey," a No.17 UK chart entry in 1992, provided the band its big Top 40 breakthrough, and Pulp wrote "We Are The Boys" for the 1998 cult Todd Haynes film Velvet Goldmine, which fictionalized the story of a glam star in the 70s.
New York nightlife revived glam for regular nights from the turn of this century, while the BowieBall launched in 2006 and became a huge annual event. Bands like The Darkness, who scored a big UK hit with "I Believe In A Thing Called Love" in 2003 (and whose frontman, Justin Hawkins, later released a cover of Sparks' "This Town Ain't Big Enough For The Both Of Us" two years later), looked like they had just stepped out of a time machine, while Goldfrapp layered the glam rock sound in a more contemporary electro sheen. Even the era's pop acts, Rachel Stevens among them, borrowed from the hooks of Chinn-Chapman for "I Said Never Again (But Here We Are)." Today, you can find glam rock nights on both coasts of the US and across Europe.
I Said Never Again (But Here We Are) - Rachel Stevens
Glam rock's brief imperial phase at the start of the 70s may have passed quickly, like all of the best pop movements do, but those glitter-encrusted boots had left an imprint on the imagination of future generations of musicians. And those teenyboppers who entered the Top Of The Pops studio for performances by Slade are largely pensioners now. "What did you do when you were young back then?" their grandkids likely ask today. Well, they danced, wore glitter, questioned the status quo, and had a ton of fun. If you think that sounds as much like a utopian manifesto for tomorrow as it does any sort of statement on the past, you wouldn't be alone…