Sparks
The California glam rock band comprised of Ron and Russell Mael are known for their sense of humor and melodic inventiveness.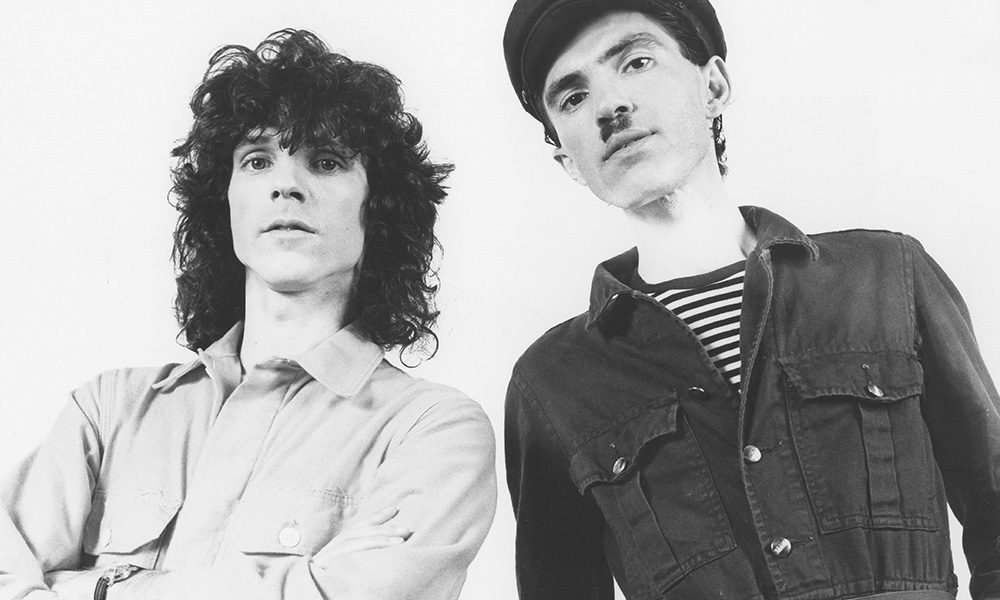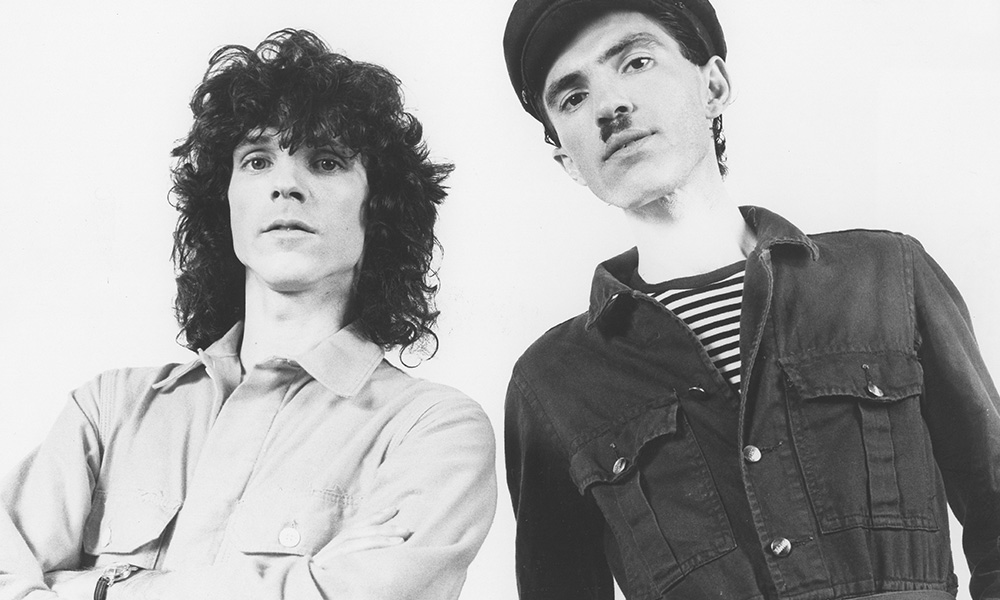 The current collaboration between Sparks and fellow art-rockers Franz Ferdinand has reignited interest in the antics of brothers Ron and Russell Mael. Calling the album FFS (note the risqué social media shorthand) was too good to ignore but the resulting music is a quite joyous affirmation of a truly oddball talent. With a history stretching across six decades it's true that Sparks are now veterans but one doesn't think of them as yer average classic rockers. With their startling and dramatic persona – Ron all deadpan stare and trademark Charlie Chaplin moustache, Russell the eternally youthful Californian kid – these two Los Angelinos have always made an instantly recognisable noise to match their image.
The classic early albums, Kimono My House, Propaganda and Indiscreet, were all huge affairs in Europe with masterful singles like "This Town Ain't Big Enough for Both of Us", "Amateur Hour", "Never Turn Your Back On Mother Earth" and "Something For the Girl with Everything" – all Top Twenty hits in the UK, where they maintain a loyal fan base and considerable cult appeal. But if the 1970s were a heyday of sorts that doesn't mean the ensuing discs should be ignored. Discovery will be a treat for anyone yet to catch up with latter-day albums such as Whomp That Sucker, Music That You Can Dance To and the excellent Gratuitous Sax & Senseless Violins (ouch) while the FFS item is arch pop taken to the nth degree. Along the way, they've gathered Gold and Silver accolades and should take credit for introducing many to the joys of electronica as well as a wide range of passing down influences and inspirations that include jazz, classical and pristine sixties pop – that art form being one they embrace. Oh yeah, their videos are pretty damn good too.
Born and raised in Pacific Palisades the ocean children Ron and Russell Mael were of the eccentric Californian breed – Hollywood kiddies for sure but with a weather eye set on Anglophile territory and acts they revered like The Kinks, The Who, The Move, Beatles and Stones. Both brothers studied at UCLA and their combined interests in graphic art, theatre and cinema were evident from early days when they entertained the family with song and laughter, especially when Ron wheeled his lil bro on stage in a wheelbarrow, Russell dressed in a cheeky sailor suit.
In 1968 they signed to Bearsville Records and were produced by Todd Rundgren for the eponymous debut, Halfnelson whose single "Wonder Girl" garnered interest in So Cal but nowhere else to speak of.
Renaming themselves Sparks (Marx Brothers, Sparks Brothers) they continued to experiment with lo-fi equipment and strange rhythms on A Woofer in Tweeter's Clothing but also enlisted a group consisting of the brothers Earle and Jim Mankey and Harley Feinstein and toured the UK, nabbing a residency at the Marquee Club where they confused the punters no end. This being the post-Ziggy era and with glam still a fixture they did begin to assemble a proper army of dedicated fans and even supported Queen. What a double bill!
After appearing on The Old Grey Whistle Test, Sparks status began to rise significantly and their third album, for Island Records, would be their breakthrough. Kimono My House was made with British musicians and Muff Winwood behind the desk. A pure pop extravaganza this disc is vital listening 40 years on. The singles "This Town Ain't Big Enough for Both of Us" and "Amateur Hour" still have such resonance that they sum up the glam era with as much panache as Bowie, Eno or Transformer period Lou Reed. With celebrity endorsements from Morrissey and Kurt Cobain the Kimono experience was never likely to be a well-kept secret but its witty charms are well worth rediscovery. Check the 21st Century Edition with bonus tracks "Barbecutie", "Lost and Found" and a 1975 live version of "Amateur Hour" from Fairfield Halls, Croydon.
Propaganda (1974) spawned the successful single "Never Turn Your Back On Mother Earth" and has been re-issued and remastered for the 21st Century edition, including an interview from Saturday Scene that captures their inimitable humour. Key tracks here are "Who Don't Like Kids" and "At Home, At Work, At Play", lyrical gems with irresistible melodies.
Tony Visconti produced Indiscreet (cover showing the brothers emerging from the wreck of a light aircraft) and the tune ratio is upped again by "Looks, Looks, Looks" and "Get In The Swing", grand pop unlike anyone else's variation on that genre. Visconti added subtle orchestral arrangements and in retrospect, it's apparent that this album should have been a monster, if only for its thumping power-pop punch. If America wasn't yet fully attuned to the delights of art-rock Europe certainly was, ditto Japan, and the Maels returned home to create Big Beat with producer Rupert Holmes. Another goody bag Big Beat is stacked with pop finery: "Big Boy", "I Like Girls" and "Everybody's Stupid" are prime time Sparks. The 21st Century Edition adds their cover of The Beatles' "I Want to Hold Your Hand", the hymnal "England" (thanks, guys) and "Looks Aren't Everything". Weirdly the disc didn't chart high but it should never be overlooked.
After a label change seventh album Introducing Sparks (originally only issued on vinyl) also slipped through the net but that was rectified by No. 1 in Heaven (1979) where they team up with Giorgio Moroder and move into the synth and disco arena with longer tracks, very early programming (by Moroder) and their most eclectic repertoire to date. The title song – or "The Number One Song in Heaven" – took them back to the charts while "Beat the Clock" – a homage to Donna Summer – is an enduring masterpiece. The 2013 Repertoire Records European bonus tracks version includes all the single mixes, an extended "La Dolce Vita" and an early example of the 12" mix on "Tryouts For The Human Race".
Moroder and Harold Faltermeyer produced Terminal Jive (1980) whose hit "When I'm With You" became a sensation in France (six weeks at #1) and can be seen as a vanguard disc in the New Wave movement with a real melting pot of styles and sounds concocted on Russell's keyboards and in the studio with Giorgio and Harold. The fine "Rock'n'Roll people in a Disco World" sums up the project to a tee.
A move to Musicland Studio, Munich for the Mack produced Whomp that Sucker (cover featuring Ron flooring bro Russell in a boxing ring – unlikely) and more sweet treats like "Tips for Teens", "Suzie Safety" and "Wacky Women". More 1980s discs worth discovery are Angst in My Pants, In Outer Space and Pulling Rabbits Out of a Hat but the world began to catch on to Sparks again once Music That You Can Dance To emerged in 1986 and became a firm dance and club favourite, an area that always suited the Maels.
Following a hiatus Sparks landed in 1994 with Gratuitous Sax & Senseless Violins, self-producing in their own LA studio. The change of environment paid off since "When Do I Get to Sing "My Way"" was a substantial Euro-hit that chimed with the tongue-in-cheek mood of the Eurotrash years.
In typically audacious fashion the Maels offered their own greatest hits remodelled by themselves as Plagiarism, collaborating with Faith No More, Erasure and Jimmy Somerville, evidence of their wraparound appeal to clubbers and rockers alike. The return of Visconti and his expert arrangements make this a must-hear.
Critical acclaim greeted Lil' Beethoven and the conceptual Hello Young Lovers and interest began to pique again with Exotic Creatures of the Deep and The Seduction of Ingmar Bergman, both albums that push boundaries and exert influence – you figure The Scissor Sisters and MGMT must be fans.
Their first and only live album, recorded as a duo – is the double CD Two Hands, One Mouth. They caused a stir with this European tour artefact, drawing in new fans and bringing older followers back into the family.
So to FFS which includes the first number "Collaborations Don't Work", the feisty "Piss Off", some extraordinary lyrics and marriage of electro, rock opera and synth-pop that warms the heart. Try it as the Deluxe edition for extra satisfaction.
Given a roll call of admirers that runs from Paul McCartney and Ween to The Human League, Abba and New Order it might be stating the bleeding obvious but these guys have got class and staying power. Join the club: it's not exclusive and the perks are endless. Discover Sparks and hours of innocent and not-so-innocent pleasure lies in wait.
Words: Max Bell
Format:
UK English