A Family Affair: 20 Sibling Groups Who Rock
Whether they supported each other or had epic falling outs, here are some of our favorite musical sibling groups that have forged music history together.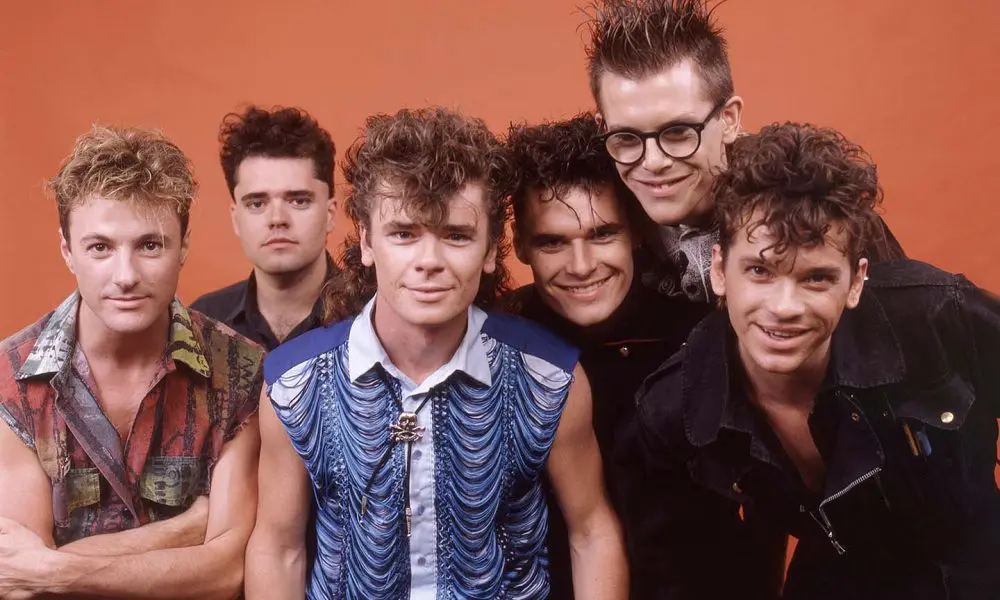 A band or musical duo can feel like a family, but sibling bonds are for life. After all, who else to support your early musical dabbling then the person that hears you practicing in the next room? But when it comes to performing together and all the financial entanglements and ego-stroking that it entails, it's no surprise that family ties can get a bit strained. Whether they supported each other or had epic falling outs, here are some of our favorite sibling groups that have forged music history together.
Andrew Farriss, Jon Farriss, and Tim Farriss: INXS
Before they became Australia's foremost musical exports, INXS started out as the Farriss Brothers, with the eldest Tim on lead guitar, middle brother Andrew on keyboards, and the youngest Jon on drums, alongside classmates Garry Gary Beers on bass and Kirk Pengilly on rhythm guitar, saxophone, and back-up vocals. Tim and Kirk had already been playing together as the band Guinness, while Andrew and Michael were in their own band, Dr. Dolphin. They all came together in 1977 in the coastal suburbs of Sydney and cut their teeth playing the raucous pub circuit in Perth before returning to Sydney. Both brothers by blood and by shared kinship, the group stayed together through their meteoric success and after Michael's tragic passing for over 35 years.
INXS - Devil Inside (Official Music Video)
Brian, Dennis, and Carl Wilson: The Beach Boys
What started out as just a family band consisting of the three Wilson brothers – Brian, Dennis, and Carl – and cousin Mike and friend Al Jardine turned into one of the most compelling group's in popular music. Since their formation in Hawthorne, California in 1961, the Beach Boys represented the mythical "American dream," all sunshine, girls, and cars before evolving into one of the most influential bands and sibling groups in pop and rock history.
The Beach Boys - Good Vibrations (Official Music Video)
Jackie, Tito, Jermaine, Marlon and Michael Jackson: Jackson 5
Jackson 5 were perhaps the most famous sibling groups of all time before Michael went on to become one of the biggest pop stars in the world. During the 70s they were a hitmaking machine for Motown and their funky, soul-pop sound marked a departure from the typical boy bands and girl groups of the previous decade. Derailed by solo careers and overexposure, The Jackson 5 were still more musically sophisticated than the bubble-gum pop they were grouped into.
Barry, Robin, and Maurice Gibb: Bee Gees
The brothers Gibb remain the all-time top-performing Australian-born or-bred act in Billboard Hot 100's history, thanks to their harmony-laden hits and exquisite vocals. Brian Wilson called them "Britain's first family of harmony" and they lived up to the name. Bee Gees spent the next five decades continuously reinventing themselves from 60s psych-pop group to 70s disco titans and contemporary crooners in the 80s, 90s, and beyond.
Bee Gees - How Deep Is Your Love (Official Video)
Mark and David Knopfler: Dire Straits
After founding Dire Straits in 1977, Mark Knopfler and his younger brother David became British rock legends, spearheading the pub-rock scene with their demo-turned overnight hit "Sultans of Swing," but they were never quite "Brothers in Arms," With Mark providing lead on guitar, vocals and songwriting and his brother David on rhythm guitar and backing vocals, one sibling was bound to get overshadowed by the other, but their rivalry was more of a slow burn than a fiery explosion.
Dire Straits - Sultans Of Swing (Alchemy Live)
Duane and Gregg Allman: Allman Brothers
Duane Allman was a game-changing rock'n'roll guitarist while his younger sibling Gregg Allman was one of the most charismatic vocalists in rock history, together they formed the pioneering Southern Rock band the Allman Brothers Band in 1969. While the late Duane was a session musician prodigy, it was actually his younger brother who taught him his first guitar lessons and the two only split up once due to binding contract issues. Almost an exception to the rule, the Allman siblings had one of the most harmonious familial and creative relationships in rock history.
Ray and Dave Davies: The Kinks
Born to a family of six girls, the two Davies brothers, Ray and his younger brother Dave stuck close together and grew up playing guitar. In 1964 they formed The Kinks and helped lead the British Invasion. But not everything was hunky dory during their 30-odd years together. As you see from this list, sibling rivalry can be just one of the driving forces of musical creation.
The Kinks - You Really Got Me (Official Audio)
Angus and Malcolm Young: AC/DC
Angus Young was only 18 when he and his 20-year-old brother, Malcolm formed the Australian hard rock band AC/DC in 1973, with Angus on lead guitar and Malcolm on rhythm guitar. But the two weren't the only musical ones in the family. Their older brother George played in one of Australia's hit 60s bands, The Easybeats, and the eldest brother Alex playing bass in the UK-based Grapefruit. Despite many line-up changes over the years, the two brothers were the main linchpins of the band.
AC/DC - Thunderstruck (Official Video)
John and Tom Fogerty: CCR
Before they conquered America and then the world, Tom and John Fogerty of Creedence Clearwater Revival first played in a band called the Blue Velvets when John was still in high school. While his older sibling Tom was the original leader and singer of the band, but by the time they were called CCR, his little brother John was the sole singer and songwriter. The band blazed bright until the brothers' falling out in 1972, but no one can deny the rock'n'roll alchemy forged by the two siblings.
Creedence Clearwater Revival - Have You Ever Seen The Rain (Official)
Mark and Bob Mothersbaugh, Gerald and Bob Casale: Devo
It's remarkable that one sibling duo can make it work in music, let alone two, but that's exactly the case with Devo's band of brothers. During the band's early days, Mark Mothersbaugh and Gerald Casale recruited their brothers Bob and Jim Mothersbaugh and Bob Casale to continue their art-pop experimentations to great success.
Devo - Whip It (Official Music Video) | Warner Vault
Eddie and Alex Van Halen: Van Halen
Along with David Lee Roth and Michael Anthony, brothers Eddie and Alex Van Halen formed the iconic hard rock group, Van Halen. Together, they created the formidable combination of Eddie's superhuman fretwork and Alex supplying the rhythm on the biggest rock anthems of the past 30 years. Their fraternal bond has weathered multiple iterations of the group and hard rock's burn then bust in the 80s.
Van Halen - Hot For Teacher (Official Music Video)
Neil and Tim Finn: Split Enz, Crowded House
Unlike most sibling groups, Kiwi rockers Neil and Tim Finn didn't start their musical careers together. Neil was only a teenager when Tim made his TV debut with his band Split Enz. He would eventually join his brother as a co-frontman before the band split up in 1984 and Tim went solo. Two years later in a sibling role reversal, Neil was the breakout rock star with his new group Crowded House, riding the charts with "Don't Dream It's Over." When the two reconnected on new material years later, Tim joked that because his songs would end up on a Crowded House record, he should join the band, and Neil took him up on it, resulting in the hit record Woodface.
Richard and Karen Carpenter: Carpenters
Between the studio talents of Richard Carpenter and the beguiling voice of his sister Karen, Carpenters were one of the biggest-selling American musical acts and sibling groups of all time. While their family originally nurtured Richard's talents, it would be Karen who would first land a recording contract at age 16. Richard would continue to be the driving musical force, but it was Karen's vocals that truly set the duo apart.
Carpenters - Only Yesterday
Ann and Nancy Wilson: Heart
Similar to Devo, Heart also boasted a pair of siblings. While Heart at one point had sisters Ann and Nancy Wilson and their bandmates and paramours Mike and Roger Fisher, the group has since changed their line-up over the course of four decades, with Ann and Nancy remaining the creative core of the band. As the first ladies of classic rock, the sisters navigated the fickle waters of each decade and band shifts, standing steadfastly by each other and going on to sell over 30 million albums worldwide.
Ron and Russell Mael: Sparks
Brothers Ron and Russell Mael proved that talent is more than just an asset, it runs in the family. Since breaking unto the scene with their brand of maximalist pop in the early 70s, the LA-based Sparks soon found fame overseas and continue to be one of the most versatile acts in pop, running the gamut from glam rock to synth-pop and everything in between, over the course of four decades and 23 albums. They've largely remained a cult act, but their influence is immeasurable. While the band's line-up has shifted over the years, the two industrious brothers are a constant fixture, meeting up daily to challenge the pop status quo.
Sparks - This Town Ain't Big Enough For Both Of Us (Official Video)
Noel and Liam Gallagher: Oasis
The Gallagher brothers have built their career on making their rivalry a kind of spectator sport. Even during the height of Oasis, the two would trade barbs on live TV, during performances and sometimes the conflicts would turn physical. While some bands fight over royalties and songwriting credits, the Gallaghers have quibbled over whether "rock'n'roll is about the music or about living a wild, genuine and spontaneous life." The two finally called it quits in 2009 after selling more than 70 million records worldwide to start their own projects. If it took hell to freeze over for the Eagles to reunite, then we can only guess what divine intervention it would take to get Oasis back together.
Oasis - Don't Look Back In Anger (Official Video)
Don and Phil Everly: Everly Brothers
Don and Phil Everly may have had perfect harmony onstage, but offstage was a different story. Since the ages of 8 and 6, the brothers were made to perform together for their family's radio show throughout the late 40s. In the late 50s, the duo rose to fame as the early rock'n'roll scene took off with hits in the US and the UK. Known for their country-inflected rock with steel-string guitar, the brothers held it together long enough to inspire an entire generation of artists. As Phil once said, "We only ever had one argument. It's been lasting for 25 years."
All I Have to Do Is Dream
Kevin Jonas, Joe Jonas, and Nick Jonas: Jonas Brothers
During the mid-00s, the sibling group turned teen sensations were inescapable, thanks to their exposure on the Disney Channel. A 3D concert movie, four studio albums, and stadium tours quickly followed before the band split up in 2013. While two of the three brothers enjoyed successful solo careers, the brotherly trio has returned with their comeback album much to the delight of – now adult – screaming fans everywhere.
Jonas Brothers - Cool (Official Video)
Louis and George Johnson: The Brothers Johnson
Louis Johnson and his older brother George grew up in LA during the city's musical heyday of the 50s and 60s. They first started playing in high school with their brother Tommy and their cousin Alex Weird before landing with Billy Preston's group from 1971 to 1973 and later Quincy Jones. Soon after, the duo formed The Brothers Johnson and earned themselves the nicknames "Lightning Licks" for George's slick guitar style and "Thunder Thumbs" for Louis' signature slap bass. After a string of hits, this most funky of sibling groups split in 1982 to pursue solo projects, reuniting in 1984 and 1988 for studio albums.
The Brothers Johnson - Stomp! (Official Music Video)
Don and Harold Reid: The Statler Brothers
As one half of the famous county-gospel quartet, The Statler Brothers, Harold and Don Reid had a more wholesome experience on the road and didn't deal with the same trials and tribulations as the rock acts of the day and other sibling groups. Born and raised in the Shenandoah Valley, they made a career taking the gospel harmonies of the church and put them over the country music they were hooked on. Don, his sibling, and their two friends began singing when they were teenagers before being famously discovered in 1964 by Johnny Cash and went on to produce four decades of hits.
The Statler Brothers - Flowers On the Wall (Man in Black: Live in Denmark)
With too many sibling groups to count, here are a few of our favorite groups that boast siblings: Os Mutantes, Devo, Haim, Pointer Sisters, Angus and Julia Stone, Styx, The Jesus and Mary Chain, The National, Kings Of Leon, UB40, The Black Crowes, Tegan and Sara, Hanson, and Radiohead.
Discover more about the history of family bands.