10 Most Surprising Winners In Grammy History
Like all award shows, the Grammys are always bound to satisfy, surprise, and rankle in equal measure.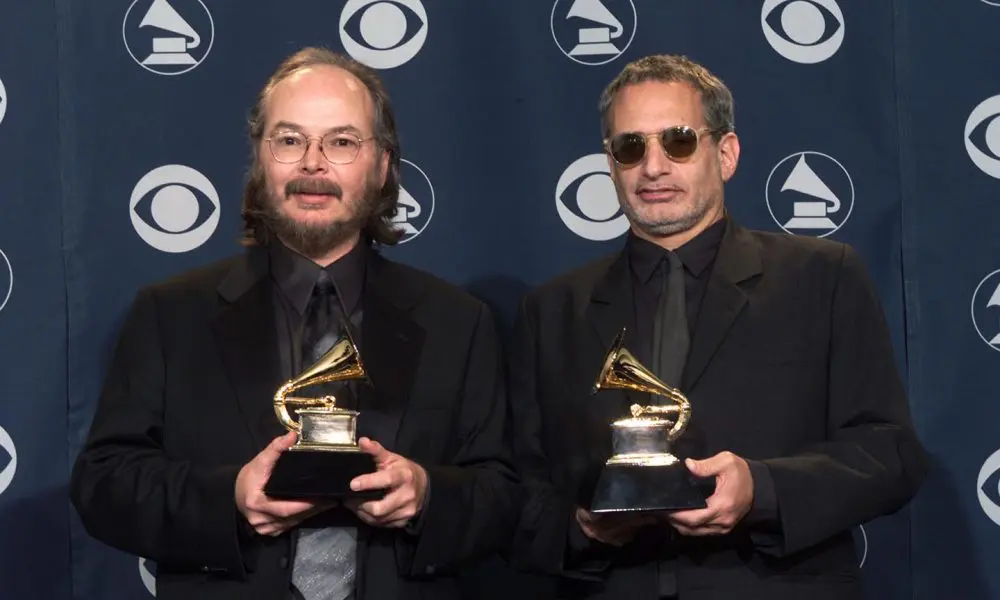 Like all award shows, the Grammys are always bound to satisfy, surprise, and rankle in equal measure. From visionary to out of touch, reactions vary wildly depending on whose horse is in the race. Even a trailblazing new artist can get upended by older acts and some best new artists go on to make music history for all the wrong reasons, like Milli Vanilli. While hindsight's a wonderful thing, it's the surprises that keep us watching. Read on to see other surprising winners in Grammy history.
Jethro Tull's Crest Of A Knave Wins Best Hard Rock/Metal Performance Vocal Or Instrumental (1989)
The Grammys have a complicated relationship with rock music, particularly when it comes to metal. But in an effort to prove they were with the times, they introduced a new category, Best Hard Rock/Heavy Metal Recording in 1989. It was a solid list of contenders that year, with LA rockers Jane's Addiction, punk veteran Iggy Pop, Aussie heavyweights AC/DC, thrash veterans Metallica, and flute-fronted prog-rock band outfit, Jethro Tull.
Metallica was the clear favorite and their performance of "One" on the telecast was considered a turning point of metal meeting the mainstream. So you can imagine when Lita Ford and Alice Cooper announced the Grammy winner immediately after the band's performance, it was met with surprise, audible dissatisfaction, and a very awkward acceptance by Cooper on behalf of the absent Tull. As a mea culpa, the awards later divided the category the following year, separating out the "hard rock," and Metallica won the metal Grammy for the song "One" in 1990. When the band won another Grammy in '91, they thanked Jethro Tull for not releasing a competing album that year.
Starland Vocal Band Wins Best New Artist (1977)
Bestowing the title of "Best New Artist" to a musician can be a daunting label and not everyone lives up to the distinction. Case in point, one-hit wonders, Starland Vocal Band, who not only won Best New Artist but also Best Vocal Arrangement for their ode to afternoon lovemaking "Afternoon Delight," beating out Wild Cherry, Boston, The Brothers Johnson, and Dr. Buzzard's Original Savannah Band.
After signing to John Denver's label Windsong, the songwriting couple Bill Danoff and Taffy Nivert had a few other singles on their hands were also nominated that year for Record of the Year and Best Pop Performance. By the time the Grammys rolled around, the song was already a year old and had outstayed its welcome on radio rotation. Meanwhile, their schmaltzy song has secured its place in pop culture history, with an a cappella rendition in the Anchorman film and infamous karaoke scene in the TV series Arrested Development.
Debby Boone Wins Best New Artist (1978)
It was the 20th anniversary of the Grammys and countless stars taped birthday greetings for the telecast. All signs for Best New Artist were pointing towards teen idol Shaun Cassidy, who kicked off the night's proceedings performing his hit "That's Rock & Roll" in a blinding white jumpsuit. But even Cassidy was no match for Debby Boone's sappy, smash ballad "You Light Up My Life." The song also went on win Song of The Year in a rare tie with "Love Theme From A Star Is Born (Evergreen)" and won over the Eagles "Hotel California."
The songwriter behind the hit, Joe Brooks, also glibly announced "this tastes so sweet," after the song had been turned down by many previous performers. Boone also subsequently beat out Stephen Bishop, Foreigner, and Andy Gibb, the younger brother of the Bee Gees and a successful songwriter throughout the 70s.
Petula Clark's Downtown Wins Best Rock & Roll Recording (1965)
With the British invasion in full swing, the Fab Four were expected to sweep the Grammys and they almost did, nabbing Best New Artist and Best Performance By A Vocal Group for "A Hard Day's Night." But when it came to the Grammy for Best Rock Recording, they were surprisingly bested by a decidedly very un-rock and roll song, Petula Clark's "Downtown."
The song had made her the first British female singer to score a No. 1 on American charts and while it certainly captures the feeling of restless youth flocking to cities, it doesn't exactly scream rebellion. The other "rock" nominees were Bobby Vinton for "Mr. Lonely," Roy Orbison's "Oh Pretty Woman," "A Hard Day's Night" by The Beatles, and "You've Lost That Lovin' Feeling' by The Righteous Brothers.
A Taste of Honey Wins Best New Artist (1979)
Many Grammy winners have referred to the Best New Artist award as a curse and sadly in some cases that has turned out to be true. In 1979, the disco group A Taste of Honey released the perfect party jam "Boogie Oogie Oogie" but when weighed against the other contenders – Toto, Elvis Costello, the Cars – and ignoring Chic entirely, the selection is baffling. Their follow-up singles never reached the peak of "Boogie" and as disco fever started to wane, the group dissolved into a duo in 1980.
The New Vaudeville Band's Winchester Cathedral Wins Best Contemporary (R&R) Recording (1967)
With a groundbreaking year's worth of music to choose from including The Beatles, The Beach Boys, The Rolling Stones, and others – the Grammys had an embarrassment of riches to choose from. While both "Eleanor Rigby" and "Good Vibrations" were both duly nominated, these pop masterpieces were overlooked in favor of "Winchester Cathedral," a novelty song recorded by session musicians and a Rudy Vallée soundalike.
The irony of a song that topped the Billboard Easy Listening chart-winning best Rock 'N' Roll recording is not lost on us. Due to the success of the song, the songwriter Geoff Stephens even had to rustle up a real band to perform, winning out over The Mamas & The Papas, Paul McCartney, Association, The Beach Boys, and The Monkees.
The Baha Men's Who Let The Dogs Out Win Best Dance Recording (2001)
Just as the Grammys created the Best Hard Rock/Heavy Metal to address music trends, in 1998 it recognized Dance Music as a category of its own. With such an unwieldy category there was bound to be some missteps, such as Donna Summer being recognized 15 years after the fact and Cher's auto-tuned anthem "Believe" both beating out such dance-floor stalwarts like Daft Punk and Fatboy Slim.
The 2001 dance landscape was an interesting cross-section of dance hits including the Europop hit "Blue (Da Ba Dee)," Moby's "Natural Blues," and Jennifer Lopez's Latin infused "Let's Get Loud" and the king of Latin pop, Enrique Iglesias with "Be with You." But just about everyone was surprised when the Grammy went to the canine battle cry "Who Let the Dogs Out?" by the Baha Men.
Baha Men - Who Let The Dogs Out (Official Video)
Esperanza Spalding Wins Best New Artist (2011)
With Justin Bieber, Drake, Mumford & Sons, and Florence + The Machine all vying for the big award, a little-known jazz artist at the time pulled off a surprise win and became a household name overnight. As the first jazz artist to ever take home the award, Esperanza Spalding's win was seen as evidence of a more inclusive direction on the Academy's part.
While her most recent album, Chamber Music Society had reached No. 1 on Billboard's Heatseekers Albums Chart and No. 3 on Top Contemporary Jazz Albums; her success was not celebrated by all, including frustrated Bieber fans that messed with her Wikipedia page as a display of their displeasure.
Esperanza Spalding accepting the GRAMMY for Best New Artist at the 53rd GRAMMY Awards | GRAMMYs
Steely Dan's Two Against Nature Wins Album of the Year (2001)
Similar to the Oscars, the Grammys also tend to reward legacy artists for their later work as compensation for overlooking their perhaps stronger albums. This certainly seemed to be the case with Steely Dan, whose previous albums Aja and Gaucho were nominated but never clinched the win.
It wasn't until they released a reunion album after a 20-year hiatus that they won a surprise Grammy. Two Against Nature was well received, but certainly not their most inventive work and when stacked up against Eminem's landmark rap record The Marshall Mathers LP, the wildly inventive Kid A from Radiohead and Beck's funkadelic Midnite Vultures, this Grammy was certainly a surprise.
Walter Becker, Donald Fagen: Steely Dan's Album of the Year GRAMMY Win | Recording Academy Remembers
Celine Dion's Falling into You Wins Album of the Year (1997)
It's hard to compete with the commercial and cultural juggernaut that is Falling Into You. It's one of the best-selling albums in history; with sales of over 32 million copies worldwide and further established the Quebecois star as the ballad queen. The album also earned her a Best Pop Vocal Record Grammy and Record of the Year and Best Female Pop Vocal Performance nominations.
With monster hits like "It's All Coming Back to Me Now" and "Because You Loved Me," the album eclipsed other albums from that year including Odelay by Beck, The Smashing Pumpkins' Mellon Collie and the Infinite Sadness, and The Score by The Fugees.
Looking for more? Discover Surprise Albums: 17 Drops That Shocked The Music World.