The Best Statler Brothers Songs: 20 Pop Country Classics
An introduction to the gospel-tinged and pop-informed country giants.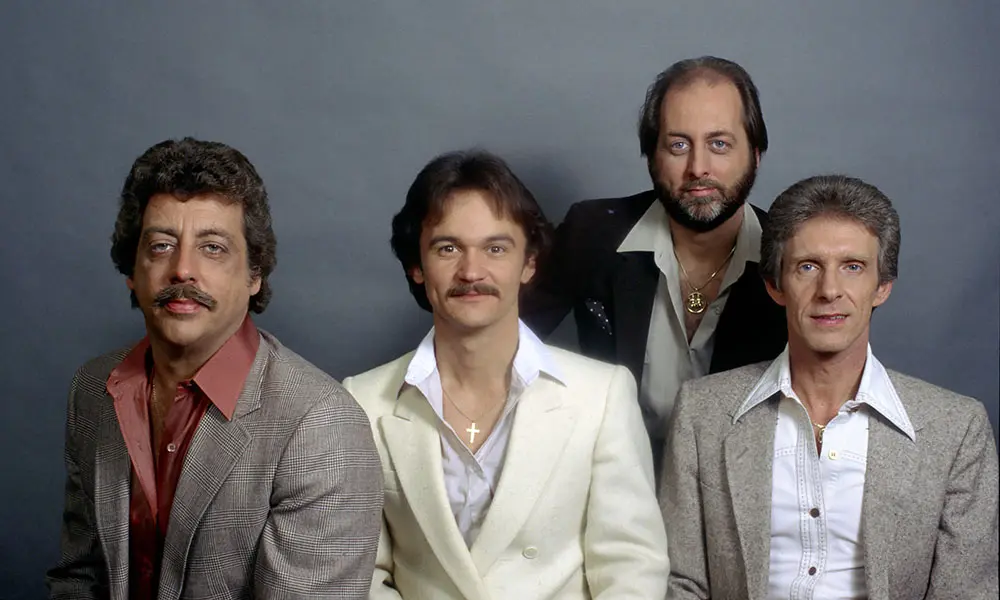 The Statler Brothers are not biological kin, and none of them are named Statler. But neither of those details kept them from turning their particular brand of gospel-tinged and pop-informed country music into a massive, decades-long success story, one rooted in the traditional Appalachian music of their tiny hometown, Staunton, Virginia.
Don and Harold Reid (the actual brothers), Phil Balsley, and Lew DeWitt took their name from a tissue box and never looked back, first as Johnny Cash's longtime opening act and backing vocalists – a smart inoculation against "Flowers On the Wall" making them a one-hit-wonder – and then as one of country's most dominant vocal groups in the 1970s and 80s. The Statler Brothers were the CMA's Vocal Group Of The Year from 1972 to 1980, a period that didn't even encompass their biggest chart success in the early to mid-'80s.
Below are The Statler Brothers' 20 best songs, from hymns to bluegrass to rock and roll. (The harmonies remain constant, even if the stylistic influences don't.)
Listen to the best Statler Brothers songs on Apple Music and Spotify.
20. "Atlanta Blue" (1984)
The rare showcase for bass Harold Reid, "Atlanta Blue" includes a twist on their standard pop-bluegrass fare with a period-appropriate reggae lite groove. The single gives run-of-the-mill longing and despair a specific geography, tying the narrator's sadness to Georgia pines and summertime. It reached No. 3 on Billboard's country chart, arriving during the three-year stretch in which no Statlers single peaked outside the top ten. The group was flexing their might as performers, songwriters, and producers, including the subtlest pop touches within familiar country production and telling stories that stood out without reinventing the wheel.
19. "Left Handed Woman" (1974)
The Statlers touted their ability to heed country convention, exemplifying what they saw as a long-lost reverence for the genre's tradition and roots. Yet a weird streak runs through much of their work, as in this sort-of nonsense song about women and their idiosyncrasies penned by the only actual brothers in the Statlers, Don and Harold. It's fun and distinctive, a gendered lament that never devolves into unrepentant sexism and would sound great in any contemporary honky tonk.
18. "Monday Morning Secretary" (1972)
This quietly tragic character study is one of the more unlikely singles in the Statler Brothers' catalog. It is, simply, two minutes and 42 seconds of description of a week in the life of an average secretary. There's impressive precision in the lyrics, the kind of sensitivity that the Statlers' rapidly ascending singer-songwriter peers on the outlaw side of country would wear on their sleeves. Here, it's presented unpretentiously, within a fairly standard pop-country arrangement where the nuance of Don Reid's poetry could be easy to miss.
17. "Who Am I To Say" (1978)
The first of ten songs written for the band by Harold Reid's daughter Kim, "Who Am I To Say" expresses a more reflective kind of regret than typically gets expressed in song. "If I'd only been more open and understood her ways," they sang – words that plenty of women have certainly wished plenty of men would say to them in conversation, and here they were getting them in plaintive harmony. The song solidified the band's late 70s hot streak, spending two weeks at No. 3 on Billboard's country chart.
16. "You Can't Have Your Kate and Edith, Too" (1967)
One of the more ubiquitous of the Statlers' novelty tunes, this Curly Putman and Bobby Braddock tune reached No. 10 on Billboard's country chart by riffing on an already-established pun (one that has reached into the present day, perhaps with help from the Statlers). The song was popular enough that the Statler Brothers included it in their brief set at Folsom Prison during Johnny Cash's legendary live recording.
15. "Nobody Wants To Be Country" (1980)
People have been lamenting the decountrification of country music since before it was called country music. None of them, though, wrote a line as clean as, "They've traded in the saddle and they all try to straddle the road that will take 'em to the top" – except the Statler Brothers, of course, who bust out all available Appalachian trappings to prove their point on this 10th Anniversary track. Putting aside the fact that the Statlers themselves had plenty of dalliances with pop trends, it's cuter and more effective than most similar complaints.
14. "How Great Thou Art" (1975)
Gospel music is where the Statler Brothers started. Unlike many of their peers, though, they continued recording religious songs even after finding secular success. The group released this classic hymn as a single to promote a pair of gospel albums based on the Old and New Testament respectively. That was their only concession to commercialism, though. Both albums include Biblical readings at the beginning of almost every track, lest anyone be tempted to listen to the lovely harmonies without appropriate piety. Both the Old and New Testament albums were eventually certified gold.
13. "Too Much On My Heart" (1985)
Jimmy Fortune took the lead on this, his third No. 1 composition for the Statlers. It's a weighty ballad, with more of the synth and string adornments often found in pop music of the decade. Yet the lyrics help it avoid cliche, painting a couple on the verge of fracture that only has a vague sense of why. The song would be the Statlers' final chart-topper; the album it appeared on, Pardners In Rhyme, would be their first and last No. 1 country album.
12. "Let's Get Started If We're Gonna Break My Heart" (1988)
Some of the good humor that the Statlers would soon showcase on their televised weekly variety show is on display in this minor hit, a honky tonk-ready tune that tells the story of a doomed love affair. It's funny, and not only because of the inexplicable calypso piano riffs – the wordplay and warm resignation is convincing. If the Statlers were no longer atop country radio's heap, they were still producing the same kind of consistent, grounded country music they had from the beginning.
11. "Hello Mary Lou" (1985)
The Statlers never did many covers, especially in the later phase of their career. But in reprising this rockabilly hit, they turned a 25-year-old song into a hit, reaching No. 3 on Billboard's country chart. It has a more straightforwardly country sound than the original, but maintains a solid groove (bolstered by bass Harold's low end harmonies).
10. "I Want To Carry Your Sweet Memories" (1972)
More than most of their peers, the Statler Brothers could write country songs that sounded like they'd been performed forever. "I Want To Carry Your Sweet Memories," written by Lew DeWitt, is one of those songs, conveying a fairly malevolent sentiment in nearly Biblical language that makes its observations about wanting to stop dealing with an ex sound eternal. Honeyed harmonies, plucked banjo, and fiddle further place the track outside of its modern place and time.
9. "Years Ago" (1981)
Don Reid's songwriting is at its most vivid and concise on this petulant tune, in which a man stops by the wedding of a long-extinguished flame. "The groom won't shake hands anyway, and I kissed the bride years ago," the group sings to a knee-slapping bluegrass groove. The title track of one of the Statlers' most nostalgic albums – its cover image was taken in their elementary school auditorium – "Years Ago" proves not every dip into the past needs to be sugary sweet.
8. "Bed Of Rose's" (1970)
Like Bobbie Gentry's "Fancy," released a year prior, "Bed Of Rose's" uses a titular play on words to challenge conventional ideas about sex workers. In the Statlers' case, written by the late Harold Reid, the narrator is a formerly destitute young man who was taken in by a woman named Rose who "managed a late evening business." Heart-of-gold tropes being what they are, a predictable ending is made punchier by an explicit indictment of people who "would go to church but left me in the street." The resulting single was the group's second big break, reaching No. 9 on Billboard's country charts and No. 58 on the Hot 100.
7. "(I'll Even Love You) Better Than I Did Then" (1979)
The Statler Brothers flaunt their seductive side with this one-off single, tacked onto a greatest hits compilation. If the slick countrypolitan balladry doesn't sell it for you, the line "nothing on but the radio" probably should. It's one of the most explicitly sexy songs in the gospel-singing group's repertoire, and finds them putting yet another genuinely fresh spin on regretful post-relationship angst. The single fit well enough with the period's boudoir country radio singles that it reached No. 8 on Billboard's country chart.
6. "Elizabeth" (1983)
The second Statler Brothers No. 1 country song was also Jimmy Fortune's first contribution to the band as a writer. Fortune took over the tenor spot from Lew DeWitt shortly before Today was recorded, and struck gold with the simple love song when he was just 26 years old. (Today eventually sold 500,000 copies.) Fortune later said he was inspired by Elizabeth Taylor's performance in Giant. The group eventually performed the song for the star on her 52nd birthday.
5. "New York City" (1970)
An unusual story song, "New York City" shrouds a torrid tale of pregnancy and infidelity in lilting, comparatively unadorned country production and mellow harmonies. Don Reid wrote and sang lead on this song, which describes a man whose partner has left him to live in New York City – or as the song describes it, hell. Left unsaid is what exactly the man did to prompt such a drastic move. While not an enormous commercial success, the single showcases the Statlers at the height of their tandem fame with Johnny Cash, performing meaty material in radio-ready style.
4. "Do You Know 'You Are My Sunshine'" (1978)
Singing about singing became a theme for the Statler Brothers, and it never worked better than this song, in which a mystery woman walks up to the band and requests "You Are My Sunshine." The traditional single (which only included a taste of countrypolitan strings) was the band's first No. 1 on the Billboard country charts, and stayed atop the chart for two weeks – it was also the only time original Statler Brothers tenor Lew DeWitt would hit No. 1.
3. "The Class of '57" (1972)
Fresh off the success of their first nostalgic list song, "Do You Remember These?" – a near-exact equivalent to contemporary memes about things "only '90s kids know" – which spent four weeks at No. 2 on Billboard's country charts, the Statler Brothers put a more evocative spin on the concept with "Class of '57." The matter-of-fact song describes the high and low fortunes of many members of a high school class. The song reached No. 6 on the Billboard country charts, and earned them their third Grammy, for Best Country Vocal Performance by a Duo or Group.
2. "I'll Go To My Grave Loving You" (1975)
The nostalgic flair of the Statler Brothers was typically tempered by their sensitivity to the pop music zeitgeist. On "Grave," though, Don Reid channeled compositions made a century before, giving this deeply traditional, bluegrass-tinged love song the aura of a vintage hymn. It bore little resemblance to its peers on the charts, but it was among their most successful singles of the period – even reaching No. 93 on Billboard's Hot 100. The song was the only new single from the best-selling album of their career, the triple-platinum compilation The Best of the Statler Bros.
1. "Flowers On The Wall" (1965)
The Statler Brothers' best-known song sounds like everything and nothing you've ever heard. An almost surreal concoction of bluegrass banjo, barbershop quartet-ready harmonies and vivid, eccentric poetry written by Statler tenor Lew DeWitt, the group's first charting single is a slice of 1960's Americana – in that term's original sense. It reached No. 4 on Billboard's Hot 100 in 1965 and earned the group four Grammy nominations in both pop and country categories at the 1966 awards. They walked away with the trophies for the best "contemporary" – rock – performance by a group and best new country and western artist. More impressive, though, is their hit's longevity: It's been covered by everyone from the Muppets to Nancy Sinatra, and referenced in Kurt Vonnegut's Palm Sunday and Pulp Fiction. Not bad for ruminating on wallpaper, smoking cigarettes, and watching Captain Kangaroo; if only the song's instigating heartbreaker could see the narrator now.
Think we missed one of the best Statler Brothers songs? Let us know in the comments below.