Teen Idol, Jazz Stylist, Protest Singer, And More: The Brilliant Best Of Bobby Darin
A selection of the finest work by one of the most gifted and versatile entertainers of any era.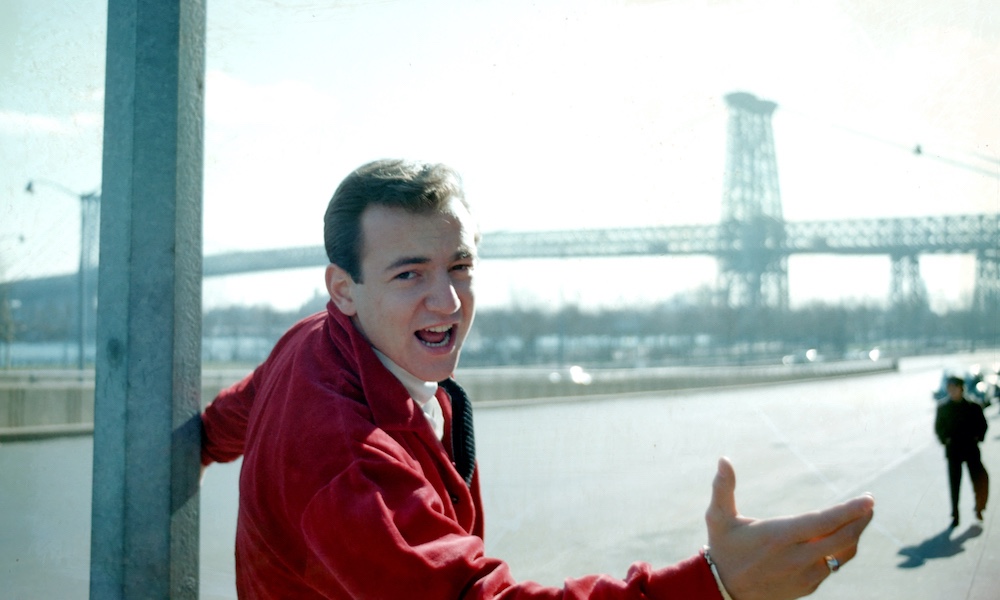 Even the broadest overview of the Bobby Darin catalog is testament to a uniquely versatile entertainer, who would have further burnished his unique reputation if his career and life had not been cut cruelly short at the age of just 37.
His vocal preeminence, often on his own material, would easily have guaranteed his place in showbusiness history, but Darin was also an accomplished actor and Oscar nominee (1963's Captain Newman, MD); TV variety series host (both The Bobby Darin Amusement Company and The Bobby Darin Show); political activist, especially on behalf of Robert F. Kennedy; record company owner, of Direction Records during his fascinating creative reset of the late 1960s; incongruous signee to Motown, and more.
From the early, effusive pin-up pop of his own compositions "Splish Splash" and "Dream Lover," Darin was soon stepping into the world of supperclub jazz with the Grammy-winning "Mack The Knife," as well as "Beyond The Sea," "Lazy River," and beyond. He was among that elite handful who gave crooning a good name, on anything from "Nature Boy" and "A Nightingale Sang In Berkeley Square" to Broadway themes including "Hello, Dolly!" and "Mame." Then he could switch back to chart-friendly rock'n'roll with "Multiplication" and "Baby Face." Later, he courageously repainted himself as a sensitive singer-songwriter of the protest era, and there would have been many further chapters.
Our tribute to the best work of Walden Robert Cassotto, born on May 14, 1936 in the Bronx, features all of those ingredients. We hope it captures the essence of a cherished, multi-faceted American original.
'Splish Splash' (1958)
Darin's first hit was quite unrepresentative of his formative showbiz years, when he was a budding writer and played New York's coffeehouse circuit of the mid-1950s. After an unsuccessful spell with Decca, a new deal with Atlantic subsidiary Atco opened doors via this irresistible bubblegum rocker ("I wanted a hit record so bad, I could taste it," he later recalled).
The lyrics may have sounded throwaway, and they certainly nodded to the rock'n'roll craze with references to "Lollipop," "Peggy Sue," and "Good Golly Miss Molly." But they were handled with masterful pacing by the emerging performer, who was just turning 22 on its release. Atlantic's Tom Dowd oversaw the recording, label partner Jerry Wexler championed it, and it sold a million.
'Dream Lover' (1959)
Darin captured the very nucleus of the new word "teenager" on this composition, which cruised to No.2 on the US pop chart and was an R&B success as well. "It just flowed. All the songs I've written that have been hits, just flowed out," he told interviewer John Gilliland in 1967. "Then I felt it should have some voices and some strings, so that was a little bigger date than I'd been used to doing. We did 32 takes on the song." Key to its conception was a chord sequence that Darin stretched out on the piano part, played by none other than Neil Sedaka.
'Mack The Knife' (1959) (version from Live At The Flamingo Hotel, Las Vegas, 1963)
Mack The Knife (Live At The Flamingo Hotel, Las Vegas/1963)
Another centerpiece of Darin's Atco years was this breathtaking interpretation of Bertolt Brecht and Kurt Weill's 1920s song from The Threepenny Opera. To emphasize his easy transition into serious cabaret figurehead, it came immediately after another big hit with the rock'n'roll staple "Dream Lover." Now there was this transatlantic chart-topper, in which the star told the lurid tale of Macheath with compelling conviction. Nine weeks atop the Billboard Hot 100 and a Grammy for Record of the Year told their own tale. We feature Darin's Las Vegas performance of the song from 1963.
'Beyond The Sea' (1960)
Featured, like "Mack The Knife," on the That's All LP, this was the English translation of Charles Trenet's "La Mer," with lyrics by Jack Lawrence. In Darin's hands it became a stylish and swinging love song, interpreted hundreds more times in the decades to come by everyone from Stevie Wonder and Johnny Mathis to George Benson and Robbie Williams.
'Lazy River' (1961)
Darin had bigger hits than this in the early 1960s, notably with the playful, country-style "Things" and the jazzy "You Must Have Been A Beautiful Baby." But this remake of Hoagy Carmichael's 1932 success (written with Sidney Arodin) made the US Top 20 for Bobby in 1961, and it's further evidence that he was as comfortable as an interpreter as he was on his own material. The brassy arrangement swings with the best of them, and so does Darin, fingersnapping along in his sharpest tux.
'You're The Reason I'm Living' (1963)
You're The Reason I'm Living
In July 1962, Darin left Atco and signed a new deal with Capitol. It would prove short-lived: he was out of the pact within 20 months, before the contract was even up. But that spell produced some important entries to his songbook, including this substantial hit, again self-written, and produced by early Beach Boys advocate Nick Venet. It was an out-and-out country arrangement that also showcased Bobby's bluesy, soulful vocals. Although it oddly missed the country chart, it spent two weeks at No.3 pop (rubbing shoulders with pop sides by the Four Seasons and Ruby and the Romantics) and, like several of his previous singles, going Top 10 R&B.
'18 Yellow Roses' (1963)
18 Yellow Roses (2002 Digital Remaster)
Produced by Venet and arranged by Jack Nitzsche, this delightful mid-tempo swayer had a south-of-the-border flavor, an easy, strumming style and superb vocal pacing by a true master. The title track of Darin's third Capitol album, it made the US pop Top 10 just before the LP's release, in June 1963. His ex-wife Sandra Dee later confided that before they were married, he would send her 18 yellow roses, every day.
'Hello, Dolly!' (1964)
Hello, Dolly! (2001 Digital Remaster)
Louis Armstrong bagged the chart-topping, Grammy-winning version of Jerry Herman's title song from the Broadway musical starring Carol Channing. But Darin brought trademark verve to his version, produced by Jim Economides and arranged by Richard Wess for the typically distinguished From Hello Dolly to Goodbye Charlie album.
'If I Were A Carpenter' (1966)
If I Were A Carpenter (Live From The Desert Inn / 1971)
Darin returned to Atlantic, this time recording on the main label, in 1965 (although he kept his offices at the Capitol Tower) and made his final appearance in the American Top 10 with this career-shifting statement. A fine version of the Tim Hardin song, it became the title track of a December 1966 album that marked a dramatic move away from the show tunes espoused as recently as six months before on In A Broadway Bag (Mame).
Both single and album, which featured four more Hardin compositions, were a priceless showcase for the sensitive singer-songwriter, who didn't release his own version of "Carpenter" until the following year. The LP also recognized two John Sebastian songs and one by a young John Denver. Darin's ears as a future label head were as sharp as his vocal expertise. This version is on both the Darin 1936-1973 compilation and Live From The Desert Inn, recorded in 1971 and intended as his first set after signing to Motown, but unreleased until 1988.
'Long Line Rider' (1968)
Darin left Atlantic for a second time in 1967, and formed his own label Direction the following year. The title of his first album under his own roof, Bobby Darin Born Walden Robert Cassotto, was itself a statement of his search for his true artistic self. Now he combined protest music with gritty narratives and social commentary, all self-composed and largely misunderstood by audiences who still associated him with "Splish Splash," about a hundred creative light years before. "Long Line Rider" was a highlight.
'Simple Song Of Freedom' (live in Las Vegas, 1971)
Simple Song Of Freedom (Live At The Desert Inn, Las Vegas/1971)
A poignant delivery that showcased Darin's fearless career reinvention, as it reached a new plateau of eloquent protest singing. In a fitting about-turn, this time it was Hardin who benefited from Darin's writing, and he performed the anti-war song at Woodstock. Bobby had been singing it himself since 1969, and this live rendition, from the otherwise-shelved Desert Inn concert, became his second Motown single in November, 1971.
'Happy (Love Theme From Lady Sings The Blues)' (1973)
Happy (Love Theme From "Lady Sings The Blues")
Darin's time on Motown was perhaps unexpected, but as songwriter Jerry Marcellino said in The Complete Motown Singles Volume 11A, "[Bobby] wanted to be an R&B singer. That's what he liked." The point was well made by his Four Tops-evoking first Motown single, 1971's "Melodie," which Marcellino co-wrote.
But while at Hitsville, in 1973, Darin made a final US singles chart appearance in something closer to his superior cabaret style of yesteryear, albeit with contemporary touches of rock guitar. The love theme to the Billie Holiday biopic Lady Sings The Blues, "Happy" was co-written by Smokey Robinson and Michel Legrand. It was also released the same year by Michael Jackson, in a strong Motown bloodline with Diana Ross, the star of the picture. The producer of Darin's version was his longtime friend, Four Seasons helmsman Bob Crewe.
At the end of this year, and just after further sessions with Crewe, the poor health that had troubled Darin since childhood claimed his life. At just 37, his body failed him, but his extraordinary talent never did.
Buy or stream The Legendary Bobby Darin.