Crowded House
Highly acclaimed New Zealand quartet Crowded House originally evolved out of another much-loved Kiwi outfit, Split Enz.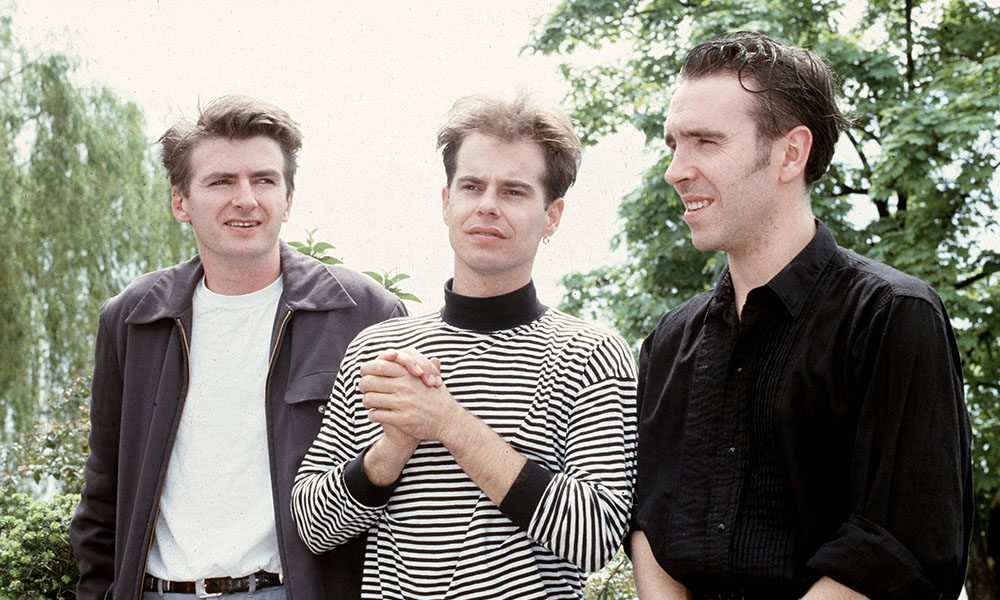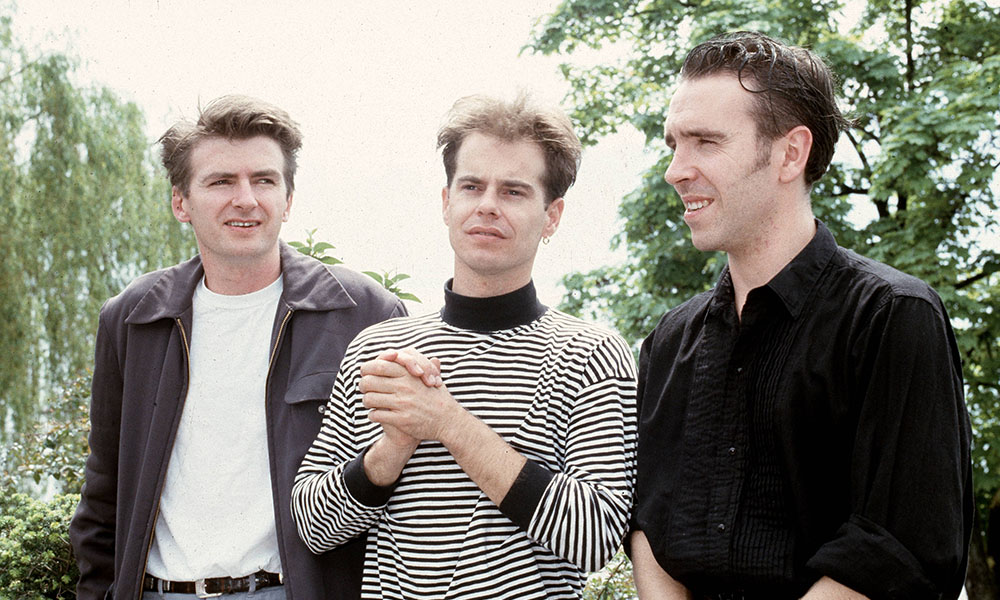 Highly acclaimed New Zealand quartet Crowded House originally evolved out of another much-loved Kiwi outfit, Split Enz, who are usually recalled for their breakthrough 1980 hit 'I Got You'.
Originally the preserve of two Auckland-born singer-songwriters, Tim Finn and Phil Judd, Split Enz enjoyed critical success both at home and in neighbouring Australia before relocating to the UK to record two LPs for Chrysalis (now part of Universal Music), 1976's Second Thoughts and the following year's Dizrhythmia. Judd quit after the latter, so Tim Finn's younger brother Neil stepped in as the band's guitarist and co-vocalist.
From 1979 onwards, Split Enz recorded for Mushroom Records in Australia and signed to A&M, who released their LPs throughout the rest of the world. Ably assisted by Neil Finn's emergence as a singer-songwriter of note, the band developed a more streamlined, new wave-influenced sound by the turn of the 80s. They enjoyed global success with their well-received fifth LP, True Colours, which – on the back of the terse UK Top 20 hit 'I Got You' – made the Top 40 on both sides of the Atlantic.
Split Enz continued until 1984, by which time Tim Finn had left the band after the success of his 1983 solo set, Escapade. Helmed by Neil Finn, the reconfigured group made a final LP, See Ya 'Round, and undertook a final series of live shows, the Enz With A Bang Tour, where Finn met bassist Nick Seymour, brother of Mark Seymour from highly respected cult-level Aussie rockers Hunters & Collectors.
Having hit it off with Seymour, Finn decided to form a new band, also pulling in ex-Split Enz drummer Paul Hester and second guitarist Craig Hooper. Active by early 1985, this new outfit – originally named The Mullanes – first played live in June '85 and signed a recording contract with Capitol Records. Hooper, however, departed shortly after, so the remaining trio headed to Los Angeles to record their debut LP, reputedly changing their name to Crowded House at Capitol's behest, and in a nod to the lack of space in the tiny communal apartment the band shared while staying in the city.
The band recorded their self-titled debut with future Elvis Costello/American Music Club producer Mitchell Froom, who also added most of the album's keyboard parts. Thankfully devoid of the synths, electronic drum sounds and sequencer-based studio textures that blighted a lot of mainstream pop hits from the mid-80s, Crowded House remains a fantastic record, full of quirky, but hook-stuffed pop songs ranging from the ballsy, brass-enhanced 'Mean To Me' to the gorgeous, swaying 'World Where You Live' and the wired, Talking Heads-esque 'Love You 'Til The Day I Die.'
Thanks to their history with Split Enz, Crowded House already had a strong fanbase in Australasia and they played a number of festivals in Australia and New Zealand shortly after Crowded House was released in June 1986. Curiously, despite this tailor-made audience and their album's quality, the LP was slow to take off, with the first single, 'Mean To Me,' only charting in the lower reaches of the Australian Top 30.
The group's fortunes quickly changed, however, when 'Don't Dream It's Over' (arguably Crowded House's most transcendent moment) was released as a single in December '86. Shooting to No.2 on the US Billboard Hot 100, this memorably plaintive anthem rose to No.1 in Canada and eventually also topped the charts in the band's native New Zealand. Initially a commercial slow burner, Crowded House also then caught fire, reaching No.1 in Australia in June 1987 (where it became a multi-platinum seller) and also an impressive No.12 on the US Billboard 200, where it again earned a platinum certification.
The band again hooked up with producer Mitchell Froom and engineer Tchad Blake for their sophomore LP, Temple Of Low Men, which was compiled from sessions in Los Angeles and Melbourne, Australia. Released in July 1988, the album was a shade darker and more introspective than Crowded House, though it contained another generous selection of Neil Finn-penned treats including the world-weary 'I Feel Possessed', the jaunty, jazz-flavoured live favourite 'Sister Madly' and the beguiling ballad 'Into Temptation'.
Topping the charts in Australia and hitting No.2 in New Zealand, the LP's yearning first single, 'Better Be Home Soon', was another highlight; after it made the US Top 50, Temple Of Low Men followed it onto the Billboard 200, where it peaked at No.40 and earned the band a gold disc. In Australasia, the album also performed strongly, climbing to No.1 on the Australian charts and simultaneously rising to No.2 in New Zealand. Crowded House subsequently promoted the LP's release by touring in Australia and Canada, with the band's core trio initially augmented by ex-Split Enz keyboardist Eddie Rayner and later multi-instrumentalist (and ex-Supertramp alumnus) Mark Hart, who would eventually become a full-time member of the line-up.
Taking a break after the band's Canadian dates, Neil Finn reconnected with his older brother Tim to record songs they'd co-written for their own LP, some of which would later be released on 1995's Finn. Neil Finn's next batch of songs was intended to form the bedrock of a third Crowded House LP, but Capitol rejected the demos, sending him back to the drawing board. Eventually, Neil approached his older brother to ask whether the band could use some of the co-written Finn songs. Tim Finn agreed to this suggestion on the proviso that he would be allowed to join Crowded House should the band record these songs. Though Tim's suggestion was allegedly only made in jest, Neil took it seriously and his brother was duly ushered into the band.
Consequently, Crowded House's third album, July 1991's Woodface, included eight co-written Finn Brothers songs, with Tim and Neil often co-harmonising on lead vocals. Again produced and engineered by Froom and Blake, the 14-track Woodface was another multi-platinum smash in Australasia and – for the first time – it also yielded significant success in the UK for Crowded House, where it rose to No.6 in the charts. The album eventually earned a platinum certification in the UK on the back of a succession of evergreen Top 40 hits including 'Four Seasons In One Day', the glorious 'Fall At Your Feet' and the quirky (and seemingly omnipresent) radio hit 'Weather With You'.
Tim Finn left the band partway through the tour to support Woodface, and Mark Hart stepped in again, but this time he stayed on when the gigs finished and became a full-time member of Crowded House. Indeed, he played an important part in the creation of the band's fourth album, Together Alone, which was released by Capitol in October 1993.
Instead of simply returning to the usual recording studio complex, the band opted to record Together Alone on location. Hooking up with new producer/ex-Killing Joke bassist Youth (aka Martin Glover) they proceeded to record most of the album in a house belonging to mutual friends on remote Karekare Beach on New Zealand's North Island.
The sessions produced some of Crowded House's most ambitious, but satisfying music to date. Responsible for keyboards, mandolin, some of the guitars and even lap steel on several cuts, Mark Hart's musical dexterity immediately broadened the band's sonic palette, while log drummers and a traditional Maori choir also made their presence felt on and the album's emotive titular song. Neil Finn was again on sparkling songwriting form, and the LP spawned a clutch of the band's most memorable hit singles courtesy of the stirring 'Distant Sun', the blissful 'Nails In My Feet' and the edgy rocker 'Locked In', which climbed to No.12 on the UK Top 40 chart.
Together Alone again sold well, topping the charts in New Zealand, going to No.2 in Australia and No.4 in the UK, where it achieved platinum certification. Storm clouds, however, gathered around the band during the ensuing tour when drummer Paul Hester walked out during US dates in April 1994. The band finished the tour after drafting in replacement skinsman Peter Jones, but their future was thrown into doubt and, after Neil and Tim Finn's long-delayed Finn LP was released in 1995, Crowded House announced their split after completing a string of dates in Europe and Canada in the summer of 1996.
To coincide with the group's split, Capitol issued a "greatest hits" career anthology, Recurring Dream, which also featured three freshly recorded tracks, 'Everything Is Good For You', 'Instinct' and 'Not The Girl You Think You Are'. The LP was a huge success, going multi-platinum in the UK and Australia, and gold in numerous territories such as Holland, Belgium and Canada. The band, meanwhile, eventually bowed out after a massive – and emotional – final gig on the steps of Sydney Opera House in September 1996 (in front of a crowd of over 120,000 people), which was later issued as Farewell To The World – firstly on VHS and, 10 years later, as separate 2CD and DVD packages.
Post-split, the band members remained busy with both Tim and Neil Finn releasing accomplished solo LPs, Mark Hart rejoining Supertramp and Nick Seymour moving to Dublin and producing critically hailed Irish indie act, Bell X1. A posthumous 2CD collection of unreleased tracks, Afterglow, was released by Capitol in 1999, but the band stated that they had no intention of reforming at the time.
The Finn Brothers released an accomplished second album, Everyone Is Here, in 2004, following which former Crowded House drummer Paul Hester tragically died by his own hand in March 2005. Shortly after, Nick Seymour played alongside The Finn Brothers in tribute to Paul at London's Royal Albert Hall, and then, in 2006, sessions for a proposed Neil Finn solo LP (with Ryan Adams producer Ethan Johns) morphed into an all-new Crowded House album. Mark Hart and new drummer Matt Sharrod (ex-Beck) came on board in January 2007 and, with the band announcing their official reformation, they finished their comeback LP, Time On Earth, recording several additional new tracks with producer Steve Lillywhite.
Including a clutch of Crowded House's loveliest songs (including Johnny Marr co-write 'Even A Child', 'She Called Up' and the poignant ballad 'English Trees') Time On Earth was greeted by a brace of positive reviews, while its commercial performance showed that the band's popularity remained undiminished, with Neil Finn and co being rewarded with platinum sales in Australia, a gold disc in New Zealand and a silver disc in the UK.
Crowded House played a series of high-profile festival dates (including Coachella in California and the Australian Live Earth event) in support of Time On Earth and, by 2009, were again working on new material at Neil Finn's own Roundhead Studios in Auckland. The band's sixth fully-fledged studio LP, Intriguer, was released through ATO/Mercury in June 2010 and featured stunning new tracks such as the lilting 'Amsterdam', the enigmatic 'Archer's Arrow' (featuring violin from guest Lisa Germano) and two of Finn's most exquisite ballads, 'Even If' and 'Elephants'.
The band undertook an extensive world tour in support of Intriguer, and the LP put up a strong showing commercially, topping the Australian album chart, peaking at No.3 in New Zealand and rising to No.50 on the US Billboard 200. With Neil Finn having taken time out to release his widely acclaimed 2014 solo set, Dizzy Heights, it's still Crowded House's most recent studio set, though the band remain very much alive and Universal Music/Capitol's extensive 2010 CD-and-DVD box set, The Very Very Best Of Crowded House, remains a staggering retrospective that any self-respecting fan of beautifully crafted guitar pop simply can't be without.
Tim Peacock
Format:
UK English