'Indiscreet': How Sparks Pushed The Boundaries Of Pop
After two hit albums, they could have played it safe, but in 1975 Sparks had far grander designs in mind.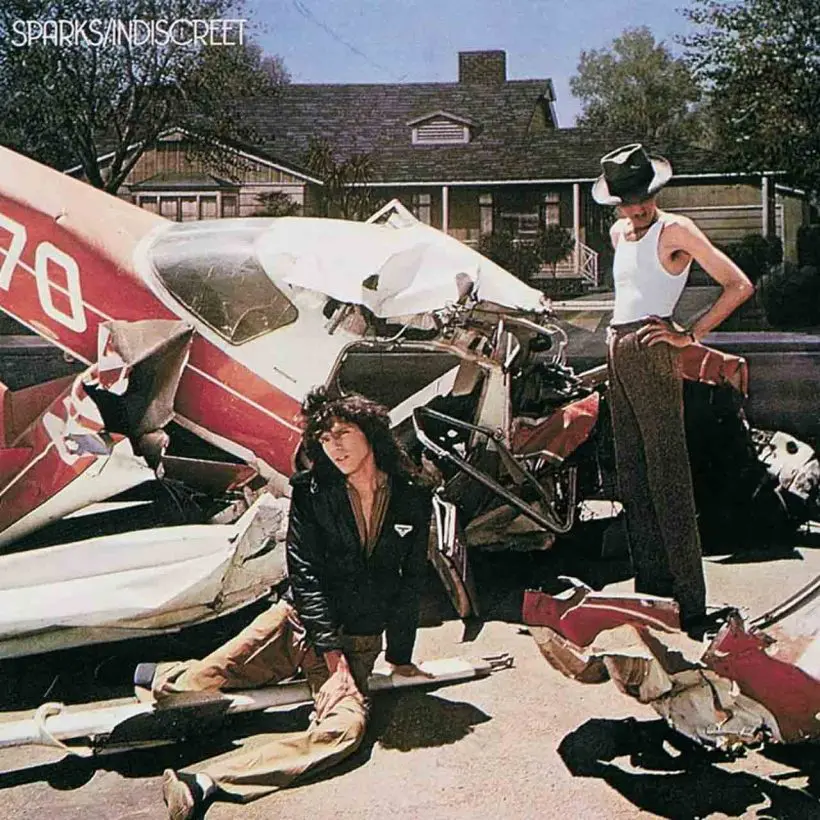 Sparks' fourth album, Propaganda, proved an admirable sequel to the band's breakthrough disc, Kimono My House. Again cracking the UK Top 10, it spawned two spin-off hits in "Never Turn Your Back On Mother Earth" and "Something For The Girl With Everything." Yet, while Propaganda satisfied their fans, Ron and Russell Mael drew up far grander designs for Sparks' next album, Indiscreet – and they hooked up with a vital new collaborator to help realize them.
"I was already a big fan of Sparks after I heard 'This Town Ain't Big Enough For Both Of Us,' so when Kimono My House was released, I bought it immediately," Indiscreet producer Tony Visconti revealed in a 2020 interview with Rock' n' Roll Globe. "What struck me most was the titles of the songs – "Thank God It's Not Christmas," "Talent Is an Asset," "Falling in Love with Myself Again" – these weren't normal titles you would get from any normal group.
Listen to Sparks' Indiscreet now.
"Their music was so refreshing," he added. "It was keyboard-based and extremely advanced, a mix of pop and classical. Russell was a genuine counter-tenor, a voice range I was already in love with. I never heard anything like it."
Both Sparks and their new producer were among rock's hippest names to drop when their paths crossed. While the Mael brothers were on the back of two big-hitting albums, Visconti had been establishing his credentials as a hot-shot producer since the turn of the 70s. By the time he agreed to oversee Indiscreet, the New York-born Visconti's credits included T. Rex's Electric Warrior and David Bowie's Diamond Dogs. He had also scored the string arrangements for Paul McCartney and Wings' Band On The Run.
The recording
Sparks were impressed with Visconti's track record. They also knew he was more liable to take chances than their previous producer, Muff Winwood. "Muff knew [Sparks] were a hard sell, but he had great pop sensibilities and got them hit singles," Visconti told Rock 'n' Roll Globe. "I love Muff, and we often discussed our different approaches. He defined his style of production as "meat and potatoes," which was quite different from mine. Unlike Muff, I fed into Sparks' desire to make art-rock and get as far out as possible with their music," he explained. "George Martin was my idol and the only producer I identified with. [Ron and Russell] encouraged me and I encouraged them to push the boundaries."
The feeling that Sparks now believed anything was possible was all-pervasive on Indiscreet. "Get In The Swing," for example, featured cheerleaders and a marching band, while "Looks, Looks, Looks" nonchalantly flirted with big band jazz. On "Under The Table With Her," Visconti even did away with the band altogether, setting Russell Mael's coquettish vocal against a compact, yet stately string quartet. The producer also marvelled at Ron Mael's ability to write songs such as "Tits," "How Are You Getting Home?" and "It Ain't 1918": brilliantly observed vignettes that often cast men as hapless.
"The stories in Indiscreet were so sharp-witted, a bit cruel at times, but always witty," Visconti told Rock 'n' Roll Globe. "So many words were crammed in such short space, this group certainly needed the lyrics printed. I don't know who Ron's inspiration was, but I'm sure he's well-read. (American novelist and playwright) Sinclair Lewis comes to mind."
Release, reaction, and legacy
Sparks and the Maels were of a mind that they'd created something truly special with Indiscreet, but the public didn't initially respond in kind. When the album was first released in October 1975, it peaked at No. 18 in the UK, failing to build upon the Top 10 success of Kimono My House and Propaganda. Its two spin-off singles, "Get in the Swing" and "Looks, Looks, Looks" made the UK Top 40, but disappointingly stalled at Nos 27 and 26 respectively.
Though hardly a commercial disaster, Indiscreet's relatively modest returns prompted Ron and Russell Mael's decision to part ways with Trevor White, Ian Hampton, and Norman 'Dinky' Diamond, the core British musical group that had also backed them on Propaganda and (in Diamond's case, Kimono My House). Significantly, its chart showing also influenced the Maels' decision to return home to the US. They made their next album, 1976's Big Beat, in New York with session musicians and pressed on regardless, even though Indiscreet's failure to take them to the next level still bemuses Ron and Russell Mael today.
"I don't understand why it wasn't much bigger," Ron told Record Collector in a 2023 interview. "That was really depressing. I mean, it did OK, but Tony Visconti's arrangements on that album were so extraordinary. But time heals all that stuff, and everything is hunky-dory now."
Indeed, while Indiscreet failed to set the charts alight on release, it was a slow-burner that has since become a firm favorite among Sparks devotees. The record has enjoyed reappraisal from contemporary critics willing to embrace its diverse range of styles (AllMusic suggested it was "state-of-the-art Sparks…the power-pop melodies are consistently infectious and the lyrics are as humorous as one expects Sparks's lyrics to be"). One of its highlights, "How Are You Getting Home?" later paid unexpected dividends. Leos Carax's inclusion of the song in his acclaimed 2013 film, Holy Motors, eventually led to the acclaimed French auteur directing Sparks' musical Annette which picked up five César Awards in 2022.
How Are You Getting Home ?
So, it's hardly a surprise that Sparks are still proud of the daring Indiscreet. "If I have to pick one [Sparks] album [from the 70s], I would say Indiscreet," Russell Mael told The Guardian in 2017. "Having worked with Tony Visconti, we think he's an amazing producer, and some of the orchestrations he brought to that album are also amazing. There's no-one else, other than a George Martin, who has that kind of musical ability to be able to incorporate those kinds of stylistic treatments to pop songs in that kind of way."