Ultravox
The British new wave band from London founded by John Foxx had several periods of great success during different eras of the band's career.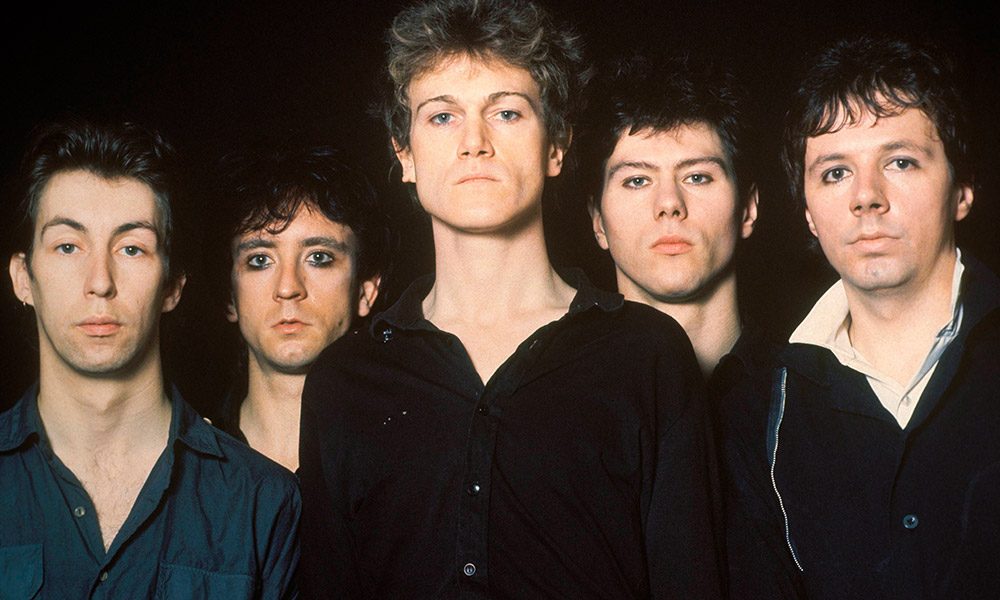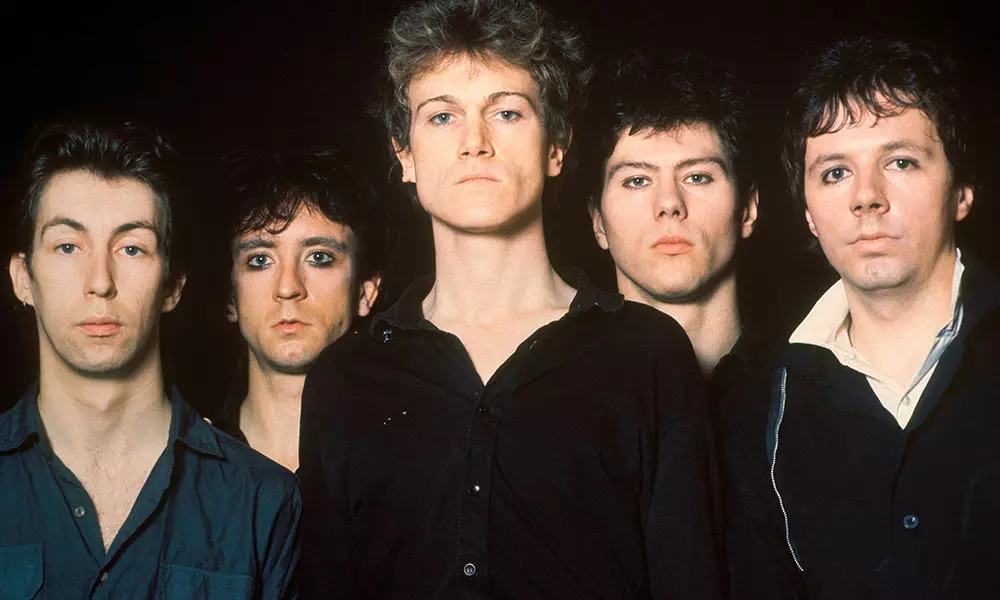 Chameleonic popsters Ultravox started life as stylish glam-punks before morphing into a highly credible electro-pop outfit and gradually developing into one of the most successful mainstream British acts of the 80s. Frequently cited as an influence by fellow synth-pop icon Gary Numan, the band scored seven Top 10 albums and a mammoth 17 Top 40 UK hit singles during their 80s heyday, and their rapturously received reunion shows in 2009 lead to an acclaimed comeback album Brill!ant in May 2012.
The band's lengthy passage to prominence dates back to 1974 when they were first conceived as Tiger Lily. Originally the brainchild of Lancashire-born vocalist and budding songwriter Dennis Leigh – then a student at London's Royal College of Art – their initial line-up featured violinist Billy Currie and Canadian-born drummer Warren Cann in addition to bassist Chris Allen and guitarist Stevie Shears.
This early incarnation of the band stumbled around looking for a direction, releasing one single, a cover of Fats Waller's 'Ain't Misbehavin'', on Gull Records in 1975. They struggled to progress, however, and frequently changed their name, taking on briefly held monikers such as The Zips, Fire Of London and even The Damned for several weeks before discovering another aspiring punk group with the same name was working the London circuit.
Writing songs and gigging regularly in and around London, the embryonic outfit were signed by Chris Blackwell's ever-vigilant Island imprint in the early summer of 1976 and only chose their permanent name while recording their debut LP. Collectively digging innovative German experimental bands such as Neu! and Kraftwerk, they chose the name Ultravox!, initially inserting an exclamation mark in homage to the former.
At this juncture, Dennis Leigh also chose the new stage name of John Foxx, while bassist Allen rechristened himself Chris Cross and the band continued recording their self-titled debut with co-production from future U2/Siouxsie & The Banshees producer Steve Lillywhite and one of their heroes, ex-Roxy Music synth manipulator and David Bowie collaborator Brian Eno.
Released in February, Ultravox! failed to set the charts alight. It was easy to detect echoes of band's influences such as Roxy Music and the New York Dolls in tracks such as 'Slip Away' and 'Sat'day Night In The City Of The Dead', though the rippling synths and tumbling pianos of the closing 'My Sex' pointed to the terrain that Foxx and co would begin traversing when they emerged from punk.
Ironically, however, Ultravox!'s second LP, November '77's Ha!-Ha!-Ha!, felt like a retrograde step dominated by loud guitars and aggressive, punky anthems such as 'Fear In The Western World' and the wantonly sexual first single 'ROckWrok', which picked up BBC Radio 1 airplay despite Foxx's visceral lyric: "F__k like a dog, bite like a shark." In stark contrast, however, the album concluded with 'Hiroshima Mon Amour', a critically acclaimed track that signposted the way to the band's future. Built around moody, atmospheric synthesiser melodies, it was also one of the earliest electro-pop songs to feature a drum machine: a Roland TR-77, programmed by Warren Cann.
During 1978, Ultravox dropped the exclamation mark from their name and replaced guitarist Stevie Shears with the versatile Robin Simon before heading to Cologne to record their third LP with another of their heroes, Kraftwerk/Neu! producer Conny Plank. Though another commercial failure, that September's sublime Systems Of Romance has rightly since been cited as a significant influence on the burgeoning post-punk synth-pop scene.
In the sleevenotes for the CD reissue of Tubeway Army's Replicas, electro-pop superstar Gary Numan later admitted that Systems Of Romance was "exactly where I wanted to go with my own music – I loved the way John Foxx and Billy Currie merged synthesisers with guitars and drums", and its best tracks (the melancholy 'Slow Motion', the clipped, staccato 'Quiet Men' and the enigmatic, psychedelic-tinged 'When You Walk Through Me') undeniably rank among the finest in Ultravox's canon. The sparse, proto-industrial grind of 'Dislocation', meanwhile, also signalled the direction John Foxx would pursue on his glacial 1980 solo debut, Metamatic.
Despite positive critical notices, Systems Of Romance again struggled in the marketplace and Island dropped the band. Label-less, they soldiered on for a while but split after an ill-fated US tour in March 1979. With John Foxx then signing to Richard Branson's Virgin label as a solo artist, Robin Simon joining Magazine and Gary Numan recruiting Billy Currie to play on his highly successful LP The Pleasure Principle, it seemed Ultravox was over until the versatile Midge Ure stepped into the picture.
A talented vocalist, guitarist and keyboardist, the Lanarkshire-born Ure had already tasted some minor music industry success as he'd sung on studio-bound outfit Slik's 1976 Top 10 hit 'Forever And Ever' and played in former Sex Pistol Glen Matlock's short-lived new wave supergroup Rich Kids. Billy Currie first met him when the pair were collaborating on new romantic icon Steve Strange's studio-based project Visage, and, after some encouragement from Visage drummer Rusty Egan, Currie asked Ure to join Ultravox.
It proved a momentous moment. Ure's vocal and guitar skills meant he could replace both Foxx and Robin Simon, and he rapidly revitalised Ultravox's fortunes. He brought a much-needed pop sensibility with him, which was reflected in Ultravox's make-or-break fourth LP, Vienna, their Chrysalis Records debut, released in June 1980. Issued at a time when electronic pop outfits such as The Human League and Depeche Mode were beginning to break into the mainstream, Vienna's state of the art, synth-driven pop surfed the zeitgeist and, after a slow start, its dramatic title track rose to No.2 in the UK singles chart in January 1981.
Still arguably Ultravox's signature song, 'Vienna' was strongly influenced by Carol Reed's atmospheric 1948 movie The Third Man, which was also based around the Austrian capital. Promoted by a suitably enigmatic video of the band wandering around several well-known Viennese landmarks, the song went on to become one of the UK's biggest-selling singles of 1981 and – on the back of two further Top 30 singles, 'Sleepwalk' and the edgy 'All Stood Still' – its parent album eventually peaked at No.3 in the UK charts, earning Ultravox a platinum certification.
Post-Vienna, Midge Ure and co frequently graced the upper echelons of the UK charts until 1985. Again the product of sessions with Conny Plank, 1981's sleek, silver-selling Rage In Eden rose to No.4 in Britain and produced two memorable Top 20 singles courtesy of the stark, motorik 'The Thin Wall' and the anthemic 'The Voice', while 1982's opulent Quartet (overseen by the eminent George Martin) fittingly yielded four Top 20 smashes courtesy of 'Reap The Wild Wind', 'Hymn', 'Visions In Blue' and the irrepressible, Kraftwerk-ian 'We Came To Dance' en route to going gold in the UK.
Ultravox received another gold disc for 1983's Monument, a well-received live album recorded at their headlining show at London's prestigious Hammersmith Odeon on the tour to promote Quartet. Predictably, their seventh studio set, 1984's self-produced Lament, climbed into the UK Top 10 and once again went gold, though its contents were a departure from Ultravox's tried and tested synth-pop sound. Both of the record's two significant hits, the soaring, guitar-driven 'One Small Day' and the bombastic, nuclear meltdown-related 'Dancing With Tears In My Eyes', were designed to compete with the band's contemporaries, U2 and Simple Minds, in the mainstream rock arena, while the album's title cut (also a UK Top 30 hit in June '84) was a melancholic, Celtic-flavoured ballad.
Chrysalis issued the band's first "best of" anthology, The Collection, late that same year. Presaged by yet another Top 20 hit, the standalone 'Love's Great Adventure', the album went triple platinum in the UK, where it peaked at No.2. Arguably at the height of their popularity, however, Ultravox then took a break while workaholic Midge Ure co-wrote and helped produce Band Aid's multi-million-selling charity single 'Do They Know It's Christmas?', and then scored a major coup when his solo 45 'If I Was' topped the UK charts in 1985.
Recorded with contributions from high-profile friends such as Level 42 bassist Mark King and Big Country drummer Mark Brzezicki, Ure's debut solo LP, The Gift, again rewarded him with critical and commercial success when it rose to No.2 in the UK charts in October 1985. At this stage, Ure and his compatriots seemed unassailable, yet they immediately ran into difficulties when they reconvened to record Ultravox's eighth LP. Though the sessions found the band reuniting with long-time studio collaborator Conny Plank, they were quickly marred when drummer Warren Cann left the band and emigrated to the US.
Having played on Midge Ure's The Gift, Big Country drummer Mark Brzezicki was drafted in for the subsequent sessions, but the resulting album, U-Vox, confounded fans and critics alike on its release in 1986. Continuing the trend that began with Lament, its overall sound drifted further away from synth-infused pop, with a brass section pepping up the expansive arena-sized rock of 'Same Old Story', and the melancholic 'All Fall Down' embroidered with strong Celtic flavours from traditional Irish folk band The Chieftains. Both these tracks were released as 45s, but each stalled around the Top 30's outer perimeter, while the third single – 'All In One Day', which came couched in a lavish, George Martin-scored string arrangement – stalled at a lowly No.88. U-Vox also received mixed reviews, but while it again made the UK Top 10 and yielded a gold disc, Ultravox decided to split after touring the album during 1987.
Though largely remaining out of the spotlight, the band members all kept busy after Ultravox ceased trading. Chris Cross temporarily quit music to become a psychotherapist; Billy Currie briefly played with Dead Or Alive and embarked on a sporadic solo career; Midge Ure also switched back to his solo career and enjoyed widespread European chart success in 1998 after his single 'Breathe' was used in a popular television advertising campaign for Swatch watches.
During the 90s, Currie slightly contentiously released two albums, Revelation and Ingenuity, under the Ultravox banner, though he was the only original band member to feature on these recordings. However, in 2009, long-term fans finally received the news they'd been hoping for when Ultravox's "classic" line-up of Ure, Cann, Cross and Currie announced their Return To Eden tour, which took in a series of highly acclaimed live dates in the UK followed by gigs in Germany and Belgium, and then a further bout of gigging in 2010, which was celebrated by the release of that year's Return To Eden: Live At The Roundhouse In-Concert LP.
Devotees waited with bated breath to see if new recordings would emerge. Eventually, Ultravox's first all-new album for 26 years materialised, when the confidently-titled Brill!ant was released by Chrysalis in May 2012. Trailed by the spooky, attention-grabbing title track, the album was produced by Stephen Lipson (Annie Lennox; Pharrell Williams) and it was a vintage return to form, with numerous highlights including shimmering stadium-sized anthems such as 'Live' and the yearning, bagpipe-assisted 'Flow'; the insistent 'The Change' and the sparse, haunting postscript, 'Contact'.
Brill!ant received a brace of positive reviews and it soon reacquainted Ultravox with the UK Top 40, where it peaked at No.21, as well as selling strongly in the band's long-time European strongholds such as Germany and Sweden. Encouraged by the record's performance, Ultravox took to the stage for a lengthy tour, taking in shows across the UK and Europe during the autumn and winter of 2012. They returned to the stage as Simple Minds' special guests on their arena tour of the UK in 2013 and remain a going concern, though Midge Ure has since returned to his concurrent solo career. He released the beautifully crafted Fragile during 2014 and in 2016 embarked on the extensive 80s Invasion UK Tour, sharing the bill with Big Country, Nick Heyward and Curiosity Killed The Cat.
Words: Tim Peacock
Format:
UK English