The Weirdest Musical Instruments Ever
From Stylophones to pool balls, the rock canon is full of odd sounds and instrumental exotica. Here are the most unusual instruments in popular music.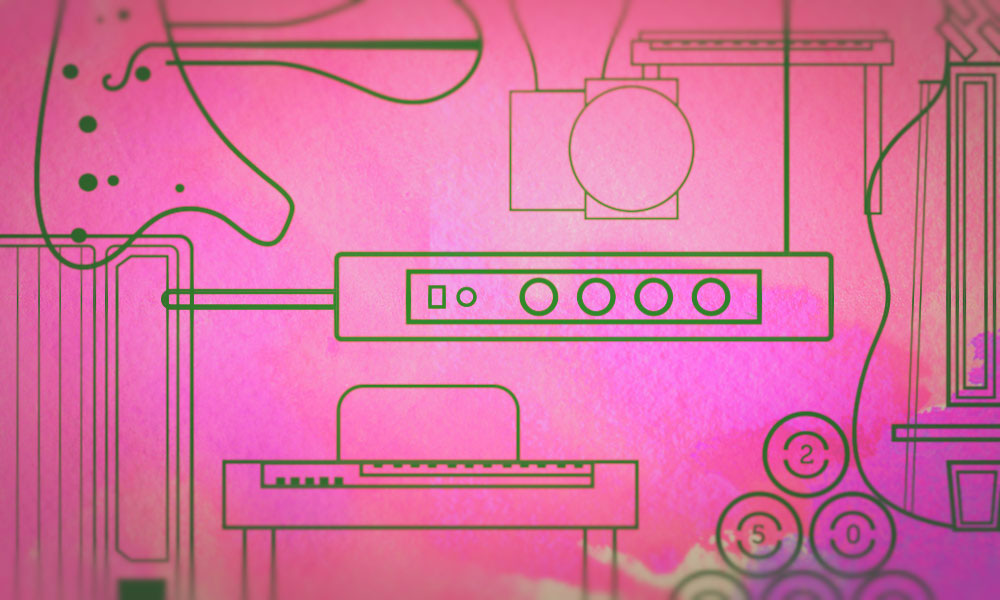 "You can't beat two guitars, bass and drums," wrote Lou Reed in the liner notes of his 1989 album, New York. Sorry, Lou, but that's not always the case. Sometimes it takes some extra, exotic instrument to push a record into greatness – and Reed ought to know, since The Velvet Underground was probably the first rock band with a viola player. From Stylophones to pool balls, the rock canon is full of memorably odd sounds and instrumental exotica. Here's our overview of some of the most unusual instruments ever to appear on a classic record.
Theremin
By 1966, Brian Wilson was no stranger to strange instruments. He'd just used a bicycle horn on The Beach Boys' Pet Sounds track 'You Still Believe in Me', but outdid himself by making this electronic device a key element of 'Good Vibrations'. The 1993 movie Theremin: An Electronic Odyssey, built a real mystique around the instrument, with Wilson honored as one of its pioneers.
Arabesque, Snake Guitars, Electric Larynx, Uncertain Piano
Brian Eno's instrumental credits are worth a study in themselves, and these were among the many instruments that Eno played on his various solo albums. Only Eno knows what these instruments did, but you'd probably miss them if they weren't there.
Conundrum
Homemade percussion is another art-rock tradition; those early King Crimson albums were full of unique "percussives". But percussive chaos was essential to Bone Machine, the 1992 Tom Waits album that took his career into uncharted territory. The conundrum was a rack equipped with all manner of metal junk and machine parts, and the album wouldn't have been half as unsettling without it. While a friend apparently invented the device, Waits was likely responsible for its punning name.
Ocarina
There was a time when this early woodwind instrument was treasured in Chinese and Japanese culture; in the US it was called a sweet potato. Now it's forever known as the solo instrument in The Troggs' 'Wild Thing'. As far as we know, its only other appearance in the rock canon is in the lyrics of Cream's 'Those Were the Days', from their 1968 album Wheels Of Fire.
Jaw Harp
Usually a sound effect used in more comical music, The Who gave it a moment of glory in 'Join Together', even making it the lead instrument in the intro. Though the video has Keith Moon and Roger Daltrey miming on the instrument, it was really Pete Townshend playing.
Billiard Balls
Often mistaken for simple guitar-bass-drum albums, the early R.E.M. records are full of inventive touches. On the Murmur track 'We Walk', producer Mitch Easter slowed down a recording of billiard balls clanking into one another, making a deep and ominous sound.
Ondes Martenot
A close cousin to the theremin, this late 20s device made a similar spooky sound but was easier to get accurate notes from. One of its main supporters nowadays is Radiohead's Jonny Greenwood, who used it for some of the unearthly moments on Kid A (notably on 'How to Disappear Completely'). It's since been embraced by the likes of Gorillaz and Daft Punk, who used it on 'Touch'.
Aphex Aural Exciter
Producer Peter Asher was enamored of this psycho-acoustic device, hence its prominent billing on many Linda Ronstadt and James Taylor albums. What it actually did was to boost frequencies in the mixing process, giving the recording a "hotter" sound.
Hurdy-gurdy
To some extent, Led Zeppelin was always a frustrated folk band. The put the traditional ballad 'Gallows Pole' on their third album, and when Page and Plant revived the song for their No Quarter album and tour, the former played the hurdy-gurdy, an early English cranked instrument that produced a bagpipe-like tone. There's no hurdy-gurdy in the original Zeppelin version, but it is the only Zep song on which Page plays banjo. Bonus irony: according to various rumors, one of the first times the Zeppelin members played together was during the Donovan session for – you guessed it – 'Hurdy Gurdy Man'.
Stylophone
That taking-off-into-space keyboard sound on David Bowie's 'Space Oddity' (the one in the instrumental bridge after the big acoustic guitar riff) wasn't something keyboard wizard Rick Wakeman came up with. It was Bowie himself on the Stylophone, a music toy that made a primitive synth-like sound.
Optigan
Like the Stylophone, the Optigan was a short-lived music toy that found new life when resourceful rockers got hold of it. The Optigan had a built-in record player, which took sound samples of strings, horns and orchestral instruments from flexi discs; you could then play with the tone and pitch of the samples. Ex-Genesis guitarist Steve Hackett was among the first to discover it. 'Sentimental Institution', from his Defector album, is built around an Optigan big-band sound. More famously, Los Lobos got a dreamlike feel from the Optigan loop on the Kiko track 'Angels With Dirty Faces'.
Laugh Bag
A popular toy in the early 70s, the "Bag Full Of Laughs" was a little orange pouch that would play a recording of a guy laughing manically when you pressed a button. King Crimson immortalised it – to more sinister effect, of course – at the very end of the Larks Tongues In Aspic track 'Easy Money'.
Stritch And Manzello
Jazzman Rahsaan Roland Kirk was a technical marvel, known for his ability to play two or three saxes or flutes at once (and to jam righteously on them all). He also played flute through his nose, and played these two homemade instruments. Both were saxes that he modified, because a normal sax couldn't make all the sounds he needed.
Claghorn
Not to be outdone, Kirk fan Ian Anderson played this homemade woodwind on Jethro Tull's first album; you can't miss its honking tone on 'Dharma for One'. Twenty years later, in the booklet for Tull's anniversary box set, Anderson finally showed fans what it looked like.
Tranceaphone
Invented by Violent Femmes drummer Victor DeLorenzo for their early busking gigs, this was a floor tom with a metal tub mounted on top. Always an eye-grabber onstage, it was a key part of that first classic Femmes album.
And finally, the oddest credit of all: "Other Instruments". That's what founding Cure member Lol Tolhurst officially played on Disintegration, some mysterious thing that wasn't guitar, bass, drums, vocals, horns or keyboards. As it later turned out, Tolhurst didn't appear on the album at all, but hadn't left the band (yet), so presumably his existence was still felt.
Format:
UK English