20 Of The Best Eminem Songs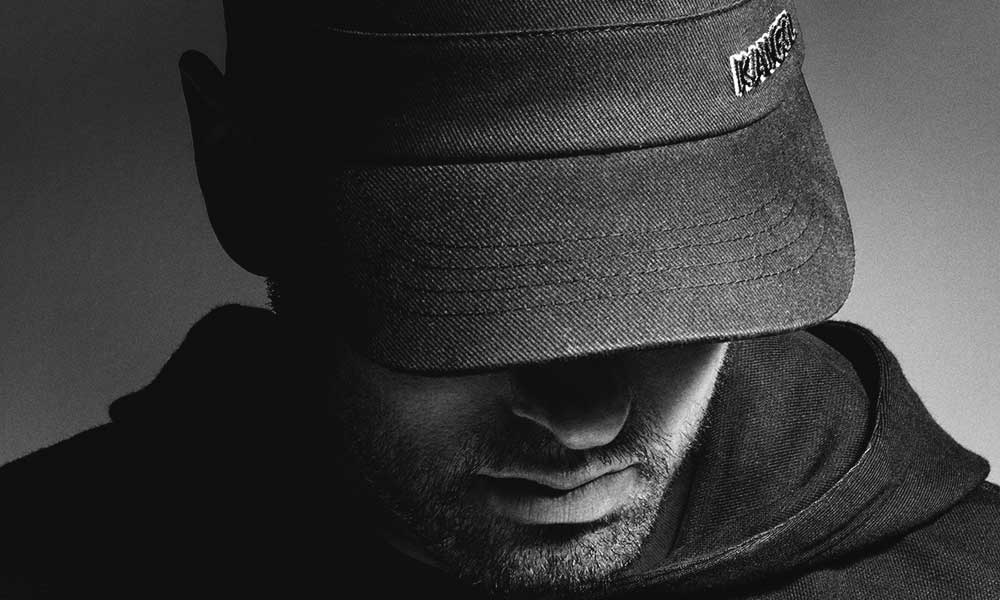 At once outrageously talented and controversial, blackly comic and brutally honest, there has never been a star quite like Eminem. The rapper born Marshall Mathers worked his way up from the hip-hop underground of the 90s to become one of the most successful music artists in the world, and the best Eminem songs chart his continued development.
Born in St Joseph, Missouri, Mathers' early childhood was spent between Missouri and Michigan, before settling with his mother in Detroit at the age of 11. Discovering hip-hop in his early teens, he began rapping with high-school friends and competed in open mic contests, soon winning over sceptical African-American audiences with his jaw-dropping flow. Eminem released his first solo album, Infinite, in 1996, though without a distinctive style the album failed to make a significant impact. It was a failure which had a profound effect on the rapper.
Changing direction, Eminem took on a maniacal alter ego, Slim Shady – narrator of many of the best Eminem songs, through whom he could vent his anger with cartoonish black humour. Putting the ruse to use on 1998's Slim Shady EP, the results so impressed legendary hip-hop producer Dr Dre that he signed the rapper to his Interscope imprint, co-producing an expanded version, The Slim Shady LP, the following year.
Under the aegis of his titular anti-hero, Eminem felt the freedom to expound on anything that took his fancy on darkly comic fantasies such as lead single 'My Name Is', which introduced Slim Shady as a vengeful, ogre-ish loose cannon, and 'Guilty Conscience', on which he uses his alter ego to trade lyrical blows on the subject of ethics with guest rapper Dr Dre. That favour was returned with interest soon after, as Eminem delivered a series of rapid-fire, tongue-twisting rhymes on his mentor's 2001 single 'Forgot About Dre'.
The Slim Shady LP turned Eminem into a global star, though it also roused the ire of many concerned that its lyrics glorified violence, misogyny and homophobia. Undaunted (and even revelling) in the controversy he'd caused, the following year's The Marshal Mathers LP found him expanding on the darkness of its predecessor, mixing razor-sharp humour with increasingly brutal personal attacks that often blurred the boundaries between fact and fiction on a collection that included the best Eminem songs to date.
His mother – who had recently hit him with a $10 million dollar defamation-of-character lawsuit – came in for particular scorn on opener 'Kill You'. Perhaps his most harrowing song, 'Kim' is a fantasy detailing an imaginary argument between Eminem and his wife just before he kills her. Elsewhere, smash hit single 'The Real Slim Shady' poked fun at celebrities and detractors alike, while two tracks showed Eminem in more self-reflective mood: 'The Way I Am' examines fame and its repercussions and the huge hit single 'Stan' recounts a cautionary tale about an obsessed fan who takes Eminem's violent fantasies too seriously.
The Marshall Mathers LP debuted at the top of the charts, becoming the fastest-selling solo album in music history, shifting almost two million copies in its first two weeks of release. The fallout from its controversial lyrics led to a difficult following year, however, with Eminem facing further lawsuits from both his mother and estranged wife. Though 2001 would be a quiet one for new music, Eminem would provide an outstanding guest turn on Jay Z's The Blueprint album, arguably outshining the Jiggaman himself on 'Renegade' – a song which would later reappear on the deluxe version of Eminem's hits collection, Curtain Call – with a slew of verses marked by their stunning dexterity.
Released in 2002, the rock-inflected The Eminem Show found the star taking a step back to examine the impact of his music and celebrity. On 'White America' he accuses the US government of censorship based on his presumed bad influence on white suburban teenagers, while his row with his mother was revisited on 'Cleanin' Out My Closet' with a vitriolic account of his traumatic upbringing. Propelled by the stomp-clap rhythms of Queen's 'We Will Rock You', 'Till I Collapse' features some of Eminem's most inventive rhymes, while Slim Shady makes a re-appearance on the rebellious comedy of 'Without Me', a hit single that more than earns its place among the best Eminem songs.
The Eminem Show was another gargantuan success and, with his musical career at its peak, Eminem capitalised by branching out into the film industry. He played a fictionalised version of himself, nicknamed B-Rabbit, in 8 Mile, a coming-of-age account of his formative years as an aspiring MC in Detroit. Earning critical plaudits for his acting, the accompanying soundtrack included 'Lose Yourself', an outstanding, hook-heavy slice of rap-rock that earned Eminem his first Billboard Hot 100 No.1, and whose status as one of the best Eminem songs of all time was secured when it also scooped an Academy Award for Best Original Song.
2004's Encore was a thematic companion piece to The Eminem Show. It dealt with the continued fallout of his fame while probing deeper into politics, with fictional and pointedly controversial lyrics kept to a minimum. On the Martika-sampling 'Like Toy Soldiers' he made a heartfelt plea against violence in hip-hop. Released as a single just prior to the 2004 presidential election, the anti-war protest song 'Mosh' was a pointed attack on the Bush administration and the continued presence of American troops in Iraq. Following the album's release, the breakdown of Eminem's marriage and the death of his best friend Proof precipitated Eminem's own problems with addiction. After cancelling his 2005 European tour, he checked himself into rehab for dependency on sleep medication.
Two comeback albums, 2009's Relapse and 2010's Recovery, dealt with his battles. Tracks such as 'Déjà Vu', which details an overdose and his life as an addict with refreshing honesty, and 'Going Through Changes', which details his grief at the loss of Proof, and his ongoing love for ex-wife Kim, revealed a more mature side to the star. He was back to his bolshy best on 2013's The Marshall Mathers LP 2, which revisited his most celebrated work. On standout track 'Rap God', Eminem confirmed his standing as one of hip-hop's greatest, utilising his Slim Shady alter ego once more to deliver some of the most dextrous raps of his career.
The Biblical allusions returned on 'Walk On Water', his first taster from the long-awaited Revival album, released as a surprise single on 10 November. With a gospel hook sung by Beyoncé, the song sees Eminem taking a reflective look at his past, addressing his fans' expectations, the bar he set for himself, and the "time when I had the world by the balls/Eatin' out my palm". Acknowledging his drive to keep pushing forward – "Always in search of the verse that I haven't spit yet" – it's a sharp reminder that Eminem not only wrote 'Stan' (as he pointedly reminds us at the end of 'Walk On Water'), but remains one of the most thoughtful rappers in history. His latest revival can't come quick enough.
For more of the best Eminem songs, follow the Eminem Best Of playlist here.
Format:
UK English