PJ Harvey
Very much an artist's artist, she's consistently been cool, cult-level and critically acclaimed, and her studio albums to date have been showered with accolades.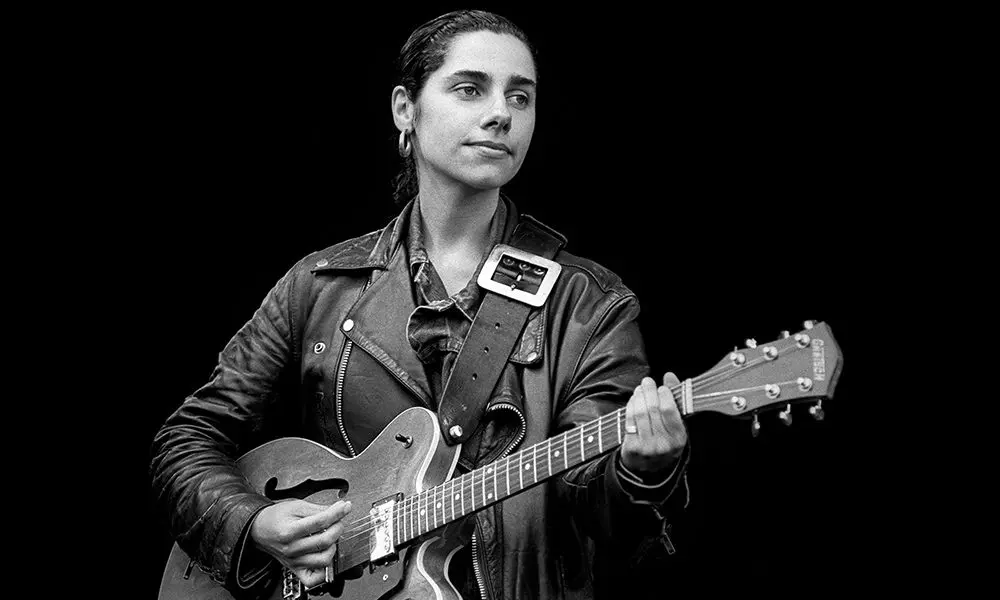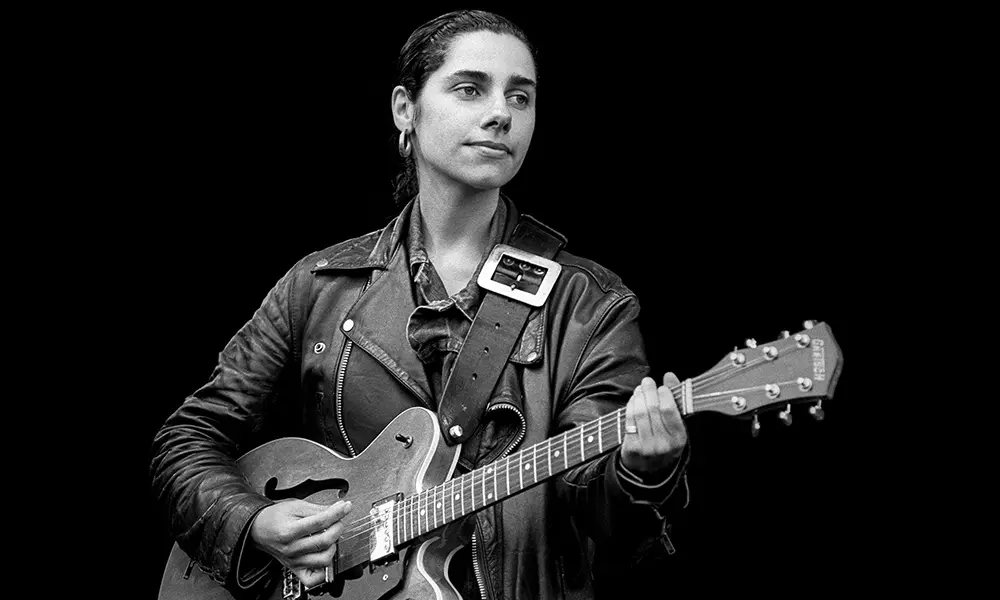 One of the most distinctive and uncompromising performers ever to grace the stage, Polly Jean Harvey has enjoyed a truly singular career thus far. Very much an artist's artist, she's consistently been cool, cult-level and critically acclaimed, and her eight studio albums to date have been showered with accolades. Yet, while Harvey was awarded an MBE in 2013, and won the coveted Mercury Music Prize twice (the only artist as yet to achieve this distinction), her commercial appeal has reliably kept pace with the plaudits, with her LPs consistently receiving silver, gold or platinum certifications since her 1992 debut, Dry.
Though her music has often been praised for its stark, aggressive qualities, Harvey initially came from a relatively sleepy rural background. Born in Bridport, Dorset, on 9 October 1969, her parents owned a stone quarrying business and she grew up on the family farm in nearby Corscombe. Unlike many teenagers intent on kicking over the traces, Polly Jean's interest in music was actively encouraged by her parents too, and they are usually credited with introducing their daughter to the likes of Bob Dylan and Captain Beefheart.
Like most idealistic youngsters, though, Harvey did feature in her share of formative local groups while she grew up. In her case, these included a folk duo called The Polekats and an all-instrumental octet named Bologne (sic). Harvey later attended Yeovil College in Somerset, studying a visual arts foundation course before heading for the more cosmopolitan metropolis of Bristol, where she joined an experimental outfit named Automatic Dlamini, in July 1988.
Formed by the highly respected John Parish (who would also later collaborate with other critically acclaimed artists such as EELS, Tracy Chapman and Sparklehorse), Automatic Dlamini initially formed in 1983 and had a loose, fluid line-up which often featured drummer Rob Ellis. Harvey learnt her chops with them over the next few years, providing saxophone, guitar and background vocals, and travelling to countries such as Spain, Poland and the former West Germany to help promote the band's debut LP, The D Is For Drum, recorded before Harvey became involved. Harvey did, however, play on the band's second LP, Here Catch, Shouted His Father in early 1990, but, at the time of writing, this LP still hasn't received an official release, though bootleg copies have been known to circulate on the fringes of the marketplace over the past 20 years.
Her dues paid, Harvey formed her own band in 1991, though John Parish remained a significant presence in her life. He's since contributed to and/or produced a number of Harvey's records, while the two of them have also teamed up for two highly regarded collaborative LPs, 1996's Dance Hall At Louse Point and 2009's A Woman A Man Walked By. Parish's girlfriend during the late 80s, photographer Maria Mochnacz also became a close ally of Harvey's, later shooting and designing many of Harvey's album covers and music videos.
Though often viewed as a solo artist from day one, Harvey's first two LPs were technically recorded by the PJ Harvey Trio, with Harvey (guitar and vocals) joined by drummer Rob Ellis and bassist Steve Vaughan: the latter becoming full-time bassist after Ian Oliver initially tried out but decided to rejoin Automatic Dlamini. The band often faltered in their early days (reputedly clearing the hall when they played a skittle alley at Charmouth Village Hall) but after they relocated to London – where Harvey temporarily applied to study sculpture at St Martin's College Of Art & Design – things started to change. The band's first demo reached go-ahead indie imprint Too Pure, who released their first 45, 'Dress', in October 1991; it earned Single Of The Week status by UK rock weekly Melody Maker's guest reviewer, the influential BBC Radio 1 DJ John Peel.
Peel invited the band to record a session for his show on 29 October and, early in 1992, Too Pure released the band's second single, 'Sheela-Na-Gig', and their equally acclaimed debut LP, Dry, in March. Though punky, emotionally brutal and relatively primitive, Dry was – and remains – an important debut LP, with Harvey's voice soaring over her band's compelling, stripped-back urban blues, while songs such as 'Victory', 'Dress' and the exuberant feminist-leaning 'Sheela-Na-Gig' boasted super-catchy hooks.
Both fans and critics agreed that Dry was a remarkable statement of intent. Despite being issued through impoverished indie Too Pure (these days part of the Beggars Banquet group), the LP shot to No.11 on the UK charts and went silver, not to mention gaining significant praise Stateside, where Rolling Stone named Harvey Songwriter Of The Year in 1993. (Nirvana's Kurt Cobain later chose Dry as his 16th favourite album of all time in his posthumously-published Journals.)
Harvey and co were in the eye of a media hurricane following the success of Dry and their widely publicised appearance at the 1992 Reading Festival. Record companies inevitably made overtures and the band signed with Chris Blackwell's Island imprint (now part of Universal Music Group) for their second LP, May 1993's Rid Of Me.
Recorded in rural Cannon Falls, Minnesota, Rid Of Me was produced by ex-Big Black guitarist Steve Albini, who was then making a name for himself as an alt.rock producer of note, having already helmed LPs for Pixies, The Wedding Present and The Breeders. Notorious for his crude, abrasive production methods (mostly involving wholly live performances and strategic mic-ing), Albini's production on Rid Of Me was suitably raw and feedback-strewn, and, if anything, the overall LP was harsher and more psychotic than Dry. Again, though, fans and media agreed it was magnificent and, with a further push from two fantastic singles, '50 Ft Queenie' and the predatory 'Man-Size', the record climbed to No.3 in the UK album charts, going silver and eventually selling over 200,000 copies.
The band gigged heavily in support of Rid Of Me, touring in both the UK and US, and opening for U2 on their mammoth Zooropa Tour, in August '93, but exhaustion kicked in and by September the PJ Harvey Trio splintered, with Ellis and Vaughan both quitting. Harvey responded by returning to England, where she bought a house in the countryside and composed the songs for her third LP, February 1995's To Bring You My Love.
A new team of collaborators were drafted in for the sessions. These included a returning John Parish, Nick Cave & The Bad Seeds/The Birthday Party mainstay Mick Harvey and French drummer Jean-Marc Butty, while the record was produced by another future long-term Harvey acolyte, Flood, whose lengthy credits include records with The Cure and Depeche Mode. With a greater emphasis on gothic American blues and a broader instrumental palette (including strings, organs and synthesisers), To Bring You My Love featured some of Harvey's most enduring songs, such as 'Meet Ze Monsta', the courtly 'C'mon Billy' and the sensual, but menacing 'Down By The Water'; the fact it was her most accessible record yet was reflected in its commercial performance. Nominated for the coveted Mercury Music Prize, the LP jumped to No.12 in the UK – going gold in the process – but also climbed to No.40 on the US Billboard 200 and eventually sold just over a million copies worldwide.
The songs for her fourth LP, Is This Desire?, came out of what Harvey described to Rolling Stone's Jim Irvin as "an incredibly low patch". Harvey also, however, told The Daily Telegraph that the LP was "the highlight of my career", and it remains a fascinating record. Released in September 1998 and featuring contributions from Parish, Mick Harvey and a returning Rob Ellis, it was subtler and more atmospheric than To Bring You My Love, with significantly more keyboard textures and tinges of electronica. It received mixed reviews from critics, many of whom clearly longed for a second To Bring You My Love, but it still performed well, peaking at No.17 in the UK (where it was certified silver), going gold in France and climbing to No.54 on the US Billboard 200.
However proud Harvey may have been of Is This Desire?, however, she changed tack again with 2000's Stories From The City, Stories From The Sea, a life-affirming and (relatively) mainstream rock/pop LP at least partially inspired by Harvey's love of New York City. Co-produced by Rob Ellis, Mick Harvey and PJ Harvey herself, it remains a terrific record, stuffed with highlights such as the passionate, punky 'Big Exit', the Chrissie Hynde-esque 'Good Fortune' and 'This Mess We're In': an emotive duet between Harvey and Radiohead frontman Thom Yorke.
Critically, the LP received a welter of accolades, scooping the Mercury Music Prize and earning Harvey a Brit Award and two Grammy nominations. Its sales graph again correlated with critical opinion as it sold over 300,000 copies in the UK (earning platinum certification), went gold in France and eventually sold over a million copies worldwide.
Harvey mapped out the tracks for her sixth LP, Uh Huh Her, over the ensuing two-year period and eventually performed everything in the studio except for the drum tracks, which were supplied by her long-term collaborator Rob Ellis. Though less mainstream-friendly and darker in hue than Stories From The City's the LP nonetheless featured some of Harvey's most satisfying songs, such as the glorious, Latin-flavoured 'Shame', the abrasive, pent-up 'The Letter' and the eerie, engrossing murder ballad 'Pocket Knife', and it remains a vital, essential waxing on its own terms.
Having put together a new touring band including Ellis, Simon 'Dingo' Archer (ex-The Fall) on bass and guitarist Josh Klinghoffer, Harvey toured Uh Huh Her extensively, going out on the road for several months with an itinerary including a clutch of major summer festivals and several dates opening for Morrissey. Though it perhaps lacked Stories From The City…'s crossover appeal, the LP received a warm critical reception and sold well, peaking at No.12 in the UK (where it again went silver) and shooting up the US Billboard Top 200, where it peaked at a career-best of No.29.
Harvey's seventh LP, 2007's White Chalk, was, however, her most radical record to date. Eschewing virtually all vestiges of her guitar-based alt.rock sound, the LP presented a set of mournful, intimate, piano-based songs that Harvey sang in a voice pitched higher than her usual range. Streaked with British folk and gothic horror, it featured remarkable compositions such as the Emily Bronte-esque 'The Devil' and the eerie 'When Under Ether', and concluded with a blood-curdling shriek on closing track 'The Mountain'. Though the album was arguably Harvey's most challenging yet, it again wowed the critics and sold well, going silver in the UK (where it peaked at No.11) and also reaching No/65 on the US Billboard 200.
Released in February 2011, Harvey's eighth LP, Let England Shake, was recorded over a five-week period at St Peter's Church in Eype, near Harvey's birthplace of Bridport. Recorded with contributions from John Parish, Mick Harvey and drummer Jean-Marc Butty (who later toured the LP with Harvey), it featured several highly emotive anti-war songs, including 'The Word That Maketh Murder', 'The Glorious Land' and the haunting titular song, which examined conflicts such as the disastrous Gallipoli naval strike during World War I and still-ongoing modern-day conflicts taking place in Iraq and Afghanistan.
Let England Shake received almost universally positive reviews, with the NME awarding it a rare 10/10, and a raft of publications, including Mojo and The Guardian, declaring it Album Of The Year. Remarkably, it also scooped a second Mercury Music Prize for Harvey, as well as An Ivor Novello Award, in May 2012. Commercially, Let England Shake also proved to be one of PJ Harvey's most successful outings, climbing to No.8 in the UK (where it eventually went gold), peaking at No.32 on the US Billboard 200, and also earning a gold disc in Denmark.
Harvey continues to explore new avenues for her music, holding the initial sessions for her next LP (provisionally entitled Recording In Progress) in front of a live audience in a custom-built studio outside London's Somerset House in January 2015. The band involved again featured John Parish, while Flood manned the recording console. As yet, nothing official has emerged from these sessions, though initial reports suggest that some of the new songs will again have a politically charged lyrical content.
Devotees currently await further developments with bated breath, though in the meantime they can devour Harvey's freshly released poetry book, The Hollow Of The Hand: a collaboration with photographer/film-maker Sean Murphy, which documents their travels to Kosovo and Afghanistan following the release of Let England Shake.
Tim Peacock
Format:
UK English