Faust
With their trademark mix of curious pop tunes, idiosyncratic ensemble playing, and the sound of power tools in action, Faust produced some of the most exciting, far-reaching music of the era. And it still sounds like nothing else today.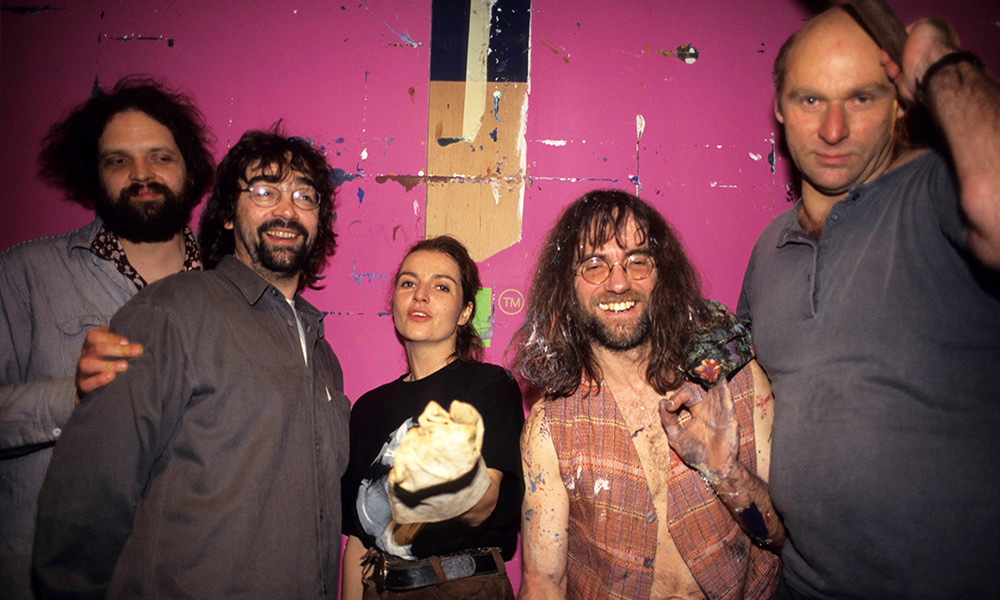 As the 1970s dawned in Germany there was an upwelling of creativity in Underground music, a scene rather controversially dubbed 'Krautrock' by the UK music press. Young German musicians wanted to break away from the hegemony of American and British pop music and rock'n'roll, and the legacy of their parents' generation, stained as it was by the Second World War. All this fuelled a creative movement that chose unfettered self-expression over rehashing Chuck Berry riffs. With their trademark mix of curious pop tunes, idiosyncratic ensemble playing, and the sound of power tools in action, Faust produced some of the most exciting, far-reaching music of the era. And it still sounds like nothing else today.
Faust were certainly in the right place at the right time. They were born in 1970 from the merger of two Hamburg bands who had come to the attention of Uwe Nettlebeck, the influential left-wing journalist. Nettlebeck knew the Baader Meinhof Gang, but more importantly for the group, had dealings with the German branch of Polydor. Aware that Germany was a creative hotspot, the record company wanted a homegrown band to rival the top English groups. At the time there was a lot of money in the record industry. But even now it seems amazing that their trust in Nettlebeck resulted in an unknown band being installed in a studio in a converted schoolhouse near Wümme and left to their own devices. Faust also had access to a top engineer, Kurt Graupner, and Nettlebeck would occasionally report on progress, while the band grew tomatoes and possibly other things too, and they experimented with sound.
The brief, droll snippets of The Beatles' 'All You Need Is Love' and The Rolling Stones' 'Satisfaction' that open their 1971 debut, Faust, are the nearest that the group ever got to what Polydor had hoped they might achieve. They soon veer off into 'Why Don't You Eat Carrots?' a collage of mutant brass band music and crazy singalongs cut with spoken interludes and waves of abstract electronics. It was this innovative way of editing, initiated by Nettlebeck, that really set the group apart. That and the fact that the album was released on clear vinyl in a clear plastic sleeve, bearing an x-ray of a clenched fist. (In German, 'faust' means 'fist'.)
Polydor persevered with the group, who then recorded So Far. The album – this time in an all-black cover – was slightly more conventional with some shorter tracks, even a pretty guitar instrumental, 'On The Way To Abamäe'. But although 'It's A Rainy Day, Sunshine Girl', a pop song boiled down to one chord and one tom-tom beat, gained some radio play and a cult following, wider commercial success unsurprisingly eluded them, and the group were dropped by the label.
In 1973, Faust were picked up by the newly formed Virgin Records. Back in Wümme the previous year they had recorded Outside The Dream Syndicate providing suitably pared-down backing to the drones of American ultra-minimalist viola player, Tony Conrad. Released at the height of progressive rock flamboyance on the label's budget price subsidiary, Caroline, it sounded shockingly spartan by comparison.
But the album that really made Faust's name in the UK was The Faust Tapes, which came out the same year. A dazzling collage of material recorded in Wümme and made up of 26 edits, it ran the gamut from charming ditties to idiosyncratic instrumentals to searing machine noise. Virgin decided to retail the album at 48p, the price of a single at the time, which meant that it sold 100,000 copies in the first month alone.  But it was such a radical release that many who bought in on spec hated it. While Simple Minds singer Jim Kerr remembers spinning it off a tall building in Glasgow, to many fans it is Faust in Excelsis.
The ploy worked and Faust began to gain momentum in the UK, even though their live shows in late 1973 were unpredictable affairs, with group members taking time out to play pinball onstage.
Their first proper album for Virgin, Faust IV, was recorded at The Manor in Oxfordshire in 1973 and has a smoother, less disjunctive feel. But although they didn't have the freedom allowed them in Wümme, it contains some of their best work including 'Jennifer', a haunting ballad that dissolves into a maelstrom of guitar noise and fades out with a lone piano. (The album was reissued by Virgin in 2006 with a bonus disc of alternate studio versions and BBC radio sessions).
The follow-up would have been a worthy successor, but having installed themselves in an expensive Munich studio in a rather blasé manner, when Virgin declined to pay the bill, the impecunious group did a runner. That tactic didn't work and keyboard player Jochen Irmler's mother ended up helping to pay off the debt.
Those sessions were eventually released as Munic & Elsewhere on Recommended Records in 1986 and re-released together with some hitherto unheard Wümme recordings as 71 Minutes on ReR Megacorp. This material, together with all the Wümme albums (with the exception of Outside The Dream Syndicate) and BBC radio sessions make up the five-CD box set The Wümme Years 1970-73 also released on ReR.
After lying dormant for the best part of two decades, Faust resumed live work in 1990 at the Hamburg Prinzenbar and released a comeback album Rien in 1994, with music assembled and edited by American guitarist and producer Jim O'Rourke. Footage of a December 1996 London concert, known as The Rock Aktion Party, which included welding, naked action painting onstage and agricultural machinery blasting bagfuls of leaves into the audience, was released on DVD as No One Knew If It Ever Happened. In 1997 the group released You Know FaUSt on their own Klangbad label, a compelling assemblage of instrumentals, songs and musique concrète in the vein of their earliest work.
In what has become a tortuous tale of fall-outs and switched allegiances, there are currently two versions of Faust, one with bass player Jean-Hervé Peron and drummer 'Zappi' Diermaier, and another led by Irmler. Both incarnations have released excellent albums, including C'est Com… Com… Compliqué (2009) and Faust Is Last (2010), respectively.
Format:
UK English