Roxy Music's Debut Album: Rock's First Postmodern Masterpiece
Raiding pop culture's past and present, Roxy Music created not only one of the greatest debut albums in history, but also a landmark work of postmodern art.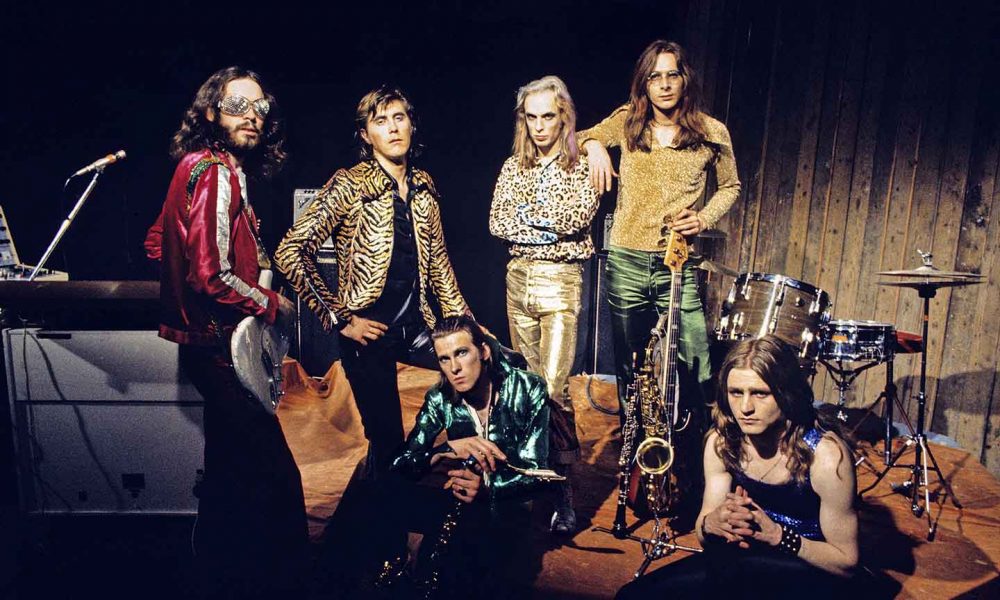 Back in 1972, "postmodernism" was a rarely used term, much less "retro" or "vintage" – words now almost fetishized in their description of everything from fashion to music, gaming to boutique coffee shops. Without describing themselves in such terms, however, Roxy Music and their debut album embodied postmodernism a full decade before the thought of cycling through styles and genres entered the mainstream.
Arch audio collagist David Bowie may have kicked his career up a gear with The Rise And Fall Of Ziggy Stardust And The Spiders From Mars, but, at its core, that album was still heavily indebted to show tune tradition, with a smattering of rock posturing for the masses. Released on June 16, 1972, the same day as Bowie's breakthrough, Roxy Music was a true raid on pop music's past… and present… and a signpost towards its genre-blind, boundary-breaking future.
Not that music was Roxy Music's sole concern. As a song title such as "Ladytron" suggests, with its hint of glamour welded to futuristic possibilities, Bryan Ferry (vocals, keyboards), Brian Eno (vocals, synths, tape effects), Phil Manzanera (guitar), Andy Mackay (vocals, oboe, saxophone), Graham Simpson (bass) and Paul Thompson (drums) were juxtaposing disparate elements from all over the pop culture spectrum.
Still astoundingly modern today, Roxy Music remains not only one of the finest debut albums in history, but rock music's first true postmodern masterpiece. What follows is an attempt to trace the influences and pop culture references in an album that continues to go beyond all expectations – not only of what a rock group can do, but what a true work of art can accomplish.
Listen to the deluxe edition of Roxy Music's debut album right now.
Hollywood's golden age
"I've always been star-struck, basically. Hollywood has always been Mecca," Bryan Ferry told Rock Scene magazine in 1973. In the same interview, he also revealed the list of vintage cinema names he'd once considered for the band: Roxy, Ritz, Granada, Odeon, Regal, Astoria. Roxy Music the name, then, harks back to the glamour of the original movie theatres – most specifically New York's Roxy Theatre, which opened on March 11, 1927, with the promise of offering cinemagoers a luxurious viewing experience.
Looking at it, "Chance Meeting" could almost have been titled "Brief Encounter," after the 1945 Noël Coward-written film. Then there's "Virginia Plain," Roxy Music's debut single, littered with references to movies from Hollywood's Golden Age: the 1962 Bette Davis and Joan Crawford classic, Whatever Happened To Baby Jane? ("Baby Jane's in Acapulco…"); Flying Down To Rio, the 1932 movie that first paired Fred Astaire and Ginger Rogers on the silver screen ("… We are flying down to Rio"); the Oscar-winning The Last Picture Show, a 1971 film whose title recalls old Hollywood ("Last picture shows down the drive-in"); and Teenage Rebel ("… of the week"), a 1956 movie that not only also features Ginger Rogers, but whose title would, to listeners in 1972, have evoked the original teenage rebel, James Dean.
For Bryan Ferry, however, there was no Hollywood icon greater than…
Humphrey Bogart
Speaking today, guitarist Phil Manzanera recalls "sitting down with Bryan at the first audition and talking about Humphrey Bogart and all the films we loved." For later solo albums and Roxy Music appearances, Ferry would adopt the image of Bogart as Rick Blaine in Casablanca, suave in a white dinner jacket. On Roxy Music, Bogart is homaged in "2HB," the lyrics directly quoting his Casablanca catchphrase: "Here's looking at you, kid."
Former art student Ferry, however, could not have been unaware of the song title's other connotations. Speaking to Michael Bracewell for the latter's scholarly study of the group's early years, Re-Make/Re-Model: Becoming Roxy Music, Ferry recalled telling fellow art student – and a future artist in his own right – Mark Lancaster about the song. "He said, 'Oh that's so great – writing a song about a pencil,'" Ferry recalled, adding, "Which is a very Pop Art concept, really – except that I was writing a song about Humphrey Bogart."
Breaking down Virginia Plain
Even while paying homage to their own heroes, Roxy Music ensured their own legend was being written. "We've been around a long time/Trying, just trying, just trying to make the big time," Ferry declares in 'Virginia Plain,' a song originally released as a non-album A-side. Neatly, his allusion to the year-and-a-half that had passed since he started to form the group came in the very song – their debut single – that would take them into the big time when it hit No.4 in the UK charts.
Roxy Music themselves weren't the only ones entering history with "Virginia Plain": "Make me a deal and make it straight/All signed and sealed, I'll take it/To Robert E Lee I'll show it," Ferry sings at the start, directly name-checking his lawyer. As with "2HB" – and almost everything Roxy Music did – the reference is doubled: Robert E Lee was also a Confederate Soldier in the American Civil War – fittingly, in command of the Army Of Northern Virginia.
The title "Virginia Plain" itself was a reference to an earlier work of Ferry's: a painting that he made in 1964 as a first-year art student in the Fine Art department of Newcastle University. Influenced by British pop art pioneer Richard Hamilton – one of Ferry's Newcastle tutors, and the man behind The Beatles' "White Album" artwork – Ferry described the piece to Michael Bracewell as "a surreal drawing of a giant cigarette packet, with a pin-up girl on it, as a monument on this huge Dalíesque plain."
But that wasn't the only meaning behind the song's title…
Tobacco
As alluded to in Ferry's painting of the same name, "Virginia Plain" didn't only conjure up a landscape, it was also a variety of cigarette tobacco, as well as being…
Fashion models
… A fictional girl's name. But while Ferry might not have known an actual Virginia Plain, the song nodded to the real-life model Jane Holzer, a Warhol girl (known also as Baby Jane Holzer – there's that film reference again) who appeared in a number of the artist's 60s movies, among them Couch and Camp.
Fashion models would be a recurring fascination for Ferry and the group, beginning with the album cover's depiction of Kari-Ann Muller, a former Bond girl who had starred in the 1969 George Lazenby 007 flick On Her Majesty's Secret Service. Startling both in its simplicity and in the way it cut against the grain for rock and pop albums of the early 70s, the Roxy Music album cover came across more as a fashion shoot than a sleeve for a vinyl disc. Simultaneously glamorous (in the old Hollywood sense) and "glam" (in the dressed-up-for-the-70s sense), the image set the tone for all Roxy Music albums to follow, while also drawing on the group's own connections with the fashion world.
Fashion
"The great thing is that we had friends who were great fashion designers, who were just beginning to make their mark," guitarist Phil Manzanera recalled to this writer in 2009. Among them were painter Nick de Ville, who acted as the group's art director; designer Anthony Price, who advised on clothing and make-up; and hairdresser Keith Wainwright. Each band member conferred with them individually, "never as a coherent, coordinated thing," Manzanera recalled. The first time the band would see each other's costumes was "literally just before going on the first gig of the new tour… and we'd go, 'My god! Where did that come from?'"
That's how you create a group that looks as though each member is performing in a different band – or on a different planet, as Brian Eno noted when he described some of the Roxy Music costumes as the sort of thing the president of the Galactic Parliament might have worn in a sci-fi movie. It was, as Manzanera recalls, a "wonderful coming together of random elements – but behind those random elements were people with a lot of learning."
Organized chaos
What might have sounded to the untrained ear like five musicians getting to grips with their instruments was, as Manzanera said in 2009, a deliberate collision of styles. "I'm pretending to be the guitarist in The Velvet Underground," he recalled of the sessions for Roxy Music, "whereas Bryan's probably thinking, 'Oh, this is a bit Elvis and a bit of Otis Redding.' And Eno would be saying, 'Oh, this is a bit John Cage and Stockhausen, and we'll throw in a bit of systems music.' If you had a bubble coming out of each other's head, it was probably thinking something totally different."
And so Roxy Music's opener, "Re-Make/Re-Model," blares out of the speakers as a perfect declaration of intent: a manifesto for the group's assault on the pop world, reconfiguring and recontextualizing old tropes, while presenting them as something utterly unique – futuristic, even. "Eno was always pushing the boundaries," Manzanera recalled. "I know it sounds ridiculous, but there was a point where we used to be DIed [direct injection] into, through his synths, a mixing desk, and he'd be out in the audience mixing." During live performances, what the band played on stage bore no resemblance to what the audience heard. "We soon abandoned that," Manzanera said, "but that was probably the most extreme. That was pretty far out for 1972."
Roxy Music - Re-Make/Re-Model (Live At The Royal College Of Art)
A little over three minutes into "Re-Make/Re-Model," each band member steps into the spotlight, sending up the rock'n'roll trope of the solo spot while simultaneously unleashing a mind-boggling array of sounds the group were intent on putting together – variously, a "Day Tripper" bassline (Simpson), a cascading free jazz piano flourish (Ferry), a fuzzed-up Eddie Cochran guitar riff (Manzanera), sci-fi squalls straight out of a B-movie soundtrack (Eno, on the then state-of-the-art VCS3 synth), a breathless saxophone skronk (Mackay: "a sort of pseudo-jazz that I was just making up. I wouldn't do that now. I'd be thinking, Oh God – I'd better play something that I can do"), and, confidently solid, Thompson's classic rock drumming – the crucial underpinning that kept all these disparate elements from spinning off their own axis.
Special mention also goes to country music ("If There Is Something") and doo-wop, the latter present and correct in backing vocals on the tracks "Would You Believe?" and album closer "Bitters End." But perhaps the most startling backing vocal on the album is a seemingly nonsensical chant that actually spells out…
A car license plate
Not content with throwing music's past and near-future into its heady mix, "Re-Make/Re-Model" also, by way of its title, alludes to a 1962 painting, Re-Think/Re-Entry, by British Pop artist Derek Boshier, and a one-that-got-away romantic "what if?" for Bryan Ferry – albeit in a typically oblique fashion.
Chanted throughout by Eno and Mackay, CPL 593H is actually a car license plate. Ferry recalls attending Reading Festival on his own and seeing a girl he liked in the crowd. "When I was driving back to London there was a car in front of me and it had the same girl in it," he says today. "I memorized the number. It was a Mini of some sort, and I think it was red. I know where she lived because I saw the car again a few times."
Ferry had an eye for cars, and the mystery girl's Mini is not the only automobile referenced in the album. In "Virginia Plain," Ferry looks "Far beyond the pale horizon/Somewhere near the desert strand/Where my Studebaker takes me/That's where I'll make my stand," referencing the classic American 1957 Studebaker Champion that he bought while a student – a decision made more on the strength of the car's design than on its performance ability. "I blew my university grant on that one," Ferry later admitted, adding, "It cost me £65 and it was amazing. It was very sleek and very restrained with beautiful lines."
America
Classic American cars manufactured during the 50s and 60s were not the only pull on Ferry during this period. "At least 50 per cent of the things that influenced me were American," he told Disc magazine. "The best films were American films, the best stars were American stars… and the best music was American, until The Beatles came along."
That last statement is telling: Ferry would at times exhibit a love-hate relationship with American exports. Fifties fashion, Hollywood glamour and strains of country and doo-wop seeped into Roxy Music, but when it came to the vocals, Ferry wanted to get away from the prevailing trends of the time, when most English singers affected an American accent. "I wanted the vocals to sound English rather than American," he recalls today, "which was quite daring, given that the music was very influenced by American styles."
Talking to this writer in 2009, Andy Mackay noted, "People tend to think of Bryan as a more conventional singer than he really was. I think he was more original and stranger." When Slade guitarist Dave Hill reviewed "Re-Make/Re-Model" in Melody Maker, he initially claimed, "I don't find anything in the voice," before adding, "but there is something about it. There are a lot of influences in it."
His final conclusion? "This must be a very mixed-up band."
Or, to quote Bryan Ferry, from a 1972 NME interview: "I don't think a group so much into advanced music has ever used these old sources so obviously before."
The super deluxe edition of Roxy Music's debut album can be bought here.