Traffic
The British rock band from Birmingham founded by Steve Winwood, Jim Capaldi, Chris Wood, and Dave Mason were known for their genre-fluid rock music.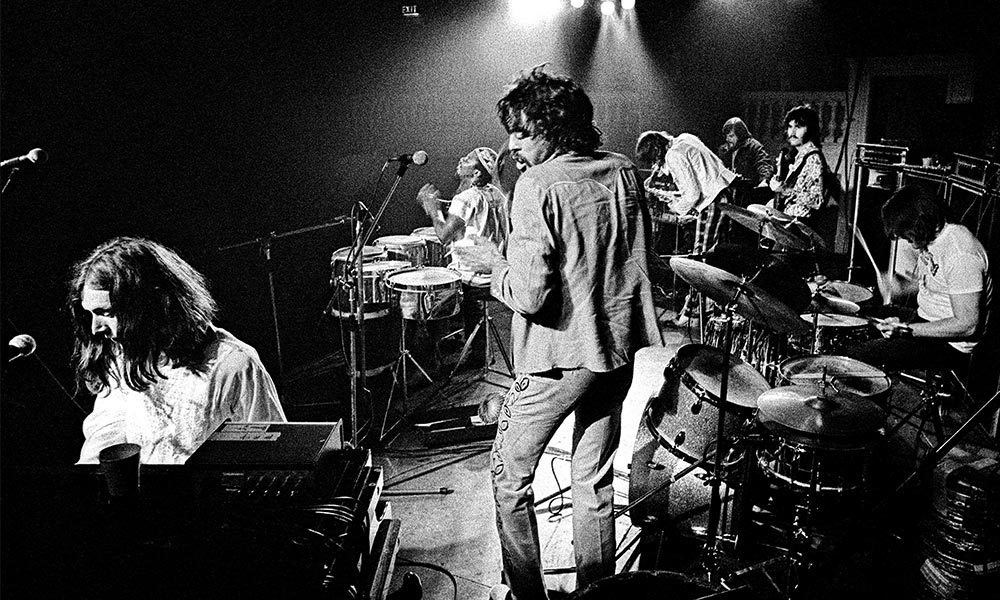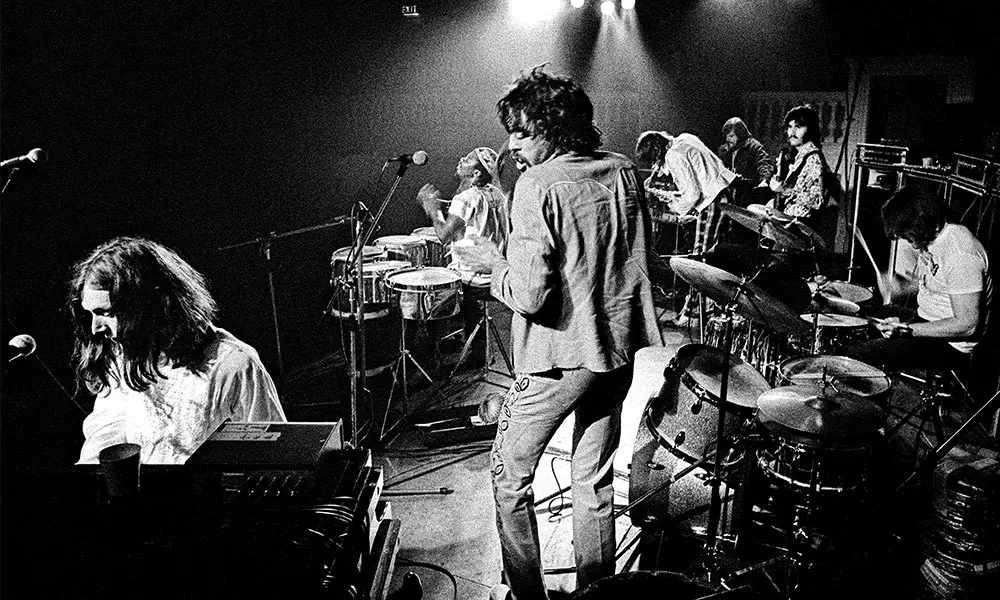 One of the greatest British rock acts of their generation Traffic emerged from the West Midlands as Birmingham's very own Beatles. Deeply psychedelic at first, later acid folk related their music remains an inventive template for any band with aspirations to musical excellence. Utilising improvisational methods with tremendous versatility they employed Mellotron and harpsichord, sitar and reeds as well as the conventional rock flavours. Given that their stand out performers were Stevie Winwood, Jim Capaldi, Dave Mason and Chris Wood such excellence was hardly a surprise, even so, early tracks like "Paper Sun", "Hole in My Shoe`" and the soundtrack item "Here We Go Round the Mulberry Bush" set a standard that they kept on raising, especially on classic albums like the getting back to the country debut epic Mr Fantasy and the immediate follow-up, simply called Traffic. They survived line-up changes, including the departure of Mason on a fairly regular basis, and the brief exit of Winwood during the Blind Faith period, yet they would establish themselves as a major force in America. There is a belated reunion to celebrate too, captured on 1994's Far from Home, and we are pleased to offer their live discs as well as some comprehensive compilations to suit all pockets from box sets to primers.
Masters of stage and studio, in their pomp, Traffic sold millions of albums and the members were inducted into the Rock and Roll Hall of Fame in 2004.
These Midlands men had strong local roots. Stevie Winwood was the teenage prodigy in the Spencer Davis Group and could pretty much do anything while drummer/vocalist/lyricist Capaldi and guitarist/vocalist/lyricist Mason were friends from the Helions and Deep Feeling. Woodwinds player Wood had been in the jazzier Locomotive. In total, they created a heady sound from the outset. Naming themselves after the thrum of London streets Traffic soon decamped to a small Berkshire village seeking to do the proverbial getting their heads together. It paid dividends since their first single "Paper Sun" was a 1967 sound of the summer. Mason's "Hole in My Shoe", a more lighthearted acid rock piece, was even bigger and once they'd teamed up with producer Jimmy Miller to create Mr Fantasy (much of it jammed to perfection in their idyllic country garden) it was obvious that Island Records had signed themselves a British wonder.
Boasting a rustic sensibility on "Heaven Is in Your Mind" and the elegiac "Berkshire Poppies" this disc also majors in the hippy freedom movement of the times on Mason's "House for Everyone" and the bittersweet "Coloured Rain".
This eclectic beginning was nearly derailed when Mason quit but he came back in time to feature large again on Traffic (1968) where the potent if sometimes stylistically troubled combination of the guitarist's pop flair and the others different ambitions caused friction. That didn't prove to be a bad thing. The opening "You Can All Join In" morphed into "Pearly Queen" with such charm that only those within the camp would have suspected the members didn't always see eye to eye. Here are also signs of sounds to come on "(Roamin' Thru the Gloamin' with) 40,000 Headmen", one of Capaldi's most brilliant compositions.
The hit single duly arrived via Mason's fertile pen on "Feelin' Alright?" a song that has become a rock standard.
Making progressive ground the original quartet all feature on Last Exit (1969) recording in Willesden and at the Fillmore West (sans Dave). Here you can marvel at Traffic gems like "Medicated Goo" and a terrific version of the standard "Feelin' Good."
John Barleycorn Must Die (1970) finds Traffic moving firmly into the progressive folk territory, albeit with a tough electric sheen. The arrangements are Avant-Garde in places and the instrumental passages are spectacular. Look out for this huge American hit album with bonus cuts on the Deluxe 2011 reissue overseen by Winwood with extra alternative versions and more live from the Fillmore material that captures the band at its ambitious peak.
Welcome to the Canteen reunites them with Mason while adding drummer Jim Gordon, allowing Mason more space at the microphone for his vocal harmonies. Former Family bassist Ric Grech is also a welcome addition (Winwood had covered most of that position previously) and the extra percussion of Rebop Kwaku Baah, a Ghanaian specialist much in demand on the 1970s British art-rock scene, gives this set real light and shade. Recorded at a London festival and inside the Fairfield Halls, Croydon, Welcome to the Canteen covers some classics from the previous discs as well as the Spencer Davis smash "Gimme Some Lovin'".
By 1971 the new line-up is settled enough to make the wondrous The Low Spark of High Heeled Boys, an album that is completely recommended today for its fusion of spaced rock and jazz-fusion. Exciting and soothing by turns this disc is notable for the solo passages on the title track and the deep production job afforded by Winwood. It repays repeated listening.
The Muscle Shoals Rhythm Section adds a lively punch to Shoot Out at the Fantasy Factory, one of those albums that were damned with faint praise on release but still pass muster. As with all Traffic releases lookout for the remasters, these are brilliantly crafted. The same ensemble graces On The Road where all the magic of Traffic can be heard on lengthy versions of their stage favourites: this time captured for posterity live in Germany with Muscle Shoals man Barry Beckett adding a second layer of keyboards while Winwood excels on lead guitar.
The final album before the reunion is When the Eagle Flies, a darker and more introspective moment in their history but still an album packed with good things, notably during "Dream Gerrard" where Viv Stanshall's lyric adds a poetic frisson. Twenty years on we arrive at Far From Home, a disc that delighted those with Traffic-withdrawal symptoms. The core of Winwood and Capaldi handle nearly all the instrumentation though mention should be made for Davy Spillane's uilleann pipes on the sensational "Holy Ground".
The collections on offer include the ever-popular Best of Traffic (1969), a fine summary of their acid rock hits, and the Revolutions anthology where Winwood's career is given a magnificent setting with solo, Traffic, Spencer Davis Group and Blind Faith material all jostling for attention on either a 4-CD set or as a single CD. Other compilations you might want to check out include The Definitive Collection and The Best of Traffic – The Millennium Collection (20th Century Masters Series). Taken as a piece these should give you everything you need although in the case of Traffic there is no substitute for starting at the beginning and then getting caught in the flow.
Though quite a modest bunch – not your average rock stars at all, in fact – Traffic were revered on both sides of the Atlantic. The Grateful Dead were staunch fans while Keith Richards and Tom Petty have linked arms with Winwood over the years as has his lifelong friend Eric Clapton.
Winwood is pretty much the mouthpiece now since the sad passing of Wood and Capaldi but anyone with the slightest interest in classic British rock will be keen to discover the magnificent music bequeathed to us by these Midlands maestros. Historic sounds abound within.
Words: Max Bell
Format:
UK English