When Blind Faith Made Their Debut In Hyde Park
On June 7, 1969, Blind Faith played Hyde Park in front of 120,000 people including Mick Jagger and Marianne Faithfull.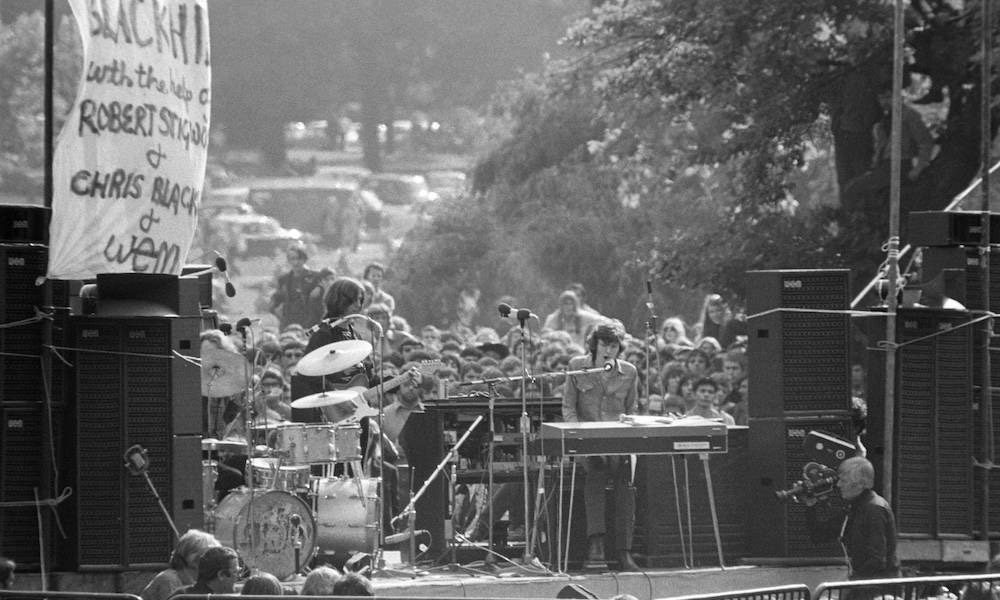 1969 was THE year of the festival – a stellar year by which all others have been judged. Across North America and the U.K., there seemed to be a festival happening somewhere, almost every weekend of the summer. The first major festival of the year was in Canada, the Aldergrove Beach Rock Festival that bizarrely starred the New Vaudeville Band and Guitar Shorty. In Britain, the first Hyde Park show starred Eric Clapton's new band, Blind Faith, in front of a crowd of around 120,000
It was on Saturday, June 7 that Blind Faith headlined the free concert that was organized by Blackhill Enterprises. Peter Jenner and Andrew King who were stalwarts of the London underground scene, having helped start the UFO club in Tottenham Court Road, ran Blackhill. Jenner had been a lecturer at the London School of Economics, and Blackhill ran their five-person business out of a converted shop just off Ladbroke Grove.
Blackhill was principally agents, and it was their acts that gained most from the Hyde Park concerts, which gave them a higher profile than they would have expected from gigging around Britain playing low-key gigs. During 1968, when Blackhill first approached the U.K.'s Ministry of Public Building and Works about the possibility of staging concerts in Hyde Park, they were met with a resounding "no." However, their persistence paid off, and on June 29, 1968, Pink Floyd headlined, supported by Tyrannosaurus Rex, Jethro Tull, and Roy Harper.
Blind Faith - Can't Find My Way Home
The Blind Faith concert was the first of four concerts scheduled for 1969. Opening the show was the Third Ear Band along with Richie Havens, Donovan, and the Edgar Broughton Band (no U.K. festival seemed to be complete without them). The stage they all played on was somewhat makeshift in appearance and was only about a meter or so high.
The music started around 2.30 p.m. and despite the crowd of 120,000 turning up on a really hot day, it was barely reported by the national press and not much noticed by the pop press either. With the exception of Richie Havens, who as usual thrashed the living daylights out of his guitar, the bands never seemed to ignite the crowd. Perhaps they were anticipating guitar pyrotechnics from Eric Clapton, who along with Ginger Baker, Stevie Winwood, and Rick Grech had formed Blind Faith, the new "supergroup," a tag with which they had been saddled to describe the musicians' pedigree.
Blind Faith took to the stage about 5:00 p.m. and began their set with "Well All Right" before going on to perform most of their debut album. It was a more bluesy set, closer to the kind of things Traffic had been playing than to Cream. According to Ginger Baker, "Eric had been doing amazing stuff, but at Hyde Park, I kept on wondering when he was going to start playing. " According to Clapton, "I came off stage shaking like a leaf because I felt that, once again, I'd let people down."
"True, they weren't as polished as Cream had been, but then again I don't think there's anything wrong in master-musicians playing a bit of a 'woolly' set. That's what good rock'n'roll is all about. Play it a bit raw. Fluff up a bit here and there. Make mistakes. Who cares?"– Richard Evans, a designer who later worked at Hipgnosis
Among the crowd were Mick Jagger and his girlfriend Marianne Faithfull. Having watched Blind Faith perform, soaked in the vibe and seen how many people there were watching, Mick decided that a free concert in Hyde Park to promote The Rolling Stones' new single and get them back in the public eye would be just the thing for the band that had been through something of a low period. As a nod to Mick, who stood watching from the side stage, Blind Faith played "Under My Thumb."
Mick Jagger told the Melody Maker a few days later, "I thought they were very nice. I was right at the back of the stage and couldn't see them, but I thought somehow they were very strained. I guess they'll get more together and Ginger was fantastic. He's a beautiful drummer – the best drummer I have ever heard."