'Lean On Me' Is "One Of The Highlights Of My Career" Says José James
With 'Lean On Me', musical shape-shifter José James pays tribute to soul legend Bill Withers, "to celebrate his life and what he means to us".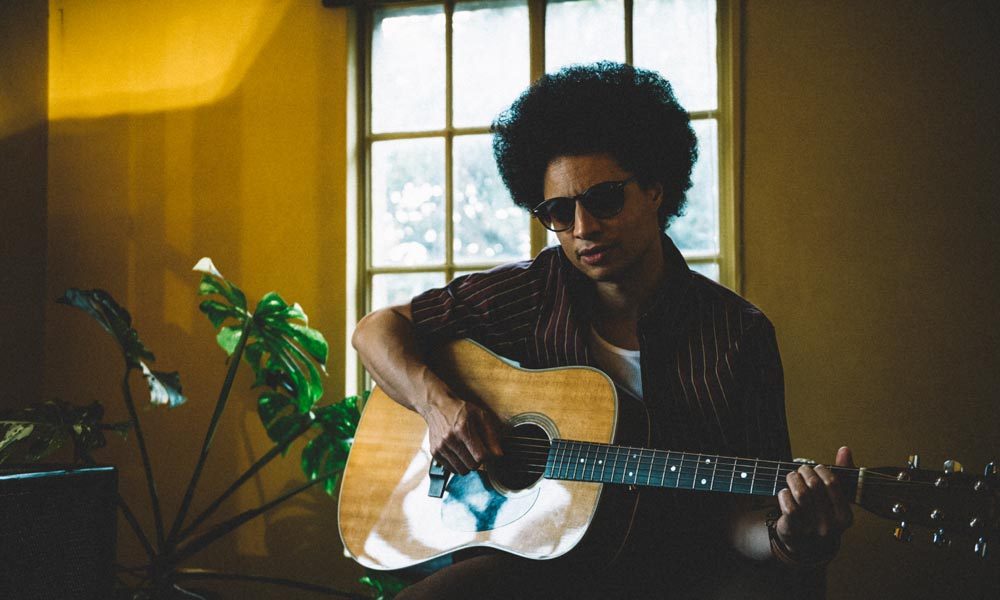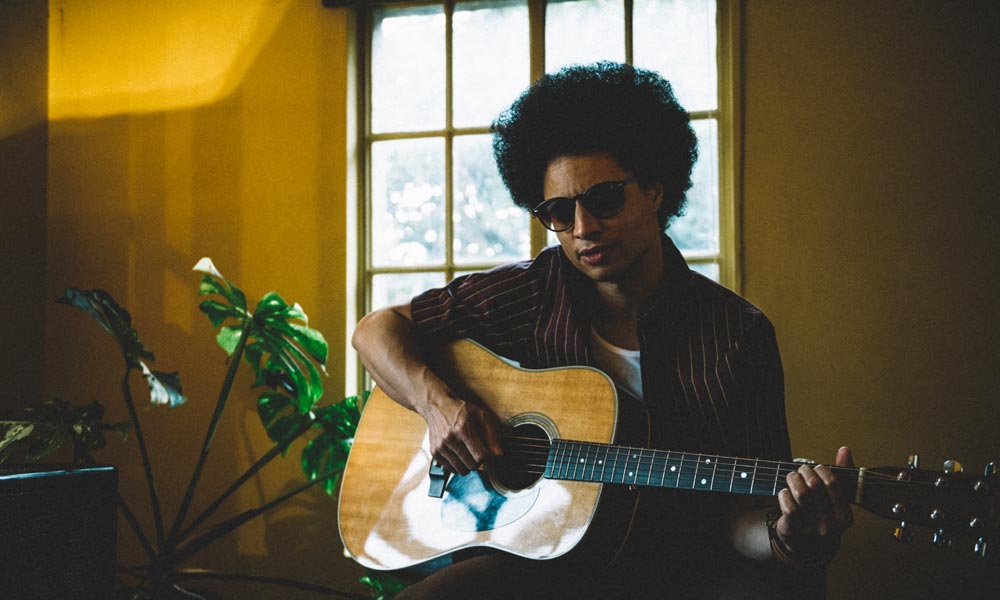 "I didn't go into music to be boring," laughs the softly-spoken, Minnesotan singer-songwriter José James, attempting to explain, in a decidedly tongue-in-cheek way, the many musical metamorphoses he has undergone in a career whose trajectory has been far from predictable. His accomplished 2008 debut album, The Dreamer, suggested that James was a velvet-voiced jazz crooner who could bring a sense of hip-hop attitude to the genre. Ten years and eight albums on, his latest covers album Lean On Me, released on 28 September 2018, found him paying tribute to one of his greatest musical influences, Bill Withers.
Listen to Lean On Me right now.
In between, there's been the edgy electronica vibe of his second LP, Blackmagic, which dispelled any notions that the singer saw himself as the heir apparent to Jon Hendricks. His Blue Note debut, No Beginning No End, followed in 2013 and saw James drift further way from jazz to delve deeper into D'Angelo-style voodoo-funk. "That was the first time I think I really, truly believed in myself as José James," says the singer, who then, two years later, conclusively showed that he wasn't content to adhere to any fixed path, serving up While You Were Sleeping, a personalised and ineffable synthesis of folk and indie rock styles. But just when you thought James was moving too far, perhaps, from his black music roots, he reinvented himself as a funky disco dude on his last LP, 2017's Love In A Time Of Madness.
Doing the unexpected
José James' stylistic shape-shifting might faze some listeners – even, he admits some of his most ardent followers – but, he says, it reflects the musicians that had the biggest influence on him. "I grew up looking at David Bowie, Prince and Miles Davis," he reveals, "and those guys just did whatever idea came up. They didn't say, 'Maybe I shouldn't do this because people are going to be confused.'" Given his predilection for doing the unexpected, then, the prospect of José James offering up a homage to legendary 70s and 80s soul man Bill Withers – the author of such evergreen R&B gems as 'Ain't No Sunshine', 'Use Me' and 'Lovely Day' – would serve to underline his reputation as an unpredictable artist who isn't afraid to take risks and shatter preconceptions.
José James - Use Me (Audio)
But recording what is ostensibly a covers record isn't quite as risk-free as many would imagine, as this very personable style chameleon discovered when he was making Lean On Me, his fifth Blue Note album, released on 27 September. Initially, the project – which stemmed from the singer including a medley of Withers' songs in his live shows – wasn't an easy one for the 40-year-old Minneapolis-born musician, even though he had served up a tribute album before with 2015's Yesterday I Had The Blues: The Music Of Billie Holiday.
Despite the live popularity of the Bill Withers' medley, James was initially reluctant to commit to an entire album of the West Virginia singer's songs. "I resisted at first because I think most tribute albums aren't very good," James says, though he admits he was eventually persuaded to change his mind by Blue Note's boss, producer Don Was. "I told him, 'I'll do it on the condition that you produce it, because I need a steady hand.'"
"These are the songs I can't live without"
As a longtime fan of Bill Withers' work, James felt obliged to be true to the spirit of the original songs while putting his own personal stamp on them. But achieving the right approach was tricky. "I think there are only two ways to go on a tribute album," James explains. "Either you remain faithful to the intention of the original songs, or you completely reimagine them. I think that reimagination isn't a bad choice, but I just think that in this instance it wasn't appropriate. I didn't want to put hip-hop beats under the music or deconstruct it with 10-minute bebop solos."
One of the most daunting prospects was selecting the songs that would make up Lean On Me. "I started going through Bill's nine albums," recalls the singer, "and it took me a year. Then I went back to Don Was and told him, 'These are the songs I can't live without,' and gave him a list that was 60 songs long." Ever the sage, Was suggested they meet with Withers to discuss the project, but James was apprehensive, especially if their choice of material didn't find favour with the octogenarian songwriter. "I was really worried," confesses James. "I didn't want to miss one of his favourites. I didn't know what songs meant the most to him, and, being a huge fan of his, I didn't want to mess up."
"Just do your thing with them"
But James' fears were soon allayed. "He was awesome," he says, obviously overjoyed to have met his hero. "He loved the idea of my tribute and did something really important, which was give me permission as a songwriter to interpret his stuff. He knew who I was, which shocked me, and he just put me at ease and said, 'I trust you – just do your thing with them.' Before I met him, I was looking at Bill Withers, the legend, and it was intimidating because I grew up listening to him and his songs mean a lot to me."
His burden eased, James and Was whittled the song selection down to a dozen tunes, ranging from the rousing hymnal 'Lean On Me' (which became the album's title song) and the blithe summertime anthem 'Lovely Day', to the darker 'Better Off Dead' and the more brooding 'Who Is He (And What Is He To You)?', the latter a chilling exposé of adultery.
Lean On Me was recorded in Hollywood, at Capitol Records' famous Studio B, where Frank Sinatra, Nat "King" Cole and many other jazz greats made timeless music in the 50s. James used the core of his touring band (guitarist Brad Allen Williams and drummer Nate Smith), augmenting them with bassist Pino Palladino and keyboardist Kris Bowers, who had both worked with the singer before. "We didn't rehearse any of the songs and didn't even talk about them," reveals James. "I just told them: 'These are the songs, these are the keys,' and that's it. 'Use Me' was the first track we did and we kept the first take. That was the first time that that band ever played together. That's how good these guys are. I'm really lucky to have these world-class musicians, where you can literally just walk in a room and say, 'Here's what we are playing,' and they give you that."
After the basic tracks were laid down, Don Was added some deft post-production touches in the shape of horns, organ and congas. James says he couldn't have made Lean On Me without the expertise of Was, who made the singer his first signing when he joined Blue Note as president in 2012. "He's like a Jedi Master," laughs James. "It's hard to quantify exactly what he does but first, he brings a vibe and the history of all the amazing albums that he's done. He puts everybody on their A-game. He's like the general, and when the general turns up, the troops all stand and everything's perfect. Everybody loves him and, because he's a musician, he's got the respect of everyone in the room."
James also says that Was brought a sense of perspective and spontaneity to Lean On Me, and that his vision for it meant that all the musicians' egos were reigned in for the greater good of the project. "Everyone wanted to sound their best, but musicians always look at the track from their own perspective," reveals James. "What Don did was to see the whole picture. So you couldn't ask for a better producer."
"I just want to bring happiness to his fans"
The album's title track is a powerful touchstone for James. "When I do 'Lean On Me' live, it turns the whole venue into a church," he says. "I'm not a church guy – I'm spiritual but not necessarily religious – but in that moment, you just believe, absolutely, in the power of human connection and brotherhood and sisterhood. I did it recently with Aloe Blacc at the Hollywood Bowl and it sounded amazing. It's such a great song. To me, it's on the level of 'We Shall Overcome'. It's a call to arms and an anthem of friendship. I learned so much about songwriting and intention from Bill's music, and on meeting him, I realised, like you do when you meet great musicians, that his art is just a residue of who he is."
As for the enduring appeal of Withers' songs, James believes human beings relate to the simple but honest and heartfelt sentiments his words and melodies express. "I think people in any genre, any art form, can tap into the pure expression of a human emotion and that resonates like the truth," he says. "Like 'Lovely Day'. Somehow that perfectly encapsulates the feeling of joy, which is the hardest kind of song to write. Modern songs of that kind, like [Pharrell Williams'] 'Happy' or [Justin Timberlake's] 'Can't Stop The Feeling', are both directly based on 'Lovely Day', which is like the template. It really is timeless."
The release of Lean On Me ties in with Bill Withers' 80th birthday, and James hopes it will make people reconnect with the veteran singer-songwriter's music. "I thought it would be really nice for the tribute to celebrate his life and what he means to us," he says. "One of my main hopes is to start a discussion about Bill, his legacy, and his place as a songwriter."
James believes that Withers' lack of visibility during the last 30 years has affected the public's perception of him, with some even believing that the songwriter had died. "I think because he retired early, his name doesn't come up like Paul McCartney's or Stevie Wonder's," he says. "He's respected as one of the greats but his name isn't on that list for some reason. Mostly, I just want to bring happiness to his fans because I'm a fan. I want to hear 'Ain't No Sunshine' live. So, to have these songs live again and for me to be a part of that is really something so special. I definitely think it's going to be one of the highlights of my career."
"It's more about experimentation than the business"
James, like, Withers, also reached a personal milestone earlier this year by celebrating his 40th birthday. Surveying the past decade, and what's he's achieved so far, he says he's matured as an artist. "I think I've grown a lot," he muses. "The last 10 years for me had just been about searching – searching for my singing voice, my writing voice and my artistic voice. I think it's really taken me this long to be comfortable in my own skin."
He admits that while some of the destinations he's reached on his musical travels haven't always been understood ("I've been trying to meld a lot of ingredients into one place, with varying results") the one consistent thread running through his work is uncompromising expression. "I think it's fair to say that I've had an uneven career because it's been more about experimentation than the business," he confesses, and believes that's why Blue Note Records is a good home for his music: "Don Was very much respects my vision and he's been incredibly supportive of what I want to do, musically and artistically. He is one of the few people who are completely unfazed by my many twists and turns of artistry."
Ultimately, though, José James believes that by making Lean On Me he has reconnected with his own past. "Singing Bill Withers has brought me back to my jazz roots as a stylist," he observes. "You can think of Lean On Me like Ella Sings The Jerome Kern Song Book, except that it's 'José James Sings The Bill Withers Song Book'. I wouldn't necessarily say it's a pure jazz album, obviously, even though there are a ton of solos and it's all jazz musicians, but if you're doing American music, there's no way to escape it. Jazz is the building block. It's the history and also the future. If you look at Kendrick Lamar, or anything progressive, it will have an element of jazz in it. Jazz will always be a huge part of my life and my music, in some way, shape or form."
Looking beyond Lean On Me, James reveals, "I usually have a three-albums-ahead window. I like to know where I'm going, roughly – and it changes – but I'm writing for three different albums right now."
He's cheerfully optimistic about the future and where his quest for new musical horizons will lead. "It's exciting," James says, with palpable enthusiasm. "You just never know where life is going to take you. My goal, in the next 10 years, is to put out an album a year. It's been a fascinating journey so far and I'm really curious to see what the next 10 years look like."
Lean On Me can be bought here.
Format:
UK English