Rammstein
The Berlin hard rock band have charted a decades-long successful career of fascinating and boundary-breaking industrial metal.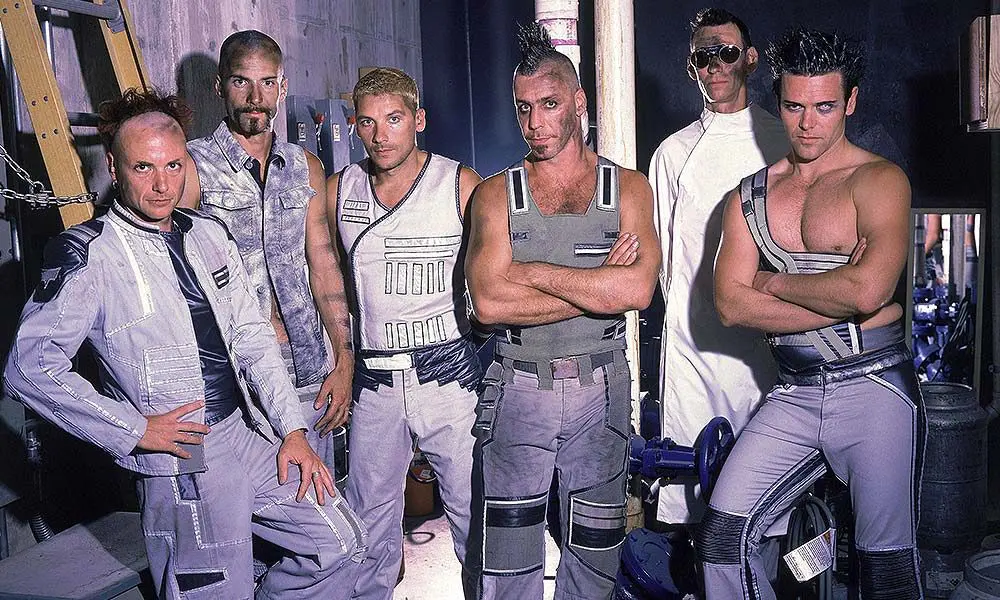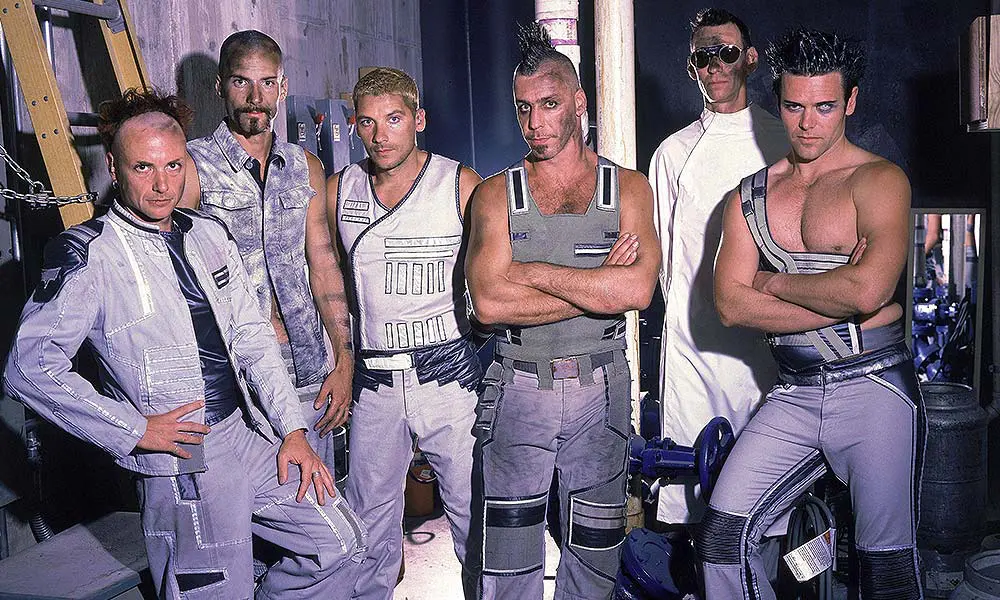 The great Neue Deutsche Härte band Rammstein have been plying their meticulous brand of alternative metal and industrial barrage since 1994 with their live shows heralded as amongst the most exciting, brutal and uncompromising events extant. Theatrical to the nth degree Rammstein don't just major in pyrotechnics. The six-man team of baritone singer Till Lindemann (born Leipzig, Saxony), guitarists Richard Z. Kruspe (born Wittenberg) and Paul H. Landers (born Berlin), bassist Oliver "Ollie" Riedel (born Schwerin), drummer Christoph "Doom" Schneider (born East Berlin) and the keyboards player Christian "Flake" Lorenz (born East Berlin) are as settled as their music is unsettling. Since their name translates as "ramming stone" if you've never heard the spectacular sound they make you should have a good if rough idea.  Plenty have since they've sold over ten million albums since the groundbreaking Herzeleid emerged in 1995. Despite their startling imagery Rammstein are apolitical yet they don't shy away from socio-sexual lyrics.  Taboo isn't really in their lexicography. They are neither fanatics nor missionaries but because of the sensitive arena they work in, and their national roots, their zeal has often been misinterpreted or mangled into nonsense. They own a host of awards, have seven consecutive number one albums in Germany and are multi-platinum artists across Europe, their most natural territory. To date, they have also charted 15 singles in the German Top 20 while their video albums are works of extreme art. If you like your metal in a format that takes the krautrock template and brings it up to modern speed you should love Rammstein. They are ripe for discovery.
The group coalesced in Berlin after the fall of the Wall in 1989. Initially, a quartet heavily influenced by New York metal, Kruspe, Schneider, Riedel and Lindemann were joined by Landers and Lorenz and began work on Herzeleid (meaning heartbreak) with Swedish music producer Jacob Hellner (also Apocalyptica and Clawfinger). Trent Reznor, who was musical director on David Lynch's Lost Highway, chose two of their songs, "Heirate Mich" and the titular "Rammstein" for inclusion on the soundtrack. Other notable moments of Rammy magic are "Asche zu Asche" and the predatory "Du Riechst so Gut", a perfumed slab of industrial rock that pins the listener against the wall.
The breakthrough disc is Sehnsucht whose yearning title and artwork echo the inspirational Scorpions. This contains the crowd-pleaser "Engel", featuring Christiane "Bobolina" Hebold, from German pop band Bobo in White Wooden Houses. Bobo will later sing on other Rammstein cuts, including "Nebel" and "Stirb Nicht Vor Mir". You will have heard "Du Hast" on The Matrix: Music from the Motion Picture but if you haven't yet caught the entire album here is a great place to start. English language versions of "Engel" and "Du Hast" are available and always look out for those delayed hidden tracks on a five-star epic.
Roaring down the autobahn by now the Live aus Berlin (1999) is a punishing extravaganza that sounds like an explosion in a glass factory crossed with Depeche Mode turned up to nuclear force. Then it's back to the studio for Mutter, which adds a coruscating addition of classically influenced strings arranged by Olsen Involtini and played by Potsdam's Deutsches Filmorchester Babelsberg. This magnificent crossover on "Mein Herz Brennt", the title track, and "Nebel"  spins them in different directions: vocalist  Lindemann is superbly powerful as he drags the twin guitars and screeching rhythm section through their paces. Not always for the faint of heart maybe, but hey, Rammstein are making the sound of "a thousand elephants breaking out". This is high-grade rock throttle.
The Reise, Reise disc was recorded in El Cortijo, Malaga and songs are sung in German, English and Russian. Clouding the EU directive perhaps is the sardonic "Amerika" and the unusually reflective symphonic metal of "Ohne Dich" with its glorious cellos (played by Apocalyptica). The musical palette is broadened by the use of chorale, mandolin, oboe and accordion, with the track "Keine Lust" making inroads into territories who were not getting up to speed with Rammstein as they dropped this long-awaited masterpiece.
Not so long to wait for Rosenrot, a natural successor to Reise, Reise –  some tracks that were leftover from the former project bolstered by brand new sessions in Berlin. "Benzin", the title track and the X-rated "Mann Gegen Mann" are Rammstein in top form, refusing to temper their principles, or dilute their extraordinary sound. Sharleen Spiteri features on the English language version of  "Stirn Nicht Vor Mir" ("Don't Die Before I Do") while the veteran American actress Carmen Zapata is heard on "Te Quiero Puta!" So not your average ranch stash!
Völkerball is another love affair culled from 2004 to 2005 (shows in Nîmes, Moscow, Brixton, London and Tokyo on the Special edition 3 disc set). Standard and Tourbook versions are available on a project that topped charts in Russia, Finland, and Mexico and, of course, Germany. Produced by John Smith this majestic sweep of songs is a jewel in the Universal catalogue.
Hellner and the band are also on top form on Liebe Ist für Alle Da, returning to the six-piece authenticity that made them in the first place. The album will go Top 20 in the UK and the US again thanks to classic Rammstein cuts "Pussy", "Ich tu dir Weh" and "Haifisch" where they reference Berthold Brecht's "Mack the Knife" from the play The Threepenny Opera. One of their best sellers, this album is a Euro metal marvel and is totally recommended for immediate discovery if you've missed the Rammstein experience. In some ways, this is their most accessible disc with excursions into the groove and cinematic soundscapes on "Führe Mich", as featured in Lars von Trier's film Nymphomaniac.
Well worthy of their greatest hits, Made In Germany 1995-2011 is remastered in part and includes the new track "Mein Land", whose single cover artwork pastiches The Beach Boys' Surfer Girl album cover. As a 2CD release with a Best Of Remixes, you will thrill to Rammstein being made over by Faith No More, Pet Shop Boys, Junkie XL, Laibach, Black Stone and others. The super deluxe edition is a must for those with deeper pockets, as you get the music, plus a 3DVD set for your hard-earned cash, and we don't think you'll regret the outlay.
Given their meticulous approach to writing and producing, it's not surprising that Rammstein have seemed to lie low since 2011. Island/UMe released their long-mooted Rammstein In Amerika in 2015 as 2DVD and 2Blu-ray packages; featuring their legendary one-off Madison Square Garden off concert (which sold out in 30 minutes) the concert film shows the band in full creative stride as they command the stage for their roof-raising return to New York in 2010.
The heavyweight catalogue-spanning anniversary vinyl box set XXI followed and included the group's first six long-player and a rarities disc, Raritäten, which included non-album tracks and a previously unreleased version of the song "Los". If you want to play along there's also the publication XXI: Klavier in which their songs are arranged for piano. Nice.
The group have hinted that a new studio album is in the pipeline, possibly coming in autumn 2017, by which time they'll have played further shows in North America and Europe. Their fans include Marilyn Manson, Iggy Pop, Chad Smith, Moby, Jonathan Davis of Korn, Hole's Melissa Auf der Maur, Slipknot, System Of A Down, Anthrax and KISS. Care to join that elite gang? You won't regret this discovery.
Max Bell
Format:
UK English