Full Metal Fandom: Why Heavy Metal Inspires Such Devotion
Metal is brave, funny, and honest. Some say it's the best music there is. So why do heavy metal bands inspire such devotion among their fans?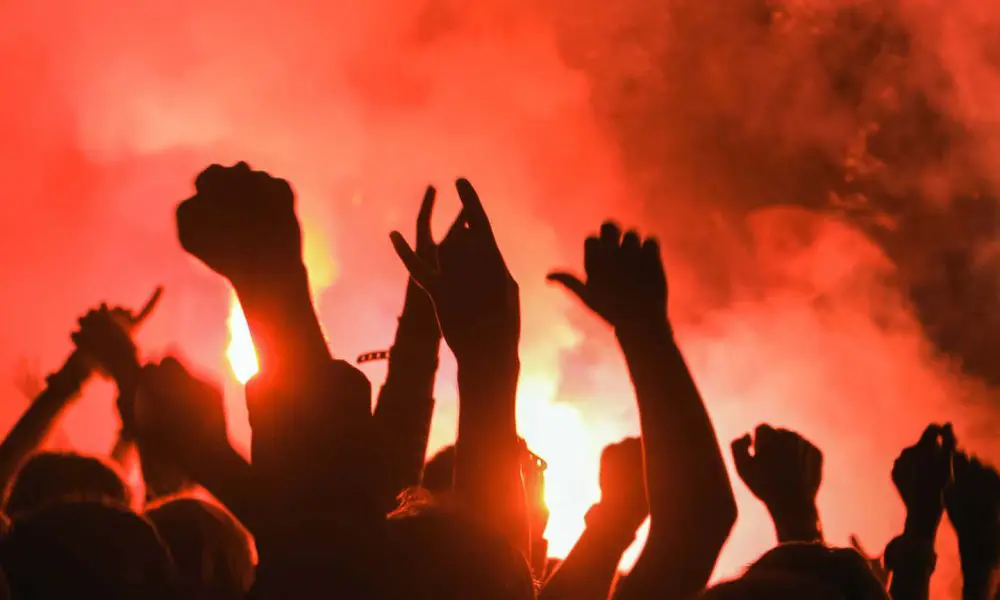 Like that fermented shark delicacy that people with giant beards eat in Iceland, heavy metal is not something that you can be persuaded to like. You either love it instinctively or you regard it as a load of juvenile noise. There's a reason why headbangers talk about metal bands being "for life" and wear T-shirts proclaiming "Birth, School, Metallica, Death," when you never see anyone with a "Blue-Eyed Soul For Life" bumper sticker, or a beanie cap that says "Give Me British Modern Jazz Or Give Me Death." Like the Death Star pulling in the Millennium Falcon with a tractor beam made of pure evil, the music sucks you in and never lets you leave.
But why? What's the big deal?
Total commitment
I fully understand this lack of comprehension, even though I've written 20 books on metal bands and literally hundreds of magazine articles on the subject. Until I was 17 I thought metal music was essentially a tragic fantasy vehicle for losers, but then I heard Metallica's Master Of Puppets, Reign In Blood by Slayer, Megadeth's Peace Sells… But Who's Buying? and Among The Living by Anthrax. These albums, plus the obvious mid-to-late 80s thrashers by Exodus, Sepultura, Dark Angel, Death, and so on, transformed my foolish miscomprehension of what metal was about pretty damn quickly.
These weren't records about slaying dragons or taking drugs, and the musicians never wore spandex – OK, hardly ever. This was violent, inquisitive music that asked serious questions and demanded total commitment. You didn't listen to Slayer and then forget it in a hurry. The music and lyrics wedged themselves into a corner of your brain and reminded you what real music was, whenever a less commanding sound was being heard.
My reprehensible idea about metal being for losers is embarrassing to recall now, in part because it's so unsympathetic (I plead youthful stupidity). Metal music is genuinely needed, and here's why.
A communal experience
Until the late 80s, the metal community was largely male: this is partly because young males tend to bond through a communal experience, the more intense the better. We need to feel part of a tribe bigger than ourselves – and now that warfare is the province of the unfortunate few, there is no communal experience more like tribe-on-tribe combat than the annihilating sights and sounds of a metal gig. Even better, you don't tend to get killed at a concert… though your neck may suffer the occasional "bangover."
The appeal of heavy metal is also something to do with the failures of 20th-century fathering, believe it or not. In essence, the idea is that young men crave the attention and approval of their male elders. The direct consequence of two generations of war-numbed dads failing to give their sons the masculine comfort they needed was the rise of heavy music. Those sons were obliged to turn towards metal bands to get their dose of masculine bonding.
Sure, this is an untested theory, academically at least – but you head to any metal show and try to claim that the guys in the audience aren't experiencing a shared, almost familial experience in the mosh pit. Why else would modern headbangers' etiquette be that if a brother goes down, trampled underfoot, you help him up?
A wider, deeper place
But this is not just about the primal needs of the male species – far from it. In fact, metal hasn't been a testosterone-only scene since around 1990 (thank our Lord Below). The addition of our sisters and daughters to the experience benefits us all. The music is a wider, deeper place to inhabit, and the emotional range greater – and thus more human.
There's a groove and swing to music by Rob Zombie which there has never been with Iron Maiden, and a sexual and political edge to Rammstein's songs that you'd never get with Def Leppard. The times they are definitely a changin', but the most important things in life never change – and, by the beard of Zeus, metal today is as immersive and as all-encompassing as it ever was.
Talking of changing times, non-disciples often get confused about the ever-evolving face of metal, not helped by journalists' tendency to label subgenres of diminishing size. You may remember Jonathan Ross, on his TV show, mockingly asking Marilyn Manson whether he was a death metal singer. The idea is laughable for anyone familiar with Cannibal Corpse, Deicide, Morbid Angel, or any of the original death metal pioneers. (Props to Manson: he replied to Ross' idiot question with the words, "We're just a rock band," the correct – and, indeed, only – answer.)
You can understand Ross' confusion – or rather that of his researcher. "Death metal" is a scary, but seductive, term because it has the word "death" in it. Whoo! You don't get that with R&B or grime or funk. The same goes for black metal, which is a Satanic variant of the old sound; or doom metal, which is a slowed-down, crushingly heavy subgenre. These are spooky terms. Of course, it takes a certain amount of courage, or psychological need, to explore what they mean – and to appreciate the intimidating beauty of the music.
A thing of beauty
And make no mistake, this music is a thing of beauty. Get your headphones on and explore the sonic landscapes of the mind opened to you by Opeth, Tool, Mastodon, or Darkthrone. Violence and serenity can co-exist, and do so in the works of all the metal bands mentioned here. You just need the strength to investigate them.
All this should help to explain why metal matters so much. This isn't just entertainment. Metal transcends ridicule, despite its vivid, sometimes garish imagery: you'll see men and women in their 60s wearing Black Sabbath shirts at gigs. Metal is bigger than any drug: note how adherents of a stimulant-free straight-edged lifestyle love the music for its ability to unleash the brain's happy hormones.
Metal is brave, metal is funny, metal is honest. At its best, metal is the best music there is.