Thin Lizzy
Thin Lizzy are a Dublin rock band co-founded by Phil Lynott and Brian Downey that are renowned for their high-energy rock music as well as their live performances.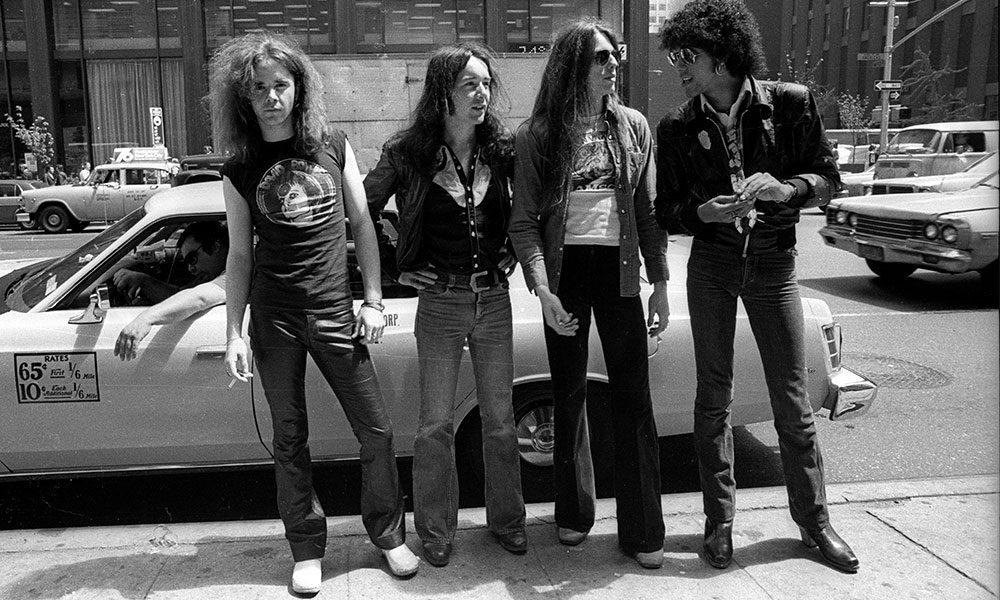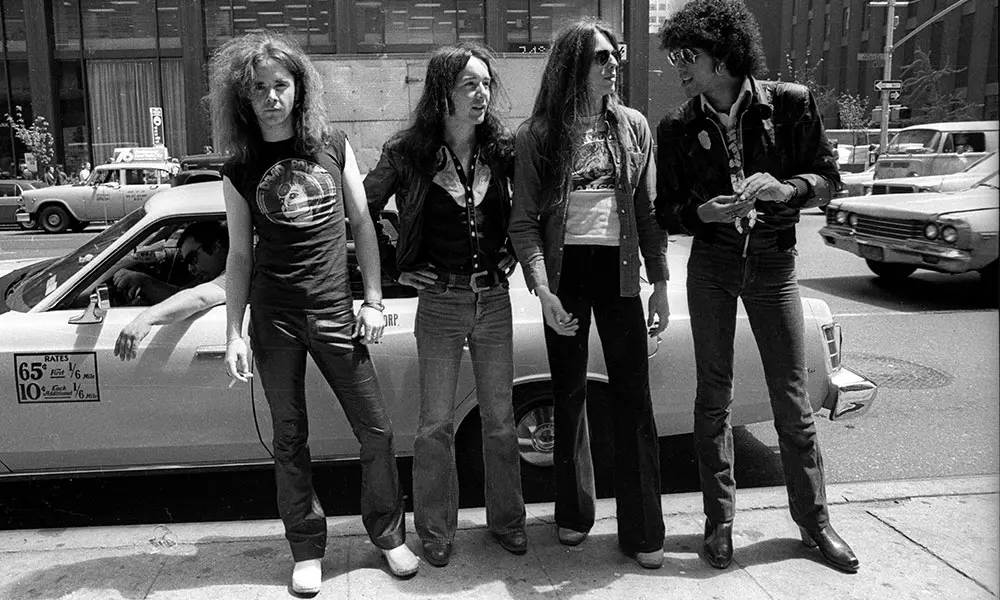 Over the years Ireland has produced some of the world's finest rock bands and some of the most potent rock music the world, yet few Irish rock bands – we can only think of one other – has been as loved as the great and much-missed Thin Lizzy. In Live and Dangerous that made No.2 in the UK album charts in 1978, they produced one of THE greatest live albums in rock. They had six other top 10 UK chart albums including Black Rose (A Rock Legend) and Bad Reputation it all started in 1973 with their debut single, 'Whiskey in the Jar' which made No.6 on the UK singles chart.
The band started out in Dublin in 1969 when one night Eric Bell (guitar, vocals) and Eric Wrixon (keyboards), both ex-members of Van Morrison's band Them, went to see a band called Orphanage play and were so impressed with the band's rhythm section of Phil Lynott (bass, vocals) and Brian Downey (drums), that they approached them after their gig and suggested the four of them form a group. As simple as that apparently. Parlophone Ireland signed them up for one low-key, Lynott-penned single called 'The Farmer', after which they became a trio when Wrixon left, and then signed to Decca and moved to London. Their debut album, Thin Lizzy, was released in April 1971 followed by constant gigging and a second album, Shades of a Blue Orphanage, a year later. Both records had a distinct Irish folk feel about them rather than the hard rock sound that they subsequently fashioned but neither made a dent on the charts, although they now had an impressive repertoire of songs, a growing reputation as a superb live band and were starting to pick up more and more 'underground' radio play.
All they needed was a lucky break, which duly came along in November 1972 when Thin Lizzy's reverb-drenched, riff-loaded arrangement of an old Irish folk ballad, 'Whiskey In The Jar', was released as a single and reached No. 6 in the charts the following February. A month later, determined to capitalise on their breakthrough, a second single, 'Randolph's Tango', came out and unfortunately failed to make anywhere near the same impression. Work soon began though on the band's third album, Vagabonds Of The Western World, which although not their most successful commercially, has stood the test of time exceptionally well and captures a moment in the band's development when they managed to absorb their distinct Irish roots into a hard-edged, powerful rock format and deliver a unique and compelling sound. This was also expressed in Jim Fitzpatrick's sleeve design, which combined a pop-art, vaguely sci-fi themed front cover with a shamrock on the back.
Phil Lynott's vocals were always a cut or two above most rock vocalists of the day – being less histrionic and more expressive – a perfect vehicle for his thoughtful, soulful lyrics. And as a trio, their sound was tight and sparse with a minimum of extra instrumentation. Although it didn't make enough immediate impact to chart, Vagabonds was altogether a highly impressive album that garnered positive reviews in the press. It spawned another single, 'The Rocker', that failed to help promote it, but it was the curious absence of 'Whiskey In The Jar' from the original album that might have been more damaging – despite its success the band never deemed it representative enough of their music and distanced themselves from it. 'Randolph's Tango' and its b-side was also omitted but one wonders how much better the album would have faired had it contained the band's only hit to date. When Vagabonds Of The Western World was re-released on CD in 1991 both singles and their b-sides were included and a further 2CD-set reissue in October 2010 also contained a wealth of bonus and BBC Radio material – John Peel, Bob Harris and In Concert sessions recorded around that time.
In the last days of 1973 and in the middle of a UK tour an exhausted and somewhat disillusioned Eric Bell left the band and was replaced temporarily on guitar by ex-Skid Row member Gary Moore who finished the tour with them and remained until April 1974. During that time they also recorded three songs that appeared on their next album, Nightlife, released in November 1974. By now they'd acquired two temporary guitarists in Andy Gee and John Cann in a pioneering twin lead guitar line-up, and switched record labels to Vertigo, but Nightlife and the album after that, Fighting, although further consolidating Thin Lizzy's position as a great rock band and offering more evidence of Phil Lynott's prowess as a songwriter, couldn't manage a chart placing. Nightlife, in particular, suffered from lame production work that didn't reflect the intensity and power of their live shows.
It was only a year later, in March 1976, after more personnel changes on guitar, which saw both Scott Gorham and Brian Robertson join for another powerful twin-guitar attack, that the acclaimed Jailbreak made the long-awaited big breakthrough and reached No. 10 in the album chart, and at the same time they had their second-ever Top 10 single with 'The Boys Are Back In Town'. For the next 10 years, the band enjoyed the enormous success that all their hard work and perseverance deserved. Johnny The Fox was released in October 1976 and reached No. 11 and then the four albums after that were all Top 10 entries. Bad Reputation (September 1977), Live And Dangerous  – voted the best live album of all time by Classic Rock magazine (June 1978), Black Rose (A Rock Legend) (April 1979) and Chinatown (October 1980) finally established Thin Lizzy, with Phil Lynott very much the heart and soul of the band, as a major international rock act. Touring worldwide had been relentless but had taken its toll. Brian Robertson pulled out of a US tour after injuring his hand in a fight and was replaced by Gary Moore who, not for the last time, took over guitar duties. When Moore left again they were reduced to a trio for the Bad Reputation album and then Brian Robertson rejoined for one more year of recording and touring including the 1977 Reading Festival before going off to form Wild Horses. With Moore and Robertson playing revolving doors for the last time, Moore rejoined the band in August 1978.
There were other personnel changes as exhaustion from life on the road and the usual strife and tensions within rock bands took their toll, and at one point they had three lead guitarists in formation at the front of the stage. A Greatest Hits album, The Adventures Of Thin Lizzy, was released in April 1981 and reached No. 6 in the chart as well as achieving gold status. The album that followed, Renegade, sold disappointingly though and that, combined with the stress of life on the road and the unstable line-up, led Lynott to declare that their next album, Thunder And Lightning, would be their last and that the tour to promote it would be a farewell one. Of course, nothing is guaranteed to generate sales and interest more than extinction or the threat of it so Thunder And Lightning naturally became one of the band's biggest-selling records, reaching No. 4 in the album chart, and the tour went on for almost a year. Thin Lizzy's last UK date was headlining on the last day of the Reading Festival in August 1983 and their final gig came seven days later at the Monsters of Rock Festival in Germany. A live double album, Life, was released two months later and reached No. 29 but really it was all over for the band. They had enjoyed a period of phenomenal success in the 1970s and had been one of the era's greatest rock bands without ever reverting to the stereotype of the heavy-rock band with screaming vocals, wailing, self-indulgent guitar and plodding rhythm section. Thin Lizzy stood out from the pack and had all of their considerable success on their own terms.
Since 1980 Phil Lynott had also been making records on his own – he made two solo albums in all – but without too much success, and when Thin Lizzy split up he formed a short-lived band called Grand Slam before deciding to concentrate more on his solo career. With Gary Moore, he had a No. 5 single with 'Out In The Fields' in May 1985 but, tragically, that was to be his last moment of glory: he died of drug-related illnesses on 4 January 1986 leaving the rock world and music, in general, bereft and diminished. Lynott and Thin Lizzy were not forgotten though. There have been numerous 'Best Ofs' and 'Greatest Hits' compilations released and various reunited versions of the band have appeared over the years, one as early as four months after Lynott's death when a Gary Moore-led Thin Lizzy played at the Irish Self-Aid concert in Dublin. As recently as 2011 a Thin Lizzy containing original drummer Brian Downey and Scott Gorham on guitar were playing live and contemplating a new album although this now looks as though it might not be released under the Thin Lizzy name out of respect to Phil Lynott. Which is fitting really because the genuine Thin Lizzy, the band that did so much to breathe vitality and originality into a cliche-ridden genre, especially in their 1970s heyday, was clearly Lynott's band.
Format:
UK English