Megadeth
The thrash metal band founded by Dave Mustaine has often taken on political stances and have released successful albums like Peace Sells…But Who's Buying? and Rust in Peace.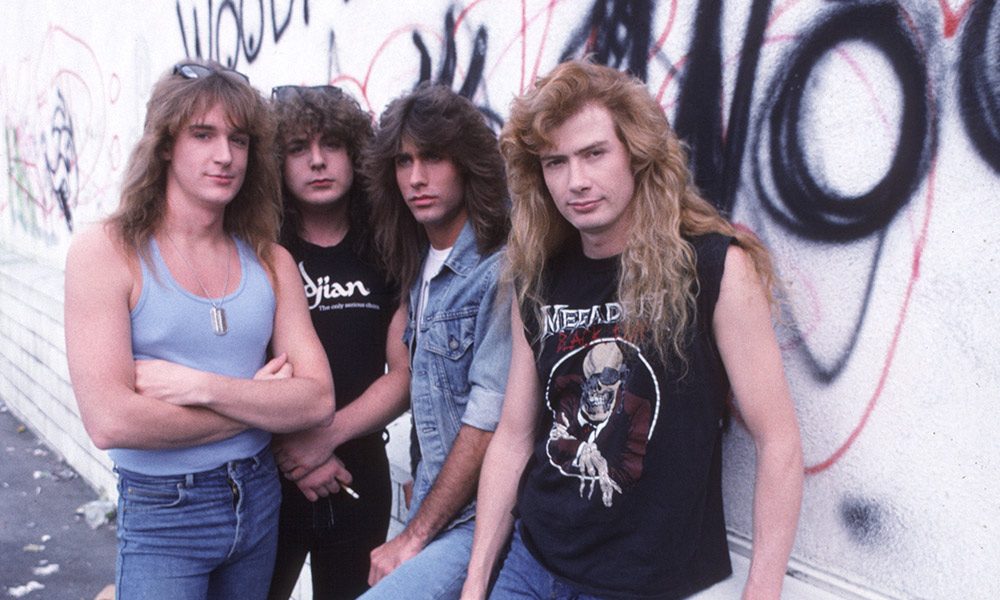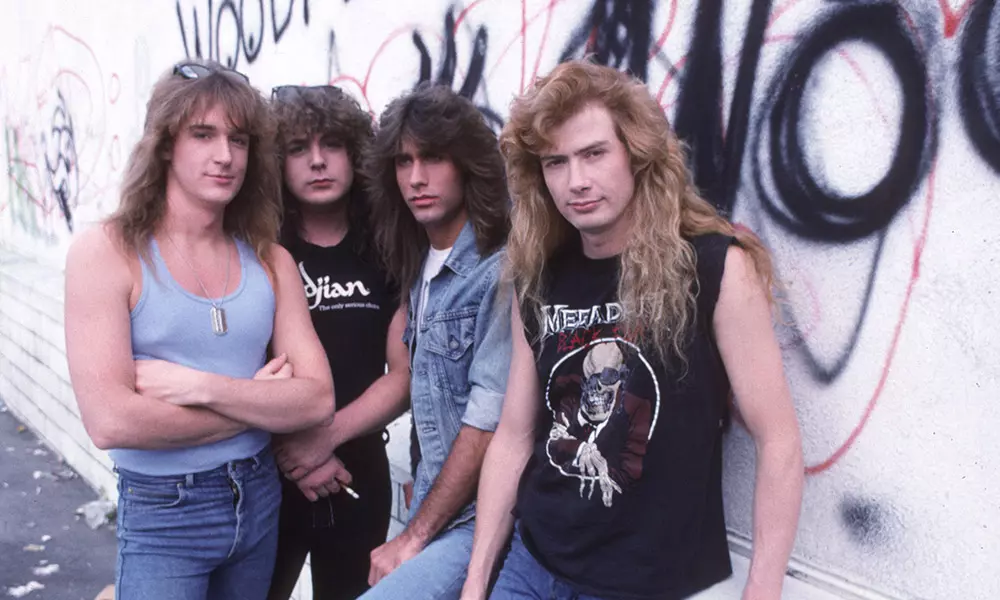 The world-class kings of thrash metal they may be but Megadeth are also purveyors of a far subtler blend of hardcore humour and provocative philosophy than they are given credit for. Their genius for capturing attention with a quirky slogan was evident from the outset when they released Killing Is My Business… And Business Is Good! Unleashing a brand of anarchic punk nous on an unsuspecting world that would soon be warmed over in time for the epic follow-up Peace Sells…But Who's Buying? and the equally incendiary So Far, So Good… So What! Those three discs complete a trilogy of mayhem with screamers and rhetorical question marks attached for good measure.
Crawling out of Los Angeles, California in the early 1980s with guitarist and producer Dave Mustaine at the controls, Megadeth's complex song structures, feverish rhythms and determination to face up to unpalatable home truths regarding death, politics, war and religion – usually no-no's in more lily-livered circles – gave them a critical profile that was probably higher than peers like Anthrax and Slayer and was certainly liable to pitch them in the kind of considered role of ambassadors for thrash even if the esteemed Metallica retained the old school rights to classic rock.
Aside from the usual internal friction caused by musical differences, Megadeth's toxic relationships actually inspired them to greater things. It's hard to imagine the renegades who created Countdown To Extinction all sitting about chatting small talk. However, in more formal terms they must be doing something right because they've sold over 50 million albums worldwide, gone Platinum six times out of fourteen – not a bad strike rate – and received sundry awards from the metal mags while notching up an impressive eleven Grammy nominations. Mustaine himself has been acclaimed as The Riff Lord and Golden God, two accolades he is delighted to accept.
Dave Mustaine had been the lead guitarist in Metallica when he quit forming his own project. Bassist David Ellefson was first on board and would last the course longer than many. Taking their name from an apocalyptic term for military Armageddon, Megadeth raced through guitar players and drummers before releasing the independent Killing Is My Business… and Business Is Good! (1985) with Chris Poland bringing his jazz-rock (fact) chops to the table and the late Gar Samuelson adding a similarly exotic backbeat to affairs. We hook up with the 'deth for Peace Sells…But Who's Buying? (1986) their major-label debut on Capitol. Produced by Mustaine and Randy Burns this remains a seminal must hear before you buy the farm type affair. Like most of the band's discs on catalogue, we'd point you towards the remastered 25th Anniversary version and the 2004 remixes for different takes and extra material which definitely live up to the maxim: all killer, no filler.
The basic album is fantastic, including a ridiculously rocked up take on Willie Dixon's "I Ain't Superstitious" and the anthemic title-track which is infamously blasted into orbit by Ellefson's absurdly slick bass intro.
So Far, So Good… So What! (1988) took Megadeth out of the underground and into the American and mainstream thanks to a reconstruction job on the Sex Pistols'  "Anarchy in the UK" and the tripped-out epic "In My Darkest Hour" where new recruits Jeff Young and  Chuck Behler shine out on guitar and percussion respectively.
Fusing the taboo and the deeply personal by now Megadeth's fourth excursion Rust in Peace (1990) was a huge hit in the UK and took them high up the Billboard charts even though they'd again replaced the axe and skins makers with Marty Friedman and Nick Menza. Certainly, hunt down the 2004 reissue for demos: the early "Take No Prisoners" is well worth the effort.
The entire band locked horns on Countdown To Extinction, second phase Megadeth. A gear crunching, hard political beast this disc deserves its right to be called a masterpiece of coherent thrash thanks to classics like "Symphony of Destruction" and "Ashes in Your Mouth" – both examples of Mustaine's lyrical acumen. A huge live draw by now Megadeth's prowess in that department can be heard on the accompanying disc, Live at Cow Palace (San Francisco). The posters and collectable cards are pretty neat. This is still their biggest commercial success to date.
But Youthanasia ain't no slouch. Thrash? Rock? Alternative? Mustaine had heard all the descriptions and borne the brunt of so many brickbats that he went hell for leather in this their sixth album. An additional player crops up for the first time in the shape of Jimmie Wood who adds wailing harmonica to the standout cuts "Train of Consequences" and "Elysian Fields". To celebrate a decade of hard slog and sweat the band appeared at the Monsters of Rock festival in South America and recorded a version of "Paranoid" for Nativity in Black: A Tribute to Black Sabbath.
Cryptic Writings (1997) is something of a departure. Not quite a discard of the template more an effort to make themselves more accessible. Recording in Nashville with Dann Huff (his credits range from Faith Hill to Michael Jackson) Mustaine began to explore more overtly melodic ground on "Trust" – their most successful single to date – while sneaking in a sitar on "A Secret Place". Generally, this is solid Class A metal rock rather than over the head with a mallet thrash.
The band's final album for Capitol is the brilliant Risk. This contains the hit tracks "Crush 'Em", "Breadline" and "Insomnia" and sounds unlike anything else in their catalogue. Grunge ballads, contemporary studio technology and Dann Huff's precise mixing method makes Risk live up to the title suggested to them by Metallica's Lars Ulrich. No doubt that the opener, "Insomnia" is a radical throw of the dice with its Middle Eastern arrangement. Probably as dark as any of their other discs there is still a lighter, more tuneful air here that befits a group who are savvy enough to act their age, not their shoe size.
While they remained active of course in the interim we'd like to point you towards their label return on Super Collider (2013) where drummer Shawn Drover joins Mustaine and Ellefson and multi-guitar hero man Chris Broderick (ex-Jag Panzer).
Guest vocalists and speakers and even the Shannon Rovers Irish Pipe Band crop up on this outré disc with extra cello, fiddle and horn for good measure. Despite another spin towards mass acceptance, there is plenty of the old slash and burn around on "Kingmaker" and their cover of Thin Lizzy's "Cold Sweat".
Before we leave you in peace remember to investigate the Countdown to Extinction: Live album from 2013. We also have a fair batch of compilations from Anthology: Set the World Alive to Capitol Punishment: The Megadeth Years and the accompanying Greatest Hits: Back to the Start; both teamed together will give you hours of Mega exhilaration.
A landmark band that rose above the underground and brought hardcore metal and thrash to the masses Megadeth's importance can't be overestimated. As far as a late 20th/early 21st-century act goes they are right up with the pioneers. Megadeth sells… are you buying?