Slayer
The California thrash metal band were founded by Kerry King, Jeff Hanneman, Dave Lombardo, and Tom Araya and are regarded as thrash metal legends.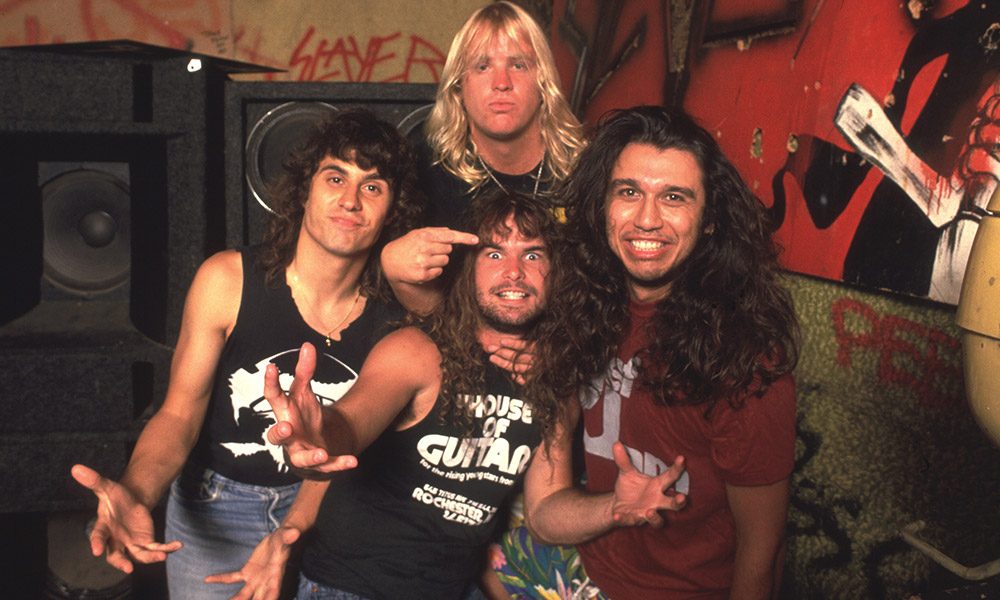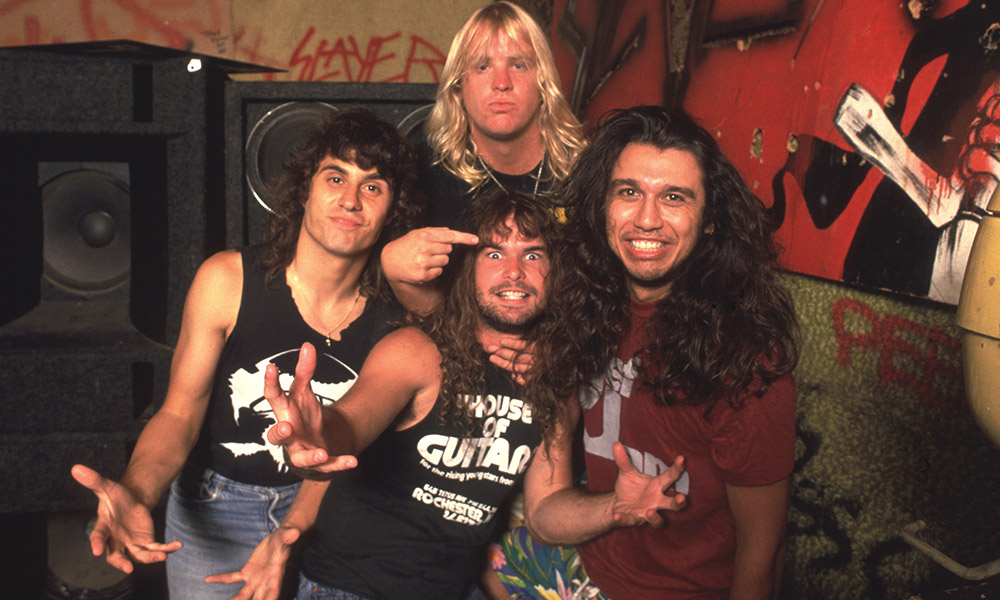 One of the key bands in heavy metal history, Slayer are pioneers of breakneck speed with an instrumental flair and the capacity to engage unusual tunings. Their guitar style, a mixture of sonic chaos and deliciously exact soloing, sets them apart from their competitors and to that extent they've set the standard for generations of would-be thrash acts. Their original dual axe team of the late Jeff Hannemann and Kerry King are revered and have constantly topped polls through their time together, while drummer Dave Lombardo and lead vocalist/bassist Tom Araya complete the classic line-up. Since its debut in 1983, the band has amassed dozens of Gold-selling albums and their association with American Recordings and producer/executive producer Rick Rubin has endured across the decades. Significant albums include Reign In Blood, South Of Heaven (their UK breakthrough), Seasons In The Abyss and Divine Intervention.
They have been Grammy-nominated many times and won in 2007 and 2008 for their tracks "Eyes of the Insane" and "Final Six". Often associated with controversy because of their dark imagery, their unsettling artwork and larger than life theatricality it's also true to say that Slayer's tongue-in-cheek attitude has been misconstrued. They do deal in horror and extremity, more than touching on the taboo subjects of religion and necrophilia, but that's just part of their bag – it isn't the complete picture. They stand proudly next to Anthrax, Megadeth and Metallica – mighty Horsemen of the Apocalypse, and have sold four million albums to the cognoscenti and the converted. The band have been working with Terry Date on what will be their first work since Hanneman's unfortunate passing. New guitarist Gary Holt has stepped up on what is one of the most eagerly anticipated come back discs of the year.
Roaring out of Huntingdon Park, California in the early 1980s friends King and Lombardo knew they were on to a good thing when they hooked up with Hannemann and Chilean-born Araya. Specialising at first in hardcore cover material they won a reputation for fast metal in the local clubs and featured on the independently financed Metal Massacre II compilation. Pretty much broke at this stage the early Slayer relied on their underground popularity and the test the waters opener Show No Mercy was defined as the blueprint for death metal and praised for its punk attitude and mean musical muscle.
1984's Haunting the Chapel EP was influenced by King's love of the band Venom and showcased Lombardo's double bass drum technique. Thrashy and dark this disc laid the groundwork for Hell Awaits, a sound that captivated the folks at Def Jam. Signed by Rick Rubin after a tussle with many other majors Slayer suddenly had proper studio facilities and a budget and they made the most of their new-found luck to create the almighty din that is Reign In Blood (1986). Five years of solid roadwork on they were equipped to deliver their first masterpiece and now reached a mainstream metal audience who heard them thrash and took them to their mosh pit driven hearts. With Rubin's production, honed on hip hop stars like Run DMC and LL Cool J, matching the passion of his new charges the team delivered a clean, fresh atmosphere that allowed the songs to live. It is rated one of the greatest examples of the thrash genre and still sounds like an incendiary device.
Stand out cuts are everywhere but mention has to be made of "Raining Blood" and "Angel of Death" and the overall intensity of "Criminally Insane". Mostly short and punchy, Slayer didn't hang around but delivered right off the bat. Suitably confident South Of Heaven really got them noticed and went Gold faster than it's predecessor. Araya chipped in with a lot of lyrics and the band covered Judas Priest's "Dissident Aggressor" in glory. Elsewhere the slower tempos confused some fans but the disc is a grower and a worthy arrival at Rubin's new Def American imprint.
With thrash metal peaking worldwide Slayer and Megadeth headlined the European Clash of the Titans tour (Anthrax and Alice in Chains joined on the US leg) and then released their career-spanning double live album, Decade Of Aggression.
Lombardo's departure dismayed the faithful but new man Paul Bostaph dispelled any doubts with his powerhouse rhythms and the Divine Intervention disc (1994) charted at #8 and raced to Gold, fuelled by metallic slabs of Slayer-dom like "SS-3", "Killing Fields" and the Jeffrey Dahmer inspired "213". Not for the faint-hearted, the grizzly nature of the material and the artwork polarised the press but delighted the following, fanatical by now.
If you've never experienced Slayer this is a great introduction to their world and well worth discovery.
Diabolus In Musica (1998) maintains Slayer's output with their most considered disc to date. Mostly written by Hannemann the thematic concept is experimental and introduces a new vocabulary of groove riffs and features Paul Bostaph's syncopated rhythms at the front of the mix. Another classic quartet offering this disc takes a step back on "Bitter Peace" and "Overt Enemy", not as an appeasement to the critics but as a way of telling the world Slayer are not a cliché.
Evidently fired into action Kerry King bosses God Hates Us All and he adopts another change of tack with a brutal realism informing "God Send Death" and "Payback". Lombardo returned to promote the album and producer Matt Hyde (with Rubin still in the room for gravitas) elicits sharp performances while King debuts his seven-string guitar to grand effect.
Following a five-year hiatus, Christ Illusion is another groundbreaker with far-sighted items like "Jihad" (a response to September 11) and "Eyes of the Insane". This is one of Slayer's most popular discs – it entered the Billboard 200 at #5 and made heavy inroads into the European market. This is certainly one to discover again.
World Painted Blood is the final album to feature the original four-piece since Lombardo left after the sessions and Hannemann would die from alcohol-related illness in 2013. It's a great way to bow out though because the reviews were positive and the songs are top-notch, suggesting a return to the heyday of the mid-1980s but with a more aged up lyrical style that embellishes "Beauty Through Order" and the epic closer "Not of This God."
Despite the necessary uncertainty following the Lombardo and King episodes Slayer regrouped for a new tour in 2014 and played some brand new songs as well with featured guitarist Gary Holt. An album is mooted for this summer of 2015 that may well feature unreleased and unheard Hannemann cuts with band archivist Araya adding flesh to the bone. "One is a song we didn't finish for 'World Painted Blood.' That song is actually complete. Jeff and I were working on melody and lyric ideas for that song. We weren't really happy with what we were doing or what was becoming of that song, so it didn't make it on the album. it's done, it's ready to go. I don't want to use the term 'typical' but it's Jeff, it's obvious who put the song together. It's Jeff music. He created a certain way and he put music together in a certain way; it's signature Jeff."
Fingers crossed and hand on heart we're looking forward to this one. Much maligned Slayer are due reappraisal. They told it how they saw it and they play it that way too. Not to everyone's taste maybe but for those with a love of the esoteric side of thrash metal, they are hard to beat and impossible to upstage.
Also, consider the live discs: Live Undead, Decade Of Aggression and The Big 4 Live from Sofia, Bulgaria (with Metallica, Anthrax and Megadeth). As well as that mash-up there's the weighty Soundtrack To The Apocalypse box set from 2003, a 4-CD trawl through the Best Of material, rare and live tracks and an updated to 5-CD set that includes Slayer returning to roots for the Live at The Groove in Anaheim so-called Bloodpack, a resume of their many classics. In many ways, this latter anthology is a vindication for Slayer. It gave critics time to reassess their work and confirmed the band's standing amongst the fan base. Was there ever any doubt?
Words: Max Bell
Format:
UK English