Best Hip-Hop Soundtracks: Wild Styles And Essential Krush Grooves
From 'Juice' to 'Wild Style' and '8 Mile,' here are some of the best hip-hop soundtracks ever made.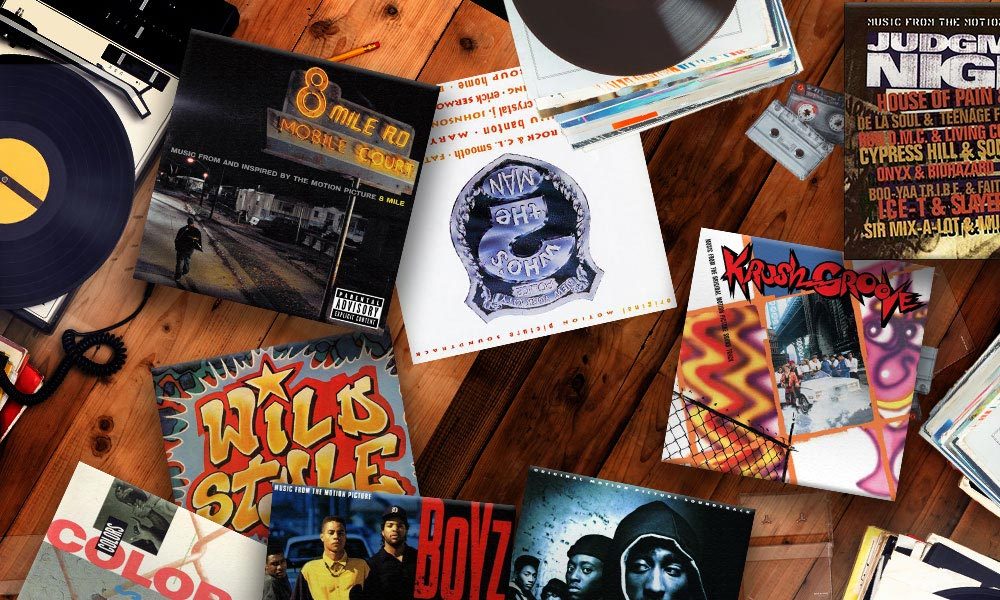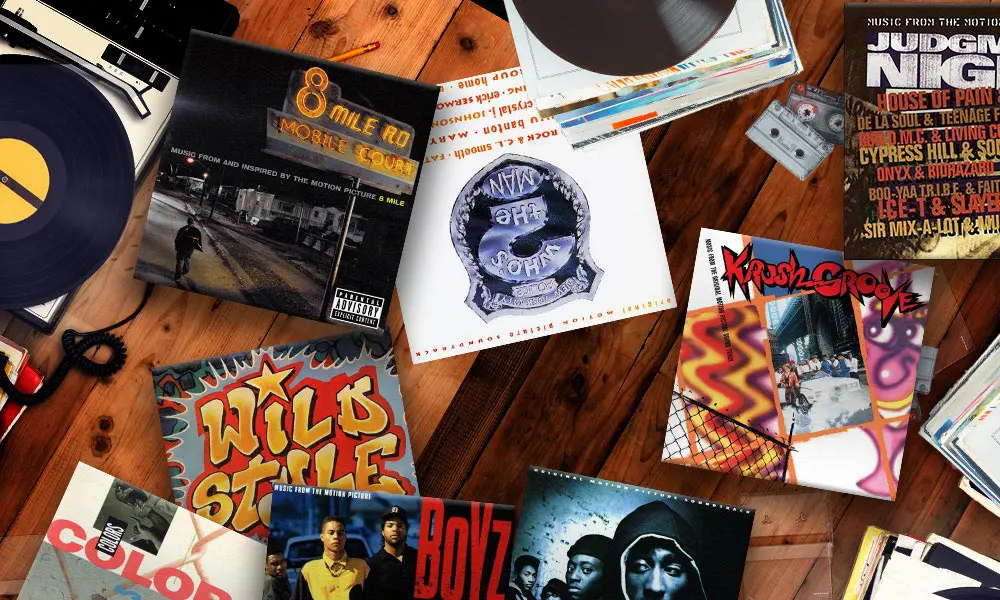 In the days of pre-internet music consumption, soundtracks were a hugely important vehicle for new artists to get noticed. A relative unknown could piggyback their material onto an album with more established acts, with a major motion picture to help sell it. When hip-hop culture spilled over into film in the 80s, the best hip-hop soundtracks not only shaped the tone of those movies, but also were also invaluable in launching recording careers. The first time anyone heard Tupac Shakur's voice was his verse on "Same Song" by Digital Underground, from the Dan Aykroyd comedy Nothing But Trouble – one of many examples that address the weight soundtracks can carry.
Here are some of the best hip-hop soundtracks that brought these emerging artists to the mainstream.
Wild Style (1983)
Get ready to be confused. Wild Style, the first film ever about hip-hop culture, features live footage of MCs rapping over DJs who are spinning breakbeats. Since the budget was so limited, filmmaker Charlie Ahearn, along with pioneering graffiti artist Fab 5 Freddy, put together a band consisting of guitarist Chris Stein of Blondie, bassist Dave Harper, and drummer Lenny Ferrari to record totally original breakbeats in order to avoid paying licensing fees for pre-existing music.
These instrumental jams were pressed on 100 vinyl records and distributed to the DJs who would appear in the film. The first and still one of the best hip-hop soundtracks made available to the general public consisted of what you actually heard in the movie: Busy Bee and Lil Rodney Cee battling over DJ Grand Wizard Theodore using this mysterious break record. A highlight of the film and soundtrack is The Cold Crush Brothers and The Fantastic Five (listed as "The Fantastic Freaks") executing a carefully choreographed a cappella battle on a basketball court. "Basketball Throwdown" and tracks stemming from the final scene at The Amphitheatre offer a glimpse into the first generation of hip-hop, before song structures became rigid and before many artists even had their own records out.
Wild Style - Busy Bee Stabsky & Rodney Cee
Krush Groove (1985)
One of the best hip-hop soundtracks from the music's golden age, Krush Groove is a fictionalized biopic about the Def Jam label that was, oddly, filmed and released before Def Jam had even released an album. Even stranger, the soundtrack isn't even on Def Jam. Blair Underwood plays Russell Simmons and Rick Rubin plays… Rick Rubin. Beastie Boys, having just converted from hardcore punk to hip-hop the year before, perform "She's On It," a track that doesn't appear on any of their own albums. A teenage LL Cool J auditions by lip-syncing "I Can't Live Without My Radio" in the office of the label. Viewers: please note a hostile Jam Master Jay in this scene reach into his jacket for something before being calmed down.
Jay's group Run-DMC gets the most screen time, but they only appear on the soundtrack's posse cut "Krush Groovin'," alongside Kurtis Blow, Sheila E and The Fat Boys, the latter of which cinematically steal the show. "All You Can Eat" gets its own music video within the feature, when the Brooklyn trio gorge themselves at Sbarro in Manhattan while rapping about food. Side note: New Edition were supposed to be on the soundtrack, flaked, and Tommy Boy rap-turned-vocal group Force MDs were called in at the last minute to record "Tender Love." The song was a hit, resulting in a deal between Warner Bros and Tommy Boy.
Beastie Boys HD : " She's On It " Krush Groove - 1985
Colors (1988)
When Dennis Hopper set about directing a highly fictionalized film about the gang problem in Los Angeles in 1988, LA rap veteran Ice-T was asked to include his song "Squeeze The Trigger" on the soundtrack. Ice did him one better and recorded an entirely new song using the film's namesake, rhythmically based on an obscure King Sun B-side called "Mythological Rapper." "Colors" painted such a vivid picture from the perspective of a gang member that radio was afraid it promoted the lifestyle. A version where Ice-T disparages gangster-ism during the choruses made it onto the airwaves soon thereafter.
Warner Bros had recently inked a distribution deal with New York rap label Cold Chillin', and used the soundtrack as a method to promote its roster and their producer Marley Marl, who were known collectively as The Juice Crew. Tracks by Juice Crew MCs Roxanne Shanté ("Go On Girl"), MC Shan ("A Mind Is A Terrible Thing To Waste"), Kool G Rap ("Butcher Shop"), and Big Daddy Kane ("Raw") are all included. LA's hip-hop scene was just coming into its own in 1988; though one of the best hip-hop soundtracks of its time, the New York-dominated Colors was a wasted opportunity to showcase its rival city's homegrown talent. The consolation was an appearance by Queens-to-LA transplants 7A3 who helped introduce legendary producer DJ Muggs to the world.
Boyz N The Hood (1991)
Named after the Ice Cube-penned/Dr. Dre-produced Eazy-E song that sowed the seeds of NWA, Boyz N The Hood co-stars Cube and was filmed not long after he became a solo artist. Set in South Central Los Angeles, the landmark John Singleton directorial debut sparked a wave of films that addressed the gang problem in a non-exploitative manner. "How To Survive In South Central" captures Cube in his prime, ensuring that the album earned its place among the best hip-hop soundtracks because the song was not initially included on any of his own releases (it later appeared as a bonus track a 2003 reissue of Death Certificate).
His female protégé Yo-Yo comes correct with "Mama Don't Take No Mess"; fellow West Coast gangsta rappers Compton's Most Wanted and Kam also contribute tracks. Main Source's "Just A Friendly Game Of Baseball" uses America's pastime as a metaphor for police brutality to great effect – this version is a remix of the one on their groundbreaking debut, Breaking Atoms. Perhaps the most historically significant track on the album is "Too Young" by Hi-Five, because it features a teenage MC named Prodigy, who would soon make a name for himself as one half of the New York duo Mobb Deep.
Juice (1991)
"Sip the juice, I got enough to around." Though not appearing on the Juice soundtrack, Tupac Shakur steals the show as the psychopathic Bishop character in this gritty New York film about hip-hop-obsessed teens succumbing to the criminal lifestyle. Eric B & Rakim's "Juice (Know The Ledge)" is the standout, but Rakim's one-time rival Big Daddy Kane also delivers with "Nuff' Respect." Co-produced by Hank Shocklee, a member of Public Enemy's Bomb Squad production team and co-owner of the short-lived SOUL imprint, Kane's track incorporates pop culture references into lightning-fast braggadocious rhyming, including the confounding turn of phrase "Heavens to Murgatroyd," uttered by Snagglepuss on The Yogi Bear Show.
New York rap outfit EPMD represent with "It's Going Down," in which both MCs separately mention Michael Jackson; it would also appear on their hit album Business Never Personal the following year. 1991's breakout stars Naughty By Nature leads off with "Uptown Anthem," not long after having changed their name from The New Style. Cypress Hill (listed as "Cypress Hill Crew") and Oakland OG pimp rapper Too $hort also throw down on Juice, in what is a rare instance of one of the best hip-hop soundtracks featuring an almost perfect balance of West Coast and East Coast hip-hop.
Eric B. & Rakim - Juice (Know The Ledge)
Who's The Man? (1993)
Directed by Yo! MTV Raps co-creator Ted Demme, and starring Yo! hosts Doctor Dré and Ed Lover, Who's The Man? may very well have been a great excuse to cram in as many cameo appearances of rap artists (at least 40) as possible. It may also have been an excuse to have a slamming soundtrack, and the resulting product is significant for at least two reasons. The first, "Hittin' Switches," was the premiere of Erick Sermon as a solo artist after EPMD's controversial break-up. Secondly, "Party & Bullshit" was (guest appearances excluded) the world's first taste of an MC out of Brooklyn named BIG, who would soon lengthen his moniker to become The Notorious BIG.
Erick Sermon - Hittin' Switches
Judgement Night (1993)
This one is too fun not to include among the best hip-hop soundtracks. Run-DMC and Aerosmith's collaboration on "Walk This Way," in 1986, became a massive hit, and enabled hip-hop to break through to the predominately white, rock audience. The soundtrack for Judgement Night used this formula to experiment with the pairing of hip-hop artists and their corresponding rock bands. Brooklyn tough guys Onyx matched up with Brooklyn tough guys Biohazard for the title track, while the gentler De La Soul created "Fallin'" with Scottish power-pop group Teenage Fanclub. Who is the rock equivalent of Sir Mix-A-Lot? Mudhoney! Hey, they're both from Seattle. From this comes "Freak Momma."
Ice-T, who by this point was already deep in the metal game with his own band Body Count, pairs up with Slayer to cover "War" by hardcore punk band The Exploited. Oddly, it's listed as "Disorder," which is the name of a different song on the same Exploited album. There must be a story behind that. Regardless, Judgement Night was ahead of its time, in that it pre-dated the avalanche of rap-rock bands who would rise to prominence by the end of the decade.
8 Mile (2002)
Eminem's semi-autobiographical tale of a struggling MC drew immediate comparisons to Prince's Purple Rain when it came out. The lead single "Lose Yourself" puts you in his shoes as he nervously prepares for a freestyle battle, and also blurs the line between Em and his character, Jimmy "B-Rabbit" Smith, Jr, by name-checking 8 Mile co-star Mekhi Phifer in the lyrics. Immediately earning attendant album its place among the best hip-hop soundtracks of all time, "Lose Yourself" won the Academy Award For Best Original Song, and was famously satirized on Chappelle's Show. Veterans Rakim, Gang Starr, and Nas all contribute tracks, as do Jay Z and Xzibit, the latter of whom has a small role in the film.
Rising star 50 Cent appears on 8 Mile's soundtrack as many times as Eminem himself, and the success of the film and album (over one million copies sold within the first two weeks) set 50 up for his own acting career. Following the same semi-autobiographical format, 2005's Get Rich Or Die Tryin' and its soundtrack, released by G-Unit/Interscope, also proved to be a multi-platinum success. Not to be confused with his 2003 breakout album of the same name, Get Rich Or Die Tryin' the soundtrack features G-Unit members Lloyd Banks, Young Buck, and Tony Yayo, as well as fellow New York stalwarts Mobb Deep and MOP.
Lose Yourself (From "8 Mile" Soundtrack)
With the late 80s and early 90s being the golden era of hip-hop, here are just a few honorable mentions we couldn't leave out among our run-down of the best hip-hop soundtracks ever.
Posse (1993)
Notable track: "Posse (Shoot 'Em Up)" by Intelligent Hoodlum
A historical guide to African-American cowboys.
Rappin' (1985)
Notable track: "Itchin' For A Scratch" by Force MDs
The Staten Island R&B group started as rap group Force MCs – this is one of the few recorded traces of their hip-hop past.
Force M.D.'s - Itchin' for a Scratch
Breakin' (1984)
Notable track: "Reckless" by Chris "The Glove" Taylor & David Storrs (with rap by Ice-T)
A glimpse into the vibrant Radiotron club in Los Angeles, and gangsta rap pioneer Ice-T's first big-screen appearance.
Above The Rim (1994)
Notable track: "Regulate" by Warren G featuring Nate Dogg
A massive hit that launched the G-Funk rapper/producer into superstardom.
Warren G - Regulate (Official Music Video) ft. Nate Dogg
Do The Right Thing (1989)
Notable track: "Fight The Power" by Public Enemy
This career-defining song by the Strong Island group still serves as a political rallying cry in the 21st Century.