N.W.A
N.W.A. were one of the most successful and influential rap groups of all time, comprised of Dr. Dre, Eazy-E, and Ice Cube.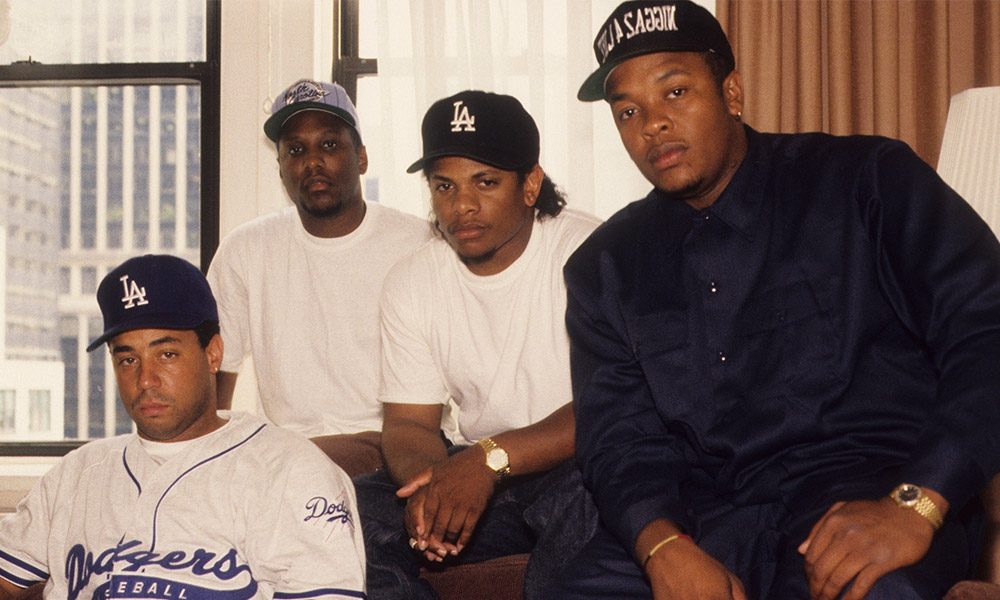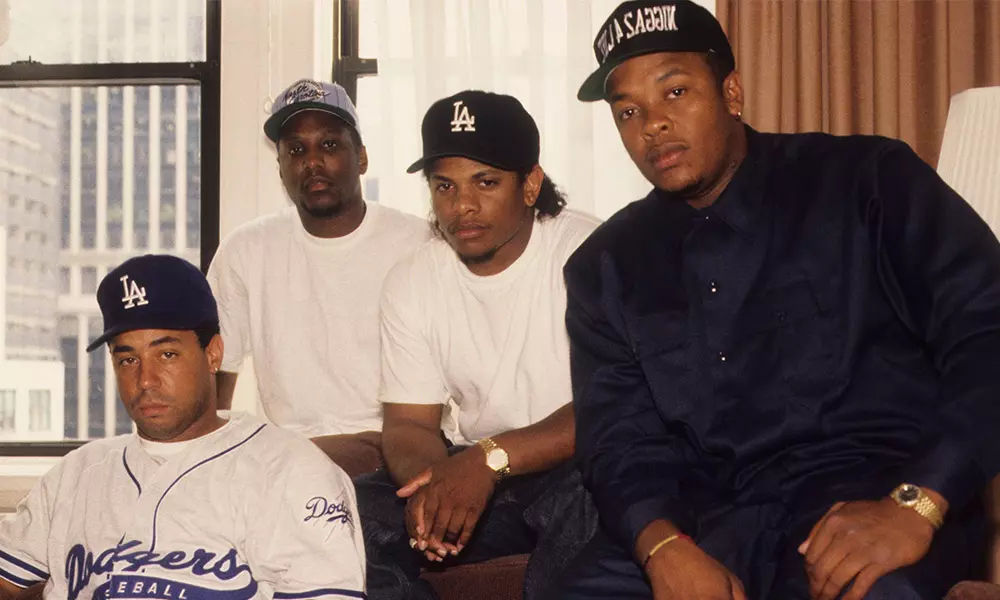 N.W.A, the unapologetically violent and sexist pioneers of gangsta rap, are in many ways the most notorious group in the history of rap. Emerging in the late '80s, when Public Enemy had rewritten the rules of hardcore rap by proving that it could be intelligent, revolutionary, and socially aware, N.W.A capitalized on PE's sonic breakthroughs while ignoring their message. Instead, the five-piece crew celebrated the violence and hedonism of the criminal life, capturing it all in blunt, harsh language. Initially, the group's relentless attack appeared to be serious, vital commentary, and it even provoked the FBI to caution N.W.A's record company, but following Ice Cube's departure in late 1989, the group began to turn to self-parody. With his high-pitched whine, Eazy-E's urban nightmares now seemed like comic book fantasies, but ones that fulfilled the fantasies of the teenage white suburbanites who had become their core audience, and the group became more popular than ever. Nevertheless, clashing egos prevented the band from recording a third album, and they fell apart once producer Dr. Dre left for a solo career in 1992. Although the group was no longer active, their influence — from their funky, bass-driven beats to their exaggerated lyrics — was evident throughout the '90s.
Ironically, in their original incarnation N.W.A were hardly revolutionary. Eazy-E (born Eric Wright), a former drug dealer who started Ruthless Records with money he earned by pushing, was attempting to start a rap empire by building a roster of successful rap artists. However, he wasn't having much success until Dr. Dre (born Andre Young) — a member of the World Class Wreckin' Cru — and Ice Cube (born O'Shea Jackson) began writing songs for Ruthless. Eazy tried to give one of the duo's songs, 'Boyz-n-the Hood', to Ruthless signees HBO, and when the group refused, Eazy formed N.W.A — an acronym for Niggaz With Attitude — with Dre and Cube, adding World Class Wreckin' Cru member DJ Yella (born Antoine Carraby), the Arabian Prince, and the D.O.C. to the group. N.W.A's first album, N.W.A. And The Posse, was a party-oriented jam record that largely went ignored upon its 1987 release.
In the following year, the group added MC Ren (born Lorenzo Patterson) and revamped their sound, bringing in many of the noisy, extreme sonic innovations of Public Enemy and adopting a self-consciously violent and dangerous lyrical stance. Late in 1988, N.W.A delivered Straight Outta Compton, a vicious hardcore record that became an underground hit with virtually no support from radio, the press, or MTV. N.W.A became notorious for their hardcore lyrics, especially those of 'Fuck Tha Police', which resulted in the FBI sending a warning letter to Ruthless and its parent company, Priority, suggesting that the group should watch their step.
Most of the group's political threat left with Cube when he departed in late 1989 amid many financial disagreements. A nasty feud between N.W.A and the departed rapper began that would culminate with Cube's 'No Vaseline', an attack on the group's management released on his 1991 Death Certificate album. By the time the song was released, N.W.A, for all intents and purposes, was finished.
In the two years between Cube's departure and the group's dissolution, N.W.A was dominated by Eazy's near-parodic lyrics and Dre's increasingly subtle and complex productions. The group quickly released an EP, 100 Miles and Runnin', in 1990 before following it up early the next year with Efil4zaggin ('Niggaz 4 Life' spelt backwards). Efil4zaggin was teeming with dense, funky soundscapes and ridiculously violent and misogynist lyrics. Naturally, the lyrics provoked outrage from many critics and conservative watchdogs, but that only increased the group's predominately male, white suburban audience. Even though the group was at the peak of their popularity, Dre began to make efforts to leave the crew, due to conflicting egos and what he perceived as an unfair record deal.
Dre left the group to form Death Row Records with Suge Knight in early 1992. According to legend, Knight threatened to kill N.W.A's manager Jerry Heller if he refused to let Dre out of his contract. Over the next few years, Dre and Eazy engaged in a highly publicized feud, which included both of the rappers attacking each other on their respective solo albums. Ren and Yella both released solo albums, which were largely ignored, and Eazy continued to record albums that turned him into a complete self-parody until his tragic death from AIDS in March 1995. Before he died, Dre and Cube both made amends with Eazy. With his first solo album, 1992's The Chronic, Dre established himself as the premier Hip-Hop producer of the mid-'90s, setting the pace for much of hardcore rap with its elastic bass and deep, rolling grooves.
Gangsta rap established itself as the most popular form of Hip-Hop during the '90s — in other words, N.W.A's amoralistic, hedonistic stance temporarily triumphed over the socially conscious, self-aware Hip-Hop of Public Enemy, and it completely rewrote the rules of Hip-Hop for the '90s.
Words: Stephen Thomas Erlewine