'Efil4zaggin': How NWA Bridged Gangsta Rap And Hip-Hop's Golden Age
'Efil4zaggin' was more than a full stop to NWA's career. It bridged hip-hop's early golden age and the sound that would dominate the West Coast in the 90s.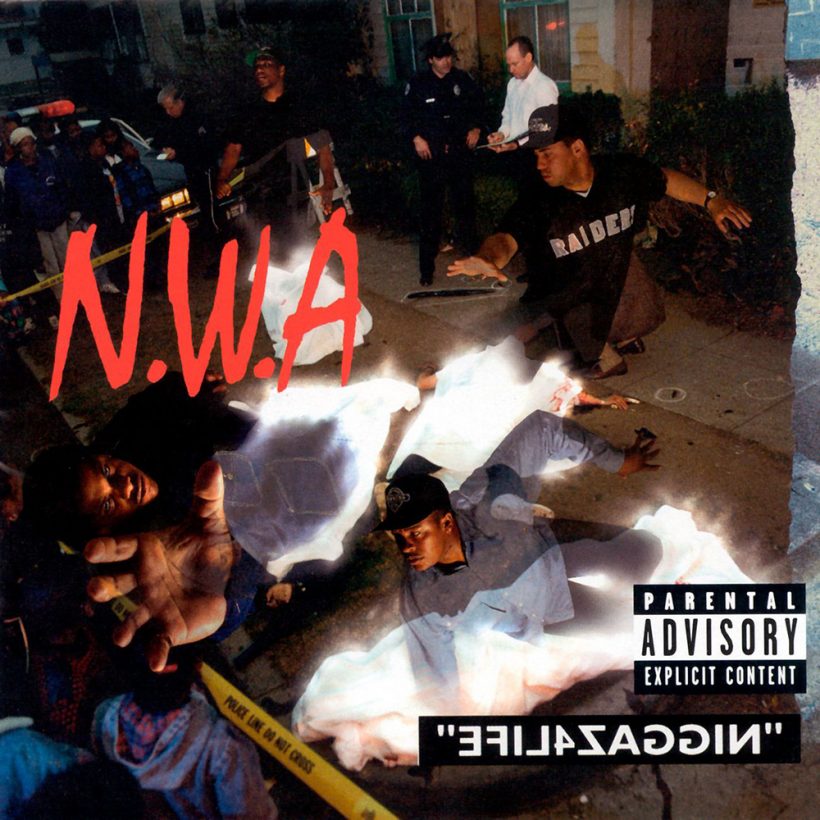 In the three years since the release of N.W.A's epochal second album, Straight Outta Compton, the group had become the subject of FBI scrutiny; they'd lost founder member Ice Cube and embarked on a public – and increasingly vitriolic – spat with him in the press; and Rodney King had been ruthlessly beaten by the Los Angeles Police Department – an incident caught on camera and which ultimately sparked the events that led to the LA riots of 1992. So when their second album, Efil4zaggin, hit the shelves, on May 28, 1991, some onlookers were waiting for a defining statement from the group, while others were looking for scapegoats. Caught in the maelstrom, N.W.A delivered on both counts. Or, as Dr. Dre put it on "Real N**az," they were "paid to say what others are scared to play."
Listen to Efil4zaggin on Apple Music and Spotify.
With no "Straight Outta Compton" or "F–k The Police," Efil4zaggin had no clear focal points. Instead, N.W.A's scattergun fury sees the first half of the album rush by in a blur of boasts, threats, and put-downs (the "Message To BA" skit explicitly calls Ice Cube out for his defection, before the group launch into "Real Ni**az," extrapolating the theme with a series of explanations of what they'll do to their former bandmate if he steps near them again). The second half is a litany of misogynistic cuts that see Eazy-E, in particular, give full flow to his crazed destructive fantasies.
But beneath the relentless – and at times often seriously disturbing – barrage, Dre and DJ Yella had laid the foundations of G-Funk, building songs such as "Ni**az 4 Life" and "Automobile" around P-Funk samples, while the likes of "Always Into Somethin'" introduces the creeping, high-pitched synth lines that would soon become one of Dre's defining trademarks. Elsewhere, coupled with the looped screams, low bass, and fixation on "death, destruction around every corner" of "Approach To Danger," N.W.A head beyond the gangsta rap genre they pioneered, striding into no-holds-barred horrorcore territory.
N.W.A. - Appetite For Destruction
Dre would consolidate these sonic explorations with his first solo outing, 1992's The Chronic, and, further, with Snoop Dogg's 1993 debut, Doggystyle. And though N.W.A's failure to keep their momentum was inevitable – their energy was too raw, impossible to contain – Efil4zaggin was much more than a full stop to their brief career. Decades later, it's clear that the album provided a bridge from hip-hop's early golden age to the iconic sound that would dominate the West Coast in the 90s.