It Takes Two: Exploring Elvis Costello's Collaborative Albums
Costello has worked with icons from the realms of pop, classical, R&B, hip-hop, jazz, and more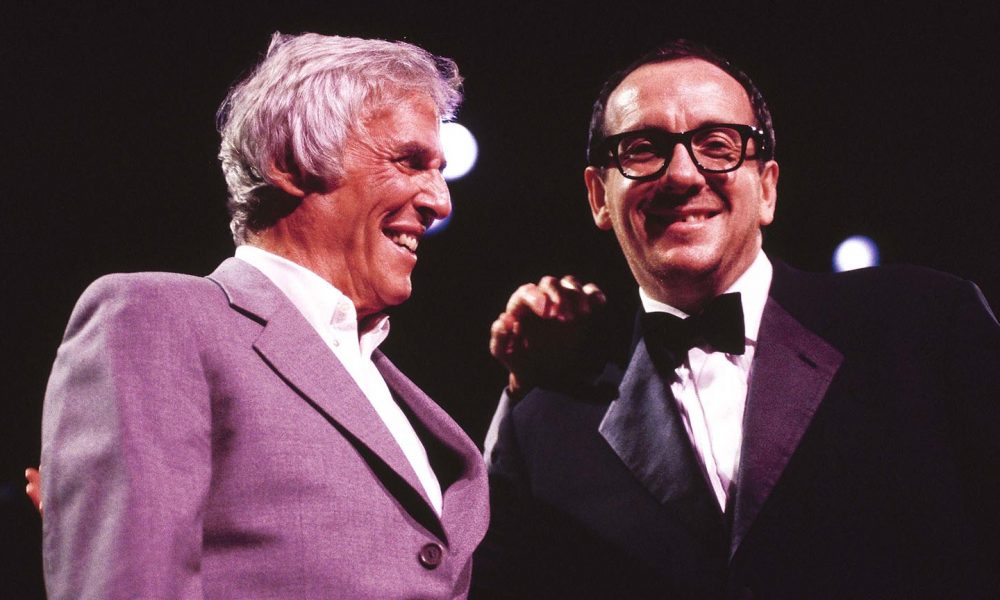 Look in the space provided for comments on Elvis Costello's report card, and you're sure to see the phrase "plays well with others." As singular a stylist as he is, Costello has always sought intriguing collaborators and had the musical savvy to make those partnerships work.
Down through the decades, Costello has entered into projects with top-tier artists from the realms of pop, classical, R&B, hip-hop, jazz, and more. Some of those recordings are celebrated as milestones, and others are secret gems.
Listen to The Songs of Bacharach & Costello, which gathers together the entire catalog of songs written together by Burt Bacharach and Elvis Costello as well as Bacharach & David classics covered by Costello.
Strings and things
The first full collaboration Elvis ever released was the soundtrack to G.B.H., a 1991 BBC TV drama series that featured Monty Python's Michael Palin in a rare non-comedic role. Costello composed the music in partnership with Richard Harvey, who initially earned attention as the first man to play crumhorn in a rock band (1970s neo-Renaissance proggers Gryphon) and went on to do scads of soundtrack work.
Whether Costello hadn't yet marshaled the confidence to impose his own style on the proceedings (unlikely) or he just fancied doing something completely outside the rock/pop realm for a change, there's nary a trace of rock to be found in the G.B.H. music, which was all orchestrated by Harvey. Elvis must have gotten a charge out of it, because four years later, the pair reunited to score the series Jake's Progress. But this time, one piece, "Grave Dance," bears a hint of Costello's other life, featuring his guitar and The Attractions' Pete Thomas on drums.
Between his Harvey projects, Elvis crafted an ambitious album with The Brodsky Quartet, a British string quartet that had already been operating for about 20 years, concentrating on standard classical repertoire. With Costello's increasingly agile vocals and the quartet's vivid lines as the only instrumentation, 1993's The Juliet Letters is a thrilling mix of chamber orchestrations with lyrics based on the idea of letters written to Shakespeare's Juliet Capulet.
In 2001, Costello would bring another classical artist into his orbit, but with entirely different intentions. Swedish mezzo-soprano Anne Sofie von Otter became known in the 90s for her work in opera and lieder, but on the Costello-produced For the Stars, she lends her luminous pipes to nominal pop songs. With accompanists including Elvis and his right-hand man Steve Nieve on keyboards, she tackles a mostly new batch of Costello songs as well as tunes by the likes of The Beatles, Tom Waits, The Beach Boys, and Ron Sexsmith.
Costello: I Want To Vanish
Jazz and old-school pop
Like most British rockers of his generation, Elvis Costello might have ended up selling shoes if not for the influence of American music. Growing up with a father who was a gigging jazz singer, he always had jazz in his blood. As early as 1982's Imperial Bedroom, he was crooning self-penned jazz tunes like "Almost Blue," a song later covered by Chet Baker.
So, Costello's pairing with jazz guitar trailblazer Bill Frisell shouldn't have seemed like such a stretch when the two joined forces for a set at the Costello-curated 1995 Meltdown festival in London. The duo's performance was documented on the EP Deep Dead Blue, which combined Frisell's guitar noir with Elvis's smokey pipes for stripped-down, jazzed-up takes on Charles Mingus's "Weird Nightmare," the show tune "Gigi," a few Costello compositions, and a new tune the pair wrote together.
Elvis's preoccupation with the classy, quirky pop tunes of Burt Bacharach and Hal David was such that as early as 1977, when his peers were neck-deep in punk, he was performing a rocked-up version of their classic "I Just Don't Know What to Do with Myself," as heard on the concert album Live Stiffs. But in 1995, Costello got the chance of a lifetime when fortune aligned his path with that of Bacharach himself.
Through the magic of Hollywood, Elvis had the opportunity to write a song with Bacharach for the film Grace of My Heart, which followed the career of a Carole King-like character played by Ileana Douglas. They came up with the heart-shattering "God Give Me Strength," eventually covered by everybody from Bette Midler to Charles Lloyd.
Emboldened by this triumph, Costello and Bacharach decided to do an entire album together. Unlike their first co-writing experience, which involved sharing ideas through faxes and phone messages, they came face to face to write a new batch of songs. The fruit of the partnership was 1998's Painted from Memory, a lush, velvety batch of tunes that take the sound Bacharach established on his 60s smashes for Dionne Warwick someplace new but timeless. Faced with the challenge of fronting Bacharach's flawless arrangements, Costello upped his vocal game, bringing more precision and passion to his delivery and, at times, even coming off like an old-school belter.
On tracks like the slinky "Toledo," the sorrowful "This House Is Empty Now," and the plush "The Sweetest Punch" (which almost makes heartbreak sound pleasurable), Costello and Bacharach crafted the kind of elegant adult pop that hadn't been heard since Burt and Hal's initial run. The album made the biggest impact of any of Costello's collaborative releases. "I Still Have That Other Girl" even won a Grammy for Best Pop Collaboration with Vocals.
I Still Have That Other Girl
As if to underline the staying power of Painted from Memory even further, in 1999, Bill Frisell reentered the Costelloverse to put out The Sweetest Punch, adapting each of the Costello/Bacharach tunes in an instrumental jazz mode with hotshots like trumpeter Don Byron and drummer Blade. Cassandra Wilson popped up for a couple of guest vocal spots, as did Elvis himself.
Reaching out for the roots
In 2005, in the wake of the Katrina disaster in New Orleans, Elvis Costello collaborated with Crescent City R&B giant Allen Toussaint on The River in Reverse. They had worked together briefly a couple of times before. But after meeting up in New York when Toussaint fled the devastation of Katrina, they started cooking up a project that would represent a ray of positivity for Toussaint's badly wounded hometown.
Costello sang some Toussaint-penned killers from the past, and the two wrote a batch of new tunes to complement them. As Costello told Inside Entertainment's Nicholas Jennings, "I wanted to introduce Allen's compositional voice first on the record, for people who didn't know his writing," adding, "There's the irony that Allen's songs like 'Who's Gonna Help Brother Get Further?' and 'Freedom for the Stallion' have found their moment as much now as when they were written."
Elvis Costello, Allen Toussaint - Who's Gonna Help Brother Get Further
In 2013, Costello reached out for some Roots connections of a different kind. Elvis first worked with hip-hop/funk heavyweights The Roots when they backed him as the house band for Late Night with Jimmy Fallon in 2009. After playing together on the show a few times and finding their musical mindsets meshed well, they decided to make an album together. Wise Up Ghost does what any successful collaboration should, bringing both artists someplace they wouldn't have ended up on their own.
On the 2022 EP The Resurrection of Rust, Elvis dug further into his roots than ever. In the early 70s, he and Alan Mayes were a longhaired pub-rock duo called Rusty. In a move not unlike Tom Petty's 2007 revival of his pre-Heartbreakers band Mudcrutch, Costello reunited with Mayes to make the Rusty record that never happened. An organic blend of folk, country, and rock flavors, the EP features covers of tunes by Nick Lowe, outlaw country cult hero Jim Ford, and Neil Young, plus a couple of original tunes that date back to the duo's early days.
Elvis Costello, Rusty - Surrender To The Rhythm (Audio)
For most artists, the projects mentioned here could have constituted an entire catalog. But for the hyper-prolific Costello, they were just brief busman's holidays in the midst of a release rate that would make the Energizer bunny seem like a slacker. Nevertheless, these titanic team-ups expanded Costello's already eclectic horizons and even added a couple of career peaks along the way.
Listen to The Songs of Bacharach & Costello, which gathers together the entire catalog of songs written together by Burt Bacharach and Elvis Costello as well as Bacharach & David classics covered by Costello.