Dr. Dre: 10 Influential Songs Produced By The Hip-Hop Giant
A pioneer of gangsta rap and the G-funk sound, rapper-producer Dr. Dre put West Coast hip-hop on the map. Here are some of his career-defining collaborations.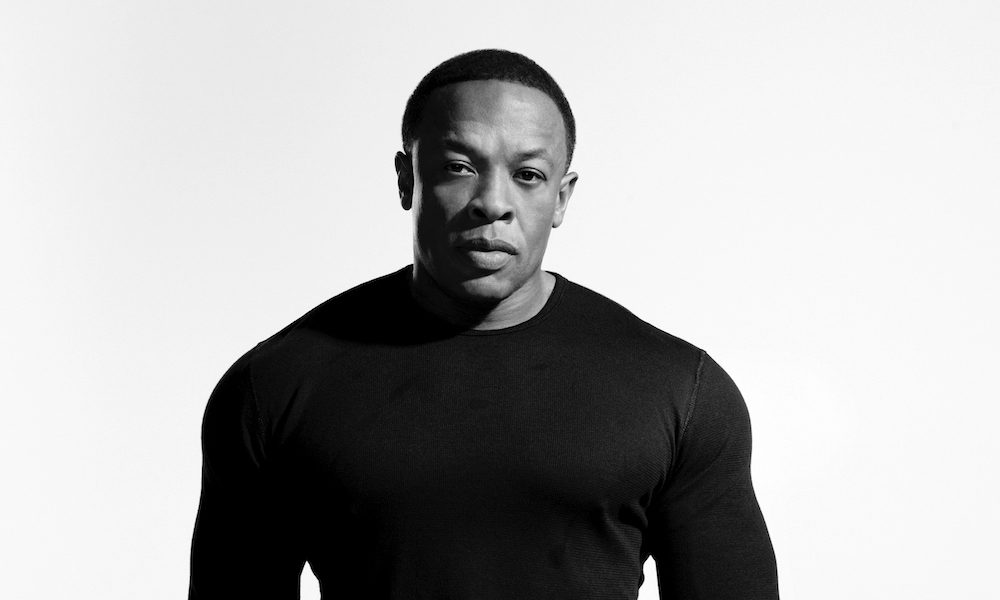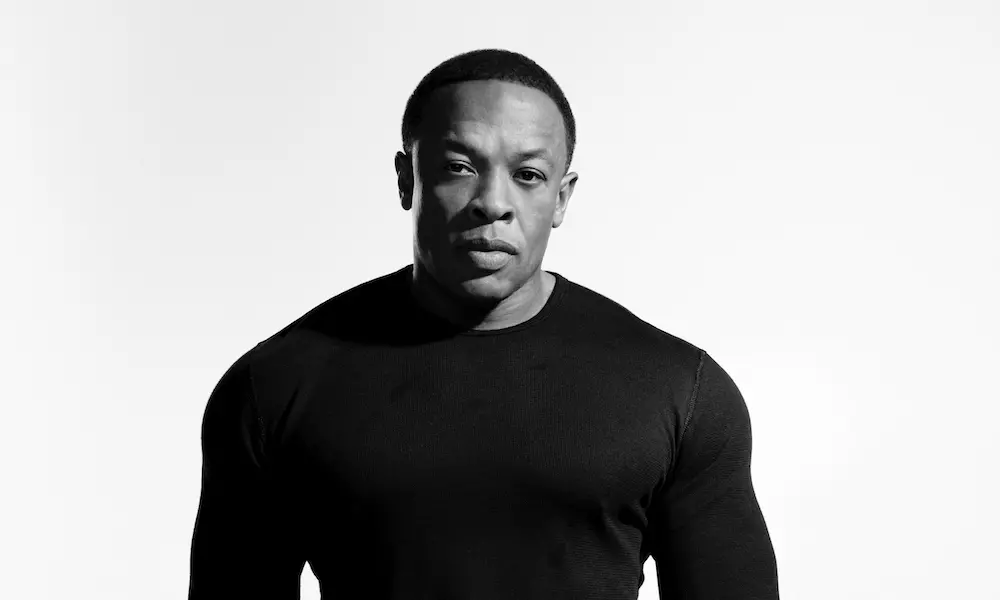 Dr. Dre's chops as a rapper are fairly well known, but his legacy as a producer can't be understated. His collaborations with artists like Snoop Dogg, Eazy-E, and Eminem yielded era-defining tracks that rocketed to the top of the hip-hop charts and remain true classics of the genre. To celebrate his birthday, here are just a few of Dr. Dre's influential productions.
Listen to a playlist of the best Dr. Dre productions on Apple Music and Spotify.
Dr. Dre: Nuthin' but a "G" Thang (from The Chronic, 1992)
The opening keyboard trill on this standout track from Dre's 1992 album, The Chronic, is practically synonymous with the West Coast sound. A lazy beat and sunny melody glide along, but it's the brilliantly lyrical and endlessly quotable wordplay that Dre wrings from featured rapper Snoop Dogg that makes it so infectious.
N.W.A.: Express Yourself (from Straight Outta Compton, 1998)
One of Dr. Dre's first productions on N.W.A.'s explosive debut, Straight Outta Compton, this track takes its name from the title of the Charles Wright and the Watts 103 Street Rhythm Band that it samples. The lyrical content details the struggles rappers go through to express themselves in an age of radio and media censorship. At the beginning of the song is a verbal exchange in which Ice Cube urges Dre who has been, "doing all this dope producing" to rap a little, and "show 'em what time it is."
Eminem: My Name Is (from The Slim Shady LP, 1999)
Based cleverly around an infectious sample from Labi Siffre's "I Got The…," this track introduced white Detroit-born rapper Eminem and his crass, rapid-fire, reference-dense lyrical style to the world. The bounding bassline and cranky vocals help define Eminem's profane but irreverent style.
Dr. Dre: F__k Wit Dre Day (and Everybody's Celebratin') (from The Chronic, 1992)
Another track off The Chronic, Dr. Dre's production sampled Funkadelic's classic "(Not Just) Knee Deep," slowing it down to create the bassline for this Eazy E diss track that became a hip-hop radio staple, despite the heavily censored lyrics.
2Pac: California Love (from All Eyez on Me, 1996)
One of two tracks Dre produced for Tupac's album All Eyez on Me, "California Love" marks Dre's last collaboration with 2Pac and Suge Knight on Death Row Records. It features a sample from Joe Cocker's 1972 "Woman to Woman," and Roger Troutman's infectious, repeated hook "California knows how to party," that ensures the song will remain a radio and dance party staple for years to come.
Dr. Dre: The Next Episode ft Dr. Dre, Snoop Dogg, Kurupt, & Nate Dogg (from The Chronic 2001, 1999)
This hit from The Chronic 2001 is the sequel to "Ain't Nothin but a G Thang." With a restless, syncopated beat, the song samples David Axelrod's "The Edge." The dense, rhythmic lyrics reaffirm the West Coast rappers' continued dominance of the genre and memorably conclude with Nate Dogg's commandment to, "smoke weed everyday."
Dr. Dre: Forgot About Dre ft. Eminem (from The Chronic 2001, 1999)
Another hit off The Chronic 2001, "Forgot About Dre" features a high-speed hook by Eminem and some of the most quotable verses of the era. The track is a simultaneous reclamation of Dre's mantle as the OG of rap, and a dire warning to those who have disrespected his legacy and assumed his reign was over.
Snoop Dogg: Ain't No Fun (from Doggystyle, 1993)
Opening with Nate Dogg's now-immortal words, "When I met you last night, baby," "Ain't No Fun" was recorded for Snoop Dogg's debut album Doggystyle. The popular – and highly censored – track is an elastic, lighthearted funk-tinged romp with a melody as bright and light as the lyrics are raunchy.
Dr. Dre: What's the Difference? (from The Chronic 2001, 1999)
A deeper cut from The Chronic 2001, "What's the Difference" rests on a regal horn sample with trademark West Coast melody that weaves its way through the lyrics, hopping over verses by Xzibit, Dre, and a particularly dramatic contribution from Eminem.
Dr. Dre: Keep Their Heads Ringin (from Friday OST, 1995)
"Keep Their Heads Ringin" came out in 1995 on the soundtrack to the Ice Cube-penned hit movie, Friday. Featuring female vocals from singer Nanci Fletcher, the song grabs you at the outset with the "W-w-w-w-Westside" and doesn't let go. Thank God it's Friday, indeed.
Think we missed one of Dr. Dre's best productions? Let us know in the comments below. Looking for more? Discover the best Eminem collaborations: 15 times Slim Shady stole the show.