New Edition
The Boston R&B group found incredible success in the 1980s and beyond with hits like "Candy Girl" and "Mr. Telephone Man."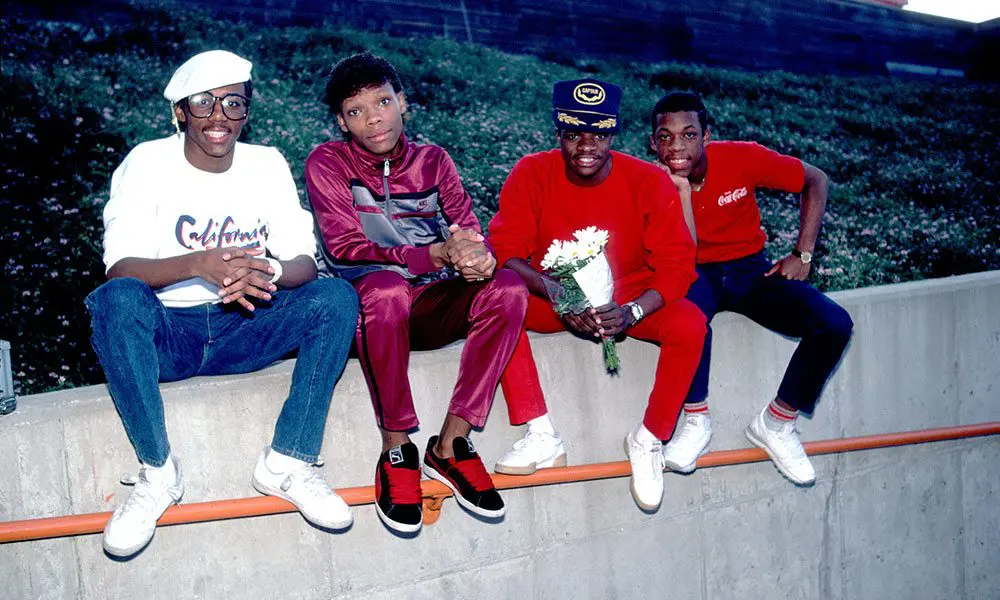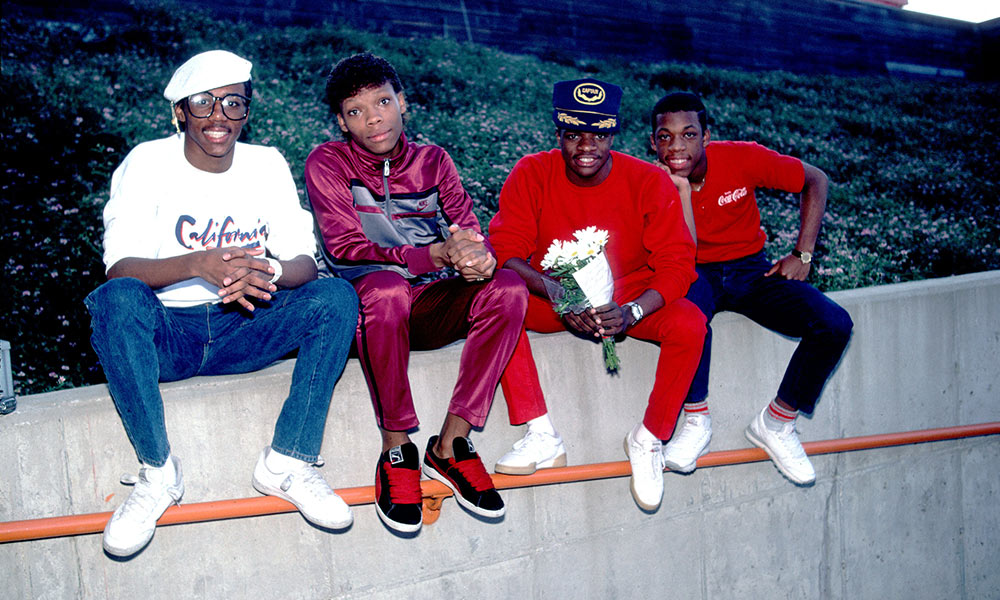 One of the most successful R&B groups in history, New Edition's incredible career has seen saw them progress from teenybopper boy band to revered legends. With the band going on hiatus at several points, its various members enjoyed even more success with solo careers and offshoots.
New Edition formed in 1978, when childhood friends from the Orchard Park housing project in Roxbury, Boston, started a vocal group. Bobby Brown, Michael Bivins, Ricky Bell, Corey Rackney and Travis Pettus were in the original line-up, though Rackley was replaced by Ralph Tresvant before the local manager and choreographer Brooke Payne took the group under his wing, giving them their name to signify they were a "new edition" of Jackson 5. Travis Pettus then left, and Payne installed his nephew Ronnie DeVoe as a replacement.
With their first permanent line-up in place, New Edition began entering talent contests, and it was at one of these, at Boston's Strand Theater, that they received their first big break. Though they came in second place, their performance of the Jackson 5's 'The Love You See' left local producer and impresario Maurice Starr so impressed that he invited them to his studio the next day to record a demo for what would become their debut album, Candy Girl.
Released in 1983 on Starr's own Streetwise Records – while the members were all aged between 13 and 15 – Candy Girl proved a success. There were hit R&B singles in the shape of 'Is This The End' and 'Popcorn Love', but it was the album's infectious title track which proved the biggest smash, racing to No.1 on both the American R&B and UK singles charts. To promote the album, the boys embarked on a major concert tour, though when they were dropped off at their homes in the projects, they were each given a cheque in the amount of $1.87 for their troubles. Starr told them that the tour budget and expenses had taken up all of their money, leading the group to sack their manager and enlist lawyers Steven and Martin Machat to help release them from their Streetwise contract. Starr lost the case, though he would go on to have an astronomical impact with his next project, teenage boy band New Kids On The Block.
Now free agents, with further help from the Machats' law firm New Edition secured a contract with MCA, for whom they released their self-titled sophomore effort in 1984. Lead single 'Cool It Now' proved an even bigger success than its predecessors as it reached Top 5 in the charts. Further hits, including the Ray Parker, Jr-penned 'Mr Telephone Man', propelled the album up to No.6 in the charts.
Further legal problems occurred when the group learned that they were actually signed to a subsidiary of MCA, Jump And Shoot. In an effort to extract themselves, all five members took out a $100,000 loan from MCA to end the deal. Though they scored a new, long-term deal with MCA and finally found themselves the major label contract that they craved, the group would have to tour and record almost continually in order to pay off their debts.
The group's third album, 1985's All For Love, found them growing up quickly, as their voices deepened and the music began moving away from the bubble-gum pop of their previous efforts. Though it would reach platinum sales and spawn the hits 'Count Me Out' and 'A Little Bit Of Love (Is All It Takes)', the album sold less than expected. Meanwhile, lead singer Bobby Brown was becoming disenchanted with the group's image; Christmas All Over The World, a holiday EP released later that year, became his final recording with the group before he left.
With Brown now pursuing a solo career away from the band, the remaining members recorded a covers album in the shape of 1986's Under The Blue Moon. A collection of doo-wop numbers from the 50s and 60s, it would yield them another hit single with their take on The Penguins' 'Earth Angel'. With rumours circulating that Ralph Tresvant was about to follow Bobby Brown into a solo career, a bid to stabilise the band saw them enlist a new member in the shape of Johnny Gill, a friend who had been struggling as a solo artist.
Aware that Brown had enjoyed massive solo success pursuing the hip-hop-influenced New Jack Swing style on his second album, Don't Be Cruel, New Edition were Keen to follow suit. Looking to update their sound, the group enlisted Jimmy Jam and Terry Lewis – the red-hot production duo who had just masterminded Janet Jackson's Control album – to follow a similar path on their fifth studio effort, 1988's Heart Break. Featuring several R&B hits such as 'Can't Stand The Rain', it went on to become their highest-selling album to date. Keen to stretch their wings and pursue other projects, the band agreed to put New Edition on hiatus in 1989, and the following year saw multiple releases from its members. Ralph Tresvant's big-selling self-titled album featured the Jam- and Lewis-penned hit 'Sensitivity', while Ricky Bell, Michael Bivins and Ronnie DeVoe re-launched themselves as Bel Biv DeBoe and employed The Bomb Squad to oversee their seminal, triple-platinum debut album, Poison. The Public Enemy producers added a tough hip-hop edge to their sound, and the title track became a huge worldwide hit. Newest band member Johnny Gill also re-launched his solo career with considerable success with his 1990 self-titled album featuring the hit single 'Rub You The Right Way'.
Having achieved commercial success away from New Edition, the group reunited for a sixth album, 1996's Home Again, with Bobby Brown back on board. Driven by the headline-making return of Brown, the album proved a triumph, becoming the most successful of their career, debuting at No.1 in the charts and yielding the hit singles 'Hit Me Off' (which topped the R&B charts) and 'I'm Still In Love With You'. The group headed off on tour to support the album in 1997, but any spirit of camaraderie was short-lived as old personality clashes resurfaced.
Following the tour, the members resumed their previous projects, only reuniting again in 2002. Without Bobby Brown – and now without a label after their long-term deal with MCA expired – they embarked on a small-scale tour that took in clubs, casinos and arenas. Present at one of the shows was P Diddy, who agreed to sign the group to his Bad Boy Records label, for whom they released One Love, in 2002. Proof that their popularity had not waned, it debuted at No.12 in the charts, though a dispute over money led the group to leave the label.
New Edition group carried on regardless, touring on the legacy and festival circuit. In 2012, their incredible career was recognised with a Lifetime Achievement Award during the Soul Train Music Awards, with all six members – including Bobby Brown – appearing on stage to collect it. Further recognition of their impact on the music industry came in 2015 when it was announced that BET would make a three-night mini-series about the group, which aired in January 2017. Five of the band's members were involved in its production, with Johnny Gill, Ronnie DeVoe, Ricky Bell, Michael Bevins and Ralph Tresvant all signed up as co-producers.
Words: Paul Bowler