Best Janet Jackson Songs: 20 Pioneering Jams To Unite A Rhythm Nation
The best Janet Jackson songs cover classic R&B, late-night slow-jams and subversive pop, marking the singer out as a pioneering female musician.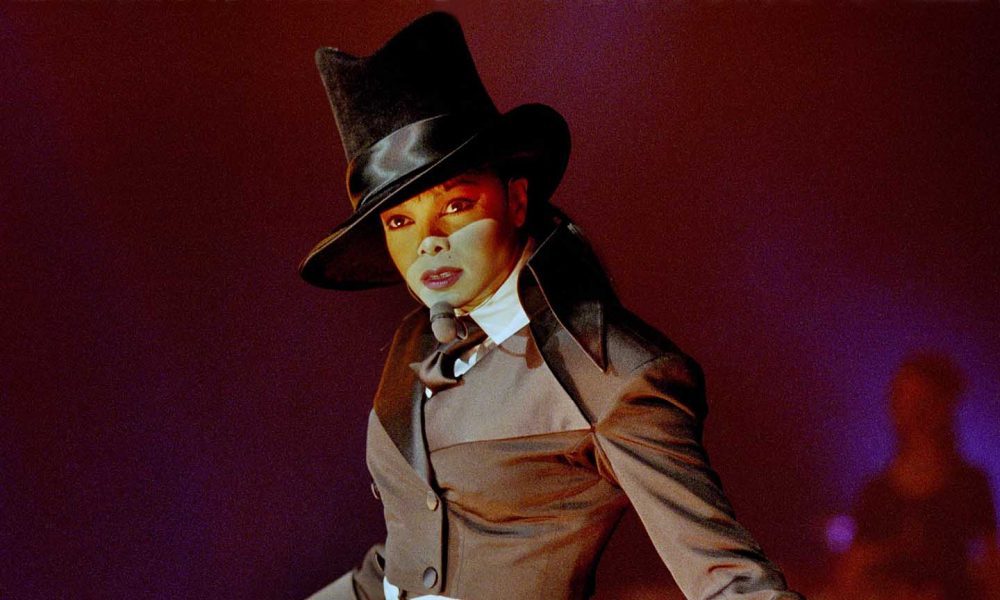 Born on May 16, 1966, Janet Jackson launched her solo career in 1982 and is reported to have sold over 100 million records since. After launching her Las Vegas residency Metamorphosis last year, she said the shows delineated her own "path to self-love, empowerment, motherhood, and activism, amid the challenges… faced along her personal journey" – something the best Janet Jackson songs have done throughout her career.
In honour of Janet Jackson's achievements, we present a countdown of the 20 best Janet Jackson songs.
Listen to the best of Janet Jackson on Apple Music and Spotify.
20: No Sleeep (2015)
In 2015 Janet Jackson released her 11th album, Unbreakable, her first for her own label, Rhythm Nation. Reuniting her with producers Jimmy Jam and Terry Lewis, with whom she hadn't worked since 2006, it immediately set the US charts alight. "No Sleeep" finds Jackson doing what she does best: sounding seductive on a nocturnal groove that she wrote with Jam and Lewis, and which also features US rapper J. Cole. The song climbed all the way to the top of the US Adult R&B Songs chart.
Janet Jackson - "No Sleeep" Feat. J. Cole (Music Video)
19: The Pleasure Principle (1986)
Written by ex-Time keyboardist Monte Moir, who in 1985 had written Alexander O'Neal's killer bedroom ballad, "If You Were Here Tonight," "The Pleasure Principle" was a bubbling, synth-driven dance groove whose style was more nuanced and less rambunctious than Control's Jam & Lewis-helmed dance tracks. It also featured a rock-style guitar solo from The Time's Jellybean Johnson. Issued as Control's sixth single, it shot to No.1 in the US R&B charts, instantly cementing its place among the best Janet Jackson songs.
Janet Jackson - The Pleasure Principle
18: Alright (1989)
Propelled by a thunderous swing-beat groove and peppered with samples, "Alright" was the fourth single taken from the Rhythm Nation 1814 album. A song about romantic bliss, "Alright" adhered to the formula that defined her Jam & Lewis-era material, welding an irresistible chorus and sweetly harmonized vocals to a pummeling rhythm track.
17: I Get Lonely (1997)
Featuring stellar background vocals from R&B supergroup Blackstreet, "I Get Lonely" was another example of Jackson's ability to create immersive storytelling romantic ballads. This time, the music had a gospel undertone and a purer R&B sound. Written by Jackson together with Jam and Lewis, plus her then-husband, René Elizondo, Jr, the tune was the third single from The Velvet Rope and topped the US R&B charts in 1998. Its place among the best Janet Jackson songs was forever assured when it became her 18th consecutive Top 10 US smash, a feat that had never been achieved before by a female recording artist.
16: Scream (1995)
By the time that Janet Jackson got to duet with her elder brother, Michael, she was a superstar in her own right. "Scream" put the "King Of Pop" in the studio with his sister's producers, Jimmy Jam and Terry Lewis, who co-wrote the song with both Jackson siblings. Living up to its title, "Scream" is a boisterous swing-beat style groove and appeared on Michael Jackson's 1995 compilation, HIStory: Past, Present & Future, Book 1.
Michael Jackson, Janet Jackson - Scream (Official Video)
15: Any Time, Any Place (1997)
Topping the US R&B singles chart in 1997, "Any Time, Any Place" is an atmospheric quiet storm ballad on which Janet Jackson shows a more sensual facet of her personality against a gentle backdrop of lush, shimmering keyboards. The song was co-written by the singer with her co-producers, Jam and Lewis, who had a hand in many of the best Janet Jackson songs; it became the fifth single lifted from her eponymous Virgin Records' debut, janet.
Janet Jackson - Any Time, Any Place (Official Music Video)
14: The Best Things In Life Are Free (1992)
In between her Rhythm Nation and janet albums, Jackson duetted with silky-voiced soul crooner Luther Vandross on this upbeat Jam & Lewis-helmed tune, which was taken from the soundtrack to the film Mo' Money, a comedy starring siblings Damon and Marlon Wayans. The tune was co-written by Jackson's producers with former New Edition members Michael Bivins and Ronnie DeVoe (then two-thirds of the group Bell Biv DeVoe) and was nominated for a Grammy. It also spent a week at the top of the US R&B charts.
13: Together Again (1997)
This was the second single taken from Jackson's 1997 album, The Velvet Rope, a frank confessional that addressed the singer's purported battle with depression as well as subjects ranging from domestic violence to sexual identity. Lighter in tone, though, is "Together Again," a pop-dance excursion with hints of Motown and house music in its musical DNA. Though the song made No.8 on the US R&B chart, it rose to No.1 in the Hot 100. It was popular, too, in the UK, where it peaked at No.4.
12: Control (1986)
"When I was 17, I did what people told me," sings Janet Jackson on this, the title track from her platinum-selling 1986 album, adding, "Did what my father said, and let my mother mold me… but that was a long time ago." Not as in your face as "Nasty," "Control, with its twitchy sequenced rhythms, still packed a sonic punch. Sounding a little like a Time track with female vocals, it is a paean to independence and reflects the singer's desire to express herself freely. It was also Jackson's fourth single from the Control album and her third to top the US R&B charts.
11: Whoops Now (1993)
An old-school Motown feel pervades this, one of Janet Jackson's catchiest songs. Though featuring on the tracklist of UK and Japanese pressings of janet, in the US it was a hidden track on the US CD version. "Whoops Now" didn't get issued as a single in America, but overseas, where it was released separately, it performed well, topping the pop charts in New Zealand and making the Top 10 in France, Austria, Belgium, and the UK.
10: Got Til It's Gone (1997)
This song's title took its inspiration directly from Joni Mitchell's 1970 protest song "Big Yellow Taxi," whose chorus ("You don't know what you've got until it's gone") it sampled. Riding on a mellow, hip-hop-inspired groove, Jackson – who had started presenting herself as Janet, rather than Janet Jackson – is accompanied by A Tribe Called Quest rapper Q-Tip. The track reached No.3 on the US R&B charts and No.6 in the UK.
9: Miss You Much (1989)
Three years after Control, Janet Jackson reconvened with Jam and Lewis in their Flyte Tyme Studios in Minneapolis to record Janet Jackson's Rhythm Nation 1814. Thematically a much deeper album than Control, it focused on pressing socio-political issues, but, singles-wise, kicked off with a pining love song, "Miss You Much." The song was delivered via a hammering dance groove that reprised the aggressive style and sparse sonics of Control. It also put Janet Jackson back at the top of both the US pop and R&B singles chart in September 1989.
Janet Jackson - Miss You Much
8: All For You (2001)
This catchy dance number – which samples disco group Change's 1980 hit "The Glow Of Love" – was the first single and title song from Janet's double-platinum 2001 album. Its bright and optimistic tone was indicative of the album's lighter mood compared with the darker hues that characterised her controversial previous album, The Velvet Rope. It also illustrated Jackson's willingness to experiment and take creative risks. Reaching No.1 in the US (and No.3 in the UK), the song was Jackson's 14th R&B chart-topper.
7: Escapade (1989)
Despite its focus on social justice, the Rhythm Nation album had a few lighter moments, epitomised by the aptly-titled "Escapade," a carefree love song driven by a chugging steam-hammer of a backbeat. Like the earlier "When I Think Of You," it showed that Janet Jackson could make buoyant crossover pop without sacrificing her R&B credibility. The song topped both the pop and R&B singles charts in the US.
6: Rhythm Nation (1989)
Janet Jackson's sixth consecutive US R&B No.1 single, "Rhythm Nation" found the singer and her producers tapping into the relentless syncopated rhythms associated with the New Jack Swing phenomenon, then a very influential component in US R&B. There was also a pronounced hip-hop element in the music due to its sampled beats and orchestral "hits." A rallying protest song themed around uniting through music to achieve social justice and "break the colour lines," "Rhythm Nation" not only hit No.1 on the R&B chart, but also soared to No.2 on the pop chart.
Janet Jackson - Rhythm Nation
5: Nasty (1986)
"My first name ain't Baby, it's Janet… Miss Jackson if you're nasty." So sang an angry-sounding Janet Jackson on "Nasty," her second consecutive No.1 single in the US R&B charts, and not only one of the best Janet Jackson songs, but one of the best songs of the era. Sonically, the song was distinctive: driven by pounding, industrial-like drum-machine rhythms and metallic synth lines enunciating catchy licks. Contrasting with this harsh, almost robotic backing is an arresting human element in the shape of Jackson's girlish voice. An eye-grabbing video depicting Jackson going through some vigorous but carefully choreographed dance moves in the company of male dancers helped to widen the song's popularity.
4: When I Think Of You (1986)
Like all the uptempo songs on Control, "When I Think Of You" boasted a tough archetypal 80s dance beat, but, in essence, the song was much less aggressive than "Nasty," which preceded it as a single. "When I Think Of You" is essentially a euphoric love song based on two alternating piano chords and driven by a mobile bassline. Jackson's vocals, punctuated by blasts of synth brass, are sweet but never cloying. Despite being one of Control's catchiest tunes, it failed to top the US R&B charts, stalling at No.2, but went all the way to the top of the US pop charts, giving Janet Jackson her first crossover No.1.
Janet Jackson - When I Think Of You
3: Let's Wait Awhile (1986)
A beautiful ballad co-written by Janet Jackson with her co-producers Jimmy Jam and Terry Lewis, this song – together with another fine slow jam, "Funny How Time Flies (When You're Having Fun)" – represented an oasis of calm on Control, an otherwise noisy, chest-beating album. After the strident "Nasty," "Let's Wait Awhile"'s serenity comes almost as a relief, putting into sharp relief the demure sweetness of Janet's voice. The fifth single taken from Control, "Let's Wait Awhile," was her fourth US R&B chart-topper and reached No.3 in the UK.
2: What Have You Done For Me Lately (1986)
Janet Jackson's transformation from a demure ingénue into a sassy sex kitten came about through her alliance in Minneapolis with ex-Time members Jimmy "Jam" Harris and Terry Lewis during 1985, when they recorded her third A&M album, Control. This was her debut hit from the album: Jackson's purported response to the break-up of her marriage with James DeBarge. Sonically, it's a throbbing chunk of propulsive techno-funk boasting an infectious chorus and garnished with slivers of jazzy piano. Janet's her debut US R&B chart-topper, "What Have You Done For Me Lately" was also her first hit in the UK, rising to No.3. The Control album went platinum, topping both the US pop and R&B charts.
Janet Jackson - What Have You Done For Me Lately (Official Music Video)
1: That's The Way Love Goes (1993)
Janet Jackson's switch to Virgin, in 1991, lured from A&M by the promise of a $40 million contract, paid instant dividends with this, her debut single for her new label. Topping our list of the best Janet Jackson songs, "That's The Way Love Goes" spent four weeks at the top of the US R&B chart and two months at the top of America's bestselling pop singles chart, the Hot 100. Contrary to what some may have expected given her previous form with banging dance cuts, the song was a soft, mellow ballad distinguished by subtle jazz inflections and a hypnotic groove. It was the first single culled from janet, her third album collaboration with Jam and Lewis. The song also put Jackson back in the UK Top 10 (it peaked at No.2) for the first time since 1987's "Let's Wait Awhile."