Best Bobby Brown Songs: R&B Classics
A master of R&B and pop music, these are undeniable classics.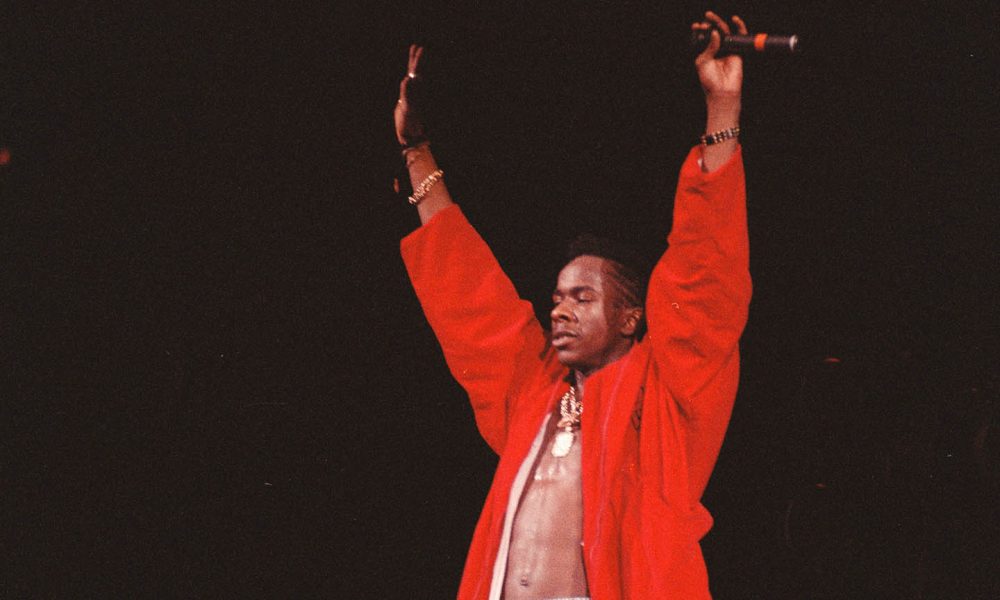 Whether you call him the King of R&B, the King of Stage, or something else entirely, there's no denying Bobby Brown's incredible impact on popular culture. Brown has been an unstoppable force since his early days with the iconic R&B group New Edition in his hometown of Boston during the 1970s. After a successful three-album run with the group, Brown started a solo career in 1985. The ups and downs of his personal life eventually earned him the title "the bad boy of R&B," the music has always been the reason that folks cared. Here are 14 Bobby Brown songs that explain why he's one of the kings of R&B.
Listen to Bobby Brown's best songs on Spotify or Apple Music.
Bobby Brown, The King of New Jack Swing
Bobby Brown's second record Don't Be Cruel is the quintessential New Jack Swing album. The high power production from Babyface and L.A. Reid, coupled with Brown's high energy, produced the best-selling album of 1989. Indeed, from 1989 to 1992, Brown had seven solo Top 10 hits and three Top 10 hits with New Edition. You can hear the influence of Brown's classic New Jack Swing era persona in artists like Usher, Bruno Mars, Ginuwine, and many more. Here are the hits from that period.
Every Little Step
Although Bobby Brown spent most of the Don't Be Cruel era shedding his New Edition bubblegum image, "Every Little Step" is a sweet love song co-written by L.A. Reid. Initially meant for R&B group Midnight Star, Brown fell in love with the demo after hearing it, immediately scooping it up for Don't Be Cruel. The song peaked at No. 3 on the Billboard Hot 100 and earned Brown his first Grammy Award for Best Male R&B Vocal Performance.
Bobby Brown - Every Little Step (Official Music Video)
Roni
Inspired by a young lady Babyface met in Florida while on tour, "Roni" is a fun ballad. The third single from Don't Be Cruel breaks down what it means to be a "tenderoni." What exactly is a Roni? According to the song, she's the "sweetest little girl in the whole wide world, and she'd make the toughest homeboy fall deep in love." The song peaked at No. 3 on the Billboard Hot 100.
My Prerogative
Along with Teddy Riley and Aaron Hall, Bobby Brown wrote this song as a response to the criticism he received following his departure from New Edition. The song was about ignoring the judgment of others. The song ultimately spent 24 weeks on the Hot 100.
Rock Wit'cha
Another ballad, this song is subtle but direct in its message. "How bout a little music now/Let's hear some Marvin Gaye/Ooh, let me rub your shoulders down/Let's take the night away."
Bobby Brown - Rock Wit'cha (Official Music Video)
Don't Be Cruel
The title track from Bobby Brown's best-selling album shows how multitalented the singer really is. He's singing, rapping, and dancing his ass off in the video. The song became Brown's second No. 1 single on the R&B charts.
Something In Common
The first collab between Bobby Brown and Whitney Houston is a perfect mix of the roughness of New Jack Swing with the sweetness of pop, which aptly describes their public personas at the time. Hearing Brown and Houston singing about how much they love each other – despite being opposites – is instant dopamine.
New Edition Classics
New Edtion is where Bobby Brown got his start, and the group has always had a pull on him. Despite leaving to go solo in 1985, Brown has returned for both albums and tours. It's easy to understand why. The group – at its best – had an enormous impact on both R&B and pop music. Almost every boy band that came after them owes them an enormous debt, whether they know it or not. Here are the best New Edition songs featuring Bobby Brown
Candy Girl
New Edition's debut single "Candy Girl" is the perfect teeny-bop song. An inspiration for acts like N'SYNC and Another Bad Creation, it still sounds as fresh as ever.
Hit Me Off
New Edition reunited in 1996 for the Home Again album. "Hit Me Off," the debut single, proved that the group still had it after 20 years in the game. And it only made sense that Bobby Brown would take the first verse. The song went gold in the US and peaked at No. 3 on the Billboard Hot 100.
New Edition - Hit Me Off (Official Video)
Jealous Girl
A young Bobby Brown sings lead on this song about a bitter ex that's envious of his new relationship. The song was the B-side to their Top 50 single, "Popcorn Love," and a cult classic with core New Edition fans.
Mr. Telephone Man
"Mr. Telephone Man" was Bobby Brown's first time singing lead at the age of 15. The song is about heartbroken boys that can't come to grips with a break up delivered via phone. Instead of accepting the end of the relationship, they call the operator and insist there must be something wrong with the connection. The song peaked at No. 12 on the Billboard Hot 100.
New Edition - Mr. Telephone Man (Official Music Video)
Bobby Brown Deep Cuts
Every song can't be a commercial success, but that doesn't mean it isn't good. When you're an artist like Bobby Brown, you're caught between a rock and a hard place. People expect you to stick to the formula that made you a superstar. But they also want you to come with sounding new. While most of these songs are B-side singles, they're often not discussed when it comes to Brown's legacy. They should be.
You Don't Have To Worry
The third single from Home Again was produced by Stevie J, the late Chucky Thompson, and Diddy. Bobby Brown leads the charge on this song about fixing his relationship after messing up big time. His vocals on the song are reminiscent of his Don't Be Cruel days. Missy Elliott appeared on the remix.
Feelin' Inside
Although this single from Bobby Brown's fourth album, Forever, failed to impact the charts, it's a gem. The song is one part old school New Jack Swing mixed with a futuristic jazz sound. Whitney Houston stars in the video.
Two Can Play That Game
Thanks to the K-Klass remix, "Two Can Play That Game" became a hit for Bobby Brown in the UK, but the original version is just as lovely.
Girlfriend
This one goes out to the day one Bobby Brown fans. The debut single from Bobby Brown follows the bubblegum pop and R&B model that helped New Edition rise to the top. The song peaked at No. 57 on the Billboard Hot 100 and No. 1 on Billboard's R&B chart.
Seventeen
Don't let the infectious beat fool you; this song has a message. Bobby Brown sings about a teenager with a bright future who turns to prostitution after becoming a single teen mom. The song's release was timely, as teenage pregnancy was then at an all-time high.
Think we missed one of the best Bobby Brown songs? Let us know in the comments below.