Best New Jack Swing Songs: 40 Party Starting Jams
The best New Jack Swing songs are sonically defined as R&B with production more traditionally associated with hip-hop. But it's also a culture too.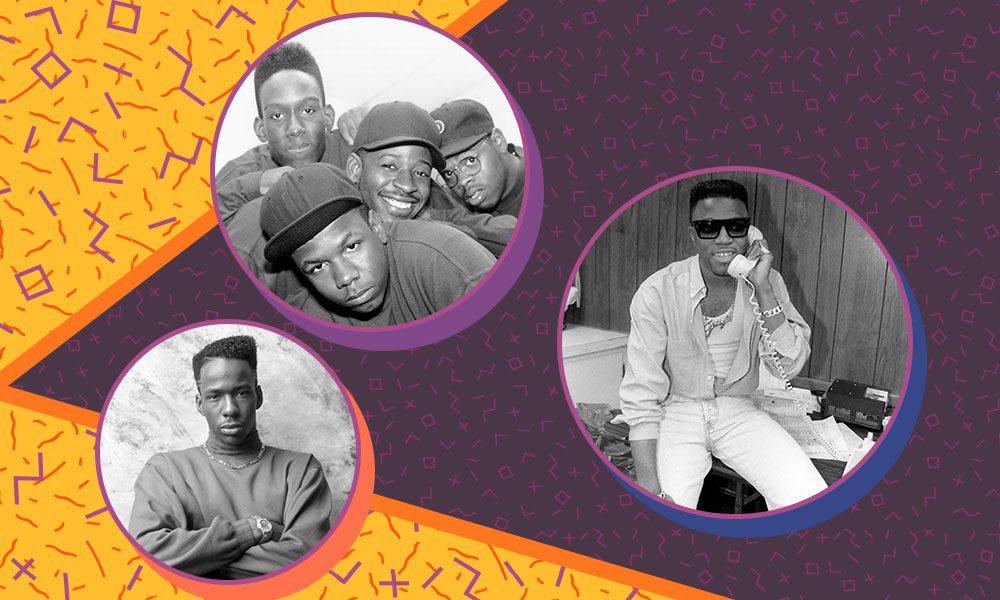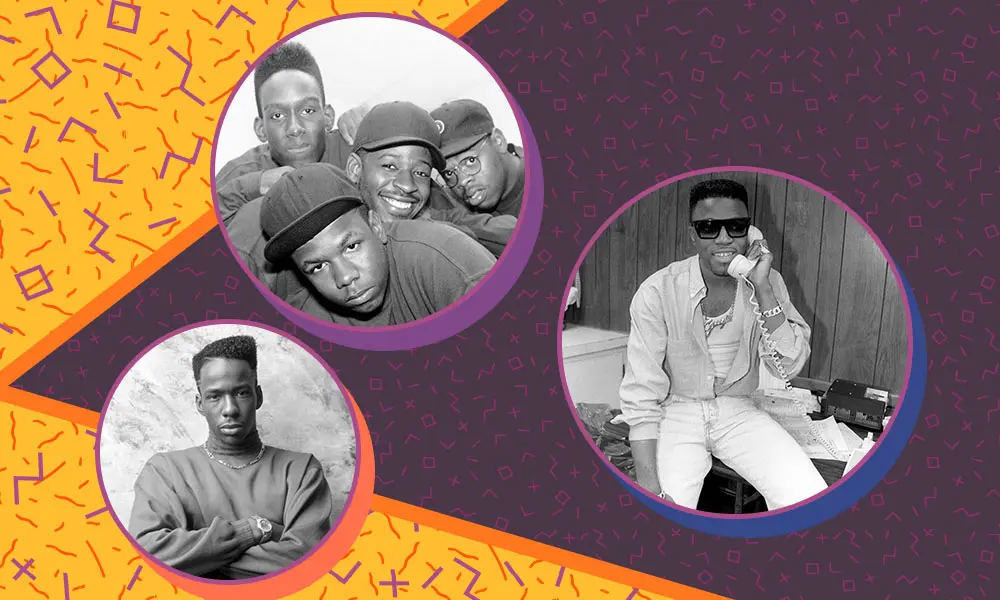 In 1987, writer Barry Michael Cooper went to Harlem's legendary Apollo Theater to interview then-20 year old Teddy Riley about the new R&B sound the young producer had been largely responsible for – a sound which Cooper dubbed, for the purpose of the article – New Jack Swing.
New Jack Swing is sonically defined as R&B with production elements more traditionally associated with hip-hop; tempo and rhythm (the "swing"), programmed drums, and sampling, It was a hybrid that had been bubbling since the mid-'80s, pioneered by the writing and production teams of Jimmy Jam and Terry Lewis and LA Reid and Babyface.
Teddy took the sound and added Harlem's flavor to it: The energy of hustlers, gangsters, fly girls, and those hoping to either be – or be with – any of the above. Uptown was a land of style, flash, shine…and parties. It was aspirational; the source from which Uptown Records founder Andre Harrell coined the term "ghetto fabulous," and the inspiration for the label's ethos. The majority of the earliest artists, producers and figures who shaped New Jack Swing culture, including Riley, Harrell, Keith Sweat, Riley's fellow Guy members Aaron and Damien Hall, Al B. Sure and Heavy D., were all from uptown, and by extension the fashion and energy of from the streets was inseparable from the sound. "For gangsters and their facsimiles," Cooper wrote of Riley in 1987, "here's the new jack talisman, warding off the evil of poverty, failure and longevity…This is about living now, money, and living large."
Celebrate the history of New Jack Swing with our playlist on Spotify.
New Jack Swing quickly expanded beyond music into television, film, and fashion. It also reshaped the music industry; both by creating space for new, young executives with a fresh perspective; and by making hip-hop more accessible to a wider audience, opening the door for rap's increasing mainstream presence.
This list was chosen and ranked based not just on the overall quality of the song, but how impactful the track was to the genre and the culture. It includes foundational tracks from Jimmy Jam and Terry Lewis and LA and Babyface; key Teddy Riley productions; songs from essential New Jack-era movies; and even one hit wonders that simply encapsulate everything that defines New Jack Swing. Enjoy these jams that prompted us to dress in our finest, dance our hardest, and chill the coldest. – Naima Cochrane
40: Teddy Riley & Tammy Lucas – Is It Good to You
Weaponized synth hooks combined with hard-hitting drum machine beats were Teddy Riley's hallmark and he didn't disappoint with the super-funky "Is It Good To You," the keyboardist/producer's collaboration with sweet-voiced Tammy Lucas. The song made No. 50 in the US R&B charts and appeared on the soundtrack to the movie Juice in 1992. – Charles Waring
39: Today – Why You Get Funky on Me
Hailing from New Jersey, Today were a quartet fronted by singer Lee Drakeford and were protégés of Teddy Riley collaborator Gene Griffin, the producer of the group's third Top 10 US R&B hit, "Why You Get Funky On Me." Featured in the 1990 hit movie House Party, starring rappers Kid N' Play, the song exudes a Riley-esque swagger with its seamless fusion of R&B and hip-hop. – Charles Waring
Why You Get Funky On Me (From "House Party" Soundtrack)
38: Color Me Badd – I Wanna Sex You Up
The trend of perfectly curated Black movie soundtracks in the 90s started with New Jack City, written by Barry Michael Cooper, the Village Voice writer who coined "New Jack Swing." One of the standout tracks alongside NJS mainstays like Johnny Gill and Christopher Williams was the playfully risque and immediately catchy debut from R&B group Color Me Badd. "I Wanna Sex You Up" topped the charts in the US, and then spread around the globe, spurring mutliple remixes and solidfying CMB's place in 90s nostalgia annals. – Naima Cochrane
37: LeVert – Casanova
Ohio vocal trio LeVert were already an established soul music act with a No. 1 hit to their name when the New Jack Swing phenomenon sent seismic shockwaves through the R&B world in the late 80s. Quick to adapt, they served up their own take on the swingbeat sound with the contagious "Casanova," which blended silky vocals with a tough beatbox groove, giving the group their second US R&B chart-topper. – Charles Waring
36: The Good Girls – Your Sweetness
Signed to Motown and pitched as a New Jack Swing version of the label's iconic girl group, The Supremes, Los Angeles trio The Good Girls hit the ground running when their catchy debut single "Your Sweetness" stormed into the US R&B Top 10 in 1989. Stylistically, its harmonized vocal hook and chord changes drew inspiration from Teddy Riley's work with Guy. – Charles Waring
35: Chuckii Booker – Turned Away
The godson of soul music giant Barry White, California-born Booker brought a smoother, West Coast sensibility to the swingbeat sound with his chart-topping US R&B single, "Turned Away," in 1989. Taken from the Los Angeles multi-instrumentalist's 1989 debut album, the single – a meditation on romantic rejection – showcased Booker's svelte vocals gliding over glistening keys and a fluid groove. – Charles Waring
34: The Boys – Dial My Heart
When it comes to boy bands, Khiry, Tajh, Hakim, and Bilal Abdulsamad should be the blueprint for every group that came after them. The Boys helped recenter Motown as a prominent trendsetter in R&B thanks to their teenybopper lyrics, oversized suits, and bubbly personalities. Their debut single launched the group to stardom at the time, but "Dial My Heart" is one of those songs that transcends age and genres. – Tatyana Jenene
33: Jeff Redd – You Called and Told Me
When you think of the 1991 film Strictly Business, Jeff Redd's "You Called And Told Me" should be one of the first things that come to mind. This smooth cult classic is for the real R&B heads. – Tatyana Jenene
32: Heavy D and the Boyz – Somebody For Me
A common theme for artists during the New Jack Swing era was the desire to find real love. Heavy D and the Boyz might have been first with the late '80s hit "Somebody For Me." The overweight lover was vulnerable but kept his cool as he tried to find a real one. – Tatyana Jenene
31: Al B. Sure! – Nite and Day
Born Albert Brown III in Boston, Massachusetts, Al B Sure! sang background vocals for Heavy D & the Boyz before debuting with the single, "Nite and Day," in 1988, which topped the US R&B charts for three weeks. The song's gentle blend of angelic vocals and a romantic theme offered a fresh take on New Jack Swing, toning down the style's masculine aggression. – Charles Waring
30: Karyn White – Secret Rendezvous
Karyn White was the quintessential it girl during the 80s and 90s and proved her hit-making abilities with the Top 10 song "Secret Rendezvous." While "Superwoman" may be the beloved ballad, "Secret Rendezvous" is an excellent song perfect for every occasion. – Tatyana Jenene
29: Full Force – Ain't My Type of Hype
B-Fine, Bowlegged Lou, and Paul Anthony might have been banned from Play's get together in House Party, but their song, "Ain't My Type of Hype" became the unofficial theme song of the 1988 film thanks to the iconic dance-off between Tisha Campbell, AJ Johnson, and Kid 'N Play. – Tatyana Jenene
28: Wreckx-N-Effect – New Jack Swing
This hypnotic Top 20 debut single from a Harlem rap trio whose line-up included Teddy Riley's younger brother Markell, saw the group waxing lyrical about the New Jack Swing style, describing it as "dope beat medicine." Propelled by a groove that samples James Brown and Parliament, the song also name-checks other New Jack Swing artists, including Keith Sweat, Al B Sure! and Guy. – Charles Waring
27: Father MC – Treat Them Like They Want To be Treated
Father MC is tired of the dating game and proves that casanovas want love too on "Treat Them Like They Want To Be Treated." With a then-unknown K-Ci and Jojo Hailey on background vocals, the fellas proved that love and affection go both ways while dating. – Tatyana Jenene
26: Janet Jackson – Miss You Much
People don't immediately associate Janet Jackson's name with New Jack Swing, but 1989's Rhythm Nation 1814 was one of the early projects in the genre from Jimmy Jam and Terry Lewis. "Miss You Much," as the album's lead single, served as an answer for fans waiting for another Control, and kicked the Rhythm Nation 1814 era off with a multi-chart No. 1. – Naima Cochrane
25: Whitney Houston – I'm Your Baby Tonight
When Whitney Houston insisted on making an R&B album, Clive Davis called writing and production duo LA Reid and Babyface. They crafted a jam to push the pop star into an edgier, funkier space, but also a more relaxed performance (despite the tongue-tying, rapid speed bridge, which Whitney famously knocked out in one take). "I'm Your Baby Tonight" was Whitney from Newark. – Naima Cochrane
24: Portrait – Here We Go Again! – Radio Edit
Los Angeles quartet Portrait were never able to emulate the success of their playful debut single, "Here We Go Again!," which rose to No. 3 in the US R&B charts in 1992. A self-written tune which highlighted New Jack Swing's meld of hip-hop attitude with R&B slickness, the single blended jazzy chords and harmonies over a handclap-heavy backbeat. – Charles Waring
Here We Go Again! (Radio Edit)
23: Joe Public – Live and Learn
A bona fide four-piece band from Buffalo, New York, Joe Public were the first R&B act to appear on MTV's Unplugged series after breaking into both the US pop and R&B Top 5 in early 1992 with their catchy debut single, "Live & Learn." Written and co-produced by the group, the single welded warm soulful vocals to an irresistible swingbeat rhythm. – Charles Waring
22: Troop – I'm Not Souped
Bristling with indignation at being misunderstood, "I'm Not Soupped" is an angry riposte to a girlfriend who has accused her lover of being conceited. Co-written by Troop's main singer, Steve Russell, with producers Zack Harmon and Christopher Troy who provide a turbo-charged rhythm track, the song raced into the US R&B Top 20 in 1989. – Charles Waring
21: Christopher Williams – I'm Dreamin'
With his rugged but soulful baritone voice, the Bronx-born Christopher Williams (the nephew of jazz singer Ella Fitzgerald) cut a clutch of charting New Jack Swing-flavored singles between 1989 and 1995, the most successful of which was "I'm Dreamin'." With a production sound indebted to Teddy Riley, the song appeared on the soundtrack to the 1991 movie, New Jack City, and climbed to pole position in the US R&B charts the same year. – Charles Waring
20: Aaron Hall – Don't Be Afraid (Juice Soundtrack Edit)
Following his departure from Teddy Riley's group Guy in 1991, gospel-reared singer Aaron Hall bounced back a year later by scoring a US R&B No. 1 with "Don't Be Afraid." Sounding like the Gap Band beefed-up on steroids, this classic swingbeat juggernaut was co-produced by Public Enemy's sonic mastermind Hank Shocklee and taken from the soundtrack to the Omar Epps and Tupac-starring movie, Juice. – Charles Waring
19: En Vogue – Hold On
It's a bold move to open your debut single with an acapella version of "Who's Lovin' You," but it worked for these four funky divas from Oakland. "Hold On" became a refreshingly swanky hit that proved New Jack Swing wasn't just a boy's club. The song merged hip-hop and R&B like a perfect PB&J sandwich. – Tatyana Jenene
18: Another Bad Creation – Playground
If The Boys were New Jack Swing's cookie-cutter boy band, then ABC was the street-smart, G-rated boy band of the era. "Playground" is a song that can go from the kid's party to the nightclub. It's infectious, fun, and full of energy, just like the New Jack Swing era. – Tatyana Jenene
17: Johnny Gill – Rub You The Right Way
Johnny Gill was known mostly for his full, dramatic runs and riffs until he burst onto our TV screens with leather-clad dance combinations for the lead single of his 1990 self-titled solo album. "Rub You the Right Way" is what's scientifically known as "a jam," and the R&B chart topper still inspires Johnny's level of pumping, stepping, and maybe even gyrating when that beat drops. – Naima Cochrane
16: Heavy D and the Boyz – We Got Our Own Thang
Produced by swingbeat wunderkind Teddy Riley and powered by looped beats and James Brown samples, the infectious "We Got Our Own Thang" took the New York rap group led by Jamaican-born Heavy D into the US R&B Top 10. The centerpiece of Big Thyme, the group's chart-topping 1989 album, the single also offered a vivid example of how New Jack Swing forged closer ties between hip-hop and R&B. – Charles Waring
15: Jade – Don't Walk Away
"Don't Walk Away" was a sassy and sweet song with enough bass to blow out the speakers in your Mercedes W126 500. The trio brought the around the way girl next door look to the music video with box braids and crop tops that remain fashion inspirations today. – Tatyana Jenene
14: Ralph Tresvant – Sensitivity
When New Edition went on hiatus to pursue solo (and trio) careers, Tresvant set the bar high with his debut single "Sensitivity." The song stood out from other New Jack Swing songs because it was slower in tempo, but it was still fast enough to let you get your two-step on. Plus, Tresvant delivers four bars of fire during a short rap verse that showed his versatility. – Tatyana Jenene
13: Guy – Teddy's Jam
After tasting chart success producing singer Keith Sweat in 1987, Teddy Riley confirmed his role as New Jack Swing's principal architect with his group Guy, which broke into the US R&B Top 5 a year later with their third single, "Teddy's Jam." Fronted by vocalist Aaron Hall, the tune, with its blend of hip-hop swagger and soulful sophistication, is really a vehicle for Riley's distinctive production sound defined by layered synths, samples, and heavy drum machine beats. – Charles Waring
12: Troop – Spread My Wings
Their name an acronym for Total Respect Of Other People, Pasadena's Troop brought some Californian sunshine to the New Jack Swing aesthetic with 1990's Chuckii Booker written-and-produced "Spread My Wings," a warmly harmonized groove ballad whose theme was searching for true love. Taken from the 1989 album, Attitude, the tune was the first of three US R&B chart-topping singles by the vocally assured quintet. – Charles Waring
11: Michael Jackson – Remember The Time
The King of Pop's 90s update was led by a New Jack-era dream team: maestro Teddy Riley to bring the sound current, Boyz in the Hood director John Singleton for the music video, plus hip-hop dancer and frequent New Jack video choreographer Fatima Robinson for the moves. The end result: an epic culmination of 90s pop culture, with one of the flyest dance breaks in history. – Naima Cochrane
10: Hi-Five – I Like the Way (The Kissing Game)
If you had to pick a song that best describes puppy love, it would be "I Like the Way (The Kissing Game)." The Teddy Riley-penned and produced track walks the fine line of being sweet and cute without being corny. – Tatyana Jenene
09: Boyz II Men – Motownphilly
Under the management of New Edition's Mike Bivins, Boyz II Men came into the game with cardigans, bow ties, and vocals that helped them become one of the most successful groups of the 90s. Their high energy debut single paid homage to their hometown and R&B capital, Philadelphia, as well as the classic Motown sound, all while staying true to the New Jack Swing era thanks to production by Dallas Austin. – Tatyana Jenene
08: Tony! Toni! Tone! – Feels Good
The Oakland trio of Tony! Toni! Tone! proved that New Jack Swing wasn't just an East Coast thing with "Feels Good." The song is a melting pot for music genres with bluesy riffs, a percussion-focused instrumental, and a sample of Lyn Collins' "Think (About It)." If you're not out of your seat dancing to this one, you might want to check your pulse. – Tatyana Jenene
07: Bobby Brown – My Prerogative
The king of R&B, Bobby Brown, could not be contained on or off the stage, which led to his departure from New Edition. As he began to garner the reputation of R&B's bad boy, Brown clapped back at the critics with "My Prerogative." The No. 1 hit solidified Brown's spot as a legend and paved the way for several generations of R&B bad boys. – Tatyana Jenene
06: New Edition – If It Isn't Love
With the Bubblegum Pop hits like "Candy Girl" and "Mr. Telephone Man" in their rearview, New Edition reintroduced themselves to the world as men with 1988's "If It isn't Love." The Jimmy Jam and Terry Lewis-penned/produced hit brought New Edition back to the limelight and ushered in a new adult sound for the group. – Tatyana Jenene
05: Keith Sweat – I Want Her
"I Want Her," Keith Sweat's ode to the beauties men fall in love with from across the club, was not only the first hit New Jack Swing single, but became the top R&B song of 1988 – a year following its release. The track, created in Teddy Riley's St. Nick projects apartment, kicked off a string of hits, driving 1987's Make It Last Forever to multi-platinum sales. That gave Riley a stamp of legitimacy as a producer outside of New York, and put New Jack Swing on the map, officially. – Naima Cochrane
04: Bell Biv DeVoe – Poison
Ricky, Mike, and Ronnie didn't have the solo interests of fellow New Edition members Bobby, Ralph, and Johnny, freeing them to take risks, but when "Poison" was first released, it performed moderately – until the video dropped. The dark, slick but gritty "Poison" clip gave a much needed illustration of BBD's "mentally hip-hop, smoothed out on the R&B tip with a pop feel appeal to it" vision. Most importantly, the caution to "never trust a big butt and a smile," remains sound advice, decades later. – Naima Cochrane
03: Johnny Kemp – Just Got Paid
This Thank-God-it's-Friday anthem is one of several Teddy Riley projects in 1987 and 1988 that set the stage for New Jack Swing to shift from a new sound in R&B to a full-on cultural movement. Johnny Kemp originally wrote the song for Keith Sweat, but instead the track launched his 1988 album Secret of Flying. "Just Got Paid" is infused – as all early New Jack Swing is – with a distinctively Harlem energy and ethos: if you have your money right and your style tight, the world is yours. – Naima Cochrane
02: Bobby Brown – Don't Be Cruel
Bobby Brown's seminal LP is one of the first full New Jack Swing albums, and while many consider the Riley-produced "My Prerogative" the definitive album track, the LA Reid and Babyface-helmed title track and opener is a 6:48 masterpiece. "Don't Be Cruel" creates a perfect balance of smooth Bobby, full-power Bobby, even rapping Bobby, and perhaps the most important side of Bobby Brown: the "King of Stage." The once-nicknamed "Bad Boy of R&B" had too much swagger and braggadocio for traditional R&B, and "Don't Be Cruel" set the tone for Bobby Brown to stretch his star power to multi-platinum success. – Naima Cochrane
01: Guy – Groove Me
If you want to explain New Jack Swing to new listeners in one track, point them to "Groove Me." The second single from Guy's self-titled debut, "Groove Me" is a sonic representation of the hip-hop and R&B hybrid genre finding its…well, groove. But more importantly, "Groove Me" is the energy of New Jack Swing – it's a party. Teddy's New Jack Swing sound was cultivated in Harlem's St. Nicholas projects and could be heard in cars cruising through the Harlem streets and nightspots before the world at large caught on. It channeled the lifestyle of the uptown NYC streets. The "Groove Me" video drives this home, with early Dapper Dan fashions, uptown dance crews, and the celebratory energy that dominated dancefloors of the era. – Naima Cochrane
Groove Me (Extended Version)
Best New Jack Swing Songs: The Slow Jams
New Jack Swing is, by definition, a subgenre of tempo and rhythm. But the New Jack Swing era also produced some of modern R&B's most enduring ballads. Those who spent their formative years during New Jack Swing's peak had no shortage of slower gems for mixtapes, lyrics for passed notes, music beds for school dances, and material to impress your crush at talent shows. In celebration of the days when we called in radio dedications and left songs on answering machines, here are just five of the best New Jack Slow Jams. – Naima Cochrane
Keith Sweat and Jacci Mcghee – Make It Last Forever
"Make it Last Forever" is a contender for greatest R&B duet of all time, a late 80s and early 90s first dance classic, and (still) a karaoke favorite. Though Sweat's catalogue is deep with ballads, credit for this song's staying power belongs to Jacci McGhee and her incredible ad libs. – Naima Cochrane
Bobby Brown – Roni
We all know the truth about a 'roni, and we'll likely sing it at the top of our lungs if given a chance. The Bad Boy of R&B's ode to tenderonis is a classic sweetheart anthem. – Naima Cochrane
Guy – Goodbye Love
This is another candidate for the greatest R&B duet of all time. Aaron Hall and Tammy Lucas sell the sad longing of accepting that a relationship is over even while there's still love there – and they're beautifully dramatic about it. Perfect for the hyper-dramatic breakups of adolescence. – Naima Cochrane
New Edition- Can You Stand the Rain
There's a reason Boyz II Men chose this song when auditioning for Mike Bivens. We sang it from the bottom of our hearts in school too. The sing-along options are plentiful (which is part of what we love about New Edition). So whether you chose to be Johnny on the verse, Ralph on the pre-chorus, Ricky on the adlibs, or Mike on the "let's go get wet," chances are you've had a full "Can You Stand the Rain" moment of your own. – Naima Cochrane
Troop – All I Do Is Think of You
Even people who weren't born at the time this song was released know the intro chords and opening "Nayhooooooo" of this Jackson 5 remake. Troop's rendition of "All I Do Is Think Of You" invites instant nostalgia. Of butterflies. Of daydreams. Of the simple, uncomplicated days of "Do you like me? Check Yes. No. Maybe." – Naima Cochrane
Celebrate the history of New Jack Swing with our playlist on Spotify.