Leaders In The Mix: Pioneering Female Music Producers To Know
Though small in number, these pioneering female music producers have made their mark in the industry, from Sylvia Moy to Linda Perry.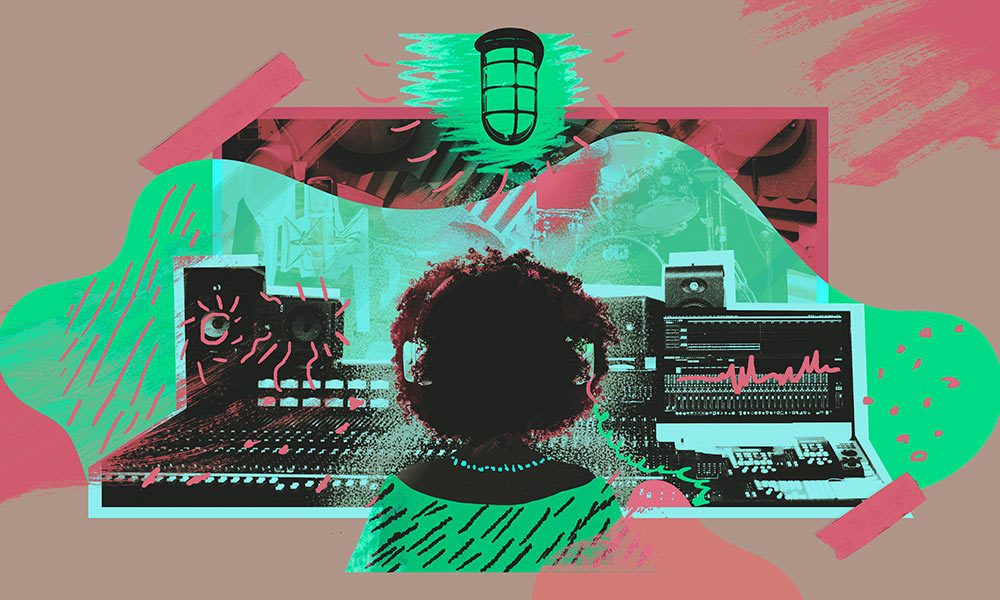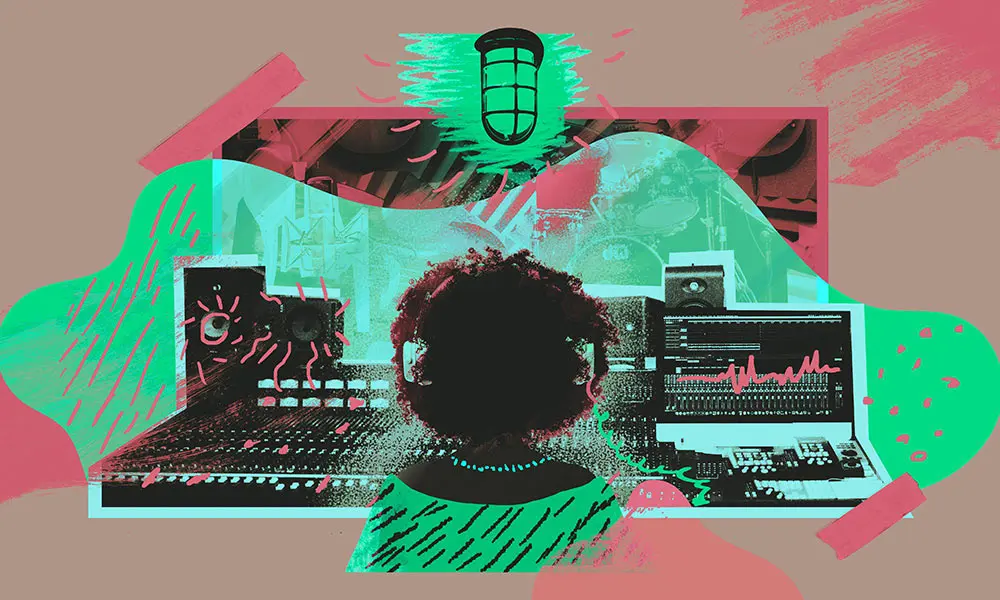 In a visual sense, women have made significant inroads in the music industry as headlining performers, but off stage, the rest of the industry remains a predominantly male-dominated space. A recent study compiled by USC's Annenberg Inclusion Initiative – which assesses gender, race, and ethnicity for artists, songwriters, and producers appearing on the Billboard Hot 100 Year-End Chart – found that women represented only 2.6 percent of producers between the years 2012 and 2020. In 2020 alone, that figure stood at 2 percent.
While some artists found success producing for themselves (Missy Elliot, Lorde, and Lady Gaga to name a few) this list celebrates the female music producers who focused their efforts behind the boards. Figures such as Sylvia Robinson and Sylvia Moy were the driving forces behind some of the most powerful and groundbreaking pieces in music history.
Delia Derbyshire
The Doctor Who theme is one of the most recognizable songs in TV history, but how many fans know the woman behind it? English musician and composer Delia Derbyshire was tasked with composing the electronic realization of a score by Ron Grainer for the opening theme of the original sci-fi series back in 1963, but it wouldn't be until 2013 that her role was widely recognized.
Derbyshire's fascination with creating sound with everyday objects compelled her to pursue a career in music, first in Decca Records' recording studio and then fortuitously at the BBC Radiophonic Workshop. It was there that she and her team crafted all of the famous BBC background music and side effects, helping to lay the foundation of much of the sound design that's heard of TV and radio today.
Often credited as the "unsung heroine of British electronic music," Delia would become a presence in the London art scene of the 60s, releasing sound collages and joining the experimental electronic cult group White Noise.
To musicians such as Aphex Twin, The Chemical Brothers, and Orbital, her influence compelled them to push the barriers of what sound can be and where it could come from, altering the landscape of electronic music.
Creating the Theme | Radiophonic Workshop | Doctor Who
Sylvia Robinson
The "mother of hip hop" needs no other introduction. Sylvia Robinson founded her label Sugar Hill Records in 1979 with her husband Joe and during her tenure as CEO, Robinson produced some of the greatest contributions to hip-hop including the Sugar Hill Gang's "Rapper's Delight" and Grandmaster Flash and The Furious Five's "The Message."
Robinson's influence is immeasurable and if not for her insistence that Grandmaster Flash and The Furious Five went ahead with "The Message," it's unlikely that the world would have heard such an important piece of socio-political music. Her intuition served her well and the track currently stands as the first rap song to be added to the Library of Congress's National Recording Registry.
Her mantra, "Don't copy things that are out there…come up with something new, something different," is something we should all live by.
Grandmaster Flash & The Furious Five - The Message (Official Video)
Suzanne Ciani
America's first female synth hero, Suzanne Ciani was one of the few female figures to spearhead the electronic music innovation of the 70s. Armed with her weapon of choice, the Buchla synthesizer, Ciana made the rounds at various labels, but they didn't know what to make of a female artist who didn't sing or play a traditional instrument.
She found a more receptive audience (and lucrative career) in advertising, creating sounds for TV commercials. Ciani started her own jingle company and was behind the iconic Coca-Cola "pop and pour" sound effect before eventually returning to music. This move proved to be the right one for Ciani, who became the first female solo composer of a Hollywood film when she scored the Lily Tomlin film, The Incredible Shrinking Woman.
As a solo artist, Ciani would become a pioneer of the new age music in the 80s, releasing over 20 albums including Seven Waves, and The Velocity of Love, along with LIVE Quadraphonic, which showcased her Buchla modular performances.
Ethel Gabriel
Ethel Gabriel was one of the most prolific music industry professionals that most people have never heard of. As one of the first female music producers and A&R executives, Gabriel had a hand in producing over 2,500 records (either original recordings or repackaged) throughout the course of her impressive career.
As an A&R producer, Gabriel not only selected the songs, arrangers, and supporting musicians, but she also supervised the recording sessions. Working with the likes of Elvis Presley, Chet Atkins, Pérez Prado, and Roger Whitaker, Gabriel produced six Grammy-winning albums (including Tommy Dorsey / Frank Sinatra The Complete Sessions) during her four-decade-long tenure at RCA Records.
She started as a record tester during college before working her way into producing, A&R and finally became vice president before she left the label in 1984. In 1959, she made history by becoming the first female music producer to receive an RIAA Gold Record. Then in 1997, Women in Music Inc awarded her with the title of First A&R Producer in the Industry for making a difference to the landscape of music.
Love Theme From "Romeo And Juliet" (1988 Remastered)
Sylvia Moy
The world has Sylvia Moy to thank not only the doors she opened for women in the industry as the first female producer at Motown, but also for helping Stevie Wonder get his foot in the door at the historic label. After Wonder's voice began to break when he hit puberty, Moy made a deal with Berry Gordy Jr. to keep Wonder on if she could write him a hit song. In 1965, Moy co-wrote Wonder's hit "Uptight (Everything's Alright)" with Henry Cosby. Not only did she win the bet, but Moy had secured Wonder's place at the label and earned a trusted spot on the creative team at Motown.
In addition to producing and writing for a whole host of musicians such as Marvin Gaye and Michael Jackson, Moy went on to write and/or produce tracks for Wonder, such as "My Cherie Amour," "I Was Made To Love Her," and "Never Had A Dream Come True," alongside Cosby.
During her groundbreaking work at Motown, Moy also decided to give back to the community and set up the nonprofit group, Center For Creative Communications, which was a studio and creative space for underprivileged children in Detroit. In 2006, Moy, alongside Cosby, was inducted into the Songwriters Hall of Fame.
Uptight (Everything's Alright)
Cordell Jackson
No list of groundbreaking female producers would be complete without the inclusion of rock'n'roll pioneer Cordell Jackson. Rocking out in her signature ball gown, the rockabilly guitarist could outplay the best of them, but her influential role in the music industry is less well known. Her legacy is that of patience and persistence.
After initially being barred from joining the Sun Records' stable of male artists, she was encouraged by RCA Records' Chet Atkins to start her own record label and that's exactly what she did. Setting up Moon Records in 1956, Jackson never looked back. The move established Jackson as the first woman to produce, engineer, arrange and promote her own music under her own label and Moon Records went on to be the oldest continuously operating label in Memphis at the time of her death in 2004.
Sylvia Massy
Like many of her peers, Sylvia Massy also had a circuitous route to the producing booth, where she would become one of the few female music producers in rock and metal. Massy started out playing in punk and ska bands in the Bay Area before she made the switch behind the boards.
After moving to LA in the 80s, Massy cut her teeth as an engineer at Larrabee Sound, working with the likes of Prince and Rick Rubin, but her big break came after producing comedy-rockers Green Jellÿ's debut album. From there, she linked up with the drummer's other band, Tool, and helmed their 1993 double platinum album Undertow.
Since then, she's amassed a wildly impressive number of credits to her name, producing everyone from Red Hot Chili Peppers, Sevendust, Powerman 5000, and Thunderpussy. Massy continues to work as an independent producer, educator, and music promoter from her storied RadioStar Studios in Oregon.
Thunderpussy - Speed Queen
Linda Perry
The multi-platinum record producer began her career as the lead singer and songwriter for the band Non 4 Blondes, best remembered for their smash hit "What's Going On." Turning her hand to producing, Perry quickly established herself as an in-demand producer, crafting the pop sound of the early aughts that would come to define the decade. Her knack for translating personal experiences in expert popcraft has been key to many pop star's second acts such as Gwen Stefani, Christina Aguilera, and Pink.
After producing Pink's immensely successful Missundaztood album, Perry went on to produce "Beautiful" by Christina Aguilera and Gwen Stefani's "What You Waiting For?" Since then, her career has seen her work with the likes of Britney Spears, Alicia Keys, and Adele. More recently in 2019, she made history as the first woman to be nominated (on her own) for the Non-Classical Producer of the Year Grammy since 1999, for her work on the soundtrack to the documentary Served Like a Girl about female veterans. No woman has won the award to this date.
Gwen Stefani - What You Waiting For? (Clean Version) (Official Music Video)
Sonia Pottinger
In the competitive world of reggae producing, Sonia Pottinger managed to carve out a space for herself and others as the first female music producer in Jamaica. While her entry in the business was working with her husband who recorded the Maytals, Derrick Harriott, and Lord Tanamo, after they separated, Pottinger set up her own shop and built a studio and pressing plant.
In 1965, she launched her career as a record producer with the single "Every Night" by the duo Joe White & Chuck Joseph's, and later launched her own labels: Gay Feet, Excel, Pep, High Note, and the Glory imprint for gospel titles. From rocksteady to roots reggae, Pottinger had her finger on the pulse, producing hits for The Ethiopians to the Hippy Boys and most notably, Culture's 1978 album, Harder Than The Rest.
During her career, she was also one of the few producers at the time who helped put female talent center stage, from Judy Mowatt and Lorna Bennett to Phyllis Dillon and Carlene David. With a sharp ear for talent and an eye for business, Pottinger remains a greatly respected figure in the industry even after her passing in 2010.
Behold (2000 Digital Remaster)
Susan Rogers
While she's best known as Prince's longtime engineer, Susan Rogers had an unorthodox path to the studio. She dropped out of high school and taught herself how to be a sound engineer and audio technician. By her early 20s, she was working with Crosby, Stills and Nash before hooking up with Prince during his reign over the 80s. Understanding the power of legacy, Rogers also set in motion the framework for Prince's now-famous vault by beginning the process of collecting and cataloging studio and live recordings.
As a producer, she helmed hits for a diverse set of artists, from Laurie Anderson and David Byrne, Selena to Barenaked Ladies' smash hit album Stunt, before turning her attention to academics. Today, Rogers works as an associate professor at Berklee College of Music, lending her expertise to the Music Production, Engineering, and Liberal Arts departments.