Robert Johnson: The Life And Legacy Of The Blues Giant
Robert Johnson influenced everyone from Muddy Waters to The Rolling Stones, and shaped the future of rock'n'roll. We celebrate his life and legacy.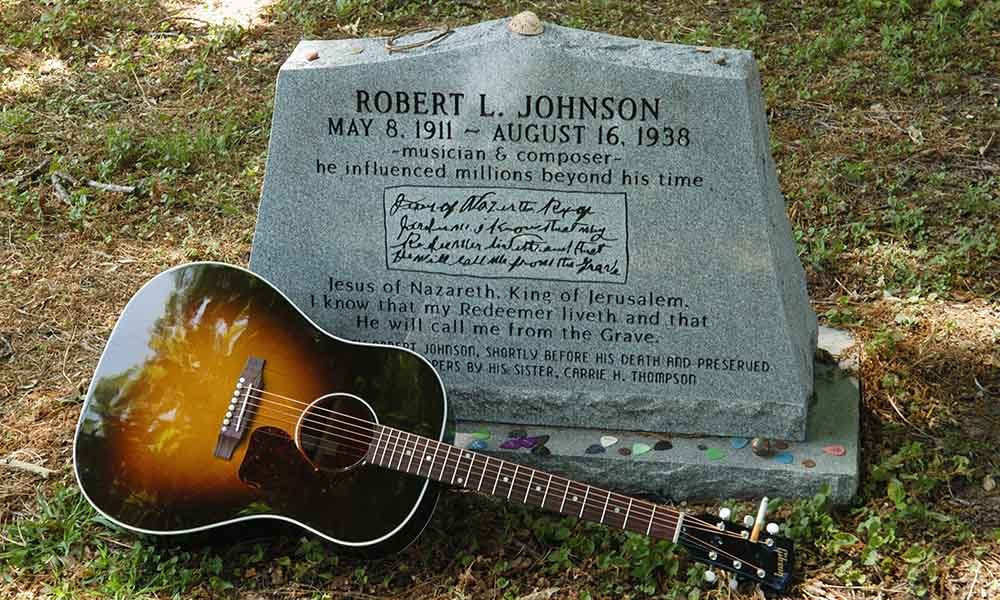 One of the first inductees into the Rock and Roll Hall of Fame, Robert Johnson (1911-1938) was a legendary blues musician, whose influence spanned multiple generations and genres. A brilliant guitarist and masterful storyteller, Johnson's songs – and the intrigue surrounding his short life and death – have made for a unique legacy in musical history. Below, we're attempting to answer a few key questions about Robert Johnson's life to give you an understanding of what made him so important.
What was Robert Johnson's early life like?
When Robert Leroy Johnson was born in Hazlehurst, Mississippi on or around May 8, 1911, his life was already atypical. His mother, Julia Dodds, had birthed ten children ahead of him – all with her sharecropper husband, Charles. But Robert was born out of wedlock; fathered by a plantation worker named Noah Johnson.
Ahead of Johnson's birth, Charles Dodds was forced to relocate to Memphis and change his name, after being chased out of town by prominent, white landowners. When Johnson was just three or four, he joined Dodds (now Spencer) in Tennessee. In the city, the young boy's world opened up. He attended school and discovered popular music, while his older brother taught him how to play the guitar. After several years, he returned to the Mississippi Delta, where he joined his mother and her new husband, Dusty Willis. But Johnson had already been bitten by the music bug, and was much more interested in his craft than working the fields.
At 19, Johnson married Virginia Travis. Sadly, just one year later, Travis died during childbirth. Not long after, in 1931, Robert married his second wife, Colleta Craft. Sadly, she too would pass away within a few years.
How did he establish himself as a musician?
After his foundational years in Memphis, Johnson continued to practice the guitar, while classmates remembered him playing the jaw harp and the harmonica in school.
One of the earliest accounts of Johnson as a musician comes from Delta blues pioneer Son House, who first encountered the young artist around 1930 in Robinsonville, Mississippi. House recalled that Johnson "blew a harmonica and he was pretty good with that, but he wanted to play guitar." Johnson's guitar skills, according to House, were less than stellar. In fact, the elder musician referred to his attempts as "such a racket you'd never heard!… 'Get that guitar away from that boy,' people would say, 'he's running people crazy with it.'"
Just two years later, when Johnson returned from his travels across the Delta, he played once again for Son and fellow musician Willie Brown. This time, however, they were staggered by his improvement. "He was so good," marveled House. "When he finished, all our mouths were standing open."
Johnson soon ventured beyond the Delta region, performing across the South, as well as in such blues hotspots as Chicago, New York, Detroit, and St. Louis. As legend has it, the artist often concentrated his performance on just one woman in the audience; a risky business in a world where men were happy to fight when they felt aggrieved.
The artist often toured with fellow bluesman Johnny Shines, who later recalled that Johnson was always neat and tidy, despite days spent traveling dusty Delta highways. Shines also shared that Johnson was just as likely to perform other people's songs, as well as his own growing repertoire. On any given night, his set might have included material from Bing Crosby, Blind Willie McTell, Lonnie Johnson, or Jimmie Rodgers. Like many of his peers, Johnson performed songs that his audience requested; songs that earned him money.
What were his notable recordings?
Around 1936, Johnson paid a visit to H.C. Speir, a record shop owner and talent scout in Jackson, Mississippi. Like many of his contemporaries, Johnson wished to put his music on tape. Speir connected the artist with ARC records and producer Don Law, who would go on to oversee Columbia Records' Country Music division and work with the likes of Johnny Cash, Jimmy Dean, and Ray Price.
On November 23, 1936, Johnson traveled to San Antonio, TX to record the first of his 29 sides with Law. The artist was allegedly paid around $100.00 for several days of work. The following June, he returned to Texas, this time working with Law at a studio in Dallas.
These sessions – taking place over a total of five days – produced Robert Johnson's entire catalog of recordings, nearly all of which have become standards in the blues canon. While 12 double-sided singles were released between 1937-1939, a larger collection of alternate takes would be unearthed long after Johnson's death.
Johnson's first 78 record ("Terraplane Blues" coupled with "Kind Hearted Woman Blues") was a moderate, regional hit, and proved to be the most commercially successful release of his lifetime. Other highlights include "Love in Vain" (later adapted by The Rolling Stones), the oft-covered "32-20 Blues," and "I'll Believe I'll Dust My Broom," which Elmore James famously recorded in 1951. James' version was inducted into the Blues Hall of Fame, the Grammy Hall of Fame, and the Library of Congress' National Recording Registry.
Love In Vain (Remastered 2019)
"Sweet Home Chicago" became another favorite of Johnson's, while his powerful performances of "Come on in My Kitchen" and "Hell Hound on My Trail" have long been admired by musicians and historians alike. "Cross Road Blues" would also be covered by Elmore James, and later, by Eric Clapton and Cream. Clapton's first vocal recording, meanwhile, was a cover of Johnson's "Ramblin' On My Mind," and appeared on John Mayall & the Bluesbreakers' 1966 LP, Blues Breakers with Eric Clapton.
As was the tradition in blues music, many of Johnson's compositions borrowed elements from other artists' songs. His singular talents, however, are what made these recordings so remarkable. Johnson's vocal delivery was complex and highly emotive, thanks in part to his subtle, yet effective, pitch inflections (known as microtonality). He was also admired by future generations of singer-songwriters for his deft lyricism. In Bob Dylan's Chronicles: Volume One, the folk legend wrote that Johnson's tunes "weren't customary blues songs. They were so utterly fluid. At first they went by quick, too quick to even get. They jumped all over the place in range and subject matter, short punchy verses that resulted in some panoramic story-fires of mankind blasting off the surface of this spinning piece of plastic."
Why was Robert Johnson's guitar technique so revolutionary?
The final element that made Johnson's recordings so unique was his extraordinary guitar technique. The artist, who was often associated with Gibson guitars, used his instrument like a second voice. His eclectic style offered a full sound – one which prompted Rolling Stones guitarist Keith Richards to declare, "Robert Johnson was like an orchestra all by himself." While the source of Johnson's dexterity was shrouded in mystery (and was a significant part of his legend), he has long been considered to be one of history's greatest guitarists.
What is the mystery surrounding his death?
After his final recording session in 1937, Johnson performed around Texas, accompanied by Johnny Shines. They played informal "juke joints," parties, and dances, just as they had always done, before heading back to Mississippi. Details of the rest of this year are slim, although it is known that Robert spent some time in Memphis and Helena, Arkansas.
What is known is that Robert died near Greenwood, MS on August 16, 1938. He was 27 years old. His death remained unreported for 30 years, and, without a formal autopsy, the public has been left to speculate on the cause of his death, adding to the lore that surrounds Johnson.
Through a variety of accounts, including those by fellow blues artists David "Honeyboy" Edwards and Sonny Boy Williamson, we know that Johnson spent the last weeks of his life playing regularly at a juke joint attached to The Three Forks Store, just outside of Greenwood. In one version of the story, Johnson flirted with a woman at the party (possibly the wife of the store's owner) and was poisoned by her jealous husband. He became so sick that he had to be taken into Greenwood, where he perished.
In 1968, Mississippi journalist Gayle Dean Wardlow sought to find out the truth about Johnson's final days. In addition to unearthing his death certificate, Wardlow discovered that the artist may have been born with congenital syphilis. According to a doctor, it is possible that he had an aneurysm caused by syphilis and his love of drinking moonshine. In a more recent account, published in 2006 in the British Medical Journal, Dr. David Connell argues that, based on Johnson's appearance in photos, the artist may have suffered from Marfan Syndrome. The genetic disorder, which affects the body's connective tissue, could have contributed to Johnson's early death.
Johnson's final resting spot is also just as confusing as his death. Today, three headstones around Greenwood pay tribute to the bluesman. In 1990, Columbia Records erected a monument at the Mount Zion Missionary Baptist Church, where the artist was long believed to be buried in an unmarked grave. That same year, an Atlanta band (aptly named The Tombstones) had a smaller marker placed at the Payne Chapel in Quito, Mississippi, where it was also alleged that Johnson was laid to rest. In 2000, an 85-year-old woman named Rosie Eksridge claimed that her husband had helped bury Johnson under a pecan tree at a church north of Greenwood, where a third headstone now sits.
What's the deal with Robert Johnson and the Devil?
Of all the myths surrounding Johnson's life, the most famous one is a claim that the artist sold his soul to the Devil in order to become a famous blues artist.
Residents of the Mississippi Delta roll their eyes when blues enthusiasts ask about the crossroads where Johnson supposedly met the Devil. Those in the know do not bother asking; they simply visit the junction of Highway 61 and Highway 49 and take a photo.
But that modern-day spot where the two highways meet is at least half a mile from the one that would have existed in Johnson's lifetime. So, in fact, there are no actual crossroads.
In "Cross Road Blues," Johnson sings an age-old tale about a man's choice between good and evil: "I went to the crossroad, fell down on my knees/Asked the Lord above 'Have mercy, now save poor Bob, if you please.'
There is a longstanding Delta legend of a bluesman who waited by the side of a deserted crossroads one night for Satan to come and tune his guitar. It's a story made more relevant when coupled with Johnson's frequent references to the Devil, including in the song "Me And The Devil Blues," in which he sings, "Me and the Devil, was walkin' side by side." Other songs like "Preachin' Blues (Up Jumped The Devil)" and "Hell Hound on My Trail" help mythologize the artist's supposed deal with Satan.
But Johnson certainly was not the only blues artist who sang about the Devil. Skip James, Tampa Red, Lonnie Johnson, Joe Williams, and Peetie Wheatstraw, to name a few, all sang of Satan – the latter artist even nicknamed himself "The Devil's Son-in-Law" after one of his 1931 recordings.
While Johnson's incredible improvements on the guitar, as detailed by Son House, were certainly miraculous, a 2008 story in Living Blues Magazine offers a more viable explanation. In that two-year period, when Johnson first travelled the Delta, he met guitarist Ike Zimmerman, who took the young artist under his tutelage. According to blues scholar Bruce Conforth, Johnson spent the better part of a year living with Zimmerman, and studying his craft.
How has Robert Johnson's music impacted modern music, who did he influence, and what is his legacy?
In 1961, Columbia released King of the Delta Blues Singers, a compilation of Johnson's music. The album made its way into the hands of American folk artists, including Bob Dylan, and soon became an immensely popular title among artists in Britain's emerging rock scene, inspiring the likes of Fleetwood Mac, The Rolling Stones, and Led Zeppelin. Countless artists (including almost everyone mentioned in this story) have covered Johnson's songs, while many of rock's greatest guitarists, including Clapton and Jimi Hendrix, have cited Johnson as an influence. Johnson's work also helped usher in the electrified, mid-century style of Chicago blues, played by the likes of Muddy Waters, Willie Dixon, and Chuck Berry.
Johnson's legacy and his immense contributions to popular music have been recognized by a broad range of institutions, including the Rock and Roll Hall of Fame, the US Postal Service, the Library of Congress, and the Recording Academy, which bestowed a posthumous Grammy Lifetime Achievement Award upon Johnson in 2006.
Listen to how Robert Johnson inspired every musical icon on this legacy playlist.