Best Breakup Albums: 46 Records To Heal Broken Hearts
The best break-up albums channel personal pain into universally affecting works of art with an overriding message: you are not alone.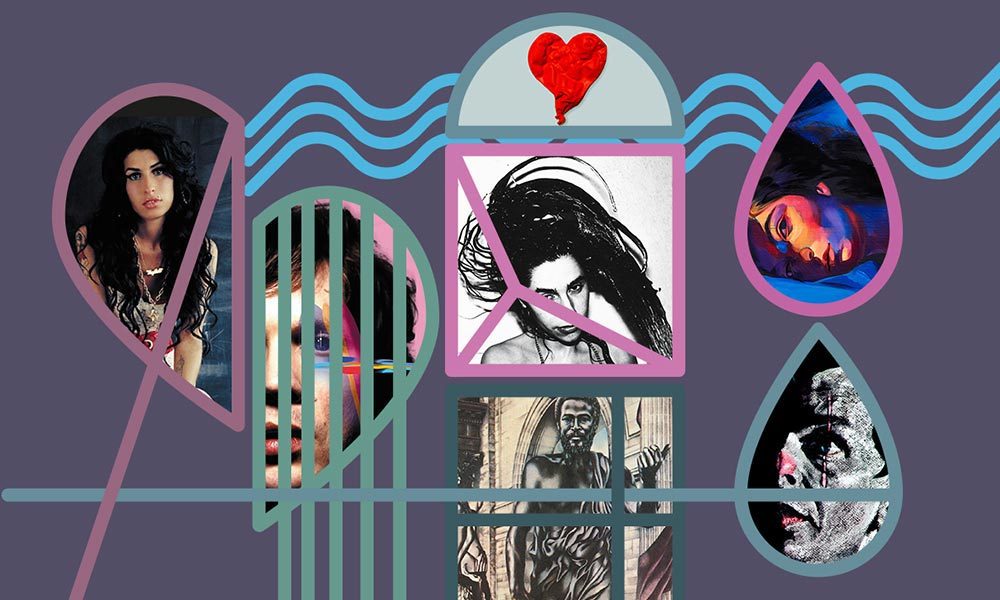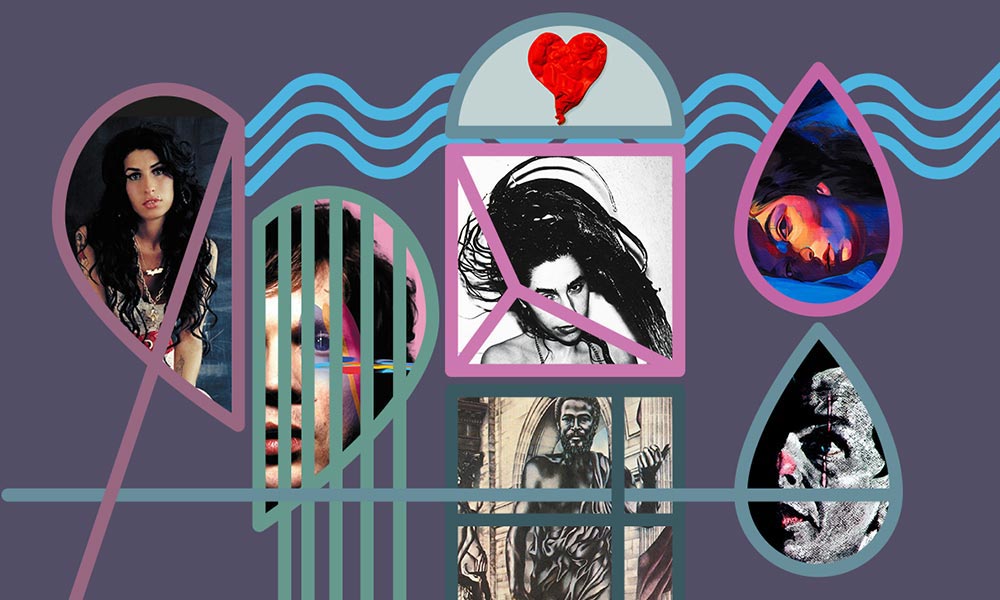 Spare a thought for those who are alone on Valentine's Day, contemplating a microwave meal for one. Of course, some people are single by choice, but others have been brutally thrust into a solitary life by a lover's callous betrayal. As many a musician can attest, however, there's nothing like being dumped to focus the mind – and the best breakup albums can channel that personal pain into creating universally affecting works of art.
As well as facilitating mental clarity, heartbreak can bring with it self-pity, jealousy, bitterness, anger, and even a desire for revenge. As damaging as those emotions can be, they are all grist to the mill for people of a creative bent. Where would popular music be without the psychological pain and suffering that has both tormented and inspired its creators? If love and life were always trouble-free and blissful, we would not have three of the most potent autobiographical albums birthed by the trauma of love gone bad: Amy Winehouse's Back To Black, Bob Dylan's Blood On The Tracks, and Marvin Gaye's Here, My Dear.
Those, and other entries in this list of the best breakup albums, show how great artists can find catharsis in confronting the forces that seem intent on destroying their lives and taking their sanity. Of course, not all the albums below were forged in a crucible of pain – some are present because the moods they create and the universal truths they offer can help listeners cope with their own emotional crises. Their overriding message is: you are not alone.
While you're reading, listen to our Break-Up Songs playlist here.
46: Kacey Musgraves: Star-Crossed (MCA Nashville/Interscope, 2021)
This album, the fifth of Musgraves' career, marked a stylistic shift from country towards slick mainstream pop thanks to the input of Amy Winehouse producer Mark Ronson, who helped widen the Texas singer-songwriter's sonic palette. Taking its title from Romeo & Juliet, Shakespeare's tragic play about doomed lovers, the album finds Musgraves offering a bleak post-mortem of her short and failed marriage to singer/songwriter Ruston Kelly. Mostly written during the first months of the pandemic after her divorce had been finalized, Star-Crossed attempts to make sense of heartbreak by sifting through the fragments of a broken relationship. It's one of the best breakup albums of the decade so far.
Must hear: "Star-Crossed"
KACEY MUSGRAVES - star-crossed (official lyric video)
45: Adele: 30 (Melted Stone/Columbia, 2021)
Without doubt, the musical event of 2021 was the release of this breakup album, Adele Adkins' keenly anticipated fourth long-player, which crowned the London-born singer/songwriter the undisputed queen of breakup anthems. Inspired by the emotional turmoil brought about by her separation and subsequent divorce from husband Simon Konecki, 30 offers a quintessential example of an artist using songwriting as therapy. As well as exploring themes of loss, Adele also expressed feelings of guilt, telling Vogue she made the record to explain to her nine-year-old son "who I am and why I voluntarily chose to dismantle his entire life in the pursuit of my own happiness." With its raw autobiographical confessionals, 30 takes emotional catharsis to a new level of intensity.
Must hear: "Easy On Me"
44: Carole King: Tapestry (Ode, 1971)
A seminal slice of early 70s singer-songwriter pop, Tapestry was a landmark in the career of the New York pianist and tunesmith born Carol Klein, marking her transformation from a behind-the-scenes songwriter-for-hire into a fully-fledged recording artist. The album focuses on romance in all its many guises, from the first flush of passion ("I Feel The Earth Move") and seemingly unbreakable bonds ("You've Got A Friend") to emotional insecurity ("Will You Still Love Me Tomorrow") and the final throes of a dying love affair ("It's Too Late"). For those who've experienced a breakup, the album Tapestry charts an emotional journey that many can relate to.
Must hear: "It's Too Late"
43: The Cure: Disintegration (Fiction, 1989)
For many of their fans, this pioneering British goth band – who turned gloomy introspection into an art form – delivered their quintessential album in the shape of Disintegration, whose title mirrored lead singer Robert Smith's fragile mental state while writing and recording the album. With its dark, funereal soundscapes, Disintegration can be viewed as the perfect soundtrack for someone who has suffered rejection and a broken heart. Even the album's most upbeat track – the driving "Love Song" – exudes a melancholy that accentuates this breakup album's unremitting sense of doom.
Must hear: "Lullaby"
42: Robyn: Body Talk (Konichiwa/Universal, 2010)
A quirky singer/songwriter from Sweden who possesses the ability to marry groundbreaking sonic innovation with the catchy immediacy of mainstream pop, Robyn produced her magnum opus in the shape of the acclaimed Body Talk, which was initially released in two separate volumes. Though the album focuses on different aspects of romantic relationships, the mournful dance track "Dancing On My Own," purportedly inspired by Robyn's breaking up with her fiancé, is the set's centerpiece, setting the tone for a breakup album defined by bittersweet dance floor anthems that offer defiance in the face of heartbreak and romantic betrayal.
Must hear: "Dancing On My Own"
Robyn - Dancing On My Own (Official Video)
41: Nick Cave and the Bad Seeds: Boatman's Call (Mute, 1997)
The former frontman of the raucous Australian post-punk band the Birthday Party, Cave went on to forge a stellar solo career and created a masterpiece with this, his tenth album leading the Bad Seeds. Coming over like an antipodean Leonard Cohen with his sepulchral voice and poetic lyrics, Cave offered sober cogitations on love and life that supposedly drew on his own romantic relationships, including his brief fling with singer P. J. Harvey. With its haunting vocals and stark arrangements – where a forlorn piano dominates the musical landscape – Boatman's Call captures the bleak essence of a heartrending breakup.
Must hear: "Into My Arms"
40: Blur: 13 (Parlophone, 1999)
After the giddy high that their third album Parklife brought them in 1993, Blur – who along with Oasis drove the 90s Britpop phenomenon – were battling internal strife at the end of the decade. Tensions between band members affected the recording of 13, their sixth and most melancholy long-player; and it didn't help matters that Damon Albarn's romantic relationship with Elastica's Justine Frischmann had crumbled during the making of the album. Albarn's attempts to make sense of heartbreak are found in the song "No Distance To Run," a poignant lament for lost love.
Must hear: "Coffee & TV"
39: Ariana Grande: Thank U, Next (Republic, 2019)
Being the princess of teen pop doesn't mean that you live in a perfect, fairytale world, as Florida-born Grande revealed on her fifth long-player, the multi-platinum Thank U, Next, where her material was inspired by her personal travails; including the tragic death of her ex-boyfriend, rapper Mac Miller, and her highly publicized breakup with fiancée actor/comedian Pete Davidson. Though the music is sugar-coated pop with hip-hop inflections, a bittersweet tinge runs through the set's twelve tunes showing that even superstars aren't immune to love's poison dart.
Must hear: "7 Rings"
Ariana Grande - 7 rings (Official Video)
38: Björk: Vulnicura (One Little Indian, 2015)
The title of this, the Iceland avant-pop queen's eighth album, is a Latin word meaning "cure for wounds." The wounds that Björk referred to were the psychological ones she bore after her relationship with the American contemporary artist and film director Matthew Barney turned sour and brought her heartbreak. Seeking to heal herself by pouring her feelings and thoughts into songwriting, Björk arguably crafted her most intensely cathartic and personal work, framing her otherworldly voice with an innovative blend of symphonic strings and electronic beats.
Must hear: "Atom Dance"
37: Phoebe Bridgers: Punisher (Dead Oceans, 2020)
A Los Angeles indie rocker who battled publicly with her anxiety but found value in therapy, Bridgers' melancholy meditations on isolation, emotional detachment, and fractured romantic relationships reached their apotheosis on her fourth album Punisher. The LP was dedicated to her dog, a pug called Max, who passed away in 2019 and whose death left Bridgers feeling bereft. As a result, a deep sense of melancholy pervades the set's eleven songs, which are knitted into a seamless and cohesive symphony of sadness without descending into mawkish self-pity.
Must hear: "Moon Song"
36: Neil Young: Homegrown (Rhino, 2020)
Recorded between June 1974 and January 75, Homegrown was intended as the Canadian singer/songwriter's follow-up to his On The Beach LP but he decided to shelve it, believing it to be a "very down album." It was also intensely personal; too personal, its creator deemed, to be aired publicly as many of its songs reflected the disintegration of his relationship with actress Carrie Snodgrass. Ranging from pining laments ("Separate Ways") and hopeful pledges of perseverance ("Try") to philosophical musings on romance ("Love Is A Rose"), Young's intimate breakup album was finally released 45 years after its creation to universal acclaim.
Must hear: "Try"
35: ABBA: The Visitors (Polar, 1981)
A sonic milestone in the Swedish band's history because it was one of the first albums to be digitally recorded and released on CD, The Visitors also reflected the group's emotional inner turmoil as their interpersonal relationships began to disintegrate: Björn Ulvaeus and Agnetha Fältskog had divorced two years earlier while Benny Andersson and Anni-Frid Lyngstad were in the process of splitting. It was, then, a breakup album that marked the beginning of ABBA's end and the music's tense but elegiac tone reflects an acknowledgement that the writing was on the wall. Even the set's uptempo songs (like "When All Is Said And Done" and "Head Over Heels") are tinged with a poignant sadness.
Must hear: "One Of Us"
Abba - One Of Us (Official Music Video)
34: Radiohead: A Moon Shaped Pool (XL, 2016)
On the surface, Radiohead's ninth LP, A Moon Shaped Pool, is a protest album, with the band railing at authority ("Burn The Witch"), meditating on climate change and even espousing revolution ("The Numbers") but if you dig deeper, it's also possible to see it as lead singer Thom Yorke's breakup album. Some observers believe that the album's overarching melancholy tone reflects Yorke's mourning the end of his marriage to Rachel Owen, with whom he enjoyed a 25-year relationship. His despair is summed up in the pleading ballad, "True Love Waits," which closes the album on a desperately poignant note.
Must hear: "True Love Waits"
33: Sharon Van Etten: Are We There? (Jagjaguwar, 2014)
Some singers have voices seemingly tailor-made for melancholy, like the New Jersey songstress Sharon Van Etten, whose haunting, siren-like tone captures the gut-wrenching pain that heartbreak and lost love can bring. On this, her fourth album, the singer offers different perspectives on love in the shape of slow-building ruminations whose intensity leaves the listener bruised and battered. Most of them don't depict romance as an exalted state but rather as a destructive disease that brings only pain and suffering; like "Your Love Is Killing Me" with its violent toxicity and the intense desperation of "I Love You But I'm Lost."
Must hear: "Your Love Is Killing Me"
32: The Mountain Goats: Get Lonely (4AD, 2006)
Led by singer/songwriter John Darnielle, this prolific indie folk-rock band from Claremont, California, turned down the volume on their tenth LP, Get Lonely. An introspective opus defined by reflections on coping with broken love ("Get Lonely"), facing loss ("Half Dead"), and being confronted with change ("Woke Up New"), the breakup album addresses heartbreak in a sensitive and emotionally astute way while also employing a self-deprecating humor.
Must hear: "Woke Up New"
31: Leonard Cohen: Songs Of Leonard Cohen (Columbia, 1967)
Nobody does misery like the Canadian folk troubadour Leonard Cohen, the patron saint and poet laureate of the broken-hearted. His debut album is not a breakup album per se but it contains several notable songs mourning lost love, like "So Long, Marianne," a jaunty farewell to his former paramour Marianne Ihlen, and the haunting "Hey, That's No Way To Say Goodbye," inspired by a quarrel with another lover. The overall vibe of the album, darkly downbeat and yet philosophical, makes it a work that many will gravitate to after a painful breakup.
Must hear: "Hey, That's No Way To Say Goodbye"
30: Mavis Staples: Only The Lonely (Volt, 1970)
Her first project away from her family group The Staples Singers was this one, her second solo album recorded for Stax's Volt imprint under the noted R&B producer Don Davis. The album, which failed to attract a big audience on its release and led to Staples putting her solo career on hold for almost a decade, is now rightly considered a classic breakup album. Staples' voice with its volcanic eruptions of raw emotion is a thing of wonder, shining brightly on intense heartbreak ballads like "I Have Learned To Do Without You," "It Makes Me Wanna Cry," and "Endlessly."
Must hear: "I Have Learned To Do Without You"
I Have Learned To Do Without You
29: Alanis Morissette: Jagged Little Pill (Maverick, 1995)
One of the defining albums of the 1990s was this one, which saw this Canadian singer/songwriter's surprising metamorphosis from an innocuous dance-pop ingénue into a pugnacious post-grunge rocker. Jagged Little Pill is a smart, coming-of-age album that's bristling with rage and frustration, especially on the hit single "You Oughta Know," an angry remonstration with an ex-lover. For those who have been hurt by love or are suffering in a dissatisfying relationship, Jagged Little Pill can prove an empowering, vengeful antidote that's able to dispel a self-pitying "woe is me" mindset.
Must hear: "You Oughta Know"
28: Spiritualized: Ladies And Gentlemen We Are Floating In Space (Dedicated, 1997)
This, the third and best-known album by the UK's premier space rockers, came in the wake of their frontman and chief songwriter Jason Pierce breaking up with the band's keyboardist Kate Radley, who went on to secretly marry The Verve's Richard Ashcroft. Pierce poured his grief into distraught tracks like the gloomy ballad "Broken Heart" and the softly pleading "Stay With Me," both epic expressions of love gone bad.
Must hear: "Broken Heart"
27: Frank Sinatra: In The Wee Small Hours (Capitol, 1955)
The Chairman of the Board's third album for Capitol was his first to go gold and perhaps more significantly, helped to establish the 33 1/3 rpm long-playing record as a viable format for artistic expression. It was also highly influential because it was widely regarded as pop's first concept album, knitting together 16 songs to express an overarching theme of loneliness, melancholy and unrequited love. Many believed that the album was a reflection of Sinatra's troubled relationship with movie star Ava Gardner and thanks to Nelson Riddle's sumptuous arrangements, heartbreak never sounded so gloriously beautiful.
Must hear: "In The Wee Small Hours"
In The Wee Small Hours Of The Morning (Remastered 1998)
26: Lorez Alexandria: Sing No Sad Songs For Me (Argo, 1961)
An obscure and largely forgotten jazz singer who deserves wider recognition, Chicago-born Alexandria possessed a caressingly soulful contralto voice that could make any song she sang sound emotionally authentic. This, her second album for Chess Records' Argo imprint, is a melancholy masterpiece whose sentiments should resonate with anyone who's nursed a broken heart. Supported by Riley Hampton's tasteful arrangements, Alexandria conjures a world of pain with songs like "A Loser's Lullaby," "Lonesome Road," and the morbidly suicidal "Gloomy Sunday."
Must hear: "Sing No Sad Songs For Me"
25: Robin Thicke: Paula (Star Trak/Interscope, 2014)
Praised by fans for its unflinching honesty, this concept breakup album was the blue-eyed R&B singer's attempt to offer an apology and woo back his former wife, Paula Patton, after their split. Agonizingly graphic in its detail, Paula isn't an easy listen but offers a compelling portrait of a heartbroken sinner seeking redemption.
Must hear: "Black Tar Cloud"
24: Julie London: Julie Is Her Name (Liberty, 1955)
For those feeling disconsolate after being betrayed in love, this album won't make them feel any better. What it will do, however, is assure them that London, an adept torch-song siren, knows what their pain feels like. The album's pièce de résistance is the opening song, "Cry Me A River": an anthem for the heartbroken, distinguished by a bitter retort.
Must hear: "Cry Me A River"
23: No Doubt: Tragic Kingdom (Trauma/Interscope, 1995)
This, the eclectic California group's Grammy-nominated breakthrough album, enjoyed multi-platinum sales and catapulted them firmly into the pop mainstream. But behind its phenomenal global success there lay a tale of hurt, betrayal, and heartbreak. Several songs – in particular, the chart-topping power ballad "Don't Speak" – documented lead singer Gwen Stefani's split from the band's bassist, Tony Kanal, after he called time on their seven-year relationship.
Must hear: "Don't Speak"
No Doubt - Don't Speak (Official 4K Music Video)
22: Patsy Cline: Showcase (Decca, 1961)
A Virginia-born country singer who conquered the mainstream pop charts in the early 60s, Patsy Cline possessed a beautiful voice whose plangent tone had a natural affinity for communicating heartbreak and sadness. There's plenty of both on Showcase, her second studio album, recorded two years before she died in a plane crash, aged just 30. Showcase contained some of Cline's most famous songs, including "I Fall To Pieces" and an indelible version of Willie Nelson's "Crazy," the latter a lovelorn hymn of loneliness and rejection that should only be listened to if you have a box of tissues to hand.
Must hear: "Crazy"
21: Lorde: Melodrama (Universal, 2017)
After the austere electro minimalism of her 2013 debut album, Pure Heroine, this New Zealand singer-songwriter used a bigger sonic canvas and more expansive production values for Melodrama. The studio gloss couldn't mask the hurt expressed in a collection of songs that chronicled Lorde's feelings about a painful, life-altering breakup with her boyfriend after a three-year relationship.
Must hear: "Hard Feelings"/"Loveless"
Lorde - Hard Feelings / Loveless (Audio)
20: Taylor Swift: Red (Big Machine, 2012)
There's nothing like a broken heart to fan the red-hot flames of creativity while prompting serious self-analysis. On this emotional exposé, country-pop siren Taylor Swift wrote about the toxicity of her past relationships. Though on "I Knew You Were Trouble," "Treacherous," and "We Are Never Getting Back Together," Swift doesn't dilute her sense of anger and bitterness, she shows a more reflective side on the plaintive "Sad Beautiful Tragic."
Must hear: "Sad Beautiful Tragic"
19: Nas: Life Is Good (Def Jam, 2012)
An MC renowned for his braggadocio and his weaponization of language, Nas revealed his rarely-seen vulnerable side on Life Is Good. This breakup album documented his divorce from singer Kelis, whose wedding dress is draped over the rapper's lap on its provocative front cover. It wasn't the emotional damage of separation that seemed to concern him, rather the pain of financial settlement: "I talk about the fact that marriage is expensive," he confessed in an interview at the time. Even so, Life Is Good is unflinchingly raw and honest in its depiction of love gone wrong.
Must hear: "Bye Baby"
18: Joan Baez: Diamonds & Rust (A&M, 1975)
The patron saint of 60s acoustic folk, Baez recorded this album in Hollywood, opting for a more mainstream jazz-rock sound played by LA's top session cats. Despite the gleaming studio polish, the collection couldn't conceal the rawness of the singer's feelings for a former beau, Bob Dylan, expressed in the memorable title song. She also adds a sardonic twist to the lyrics of her rocked-up cover of Dylan's "Simple Twist Of Fate" (including an arch impersonation of its author's idiosyncratic singing style). But it's her rendition of Jackson Browne's "Fountain Of Sorrow" that best crystallizes the album's downcast, elegiac mood.
Must hear: "Never Dreamed You'd Leave In Summer"
Never Dreamed You'd Leave In Summer
17: Kristina Train: Dark Black (Mercury, 2012)
A soulful-voiced New York-born singer-songwriter who relocated to London after an album deal with Blue Note turned sour, Train created a noir-esque melancholic masterpiece with this, her second album. The prevailing mood is somber, but not depressingly so. Dark Black's sable-hued majesty is encapsulated by the title song, a haunting ode to lost love. Whether her material is autobiographical or not, Train's vocals make it clear that she's someone who's stared heartbreak straight in the face.
Must hear: "Dark Black"
Kristina Train - Dark Black
16: PJ Harvey: Rid Of Me (Island, 1993)
For some, a broken romance inspires feelings of hatred, bitterness, and even revenge for perceived wrongdoings. On the autobiographical title track from Polly Jean Harvey's second album, the high priestess of grungy alt.rock reflects on a relationship with a rabid and almost psychotic glee. "You're not rid of me," she wails, then threatens to twist her paramour's head off. With the rest of the album executed at the same level of high-pitched vitriolic intensity, this is the go-to record for those who react to romantic betrayal with anger rather than self-pity.
Must hear: "Rid Of Me"
15: Billie Holiday: Lady Sings The Blues (Clef, 1956)
Such was Billie Holiday's talent as a conveyor of deep emotion that she could sing two notes and conjure up a whole galaxy of hurt and heartbreak. On this classic album, every melody she caresses tells a story, etching a vivid autobiographical narrative characterized by bad relationships and abusive lovers against a seedy backdrop of drug and alcohol abuse. For those who find comfort in melancholy, this is the breakup album to wallow in.
Must hear: "Good Morning Heartache"
14: Adele: 21 (XL, 2011)
Adele cancelled the initial recording sessions for her second album, claiming that she was bereft of inspiration, but her creative muse returned when she split up with her boyfriend. The singer's acute sense of loss and heartbreak prompted her to examine her emotional scars and pour out her feelings in a variety of songs, ranging from the scornful "Rolling In The Deep" and the confrontational "Take It All" to the more contemplative and overwhelmingly poignant "Someone Like You."
Must hear: "Someone Like You"
Adele - Someone Like You (Official Music Video)
13: Frightened Rabbit: The Midnight Organ Fight (Atlantic, 2007)
Fronted by the poet laureate of despair, the late Scott Hutchinson, Scottish indie rockers Frightened Rabbit served up a raw and nakedly honest dissection of a cancerous love. Purportedly based on Hutchinson's personal life, the album's 14 tunes are unremittingly bleak and yet brilliantly written, couched in memorable and at times uplifting melodies.
Must hear: "The Modern Leper"
12: Roy Orbison: Lonely & Blue (Monument, 1961)
With song titles such as "I'm Hurtin,"" "Bye Bye Love," "Cry," "Blue Avenue" and "Come Back To Me (My Love)," it's evident that Orbison's debut album wasn't going to be a cheerful affair. Instead of waxing lyrical about the unalloyed joys of romance, Lonely & Blue is, mostly, a catalogue of pain, misery and loneliness caused by Cupid's arrow and a host of cruel paramours. Despair never sounded so beautiful.
Must hear: "Only The Lonely"
11: Bon Iver: For Emma, Forever Ago (Jagjauwar/4AD, 2008)
Before they became a fully-fledged indie folk-rock band, Bon Iver consisted solely of singer-songwriter Justin Vernon, who masterminded this haunting debut album. Reflecting on a past love affair, he sought emotional closure by pouring his heart out in nine songs written while he shacked up in a Wisconsin hunting cabin. The result was a breakup album that was by turns achingly desolate and soul-searchingly magical.
Must hear: "re:stacks"
10: Beck Sea Change (Geffen, 2002)
A devastating breakup following his long-time girlfriend's infidelity inspired this, the maverick auteur's eighth album. Eschewing the quirky, sample-dominated sound of his previous work, Beck opted for a more organic, acoustic-guitar-led singer-songwriter approach with orchestral strings adding a touch of somber grandeur. The approach gave his songs of mourning, isolation, and heartbreak a deeper resonance.
Must hear: "Lonesome Tears"
Beck - Lonesome Tears (Official Music Video)
9: Kanye West: 808s & Heartbreak (Def Jam, 2008)
Understandably, Kanye West's world imploded when his mother died in 2008. Shortly afterward, his sense of loss was further exacerbated when his fiancée dumped him. Those two events, coupled with the rapper's ambivalence towards his growing fame, were reflected in the tone and themes of this, his fourth album. 808s & Heartbreak was stylistically different, too, from the hip-hop norm, using synth-heavy electronic soundscapes as a backdrop over which West sang as well as rapped. Broodingly melancholic and deeply personal, the album showed how grief could be channeled into liberating, boundary-breaking music.
Must track: "Heartless"
8: Richard & Linda Thompson: Shoot Out The Lights (Hannibal,1982)
Much lauded by the critics and a frequent high-ranker in best-albums lists compiled by influential magazines like Rolling Stone and Q, Shoot Out The Lights was the British husband-and-wife duo's sixth and final record together. Ironically, though, its creation accelerated the demise of their marriage, which is dissected in eight songs. Though a scintilla of hope for the couple manifests itself in the opening song, "Don't Renege On Our Love," there's a sense of doom, desperation and chilling finality on the closing "Wall Of Death."
Must hear: "Don't Renege On Our Love"
7: Joni Mitchell: Blue (Asylum, 1971)
Arguably the Canadian singer-songwriter's most eloquent and nakedly emotional album, Blue was Mitchell's response to two breakups: one with ex-Hollies member Graham Nash, the other with American singer-songwriter James Taylor. The latter relationship began in Europe, where Mitchell wrote most of the album trying to get over Nash. She broke up with Taylor not long after, but that gave Mitchell the impetus to finish an album whose simple title and cobalt-tinted cover encapsulates the mournful essence of lost love.
Must hear: "A Case Of You"
Joni Mitchell - A Case of You (Official Audio)
6: Bruce Springsteen: Tunnel Of Love (Columbia, 1987)
The rock embodiment of the blue-collar American everyman, The Boss gritted his teeth and bared his soul on this album, which chronicled his disintegrating marriage to actress Julianne Phillips. Its angst-ridden themes of deceit, betrayal, doubt, and heartbreak were so personal to Springsteen that he recorded much of the music by himself without his trusted sidekicks, The E Street Band. A bleak post-mortem of tainted love, this cathartic opus fails to reveal even the smallest chink of light and hope at the end of its dark tunnel.
Must hear: "Brilliant Disguise"
Bruce Springsteen - Brilliant Disguise (Official Video)
5: Frank Sinatra: Frank Sinatra Sings For Only The Lonely (Capitol, 1958)
Though he projected a hard-nosed, tough-guy image, in real life Sinatra was as vulnerable as the rest of us and no stranger to the pain of heartbreak. His breakup with – and subsequent divorce from – actress Ava Gardner in 1957 affected him badly and proved the inspiration for this, one of Sinatra's darkest but also most brilliant albums. An exquisite paean to lost love.
Must hear: "One For My Baby (And One More For The Road)"
Frank Sinatra - Sings For Only The Lonely (Unboxing Video)
4: Willie Nelson: Phases & Stages (Atlantic, 1974)
The Texas troubadour broke new ground for country music with this ambitious concept album about divorce and its repercussions. It came in the wake of Nelson's breakup with his second wife, singer Shirley Collie, after he had an affair, and explores the trauma of separation from both a man and a woman's perspective. Nelson offers a double narrative, split over two sides of the album, exploring feelings from both sides of the emotional divide. To his credit, his songs elicit pathos without resorting to self-pity.
Must hear: "Bloody Mary Morning"
4: Bob Dylan: Blood On The Tracks (Columbia, 1975)
Dylan was adamant that he didn't write soul-baring confessionals and categorically denied that Blood On The Tracks was about his painful split from his first wife, Sara, going so far as to claim it was a collection of songs inspired by Anton Chekhov's short stories. Many commentators, though, contend that the album is autobiographical (even the songwriter's son Jakob agreed, declaring in 2006, "that's about my parents"). Whatever its inspirational source, Blood On The Tracks explores themes of heartbreak, loss, and separation in both an eloquent and tender way on tracks like "Idiot Wind" and "Simple Twist of Fate."
Must hear: "Simple Twist Of Fate"
Bob Dylan - Simple Twist of Fate (Official Audio)
3: Marvin Gaye: Here, My Dear (Tamla, 1978)
Out of the ugliness of Marvin Gaye's acrimonious divorce from Anna Gordy, in 1977, something beautiful emerged: Here, My Dear, a warts'n'all autobiographical album that graphically chronicled his failed marriage to Berry Gordy's sister, a woman 17 years Gaye's senior. Given that Gaye wasn't going to profit financially from the album – he had agreed to hand over the proceeds to his ex-wife, in order to settle spiralling divorce costs – he surprisingly poured his heart and soul into the project, creating an inspired confessional that grew into one of the best breakup albums ever.
Must hear: "When Did You Stop Loving Me, When Did I Stop Loving You"
2: Amy Winehouse: Back To Black (Island, 2006)
By documenting her toxic relationship with, and separation from, her on-off beau Blake Fielder-Civil, the troubled Camden-born R&B singer-songwriter created a scintillating, Grammy-winning breakup masterpiece. Track titles like "Rehab" and "Tears Dry On Their Own" give you a clue as to what to expect. Back To Black is a compelling music-as-therapy self-help manual that tackles themes of heartbreak, separation, loss, depression, infidelity, guilt, and addiction. The album's raw honesty struck a chord with listeners everywhere, converting Winehouse's grief into sales of 16 million.
Must hear: "Love Is A Losing Game"
Amy Winehouse - Love Is A Losing Game
1: Fleetwood Mac: Rumours (Warner Bros, 1977)
Topping our list of best breakup albums of all time is Fleetwood Mac's magnum opus. At the time of recording, the band was in turmoil: John McVie and his wife, Christine, had just divorced, while Stevie Nicks and Lindsey Buckingham's romance was dissolving into acrimony. To cap it all, the group's leader, drummer and co-founder, Mick Fleetwood, discovered his wife had had an affair with his best friend (but that didn't stop him jumping into the sack with Nicks). Given this background of near-incestuous domestic strife, distrust, and broken relationships, Rumours should have been an unmitigated disaster, but the band's need to make music had a cathartic effect that created a healing bond of unity instead of discord. Their pain was transmuted into a soft-rock masterpiece on tracks like "Dreams" and "Go Your Own Way."
Must hear: "Dreams"
Think we've missed one of the best breakup albums? Let us know in the comments section below. Looking for more? Discover the best anti-Valentine's Day songs.