The Black Crowes' Best Songs: 10 Rock Anthems
A group dedicated to rock 'n' roll in every way.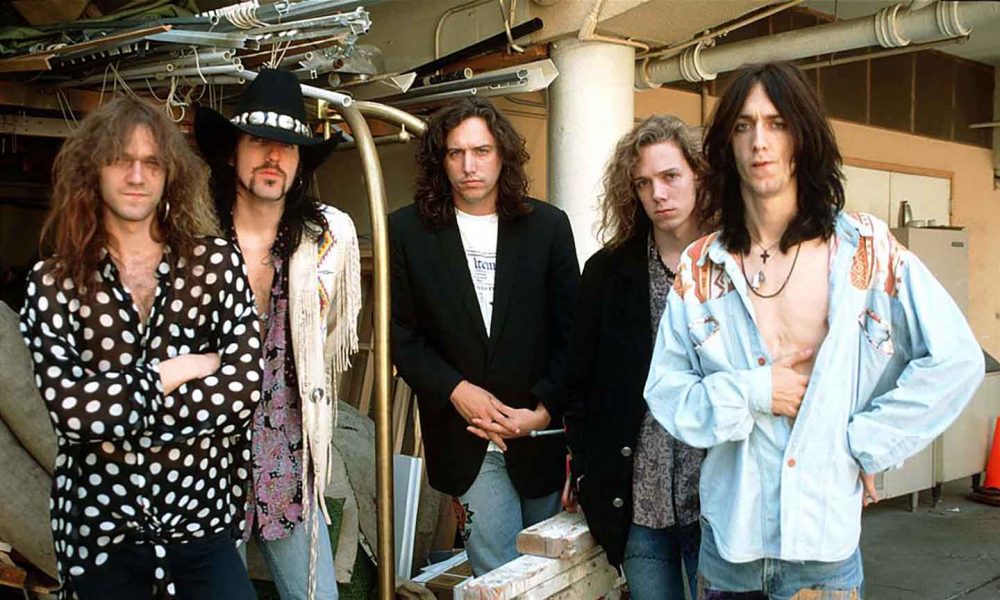 The Black Crowes are one of the best rock bands of the past few decades, a group dedicated to rock 'n' roll in every way. Formed in 1984 in Atlanta, Georgia, they spent the early part of their career on (Def) American Recordings. Starting with their classic 1-2 punch of Shake Your Money Maker and The Southern Harmony and Musical Companion, they've gone on to spread the gospel of rawk around the world. For those new to the group, we've put together a primer of the ten most essential Black Crowes songs, covering hits and deep cuts alike. One of our chosen tracks even provides the perfect title for this imaginary compilation: "Never Forget This Song." Since we're allowed only ten tracks, we restricted this list to originals, though fans might find that a little "Hard to Handle." Either way, without further ado: The best Black Crowes songs.
Order the box set edition of The Southern Harmony and Musical Companion.
"Twice as Hard" (Shake Your Money Maker)
As the debut album's opening track, this one sure made an impression: Just imagine what a kick it was to hear a rock & roll track this raw on the radio back then. Chris Robinson's swagger is evident from the get-go and brother Rich slings riffs in every direction, with original co-guitarist Jeff Cease grabbing some glory as well. It was rare enough to hear a hot slide guitar in this era; this track gives you two dueling ones.
The Black Crowes - Twice As Hard
"Jealous Again" (Shake Your Money Maker)
One of many comparisons aimed at the Black Crowes in the early days was to Rod Stewart and the Faces. "Jealous Again" was likely the reason: You can hear the spirit of that band in its prime, and Chuck Leavell adds the necessary barrelhouse piano. This song doesn't waste time grabbing your attention, rolling out that memorable chorus in 40 seconds flat.
"She Talks to Angels" (Shake Your Money Maker)
The first great Black Crowes ballad, and still one of the most enduring ones. The song is partly about addiction – a word that its heroine, of course, won't mention – but Chris Robinson's lyric goes a lot deeper. You see the woman's tragic nature, but you can also tell why he's fascinated with her. The churchy organ sound doesn't hurt either.
The Black Crowes - She Talks To Angels (Official Video)
"Remedy" (The Southern Harmony & Musical Companion)
If the first album did right by the Black Crowes' various influences, the classic followup found them becoming something distinctly their own. The arrival of guitarist Marc Ford and keyboardist Eddie Harsch undoubtedly helped things coalesce. "Remedy" grabs you right out with that killer three-chord riff. It's the Black Crowes at their most hellraising; you can only guess the nature of the remedy he's asking for.
"Thorn in My Pride" (The Southern Harmony & Musical Companion)
Few songs represent the band's deep-soul side better than this ballad, which also became a big radio hit. Chris gives a heartfelt vocal on this tale of a lover juggling his best and worst impulses. "Let your lovelight shine!" is the cue for a furious guitar break.
The Black Crowes - Thorn In My Pride
"Wiser Time" (Amorica)
The next time somebody asks why it's a good idea to have two brothers in a band, just point to Chris and Rich Robinson's sublime harmonies on this track. One of the key tracks from Amorica, "Wiser Time" catches the band in a reflective moment and shows the greater depth they were reaching for. A pedal steel sets the tone before the characteristic Crowes guitars take over.
"Good Friday" (Three Snakes & One Charm, 1996)
Probably the best song, if not the only one, on the delicate topic of a romantic breakup on a religious holiday. Chris makes his apologies in the lyric, but says the timing can't be helped, since they've got a show to play on Saturday. It's quite an emotional breakup song for all that, with some wailing harmonica to set the mood. And since it is Good Friday, there's a gospel chorus as well.
"Never Forget This Song" (Band)
This one nearly was a lost classic: It was recorded for Band, the 1997 album that was scrapped in the wake of a personnel shakeup, and not released until the Lost Crowes collection a decade later. Band has since come to be regarded by fans as a peak album, with a highlight in this ode to the enduring power of love and music. It's got one of the most urgent-sounding vocals Chris ever cut.
"Soul Singing" (Lions)
Coming shortly after the band toured with Jimmy Page, Lions ranks as one of their most experimental albums. The Led Zeppelin influence is there, but so is a stronger psychedelic tinge. An understated gem, "Soul Singing" begins acoustically and nods to Led Zep's "Ramble On," but it builds to a gospel chorus and becomes the sound of pure joy. Arguably the most enduring song from this era, it's the one that's still showing up in live setlists to this day.
"I Ain't Hiding" (Before the Frost)
A deep-cut highlight from Before the Frost, which brought guitarist Luther Dickinson into the fold and introduced a new, rootsier Crowes. Lyrically it's Chris Robinson's kiss-off to his old indulgences, musically it's the best of both worlds: A solid rocker that gives the band room to stretch out and jam, with both Dickinson and Rich Robinson getting space to shine. You don't need to listen too hard to know they're having a blast.
Order the box set edition of The Southern Harmony and Musical Companion.