The Unstoppable Power Of Queen In The 80s
They'd already written 'We Are The Champions', but Queen in the 80s were a truly unstoppable force that helped define the decade.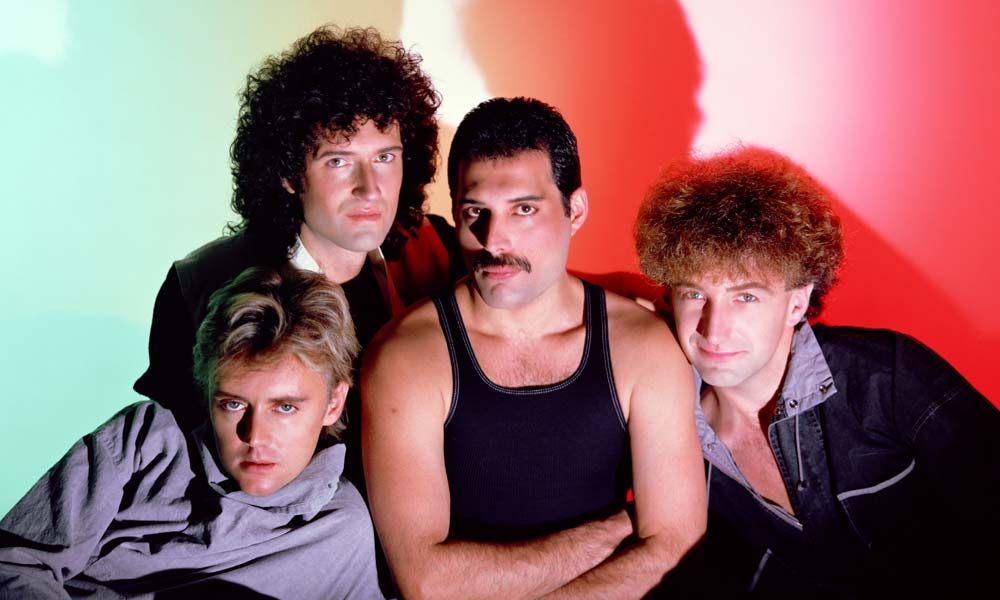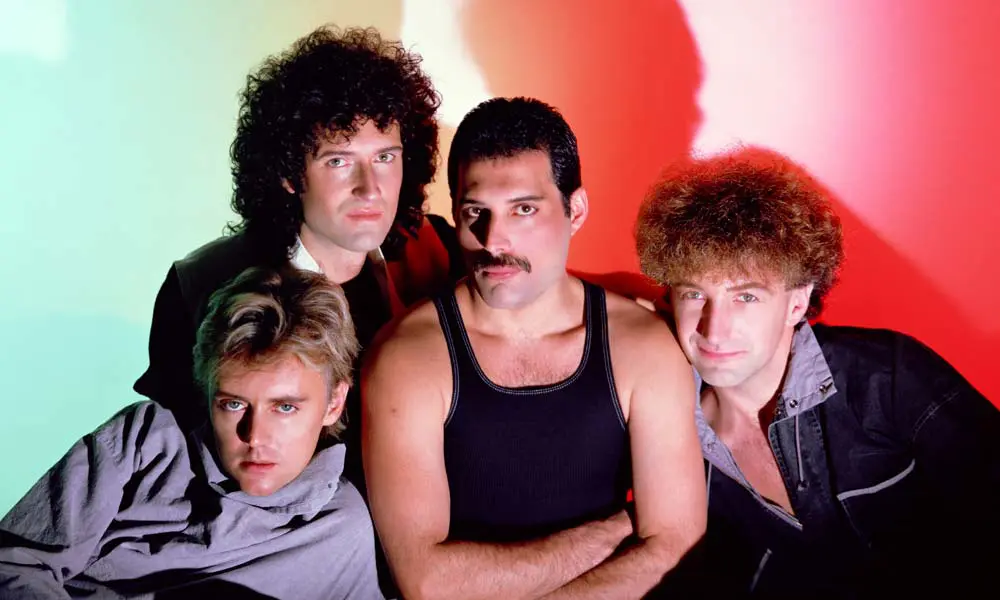 The 70s had been a momentous decade for Queen. Their albums had sold tens of millions and their hit singles – including 'We Are the Champions', 'We Will Rock You' and 'Bohemian Rhapsody' – were anthem-like cultural landmarks. Queen in the 80s, however, took it up another level with an era-defining pop-rock sound that turned them into the biggest band in the world.
In the summer of 1979, the four members of Queen – Brian May, Roger Taylor, John Deacon and Freddie Mercury – relocated to Munich to work on a new record and a different sound. At Musicland Studios they began working with German producer and engineer Reinhold Mack (known simply as Mack), who helped them find a new path. Mack, who had engineered some of Electric Light Orchestra's most acclaimed records, had been steeped in music since childhood, as part of a family whose business was selling musical instruments. He even helped persuade May to play a Telecaster guitar during the sessions, rather than his famous homemade Red Special.
For their first album of the 80s, Queen recorded their most accessible and pop-oriented record to date: The Game was a commercial triumph that earned Mack a Grammy nomination as a producer. The 34-year-old Mercury, who had spent much of his childhood in India, had grown up loving the boisterous music of Little Richard and Fats Domino, and his songwriting for the album reflected the energy of the early rock pioneers. 'Crazy Little Thing Called Love', a song written while taking a bubble bath at Hotel Bayerischer Hof, in Munich, was a monster hit. "I'm a loving person. Love was the inspiration for the song," Mercury said.
Queen - Crazy Little Thing Called Love (Official Video)
The band known for stadium rock began to woo America with a different sound: a Chic-like bassline mixed with a nod to rockabilly. The song's parent album, which was released on 30 June 1980, sold four million copies in the US and provided Queen with their first stateside No.1.
"This is good, dear…"
After attending a Queen concert in Los Angeles, Michael Jackson suggested that one of bassist Deacon's songs was ideal for the pop charts. Drummer Taylor recalled: "I remember Michael and some of his brothers in the dressing room going on and on about 'Another One Bites The Dust'. They kept saying we must release it as a single." Issued in October 1980, as the third single from The Game, the song stayed at No.1 for three weeks. "I always thought there was an instant where we were the biggest thing in the world," Brian May recalled. "'Another One Bites The Dust' sort of clinched it, because it suddenly crossed over to the black R&B market."
Queen - Another One Bites the Dust (Official Video)
As well as writing catchy lyrics, Queen were still excelling at their harmony singing and trying something new melodically. The use of a synthesiser for the first time on a Queen album was a signal that the future would be different. "I'm afraid that was my fault," May explained. "I'd bought this Oberheim polyphonic synth. I showed it to Fred, and immediately he was like, 'Oh, this is good, dear…'"
The band's experimentation continued with funky material such as 'Dragon Attack'. More complex songs replaced the guitar-based anthems of the 70s, and the public loved the new direction. Taylor said: "Suddenly instead of a million albums, we were selling three or four million albums. And at that time, that was about as much as anyone had ever done. This was before the days of Thriller, where things got totally out of hand."
At this time, Queen were also working on the largely instrumental soundtrack for the Dino De Laurentiis-produced movie Flash Gordon, which yielded the hit single 'Flash'. That single included a memorable piece of dialogue from actor Brian Blessed, as he shouts the iconic line, "Gordon's alive!" May, who wrote much of the soundtrack, also played synthesiser on the album.
Queen - Flash (Official Video)
No pressure
In the latter part of 1981, following a record-breaking tour of South America that had included playing to 300,000 spectators in Buenos Aires, Queen returned to Europe (Switzerland and Germany) to record their next album, Hot Space, again co-produced by Mack. The highlight was working with David Bowie on the single 'Under Pressure'. The collaboration was spontaneous. Bowie had been due to sing backing vocals with the band at the Mountain Studio in Montreux but, during an impromptu jam session, they came up with the memorable song.
The four members of Queen, and Bowie, were credited as songwriters on a track that hit No.1 in the UK and which has been voted the second best collaboration of all time by Rolling Stone magazine. Another stand-out track on Hot Space was 'Life Is Real (Song For Lennon)', Mercury's tribute to the recently murdered Beatles star.
Queen - Under Pressure (Official Video)
The album, with a broad disco-funk approach, was a divisive one for 70s Queen fans who wanted a return to the band's earlier hard rock sound. Mercury was even prompted to appeal to the audience during a show at the Milton Keynes Bowl in 1982, saying, "Most of you know that we got some new sounds out. For what it's worth, we're gonna do a few songs in the funk black category, whatever you call it. That doesn't mean we've lost our rock'n'roll feel, OK. I mean it's only a bloody record! People get so excited about these things. We just want to try out a few new sounds."
"People were so shocked"
May said that the band were at a crunch point when "we were not only the biggest group in America, but probably the biggest in the world". The money and accolades flowed. Queen had sold more than 45 million records worldwide and, in 1982, entered The Guinness Book Of Records as Britain's highest-paid executives.
They kept experimenting, though. Taylor's drum-machine-driven 'Radio Ga Ga', from the 1984 album The Works, reached No.1 in 19 different countries, helped by a vibrant music video. Perhaps the most memorable song on the album, however, was 'I Want To Break Free', which was a hit in most places apart from North America. The video, directed by David Mallet, featured the band members dressed up in drag, parodying the British television soap series Coronation Street. May later said they were caught by an unexpected backlash that included MTV banning the video: "I remember being out on promotion and people being so shocked. I remember presenters going white and not wanting to be a part of that."
Queen - I Want To Break Free (Official Video)
A turning point was just around the corner. Bob Geldof extended an invitation for Queen to play at the Live Aid concert on 13 July 1985, held to raise money for victims of famine in Ethiopia. Though Queen had qualms – they didn't like performing in daylight and had concerns over the sound quality – they decided to take part.
A truly charismatic Mercury gave an inspired performance at Wembley Stadium. Mercury began by sitting at the piano, playing 'Bohemian Rhapsody', and then powered through a collection of hits, with 72,000 people joining in with the lyrics and clapping and swaying in complete unison. His stage presence was mesmerising. May said: "I'd never seen anything like that in my life and it wasn't calculated either… it was the greatest day of our lives."
Even fellow superstar musicians understood the impact of Queen's set. Elton John found the band in their trailer and joked: "You bastards, you stole the show!"
Making 'Ben-Hur' look like 'The Muppets'
Two months later they began work on the album A Kind Of Magic, making plans for a world tour the following summer. "We are probably the best live band in the world at the moment," said Taylor, "and we are going to prove it… the tour will make Ben-Hur look like The Muppets."
As well as recording in Germany and Switzerland again, Queen also cut some of the tracks for the album at the historic British studio Abbey Road. A Kind Of Magic sold six million copies, the title track was a hit single worldwide and demand for the ensuing tour was phenomenal. The final date, at Knebworth Park, on 9 August 1986, was watched by 200,000 fans.
At this moment of triumph, however, disaster loomed. Early in 1987, Mercury was diagnosed with AIDS; within five years he would be dead. In the intervening years, he worked with passion and dedication in a frenzy of creativity that would produce enough material for three Queen albums: 1989's The Miracle, 1991's Innuendo and the posthumous Made In Heaven. Mercury also did some solo work, including the 1988 album Barcelona, which gave him the opportunity to sing a duet with Spanish opera great Montserrat Caballé.
Queen - Was It All Worth It (Official Lyric Video)
When The Miracle – which included the moving song 'Was it all Worth it?' – was finished, Mercury told the band about his illness. Taylor recalled: "He decided to just invite us all over to the house for a meeting." He remembered Mercury saying: "You probably realise what my problem is. Well, that's it and I don't want it to make a difference. I don't want it to be known. I don't want to talk about it. I just want to get on and work until I f__king well drop. I'd like you to support me in this."
It was the only time they directly discussed his possible impending death.
"The whole point was to be original"
As the 80s ended, Queen were given a British Phonographic Industry award for their contribution to British music. Their contribution had been immense. By the time they started recording the album Innuendo, in March 1989, Mercury was gravely ill, though he bravely performed in the video for 'These Are The Days Of Our Lives', a song which marked a return to the band's compelling hard rock sound of the 70s.
Mercury was 45 when he died, of bronchopneumonia resulting from AIDS, on 24 November 1991. Aretha Franklin sang at his funeral and the whole music world recognised the lasting legacy of Queen.
The band had helped define the 80s in their own inimitable way. As Mercury said: "The whole point of Queen was to be original."
Listen to the best of Queen on Apple Music and Spotify.
Format:
UK English