Queen at Live Aid: How Rock's Royalty Stole The Show
Queen's Live Aid performance has not only gone down in history as the day's show-stopping event, but one of the greatest live concerts of all time.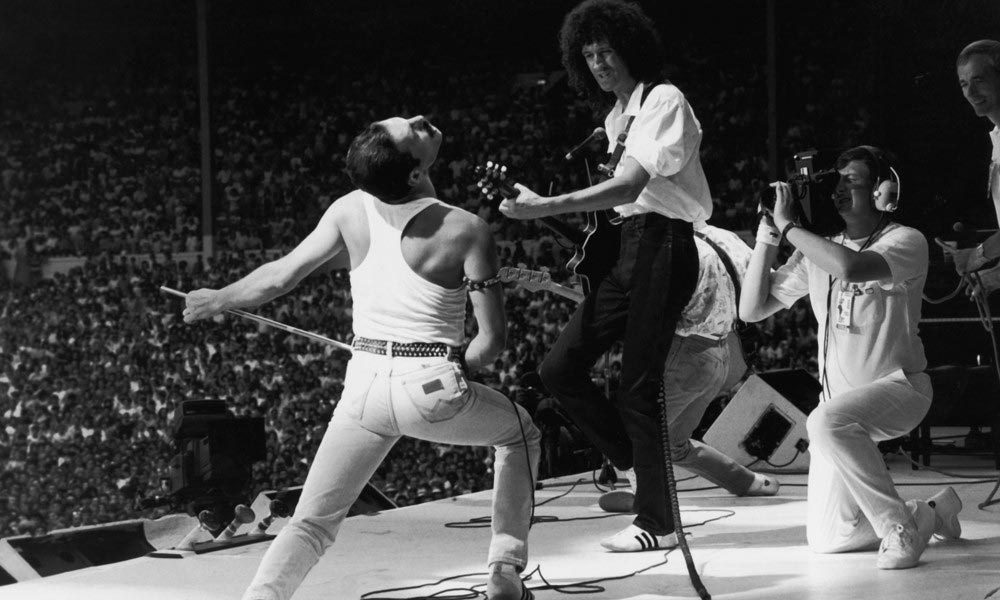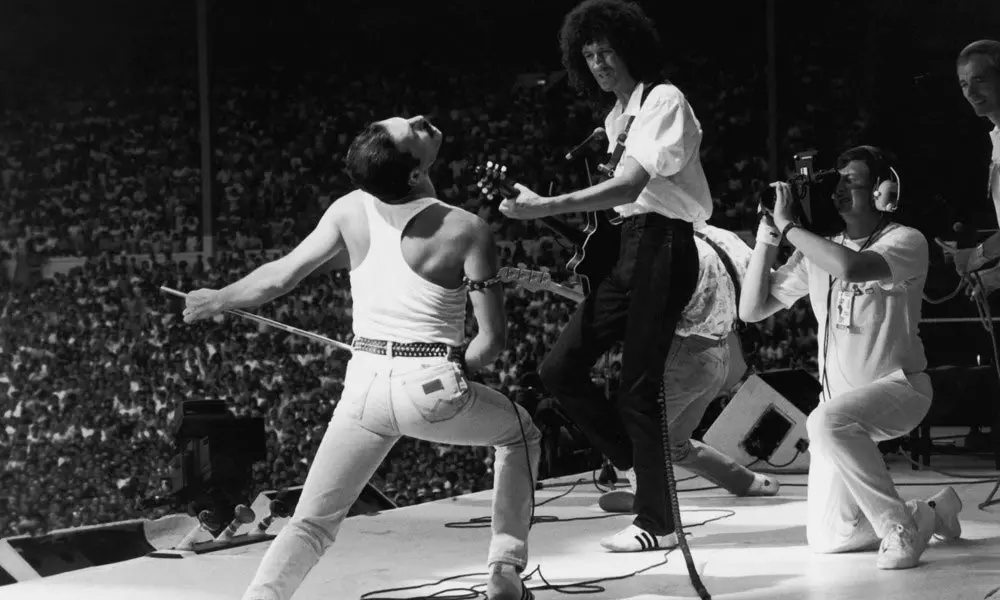 The old Wembley Stadium was the setting, on July 13, 1985, for one of the greatest live concerts ever staged: Live Aid. Sting, U2, Dire Straits, The Who, David Bowie, Elvis Costello, Elton John, and George Michael were among the acts performing in London that day (Bob Dylan, Eric Clapton, Mick Jagger, Madonna and Tom Petty were at the JFK Stadium in Philadelphia for the American counterpart). But of all the high-caliber artists on display that day, there was unanimous agreement that Queen's Live Aid performance stole the whole show with a magnificent, 21-minute tour-de-force set.
The 2019 hit biopic Bohemian Rhapsody starts and ends with footage recreating Queen's Live Aid concert – a performance that remains the high point of the band's live history. Their participation was initially in doubt, however, and as recently as June 2019, guitarist Brian May admitted: "We definitely hesitated about doing Live Aid."
Rehearsals and preparation
After finally accepting The Boomtown Rats' Bob Geldof and Midge Ure's invitation to play the benefit concert for Ethiopian famine relief, Queen – who comprised Freddie Mercury (lead vocals, piano, and guitar), Brian May (guitar and vocals), John Deacon (bass guitar), and Roger Taylor (drums and vocals) – were consummate professionals and decided to rehearse their set thoroughly to get timings and solos down to perfection for what would be a truncated performance.
They booked out the 400-seat Shaw Theatre, near King's Cross train station in London, and spent a week honing their five-song setlist, getting it ready for the 72,000 fans who would be at Wembley – and the estimated 1.9 billion people watching on television from 130 countries around the world.
Though the band did not like performing in daylight – and knew they would have no soundcheck to get the quality levels they wanted – they knew the concert gave them a chance to show the world what a great live band they were. "It was our opportunity to show that it's the music first and foremost," said May.
Geldof had advised all the participants not to promote new hits but to do their old favorites. Queen took the message to heart. When it came to choosing time slots, they were shrewd, opting to go on at 6.41pm, which was close to prime time in the UK and also after the satellite feed from London of the live broadcast had gone global.
Queen's Live Aid performance
Queen were immediately preceded at Wembley by the comedians Griff Rhys Jones and Mel Smith – who were dressed as policemen and joked about receiving a complaint about the noise "from a woman in Belgium." They introduced "the next combo" as "Her Majesty… Queen."
A truly charismatic Mercury, who looked full of confidence, jogged out on to a vast stage whose top was adorned with a banner saying "Feed The World." Mercury, sporting his trademark mustache and wearing white jeans, a white tank top, and with a studded band around his right bicep, began by sitting at the piano and playing a short, inspired version of "Bohemian Rhapsody."
"The note heard around the world"
During "Radio Ga Ga" he got up and strutted around the stage, using the microphone and stand as a prop, and getting the fired-up crowd to join in with the chorus. The next few moments were remarkable, as Mercury led the 72,000 spectators in some spine-tingling vocal improvisation, as they sang along to "ay-oh." His final, wonderful vocal was dubbed "the note heard around the world."
The singalong fun was followed by a version of "Hammer To Fall," a song written by May. Mercury, who had strapped on an electric guitar, then addressed the crowd. "This next song is only dedicated to beautiful people here tonight – which means all of you. Thank you for coming along, you are making this a great occasion," he said, before launching into an energetic, exuberant performance of his own composition, "Crazy Little Thing Called Love."
After a short version of "We Will Rock You," the swaying, delirious crowd were treated to a finale of "We Are The Champions." Mercury was simply mesmerizing. "I'd never seen anything like that in my life and it wasn't calculated, either… it was the greatest day of our lives," said May.
Queen - Radio Ga Ga (Live Aid 1985)
"You bastards, you stole the show"
It wasn't only Queen who realized they had been sensational. Paul Gambaccini, who was part of the BBC broadcasting team at Live Aid, recalled the awe among other superstar musicians watching backstage. "Everybody realized that Queen was stealing the show," said Gambaccini. These were the very words Elton John uttered when he rushed into Mercury's trailer after the set. "You bastards, you stole the show," joked the charismatic star.
"Queen smoked 'em. They just took everybody. They walked away being the greatest band you'd ever seen in your life, and it was unbelievable," said Dave Grohl of Foo Fighters. "And that's what made the band so great; that's why they should be recognized as one of the greatest rock bands of all time, because they could connect with an audience."
"It was the perfect stage for Freddie: the whole world"
Two months later Queen began work on the album A Kind Of Magic, which sold six million copies and was promoted with a record-breaking world tour.
The choice of album title was apt. Queen provided magic on that summer day in 1985. Their impact was summed up by Geldof. "Queen were absolutely the best band of the day," the Live Aid organizer said. "They played the best, had the best sound, used their time to the full. They understood the idea exactly, that it was a global jukebox. They just went and smashed one hit after another. It was the perfect stage for Freddie: the whole world."
Looking for more? Check out music journalist Richard Havers' personal memories of the Queen Live Aid performance and listen to the best of Queen on Apple Music and Spotify.