The Band Play Musical Chairs And Get A 'Country-Funk' UK Hit With 'Rag Mama Rag'
The follow-up to 'Up On Cripple Creek' from the now-classic 'The Band' album featured an unusual instrumental configuration.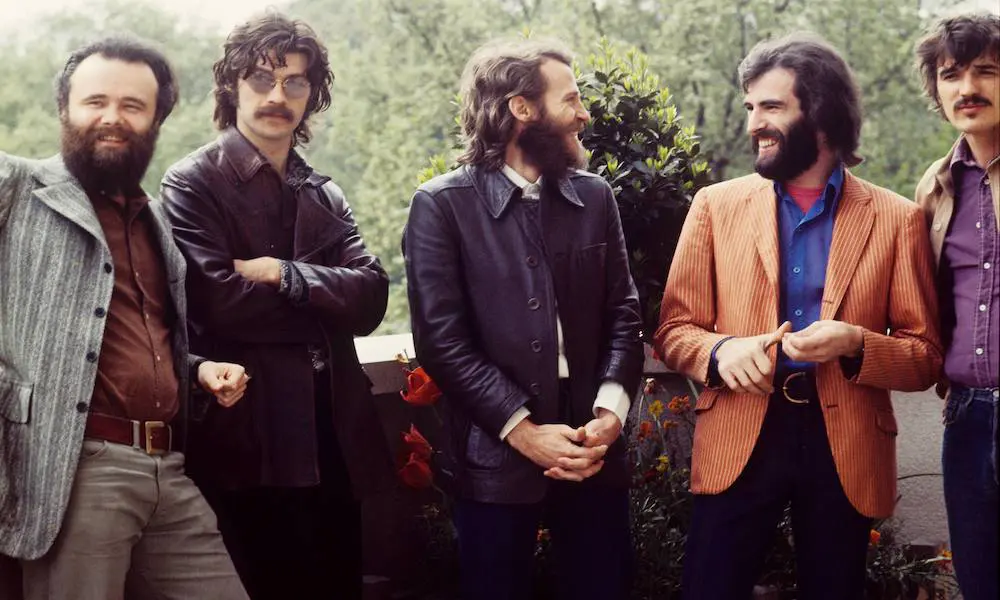 The Band didn't seek out singles success, but sometimes it found them. The masterful quintet were deep into the process of honing their prototype vision of a new type of North American roots music when, on February 14, 1970, they entered the Hot 100 with one of their trademark songs, "Rag Mama Rag." It stalled at No.57, but in the spring went on to become their biggest UK success, at No.16.
After the deep and deserving admiration afforded their 1968 debut Music From Big Pink, The Band had unveiled their equally impressive self-titled sophomore LP in September 1969. Within a few weeks, the group were en route to the US Top 30 with another of its more commercial tracks, "Up On Cripple Creek."
Capitol's choice for the follow-up ("by popular demand," said their trade advertising) featured an unusual instrumental configuration. "Rag Mama Rag" had a down-home swing and a joyously live feel about it, courtesy not just of their infectious interaction and the nimble, easy-flowing brilliance of Garth Hudson's piano, but bassist Rick Danko's turn on fiddle, which provided the main riff and at times the lead instrument.
Levon Helm provided the endearing vocals and mandolin while Richard Manuel took Levon's usual place at the drumkit and Robbie Robertson, nominally the song's only writer, was on low-profile electric guitar. The other ingredient giving the song a nostaglic tinge was tuba, no less, played by engineer John Simon. Musical chairs, indeed, and to their mutual admiration: Helm wrote in his autobiography, This Wheel's On Fire, that Manuel "played loosey goosey, a little behind the beat, and it really swung."
The effect was almost that of a fun jam, even down to memorable lyrics about relaxin' in a sleeping bag. Cash Box reviewed the single as a "country-funk side" which "has the rhythmic enthusiasm and sound appeal of their last hit and the team's new momentum to support sales even more." Record World was even more enthusiastic and unambiguous: "The best rock band in the country sounds magnificent in this side. Great!"
Barney Hoskyns' sleeve notes for the 2000 reissue of The Band noted: "Initially attempted in the poolhouse as a more conventional rock song, 'Rag Mama Rag' didn't, in Robbie Robertson's words, 'feel like what I was hearing in my head.' When Levon Helm gave up the drum stool to Richard Manuel and shifted to mandolin, Robertson's lusty, bumptious 'rag' was transformed into something that seemed to hail from turn-of-the-century New Orleans…a floppy, rollicking masterpiece."
Buy or stream the 50th anniversary editions of The Band, including both the original and a previously unreleased and vastly different alternate version of "Rag Mama Rag."