'Hot Rats': Frank Zappa's Game-Changing Jazz-Rock Landmark
The fearless jazz-rock experimentation of 'Hot Rats' had Frank Zappa sounding as never before.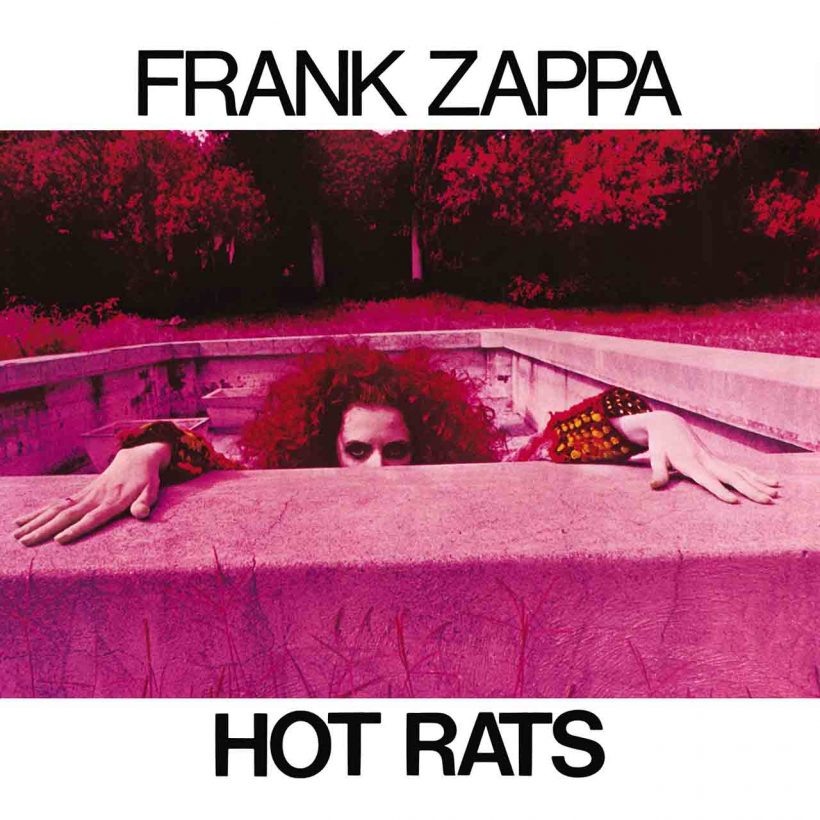 Hot Rats occupies a uniquely exalted position in the Frank Zappa canon. Around the time of its original release – October 10, 1969 in the US, February 1970 in the UK – it was fairly common to hear individuals claiming that they didn't understand the provocative, bleakly pertinent humor and avant-garde collaging of landmark early albums such as Absolutely Free, Lumpy Gravy and We're Only In It For The Money, but who then found themselves seduced by the gushing, serpentine melodies of Hot Rats touchstones such as "Peaches En Regalia" and "Son Of Mr Green Genes."
Many of those same individuals, incidentally, would have already missed the notably beautiful Zappa melodies that fuelled "How Could I Be Such A Fool" (from the Mothers of Invention's 1966 debut Freak Out!) and "Mom & Dad" (from …Money), to pluck just two examples out of the ether – but that's a whole other road of retrospective discovery.
Listen to The Hot Rats Sessions on Apple Music and Spotify.
Fervid ensemble performances, virtuosic soloing
Hot Rats was so successful that it even cracked the British Top 10 – to date, the only Zappa album to do so. The frustrating realization that biased observers were fixating on his nominally "controversial" image, and thereby overlooking his compositional acumen and some stellar musicianship, was a thorny issue that Zappa addressed at various points throughout his career. Most overtly, he did so with 1981's Shut Up 'N Play Yer Guitar project. But the predominantly instrumental Hot Rats marked the first full-blown run-out of this principle.
True fans would have noted certain precedents, not least the euphoric blowing section ("Invocation & Ritual Dance Of The Young Pumpkin") from 1967's Absolutely Free, so a large-scale instrumental breakout was only to be expected. Accordingly, Hot Rats is aglow from end to end with fervid ensemble performances and virtuosic soloing. It encompasses particularly incendiary turns from saxophonist/multi-instrumentalist Ian Underwood and violinist Don "Sugarcane" Harris (both excelling themselves on "The Gumbo Variations"), and, of course, Zappa himself, whose thrilling guitar scampers all over it.
"An army of pre-heated rats screaming out of his saxophone"
Much is often made of the album's status as a pioneering, defining, game-changing work that legitimized jazz-rock as a putative genre – and, certainly, its musical vocabulary went well beyond the lingua franca of most rock bands in 1969. Dyed-in-the-wool jazzers could nod appreciatively at harmonically sophisticated structures that involved the setting up of a "head" theme, followed by intense, flame-passing extrapolation between soloists and a subsequent reinstatement of the main theme. Orthodox rock fans, meanwhile, were simply knocked flat by the LP's unthinkable accomplishment.
The album's title is even jazz-related, as Zappa told Peter Occhiogrosso, co-author of The Real Frank Zappa Book: "I picked up a recording of 'The Shadow Of Your Smile,' with Archie Shepp playing on it, and he played this solo, and it just sounded to me immediately like there was this f***ing army of pre-heated rats screaming out of his saxophone."
When Hot Rats hit the shops, clad in its arresting front cover shot by Andee Nathanson featuring Miss Christine from Zappa affiliates The GTOs emerging from an empty swimming pool, it pulled off the rare trick of turning a largely instrumental album into a bona fide hit record in several key international territories. Its sole vocal track, "Willie The Pimp," featured a bracingly gruff cameo from Captain Beefheart, who had enjoyed an intermittent working partnership with Zappa since the parties fell into each other's orbit as teenagers in Lancaster, California.
Elsewhere on the album, "It Must Be A Camel" floats on a placid groove that's exhilaratingly derailed by arrhythmic detonations that blow in like gusts of radioactivity. The central motif of "Little Umbrellas" toys deliciously with Chopin's funeral march, before Ian Underwood's staggeringly fluent piano and organ lines cue a midsection with such enigmatic voicings that even the soberly meticulous zappa.analysis.com website characterized it as "dense harmonies and counterpoint, difficult to transcribe."
"C'mon, get vicious!"
Hot Rats' 50th anniversary has been marked with the release of a 6CD box set, The Hot Rats Sessions, featuring nearly seven-and-a-half hours' worth of music from the album's July 1969 recording sessions. It provides a fascinating insight into Zappa's exacting, attentive, and tireless work ethic: his ears pick up on everything. "More fills, get loose," he exhorts drummer Ron Selico on an early run-out of 'Peaches En Regalia.' Elsewhere, he can be heard telling the musicians: "C'mon, get vicious!"
Tracks that didn't make the original cut include "Arabesque," a charming, tumbling melody that would, in time, become the gorgeous main theme of "Toads Of The Short Forest" on Weasels Ripped My Flesh, and the spacious jams "Bognor Regis" and "Big Legs." Also included, interestingly, are vintage Hot Rats promo ads, one of which wryly trades upon common (mis)perceptions of Zappa: "Most people think that his music is ugly and too weird, and wish to have nothing to do with him and the crazed minority he represents."
O ye of little faith.