'Innuendo': The Final Queen Album Released In Freddie Mercury's Lifetime
Queen's 14th studio album is tinged with sadness, as it was the last to be released during Freddie Mercury's lifetime.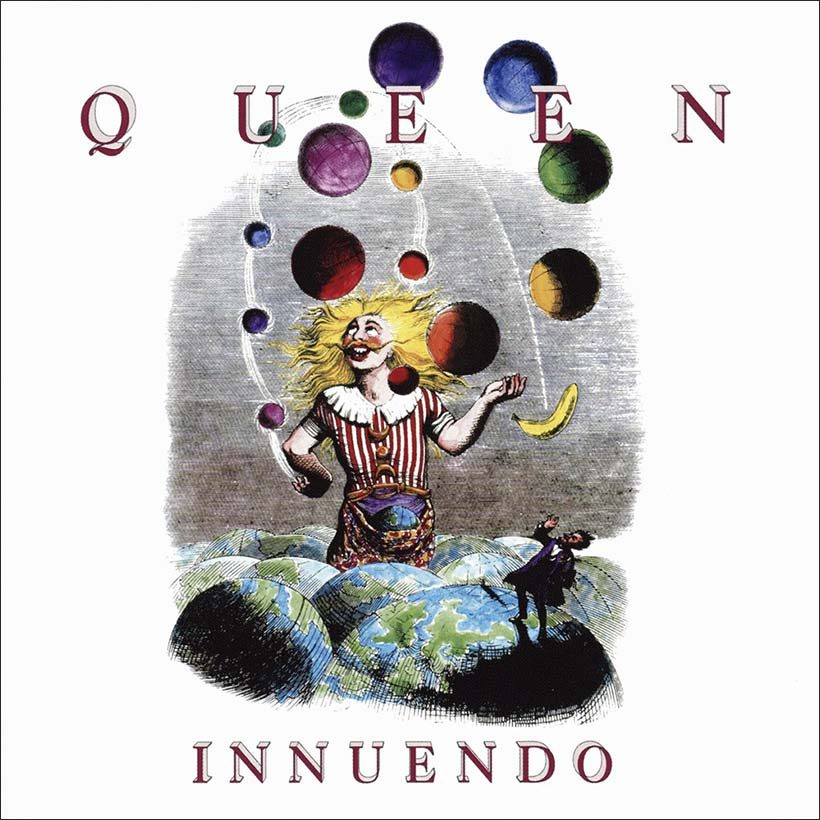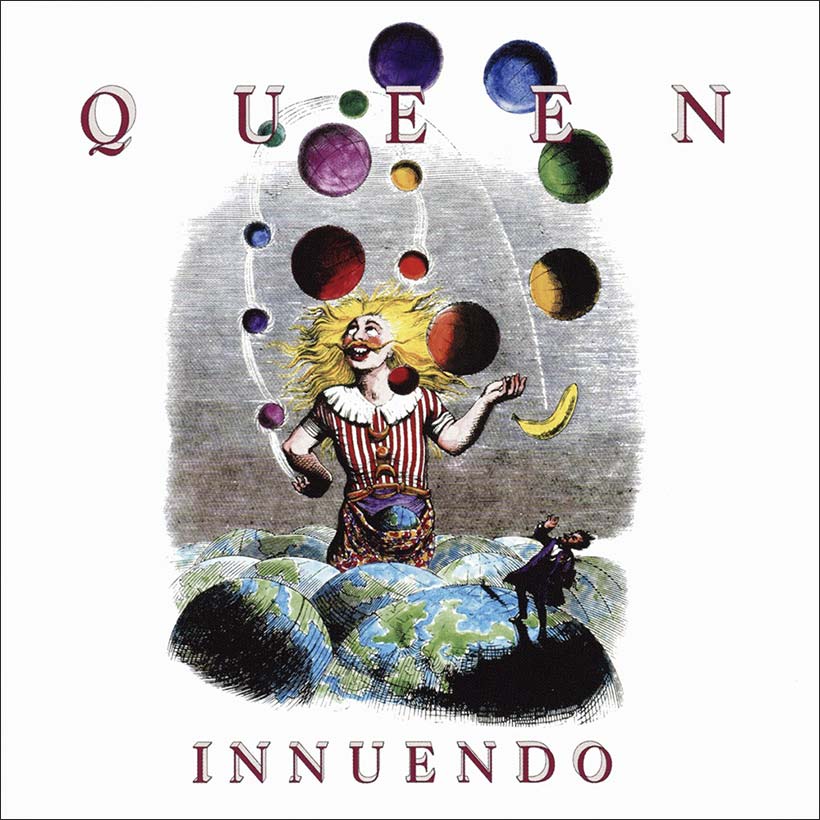 Just 20 months after the release of The Miracle, along came Innuendo, on 5 February 1991. It was the shortest wait for a new Queen album in over a decade, and yet, for all the joy, their 14th studio album is tinged with sadness as it was the last to be released during Freddie Mercury's lifetime.
Listen to Innuendo on Apple Music and Spotify.
Innuendo was recorded between March 1989 and November 1990 at Metropolis Studios in West London and Mountain Studios in Montreux. It was originally intended for release in time for Christmas 1990, but Freddie's ailing health meant that it was inevitably delayed, not that you would know from the quality of the music or the power in Freddie's vocals that range over four octaves. Musically the album is complex and for many fans, this is an album that is "back to the roots"…and that's no bad thing at all.
Midway through recording the album, in February 1990, Queen won the Brit Award for Outstanding Contribution to British Music. It was a long time coming but richly deserved. The whole band were at London's Dominion Theatre to receive their award and Brian spoke on behalf of the band; it proved to be Mercury's final public appearance.
From the very opening bars of the opening track, which is also the album's title song, the band set out their stall. This is pomp rock, grandiose and huge. "Innuendo" began as a jam and the whole thing smacks of Led Zep, but with very definitely Queen's unique approach stamped all over it; in case you're wondering it's Steve Howe from Yes playing the flamenco guitar interlude. It was released as a single ahead of the album in the UK, topping the charts, and went Top 20 in the Billboard Mainstream Rock chart where it was released later.
"I'm Going Slightly Mad" has its roots in a Noel Coward pastiche that was devised originally by Freddie, before being completed by the band in Switzerland. The video, filmed with Freddie very ill indeed, features Brian May dressed as a penguin, Roger Taylor wears a tea kettle on his head, John Deacon is a jester, and Mercury wears a bunch of bananas on his head.
Brian May took "Headlong" to Switzerland, having originally intended it for his own solo album. With Freddie's vocals, it instantly became a Queen song and went Top 3 in the Mainstream Rock Chart when it came out as the album's lead single in January 1991. "I Can't Live With You" is another song intended for Brian's solo album.
Queen - Headlong (Official Video)
"Don't Try So Hard" is trademark Freddie and a beautiful song, one of those that after repeated listening to this album becomes embedded as a firm favorite. Roger's first composition on the album is "Ride The Wild Wind," one that he had originally recorded as a demo with his own vocals that were subsequently changed to a lead vocal from Freddie, with Taylor on b/vs. Brian's trademark solo is brilliant.
The one song on the album not to be credited to Queen for songwriting is "All God's People." It's a Mercury/Moran co-write and was originally intended for Freddie's Barcelona album, on which he worked with producer/songwriter Mike Moran. Next up is Taylor's second contribution as a songwriter, the nostalgic and poignant, "These Are the Days of Our Lives." It's made even more emotional in the knowledge that the accompanying video was the last appearance by Freddie. When it ends he looks straight at the camera, whispering, "I still love you".
"These Are the Days of Our Lives" was released as a single in the US on Freddie's 45th birthday, September 5, 1991, and as a double A-side single in the UK three months later on 9 December, following Freddie's passing. The UK release was a double A-side with "Bo-Rap" and debuted at #1 on the chart, remaining at the top for five weeks.
Queen - These Are The Days Of Our Lives (Official Video)
"Delilah" is a homage to Freddie's cat, and sits outside the run of the album, but apparently, Mercury was insistent that it should be included. By contrast, "The Hitman" could not be more different. It's an out and out rocker that was another song that was started by Freddie before John Deacon took over much of the rearrangement of the song structure and turned it into a trademark Queen song.
"Bijou" is a clever song, devised by Brian and Freddie that has the guitar doing the verses and the vocals becoming the chorus. It's a beauty! May later said that Jeff Beck's 1989 song, "Where Were You," was part of the inspiration behind it. In 2008, Queen + Paul Rodgers, on their Rock the Cosmos Tour, featured Brian playing the verses and then a video of Freddie from the 1986 Wembley concert, matched to his vocals.
Is there a better closing track to any Queen album than "The Show Must Go On"? It is perfect in every way. It's also a collaborative number, with all four members having a hand in its writing. The song tells the story of Mercury continuing to record and to work, even as the end was approaching. It is hard not to be overwhelmed when listening to it. Initially, it was not released as a single, but was in October 1991 to help promote the Greatest Hits II album; the promo film features clips from all the Queen videos since 1982.
Innuendo topped the UK charts, but somewhat disappointingly could only make No.30 in America. It also went top 10 just about everywhere, with the coveted No.1 spot being secured in Holland, Germany, Switzerland and Italy.
With Freddie's tragic passing on November 24, 1991, we all assumed that was to be the end of the road for the band. But there was more in store…